19 nights
from £8295
Passage to India
An epic voyage from the Seychelles to India & Sri Lanka aboard the MS Island Sky
New Search
Brochure
View
Order brochure
View All
We find it difficult to imagine a more perfect way to escape the British winter than to enjoy the warmth and beauty of the Indian Ocean aboard the wonderfully comfortable MS Island Sky as she undertakes exactly the type of itinerary that suits her best. Join us in the tropics as we journey from the islands and atolls of the Indian Ocean to India's beautiful southern coast and a voyage around Sri Lanka.
Our journey to the Indian continent first allows us to explore the Seychelles and Maldives, two of the world's most pristine and picturesque archipelagos. With our purpose built Zodiacs we will land on otherwise inaccessible beaches, explore vast lagoons and coral reefs and encounter some extraordinarily beautiful tropical scenery. Our small ship is ideal for such a region, allowing us to enjoy the peace and tranquility of this paradise. After all, it would be disappointing to find yourself in the company of hundreds on what was a deserted beach.
Contrasting well with this natural world exploration, our itinerary then takes a more cultural focus as we reach the Indian state of Kerala. Our first port of call is Cochin, an ancient city of islands which has for centuries attracted traders and adventurers from Europe and the far Orient. Hugging the Kerala coast, we move on to Trivandrum, then across to Sri Lanka. Here we explore the interior and the old capital of Kandy, and we then move around the southern coast of the island to take in the Dutch colonial town of Galle and Bundala National Park.This unusual itinerary will appeal to those looking for something different, incorporating explorations of the natural world with a more expedition focus, followed by a fascinating look at southern India, visiting a number of ports which are off the usual cruise route.
---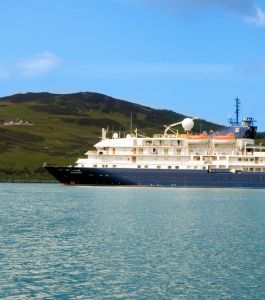 Island Sky
The MS Island Sky is one of our three flag ships and sister vessel to the MS Caledonian Sky and MS Hebridean Sky. All three vessels were built in the same ship yard in Italy at similar times and share the same excellent attributes that make them three of the finest small ships in the world.
Itinerary
Day 1 - London to Mahe, Seychelles.
Fly by scheduled indirect flight.
Day 2 - Mahe.
Arrive this afternoon and transfer to the MS Island Sky for embarkation.
Day 3 - Curieuse & Praslin.
Sail to the islands to the north of Mahe and spend the morning on Curieuse a rugged island which was once home to a leper colony and now houses an eco-museum and visitors centre. The island is an important nesting site for Hawksbill turtles and boasts endemic vine and mangroves which we explore on an island walk. Over lunch we sail to Praslin where we explore the 'Vallee de Mai', the last remnant of the original high-canopied Seychelles palm forest and home to the coco de mer. We will walk its paths looking out for the rare black parrot and enjoying its natural beauty which so overpowered General Gordon.
Days 4 to 6 - At sea.
Relax and enjoy our days at sea. Watch the bird and marine life and listen to the intriguing talks by our expedition team. We are assured of warm weather so make the most of the fresh air, get lost in a novel from your deck chair and enjoy all the comforts of the MS Island Sky.
Days 7 to 10 - Maldives.
We spend three days exploring the Maldives archipelago. This vast area of ocean is scattered with staggeringly beautiful dots of land surrounded by a cerulean sea. It offers some of the finest lagoons, beaches and coral reefs in the world. Our day to day schedule will be left in the capable hands of the captain and expedition leader, but we hope to include visits to Hithadhoo, Meenu Atoll, Baa Atoll and Haaalifu Atoll. Our expedition staff will be on hand to take guided walking tours to explore the birds and wildlife on land whilst our snorkel master will take us to some exceptional reefs to find coral and marine life. On our last day we will clear customs at Uligamu Island and enjoy an afternoon at sea as we sail to India.
Days 11 & 12 - Cochin, India.
After a morning at sea we arrive in India at the port of Cochin. This is an extraordinary city with strong influences of Portuguese, Chinese, Arab, Dutch and of course British still much in evidence today. We have a day and a half to enjoy this intriguing Malabar Port. Activities will include the Keralan backwaters at Allepy where we will board a local boat for a cruise sailing past colonial warehouses and coconut thatched houses on traditional rice barges. We will have time in Cochin to explore the curious mix of cultures and religions that together, with its strong trading past in spices and silks, make a fascinating city. We will visit Mattancherry Palace with its ornately decorated rooms including some marvellous ancient murals. We see the oldest European church in India, St Francis, the ruins of Fort Cochin and time permitting, the Pardesi Synagogue. On our first evening as we moor overnight we will enjoy a Kathakali performance onboard after dinner. Kathakali is one of the main forms of classical dance drama of India and indigenous to Kerala and based on the subject from the Ramayana, Mahabharata and stories from Saiva literature.
Day 13 - Trivandrum.
Be on deck as we sail into the Keralan fishing port of Trivandrum, a magical sight. Built over seven hills, the 'city of the sacred serpents' retains some of old Kerala's ambience, with its pagoda shaped buildings, red-tiled roofs and narrow winding lanes. There is much to see here and on our morning excursion we will include the old fort area around the 260 year old Sri Padmanabhaswamy Temple. Return to the ship for lunch and an afternoon cruising.
Day 14 - Colombo.
Over breakfast we arrive in Sri Lanka's capital city where there is a choice of activities today. You have the choice to join a full day tour to Kandy. We will drive through Sri Lanka's hill country, to arrive at the picturesque, naturally fortified hill town of Kandy (journey time 3-4 hours each way). Here, visit the Temple of the Tooth, which holds the Sacred Tooth Relic of Lord Buddha and is surrounded by the Bogambara Lake, as well as the lush Botanic Gardens and the National Museum. We enjoy lunch in a local restaurant before returning to the ship this evening. Alternatively remain in Colombo and enjoy a morning tour including the Gangarama Buddhist Temple, Colombo National and Dutch period museums and the Pettah area where the local market is a great place to find a bargain. Return to the MS Island Sky for lunch and enjoy a free afternoon to explore independently.
Day 15 - Galle.
Awake this morning in Galle where on a morning tour we visit the old Dutch Fort, the museum which is housed in an old Dutch house depicting life in the Dutch colony, the lighthouse, mosque and church. Return to the ship for lunch and enjoy a free afternoon. Shuttle buses will take you back to Galle where you may visit the Maritime Museum or browse for lace and local handicrafts.
Day 16 - Hambantota.
From our berth in Hambantota we drive inland to Kataragama, one of the three most important religious sites in Sri Lanka and a popular place of pilgrimage to Buddhist, Hindu, Muslim and the indigenous Vedda communities of Sri Lanka and South India. According the Buddhists this was one of the 16 places visited by Buddha during his visits to Sri Lanka. We will explore the religious complex built across the Menik Ganga which contains buildings from all three religions including the mosque, temple, the small archaeological museum and the principal shrine of the god Kataragama. Return to the ship for lunch and in the late afternoon we will drive the short distance to Bundala National Park designated as a biosphere reserve by UNESCO in 2005. Bundala National Park is an internationally important wintering ground in Sri Lanka for migratory water birds, the highlight being the Greater Flamingo, which migrate in large flocks. Elephants, deer, wild boar and crocodiles are also present. Alternatively you can choose a full day option and visit Udawalawe National Park, home to around 400 elephants as well as water buffalo, sambar deer and the occasional leopard. En-route you can discover the Elephant Transit Home set up to rehabilitate orphaned elephants for release back into the wild.
Day 17 - Trincomalee.
Today, after a morning cruising we arrive on the north east coast on Sri Lanka in one of the finest deep water harbours of the world. This afternoon you can choose to join an excursion of Trincomalee where we visit Fort Frederick built in 1676 by the Dutch, walk to Swami Rock and see the Koneswarum Kovil, one of the five most holy Shaivate temples in the country. Alternatively join our shuttle service to one of the local beaches renowned as some of the best in Sri Lanka.
Day 18 - At sea/Chennai.
After a day at sea we return to India arriving at the city of Chennai late this evening when we will clear immigration formalities.
Day 19 - Chennai.
Disembark this morning and drive to Mahabalipuram, a remarkable temple complex on the shores of the Coromandel Coast. After a local lunch we will transfer to our hotel for an overnight stay. The rest of the afternoon and evening are at leisure. Alternatively, after disembarking, join our six night extension exploring India's Golden Triangle.
Day 20 - Chennai to London.
After breakfast in the hotel transfer to the airport for our scheduled indirect flight to London. Arrive this evening.
Dates and Prices
SPECIAL OFFER – SAVE UP TO £1000 PER PERSON FOR A LIMITED TIME
Prices per person based on double occupancy
8

to

27

March 2017
Category
Brochure Price
Special Offer Price
Magellan Deck Standard Forward Suites
£8795
£8295
Magellan Deck Standard Suites
£8995
£8495
Columbus Deck Superior Suites
£9395
£8895
Marco Polo Deck Premium Suites
£9695
£9195
Marco Polo Deck Corner Suites
£9995
£9495
Erikson Deck Deluxe Balcony Suites
£10795
£9795
Explorer Deck Owner's Balcony Suite
£10995
£9995
Magellan Deck Standard for sole occupancy
£10995
£10495
Columbus Deck Superior for sole occupancy
£11795
£11295
Tour Reference Code: SCISK080317
Price Includes: Economy class scheduled air travel, 17 nights aboard the MS Island Sky on a full board basis including wine, beer and soft drinks with lunch and dinner onboard, shore excursions, Noble Caledonia Expedition Team, transfers, port taxes, overnight hotel accommodation in Chennai on a bed and breakfast basis, gratuities.
Not Included: Travel Insurance, visas.
All Decks

Explorer Deck

Erikson Deck

Marco Polo Deck

Columbus Deck

Magellan Deck
Island Sky
The MS Island Sky is one of our three flag ships and sister vessel to the MS Caledonian Sky and MS Hebridean Sky. All three vessels were built in the same ship yard in Italy at similar times and share the same excellent attributes that make them three of the finest small ships in the world.
Your Suite

On board there are 57 exceptionally spacious and well designed suites. All feature a sitting room area and some have private balconies. The feeling of luxury is enhanced by the wood panelling and brass, which predominates throughout the vessel conveying the atmosphere of a private yacht.

The passenger accommodation is arranged over five decks and all suites have outside views. Each affords considerable comfort with en-suite bathroom featuring marble-topped vanity unit with sink and walk-in shower, a large wardrobe, dressing table with large mirror and stool and excellent storage. There is a mini-fridge, flat screen television with inbuilt DVD/CD player and a telephone in each suite. Bottled water, dressing gowns and slippers are also provided for your comfort. Other facilities include a programmable electronic safe, hairdryer, assorted Molton Brown toiletries, air-conditioning and heating. The suites on each deck have their own colour theme. Soft hues and blended tones enhance the traditional maritime style making the passenger accommodation an inviting and relaxing place to be.

Your Space

The spacious and finely decorated public rooms include a large lounge on the Columbus Deck featuring a selection of seating options from individual armchairs and sofas to side cushioned benches. Daily briefings given by the Cruise Director and talks from Guest Speakers and expedition staff take place in The Lounge which is fitted with the highest standard of presentation equipment including multiple screens. For your convenience, it is also possible to follow the onboard lectures from the comfort of your suite.

In addition to the main Lounge on the Columbus Deck, there is also The Club, located on the Marco Polo Deck which features the main bar where the onboard pianist plays periodically throughout the day. The Club also features a 24-hour tea and coffee station. Towards the aft of the ship on the Marco Polo Deck is The Library. Well stocked with reference books pertaining to the destinations the vessel is visiting and a selection of essential reads, you will not find yourself short of excellent literature on board. A selection of games and two computers complete with internet access can also be found in The Library. Daily newspapers and magazines are also placed in the library depending on local availability.

The main dining room which can seat all guests at one sitting is located on the Magellan Deck and outside there is a rear Lido Deck located on the Erikson Deck, complete with deck tables and chairs where meals are served in warm weather under shade. Further to this on the top Explorer Deck the observation area complete with sun loungers is ideal for sun bathing, relaxing with a book or catching up with fellow travellers. There is also a small hairdressers on board with appointments made on request. For your comfort, there is also a clinic with Doctor and a lift which serves all decks.

As is the joy of small ship cruising, we hope to offer the opportunity to visit the Captain and Officers on the Bridge to check the progress of the vessel (subject to weather or security conditions).

Dining

It is quite a task to create a dining experience as that found on board our vessels when you are cruising in far-flung corners of the globe, indeed it takes a team of highly talented chefs to deliver fresh, varied dishes no matter where you are at sea. Fortunately, our catering teams are well adapted to the world of small ship cruising where no two days are the same and the menus are often scheduled and tailored around the days' excursions.

With only one sitting and a maximum of just over 100 passengers, the cuisine on board all three vessels is of a consistent superior quality that befits such vessels. Where possible and when it meets their high standards, our accomplished chefs will obtain local produce in markets. Such purchases enhance the well stocked larders and enable the chefs on board to exhibit their culinary skills and bring a local touch to the varied menus, emphasising the international expertise of the chefs on board. Afternoon tea and pre-dinner canapes take place every day in either the comfort of the Lounge or out on the Lido deck when the weather is favourable. Tea and coffee are also available 24 hours a day. Special diets can be catered for with sufficient notice.

In keeping with the informal atmosphere on board, when dining you are able to choose your seating arrangements at your leisure. Whether that be joining a table of four to six other passengers outside on the Lido Deck in the evening's sunshine or whether you prefer to enjoy meals in the à la carte restaurant. For those travelling alone, our onboard friendly restaurant staff will take care to ensure you are seated with other like minded travellers. In the main elegant dining room, breakfast is served buffet-style, with certain items cooked to order on request. Lunch and dinner are à la carte with an excellent choice of dishes, with the menu reflecting the daily catch or local delicacies. To enhance your dining experience even further a selection of wines are included with both meals and there is also a comprehensive wine list with a wide selection of new and old world wines from which to choose.

The onboard catering and restaurant staff are experienced at sea and enthuse a passion for superb service. Whether it be ensuring you have an outdoor blanket as you enjoy the crisp sea breeze on the Lido Deck or sharing their knowledge of the characteristics of the days' wine selections, you will experience a service on board like no other. You may also enjoy sumptuous barbeques on deck whilst at times, the chef will make your dish to order at special pasta or stir fry stations.

Life Onboard

If large resort-style vessels accommodating many thousands of passengers are your ideal, then our ships are not for you as you will not find endless entertainment, round the clock buffets and the people management which is so much a part of today's big ship on board style. However, if like us you prefer a more peaceful life at sea you will find our flagships the perfect vessels.

When choosing your next voyage the choice of vessels is astounding. You can select a ship carrying in excess of 4000 passengers with impersonal service or join us aboard the MS Caledonian Sky, MS Island Sky or MS Hebridean Sky where peace, high quality service and attention to detail are the order of the day. We promise there will be no organised entertainment, fancy dress, deck games or any of the usual big ship experiences. Instead, the atmosphere is warm and convivial and more akin to a private yacht or country hotel in which you can learn more about the wonders of nature, culture and ancient civilisations in the company of like-minded people. A little music in the lounge or bar after dinner, Guest Speakers and informative port briefings from our Expedition Leader or Cruise Director and of course good food with wine included at lunch and dinner, all contribute to make any voyage aboard these wonderful vessels a memorable and joyful experience. After a day ashore you will return to the comfort and peace of an exceedingly comfortable ship.

The daily programme on board is in the capable hands of our Cruise Director or Expedition Leader and staff who coordinate with the Captain and Officers to make the most of each day. Briefings and talks will be provided throughout the voyage together with a 'Daily Programme' that is distributed every evening to your suite outlining the next day's activities. Dress on board is casual and relaxed and there will be no 'black tie' evenings.

For your comfort

The MS Island Sky is equipped with the latest safety, navigation and communications equipment along with roll stabilizers to minimize the ship's motion. During your voyage we hope to offer the opportunity to visit the Captain and Officers on the Bridge to check the vessels progress by charts and learn more about your journey. There is also a dedicated channel on your television in your suite showing the routing of the vessel along with technical information and estimated times of arrival and departure from port. On board you will also find a clinic and Doctor and a lift that serves all decks. Smoking on board is restricted to a specific area on deck.

Inclusions

Unlike many other cruise vessels, onboard the MS Island Sky you do not need to worry about tipping staff as we have included this in your holiday price. In addition we tip all our guides and drivers along the way, thereby taking away the hassle of always having to remember to have some small change with you. We also include excursions and drinks with meals onboard.

360's

Island Sky Balcony

Island Sky Bathroom

Island Sky Bridge

Island Sky Cafe

Island Sky Club

Island Sky Magellan Deck Cabin

Island Sky Restaurant

Island Sky Lounge

Island Sky Library

Cabin Plans

Deck plans

All Decks

Explorer Deck

Erikson Deck

Marco Polo Deck

Columbus Deck

Magellan Deck
Onboard Experts
David Riordan

Dave grew up in the forests of central New York State in the USA, and developed an interest in the great outdoors at an early age. After earning a degree in Industrial Engineering from Penn State, he dipped his toe in a variety of pools, working at Walt Disney World, at a ski resort in Vail, Colorado, as a stock broker on Wall Street and as an Expedition Leader driving passengers in overland trucks all over South America, Asia and Africa. For the next six years he would lead trips from Colombia to Ushuaia, Helsinki to Beijing (through Russia, Kazakhstan and Mongolia), and from Cairo to Nairobi until getting malaria in West Africa and hanging up the truck keys for a lifejacket.

For the last six years he has been aboard expedition ships as a naturalist guide and lecturer. With many visits to Svalbard, Norway, Iceland, UK, Greenland and Antarctica, he has developed a good knowledge and appreciation of marine life, especially seabirds. Having just returned from the austral summer in Antarctica, he looks forward to returning to the UK, Ireland and Norway to share his passion for this fantastic environment with you.

David Riordan will be on the following tour dates:

8

to

27

March 2017

James Cresswell

James is a geotourism professional; with a degree in geology, and a masters in oceanography, and runs his own geotourism company. His passion is to explain scenery, geology, and climate change to a wider audience and is a member of the UK 'Climate Speakers Network'.

James has guided in the polar regions for the last 6 years, as well as guiding on many trips to Antarctica, Svalbard, the Canadian Arctic, west and east Greenland, the Geographical North Pole and Russian Arctic. His travels have included guiding in Northern Australia, and Papua New Guinea, and he has been a safari guide in both Kenya and Botswana. In addition he has his UK summer mountain leader qualification and have worked as a hiking guide to the Burgess Shale fossil quarry in the Canadian Rockies. James's passion for communicating geosciences began when he started his career working in the television documentary industry. This included being a researcher on a Discovery Channel geological series, and part of the BBC's 'Blue Planet' series. Also a trained photographer, he has managed a photo library, as well as working as a geologist on oil rigs in Algeria and the North Sea. Originally from the Brecon Beacons National Park in Wales, James first went to the Arctic when he was 19 years old and spent a month doing voluntary work with the Inuit community. This was the beginning of his love affair with the polar regions which persists to this day.

James Cresswell will be on the following tour dates:

8

to

27

March 2017

Jean-Pierre Els

Jean-Pierre Els is a qualified Padi Divemaster and Category C vessel skipper who is passionately in love with the ocean and the outdoors. He is now working as a Divemaster, Watersports Coordinator, RIB Driver, Zodiac Driver, Guide and Expedition Team Leader/Member.

His lifelong dream to scuba dive became a reality when he relocated to the east coast of Kwa-Zulu Natal. What started out as a hobby quickly progressed into a career and Jean-Pierre soon had the opportunity to work on the Sardine Run, known as The Greatest Shoal on Earth. After that he was employed as a resident Divemaster and Skipper in Shelly Beach. He specialized in shark diving on the reef Protea Banks. One of his greatest experiences in life is as a Sardine Run Expedition Leader for African Dive Adventures. Setting up an entire operation to a remote area and being on the water with no guarantee what to expect is truly an exhilarating challenge he looks forward year after year.

Thereafter his work expanded to various parts around the globe while working with Eyos-Expeditions as a Divemaster and expedition team member. He is responsible for the planning of dive programs, managing operations, group diving, driving RIB's, zodiacs, guiding etc. He is currently also working with Expedition Voyage Consultants as a Watersports and Surface Activity Coordinator. At EVC he assists and advises with the start-up and set up of watersports, surface activities and operations onboard. Advising on the onboard organizational structure, schedules and developing SOP's.

Jean-Pierre Els will be on the following tour dates:

8

to

27

March 2017

Nicholas Merchant

Nicholas Merchant's career has mirrored his abiding interest in Antiques. He has worked for some of the major Auction Houses in London as well as running his own book business devoted to the Decorative and Fine Arts. His particular interest is English 18th century furniture and Country Houses. However, his interest is broad and he likes to discuss objects, not just for themselves but in their historical context.

Nicholas is much in demand as a lecturer which has taken him recently to the United States, South Africa, Europe and all over the United Kingdom, including the Victoria and Albert Museum in London. Since joining the panel of lecturers of the NADFAS in 2004 his convivial style of lecturing has resulted in over 500 lectures all over the world. Nicholas is the West Yorkshire representative of the ArtFund. His company Aspect Events is responsible for arranging, hosting and lecturing in major hotels on specialist short breaks for collectors. Nicholas also lectures extensively on board selected cruise-lines

Nicholas Merchant will be on the following tour dates:

8

to

27

March 2017

Peter Ward

With his father in military service, Peter Ward grew up in different places throughout England, Germany and the Far East. Graduating in English Literature and Religious Studies marked the start of a lifelong interest in Eastern mythology and religions, especially Buddhism. The 'Malabar Coast' itinerary includes important Buddhist sites of pilgrimage in Sri Lanka, which hold a particular significance for Peter having visited the two most important places in the Buddha's life (Bodhgaya and Sarnath) as guest lecturer on Noble Caledonia's 'Holy Ganges' river cruise (2014).

With his grandfather also in the military serving in many different places of the British Raj through the 1920s and 1930s – including Sialkot (now in Punjab state, Pakistan) where his mother was born – India is central to Peter's family history, providing a strong, personal connection to his travels and study of the country. The buccaneering history of the East India Company – the foundation from which the Raj evolved – will be a focal point of Peter's lectures, as we visit one of the Company's most important early trading posts, the Fort of St George, established in Chennai (Madras as was) in 1639.

In addition to accompanying tours and lecturing on the Silk Road across China and central and western Asia covering Kazakhstan, Turkmenistan and Uzbekistan, Peter's travels to northern India have taken in Kashmir before it became extensively off-limits to tourists, Uttar Pradesh, and throughout India's largest state – Rajasthan. He is a published author with Random House and actively promotes literacy for children as a '21st Century Author' for the National Literacy Trust.

Peter Ward will be on the following tour dates:

8

to

27

March 2017

Stuart Burmeister

Stuart's home is in Durban, South Africa. He grew up literally in the wilds of Africa and has a good knowledge of the indigenous people and regions of many African countries. His maritime background has covered sea rescue search and recovery operations, sailing and power boating. His qualifications cover all power vessels from a Zodiac to a class six craft over 200 tonnes.

Stuart is a trained fire fighter with over six years active service. He is also Dive Master scuba diver, first aider and 'Mr Fix it' when it comes to boating. He has been in the cruising industry since 1980 and has mainly worked on board large passenger liners. He has extensive knowledge of many Indian Ocean islands and has worked on expedition cruises to Mozambique, Madagascar, the Seychelles and British Isles. Stuart has also acted as Tour Manager for cruises to Algeria, Libya, Tunisia, Egypt, Jordan, Malta, Sicily and many more countries. When asked how many cruises he has been on he said that he gave up counting after 600.

Stuart Burmeister will be on the following tour dates:

8

to

27

March 2017

Wendy Malan

Wendy trained as a classical ballet dancer and teacher at the University of Cape Town. After dancing professionally for ten years, she taught at the same university before setting out on her own. She has run her own successful exercise studio and produced several ballets for the Cape Youth Ballet. Together with her oceanographer husband she has taken part in research cruises off the West Coast of Southern Africa and travelled to some of the Earth's more interesting places, including the Namibian Skeleton Coast, Mozambique and the Antarctic.

Her first visit to the Antarctic was in 2003, aboard the SA Agulhas, supervising a group of scholars who accompanied the vessel on a relief cruise to Queen Maud Land. She has worked on small expedition cruise ships in many places in the world for the past eight years.

Wendy Malan will be on the following tour dates:

8

to

27

March 2017

Joselyn Fenstermacher

Joselyn's extensive travels to all seven continents and the long list of various seasonal jobs-- including fire fighter, farmer, and field biologist-- perhaps happened as a reaction to what could be considered a "sheltered" childhood growing up in the suburbs of Washington, D.C. Having always been someone who needs a lot of time outside, she constantly looks for ways to spend life out-of-doors, learning new things, seeing new places, and inspiring others to ask questions and think big.

As an undergraduate, Joselyn studied behavioral ecology and conservation biology, going abroad to Ecuador and Tanzania for hands-on, research-based semester courses studying the local flora, fauna, and conservation attitudes. She has worked all over the United States including in Alaska and Hawaii, and with all manner of critters including fish, brown bears, desert tortoises, and rare and endangered birds. Over the past several years she has also been working in Antarctica, spending several seasons supporting the scientific research program at two U.S. science bases (McMurdo and South Pole) and for the past three years serving as guide and education coordinator on expedition voyages to the Antarctic Peninsula, Falkland Islands, and South Georgia. When back in the U.S. Joselyn spends most of her time in the Big Bend region of far western Texas where she has fallen in love with the Chihuahuan Desert.

She has worked for the U.S. National Park Service there as a bio-technician and interpretive Park Ranger, and in 2007 completed her Master of Science botanical research involving Big Bend flora. During the ensuing years she continued investigating a small group of relatively unknown cacti, publishing her research and becoming a recognized regional expert. Recently, her ongoing contributions to botany were honored by a colleague who named a new plant species after her, one that she discovered during her MS thesis work. Joselyn is passionate about learning more about the world around her and sharing that passion with others-- hoping to inspire a broader appreciation for, and understanding of, the fascinating world we live in.

Joselyn Fenstermacher will be on the following tour dates:

8

to

27

March 2017
Tour Extensions
26th March to 1st April 2017

Day 1 (Day 19 of cruise itinerary) Chennai to Delhi. Disembark the MS Island Sky and transfer to the airport for your internal flight to Dehli arriving later in the afternoon. Settle into our hotel (Sheraton or similar) for a two night stay.

Day 2 Delhi. Enjoy a morning sightseeing tour to discover Old Delhi, the former Mughal capital, and New Delhi, a colonial city designed in the 1920's by Lutyens. See the magnificent Red Fort and visit Raj Ghat, the memorial to Mahatma Gandhi as well as the Qutub Minar a majestic, sandstone tower built in 1192. Enjoy an afternoon at leisure.

Day 3 Delhi to Samode. Drive to Rajasthan province arriving at lunchtime for a two night stay at splendid Samode Palace set in the hills of Aravalli. Discover the local village in the afternoon and this evening enjoy a gala evening at the Palace.

Day 4 Jaipur. Explore the sights of Jaipur. Visit the imposing Amber Fort blending Hindu and Rajput influences. After lunch, a sightseeing tour of Jaipur, the pink city, reveals the Palace of the Winds with its delicate honeycomb screens from behind which the ladies once viewed the world outside.

Day 5 Samode to Agra. A full day to travel to Agra, visiting Fatehpur Sikri en -route. Built by Emperor Akbar in the 16th century, this former palace city on top of a ridge, was only destined to be the capital of the Mughal Empire for 10 years before the water supply dried up. Admire the architectural splendour of the Royal Hall, Mosque and palace buildings. Check into the ITC Mughal (or similar) for a one night stay.

Day 6 Taj Mahal, Delhi. The legendary beauty of the white marble domes of the elegant Taj Mahal awaits discovery this morning. Built by the Mughal emperor Shah Jahan as an exquisite mausoleum for his beloved wife Mumtaz Mahal, Rudyard Kipling described the building as "the embodiment of all things pure". Return drive to Delhi in the afternoon. Day 7 Delhi to London. Transfer to the airport for your return scheduled flight to London.

Prices per person based on double occupancy

| Category | Price |
| --- | --- |
| Twin | £1545 |
| Single | £2095 |

Price Includes: Six nights accommodation listed above, economy internal flight Chennai to Delhi, breakfast and dinner at hotels, five lunches, meals served with water, snack pack on internal flight, transfers, excursions, Noble Caledonia escort.

Not Included: Indian visa, soft and alcoholic drinks.

N.B. Please note that there are some long drives (3-5 hours) between cities on this tour.
Book with Confidence
Speak to one of our advisors on 020 7752 0000