Sailing the Spanish Main
Discover the Ancient and Natural Wonders of Central America aboard the MS Hebridean Sky
Brochure
View
Order brochure
View All
Our voyage from Colombia to Florida by way of Panama, Costa Rica, Honduras, Guatemala, Belize, Mexico and Cuba is certainly an odyssey to some of Central America's most picturesque and enthralling destinations. We will begin in the charming, colonial walled town of Cartagena from where we sail to some little known, pristine and remote islands including Panama's San Blas archipelago, Colombia's Isla Providencia, Guanaja Island in Honduras and Livingstone in Guatemala.
Our time spent on these island paradises will be interspersed with visits to some of the region's most fascinating Mayan sites including the opportunity to explore Copan in Honduras, Chichen Itza in Mexico and the lesser known Lamanai Archaeological Reserve in Belize with its massive pyramids. Not forgetting the incredible biodiverstity of the region, we also visit some national parks to view endemic and diverse flora and fauna including the Cahuita National Park in Costa Rica. Before reaching the United States we spend two days in the vibrant Cuban capital of Havana.
If you have been contemplating a visit to Central America, then this captivating voyage offers you the perfect opportunity with its mix of cultural and natural wonders. Such a comprehensive and in-depth itinerary would be difficult to comprehend or undertake by any other means than a cruise and with the MS Hebridean Sky as our base, we are able to visit some remarkable places which the larger cruise vessels simply cannot access.
Useful links & Travel Advice
Please find a selection of useful websites to refer to for information from the Foreign & Commonwealth Office, on visa requirements, NHS travel health advice and other useful travel tips.
---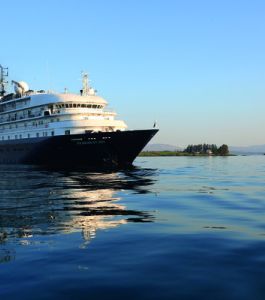 Hebridean Sky
The MS Hebridean Sky is one of our three flag ships and sister vessel to the MS Island Sky and MS Caledonian Sky. All three vessels were built in the same ship yard in Italy at similar times and share the same excellent attributes that make them three of the finest small ships in the world. Formerly known as the Sea Explorer, the vessel underwent a multi-million pound refurbishment in Sweden in Spring 2016 before being re-launched as the MS Hebridean Sky.
Itinerary
Day 1 - London to Cartagena, Colombia.
Fly by scheduled indirect flight.
Day 2 - Cartagena.
Arrive into Cartagena this morning and transfer to our hotel for an overnight stay. The remainder of the day is free to relax. Later this evening we will meet for dinner in a nearby restaurant.
Day 3 - Cartagena.
This morning we will explore the colonial walled city of Cartagena on a guided tour including the 16th century Fort of San Felipe and Monastery of San Pedro Claver. After lunch in a local restaurant there will be some free time before transferring to the MS Hebridean Sky. Enjoy Welcome Drinks and Dinner as we sail this evening.
Day 4 - San Blas Islands, Panama.
Spend the morning at sea before we arrive at the stunning San Blas Archipelago during lunch. The archipelago is made up of over 400 islands which line the north coast of Panama with white sandy beaches set in a turquoise sea. The islands are home to the indigenous Kuna Indians who gained self-rule from the government of Panama in the 1920s and maintain their traditional way of life including the production of colourful fabric art known as 'molas'. This afternoon choose to explore the market, local museum or maybe enjoy a swim from the beach.
Day 5 - Colon for the Panama Canal.
From our berth in Colon we will take a full day tour to see the famous Panama Canal. The first attempt to build the canal was made by a French company, but ended in failure in 1889. The American government eventually bought out the French for 40 million dollars, and their attempt to build the Canal started in 1904. Through the efforts of over 80,000 workers and the loss of more than 30,000 lives, the greatest single construction project ever undertaken was completed. The canal finally opened in 1914 and it is now a vital artery of international trade, with nearly 14,000 ships travelling through it every year. We will visit the Panama Canal Observation Centre and learn about the expansion of the canal before visiting the Miraflores Locks Visitor Centre where we can watch the ships as they pass through. Also discover the historic old town of Panama, declared a UNESCO Historical Monument. We will stroll along the cobblestone streets of the Casco Viejo visiting the colonial mansions and 17th century churches and convents before continuing to Panama Viejo and the original ruins of the city founded in 1517 and burnt to the ground by British pirate Henry Morgan.
Day 6 - Bocas del Toro.
Arrive this morning in the Bocas del Toro archipelago and the island of Isla Colon. After breakfast we will head the short distance to the Finca Los Monos, a privately run garden managed by David and Lin Gillingham. Over the years Finca Los Monos has evolved from a lush rainforest to a magnificently planned garden with large collections of heliconias, gingers, palms, flowering trees, fruits, spices and ornamentals whilst new plants are constantly being added. With such an abundance of fruit and flowers, a wide variety of birds reside here including parrots, tanagers, woodpeckers, orioles, flycatchers, green Ibis and many more. One may be lucky enough to see the small nests of the hummingbirds or the pendulous nests of the montezuma oropendulas. Return to the ship for lunch and an afternoon at leisure to explore the small town.
Day 7 - Puerto Limon, Costa Rica.
This morning we head south to the Cahuita National Park. The area is filled with wildlife that includes howler monkeys, white-faced capuchin monkeys, raccoons, sloths, otters, coatis, agoutis, armadillos and porcupines. Several avian species also live in the swamp forest, including the green ibis, the green kingfisher, the yellow crowned night-heron, the frigate bird and the boat-billed heron, among others. Our naturalist guides will lead us through the trails of the rainforest, sharing their vast knowledge of this fragile ecosystem. After lunch on board the MS Hebridean Sky the afternoon is free to relax or join a restored passenger train and travel through beautiful scenery to catch a glimpse of some more of Costa Rica's amazing wildlife such as sloths and monkeys. The train track is part of the 3' 6" gauge Atlantic Railway, opened in 1890 to link San José with the country's east coast but closed to regular services after severe damage by an earthquake in 1991. For the second part of the trip we will board a boat and travel along the scenic Tortuguero canals, where waterfowl, white-faced and spider monkeys can be spotted.
Day 8 - Isla de Providencia, Colombia.
Often referred to as 'Old Providence' in English, Providencia is a beautiful Colombian island that is little known and untouched by the hand of tourism. Along with its smaller sister island of Santa Catalina, it is enclosed by an extensive barrier reef system of some 35 kilometres in length, making it one of the most significant reefs in the world. Captured twice by Henry Morgan and his buccaneers who aimed to make it a British possession, it nevertheless ended up Spanish and is now a remote Colombian island. Arriving at lunchtime we have an opportunity to spend the afternoon on an island tour and travel in local boats to Crab Cay for snorkelling.
Day 9 - At Sea.
Relax on board, find a spot on deck to read or maybe join one of the lectures as we continue our journey north.
Day 10 - Guanaja Island, Honduras.
Arrive this morning in Honduras and the small island of Guanaja. The easternmost of the three Bay Islands, Guanaja is covered in a forest of Caribbean pine and when Christopher Columbus landed on the island in 1502, he named it the Isla de Pinos (Island of Pines). Unlike some of the surrounding islands only small ships like ours can anchor here and we will spend the day exploring the island and its surroundings. Visit the small town, use local boats to explore the mangrove channels, snorkel on one of the nearby cayes, visit the small turtle sanctuary or join nature walks with the local guides.
Day 11 - Puerto Cortes.
Our second day in Honduras will be at the mainland port of Puerto Cortes from where there will be a choice of excursions. A full day tour will travel to the archaeological site of Copán, famous for its magnificent Mayan ruins which were declared a UNESCO World Heritage Archaeological Site in 1980. One of the most important of all Maya civilisations lived, prospered, and then mysteriously crumbled around the site. The city produced remarkable sculptures and hieroglyphics, including a towering stairway, which we will explore before enjoying lunch in a local restaurant and returning to the ship. This will be a long but rewarding tour. Alternatively drive to the nearby Fortaleza de San Fernando do Omoa, a colossal fortress, at 4,400 square metres, built by the Spanish between 1759 and 1777 to combat the piracy prevalent in the region. Explore the fortress, the visitor centre and museum before returning to the ship for lunch and an afternoon at leisure.
Day 12 - Livingston, Guatemala.
Surrounded by water and jungle, Livingston is a settlement of Garifuna people accessible only by sea which is just one of the things that makes it unique among Guatemalan cities. We will transfer onto local boats and venture up the Rio Dulce hoping to see pelicans, cormorants and herons as we cruise up the river before arriving at the Ak'tenamit project, a local social development organisation supporting sustainable tourism. Here we will walk the trails viewing birds and plants before returning to spend time in Livingston itself.
Day 13 - Belize City, Belize.
We have an interesting day ahead as we travel inland to the ancient Mayan city of Lamanai (translates to 'submerged crocodile'). From the nearby town of Orange Walk Bridge, we board local boats for a wildlife cruise through mangroves, wetlands and forests. Look out for egrets, herons, kingfishers, snail kites and black-collared hawks as we make our way up river past Morelet's crocodiles. A short walk through the jungle brings us to the Lamanai Archaeological Reserve with its massive pyramids which are in fact pyramids built upon pyramids. Local guides will tell the story of this site which is the only Mayan city known to have been inhabited through every age of Mayan civilisation.
Day 14 - Costa Maya, Mexico.
From the port of Costa Maya we will head inland to the Mayan archaeological sites of Dzibanche and Kinichna which formed a city that covered 40 square kilometres. The ruins, discovered in 1927 by Thomas Gann, include impressive temples, plazas and ceremonial centres whilst government buildings suggest this was a social and economic centre for the region. The site was settled during the 'classic period' between the 3rd and 9th centuries and was also the capital of the Kan dynasty in the 5th and 6th centuries AD. Recent excavations at Dzibanche have revealed tombs with rich jade offerings for members of the ruling family and inscriptions that indicate it could have been home to the most powerful Maya dynasty.
Day 15 - Cozumel.
The island of Cozumel is our base for a choice of tours today. We will travel by boat to mainland Mexico for our full day tour to the Mayan site of Chichen Itza, one of the new 'Seven Wonders of the World'. Our visit will include the great main plaza with the adjoining imposing El Castillo, also known as the Pyramid of Kukulcon. Other buildings include the Temple of the Carved Panels, the Temple of the Warriors and the nearby Group of the Thousand Columns, the Ball Court and the Caracolor Observatory. Alternatively stay on the island of Cozumel and visit the pre Columbian Mayan site of San Gervasio. This was a hub of worship for the goddess lx Chel, the deity of childbirth, fertility, medicine and weaving and women would make a pilgrimage to the site at least once in their lives. Return to the ship for lunch and an afternoon at leisure in the local town.
Day 16 - At Sea.
After a busy few days enjoy a relaxing day at sea, maybe join a lecture or find a spot on deck to settle down with a book.
Days 17 to 19 - Havana, Cuba.
We have three full days to explore Havana and will offer a number of excursions during our time here.Discover Habana Vieja (Old Havana) with its twisting, cobbled streets that lead to beautifully restored Baroque churches, castles and palaces and visit the 16th century Plaza de Armas, the oldest plaza in the city and its original administrative centre. Also learn more about Hemingway's Cuba and visit the legendary writer's finca in San Francisco de Paula and the Ernest Hemingway Museum. Later, call into Cojimar Village, the inspiration for 'The Old Man and the Sea'. Explore modern Havana on a drive along the Malecon, Havana's seafront to Vedado. See the Plaza de la Revolucion and the headquarters of President Fidel Castro and his Council of Ministers. We also hope to embrace one of the traditional industries of Cuba with a visit to a cigar factory learning about the traditional techniques still in practice today. For those wishing to venture further we will offer a full day tour to the Vinales Valley in the Pinar del Rio Province. It is here that some of the best tobacco is grown, harvested and processed. We will learn about the production techniques, see the traditional Cuban country lifestyle and enjoy lunch before our scenic drive back to the ship. We also hope to have musicians join us on board for a concert as we moor overnight.
Day 20 - At Sea.
Spend a final, relaxing day at sea as we cruise around to Nassau.
Day 21 - Nassau to London.
After a leisurely morning on board followed by lunch, enjoy an afternoon tour of Nassau. We will continue to a local restaurant for dinner before transferring to the airport for our scheduled flight to London
Day 22 - London.
Arrive this morning.
Dates and Prices
SPECIAL OFFER – SAVE £400 PER PERSON FOR A LIMITED TIME ONLY
Prices per person based on double occupancy
22

April 2019 to

13

May 2019
Category
Brochure Price
Special Offer Price
Amundsen Deck Standard Suite
£10895
£10495
Byrd Deck Superior Suite
£11095
£10695
Mawson Deck Premium Suite
£11495
£11095
Mawson Deck Corner Suite
£11995
£11595
Scott Deck Deluxe Balcony Suite
£12495
£12095
Shackleton Deck Owner's Balcony Suite
£12795
£12395
Shackleton Deck Hebridean Suite
£14495
£14095
Amundsen Deck Standard for sole use
£13495
£13095
Byrd Deck Superior for sole use
£13695
£13295
Tour Reference Code: SCHSK110419
Price Includes: Economy class scheduled air travel, overnight hotel accommodation in Cartagena on a bed and breakfast basis, half day Cartagena tour with lunch, dinner on day 2, 18 nights aboard the MS Hebridean Sky on a full board basis, wine, beer and soft drinks with lunch and dinner, shore excursions, Noble Caledonia onboard team, transfers, port taxes, gratuities.
Not Included: Travel insurance, visas.
Ship to Shore: Please note that this voyage is a mix of expedition and destination cruising and we will be making use of the vessel's Zodiacs in at least five ports of call including the San Blas Islands, Bocos del Toro, Isla de Providencia, Guanaja Island and Livingstone.
Deckplan
Hebridean Sky
The MS Hebridean Sky is one of our three flag ships and sister vessel to the MS Island Sky and MS Caledonian Sky. All three vessels were built in the same ship yard in Italy at similar times and share the same excellent attributes that make them three of the finest small ships in the world. Formerly known as the Sea Explorer, the vessel underwent a multi-million pound refurbishment in Sweden in Spring 2016 before being re-launched as the MS Hebridean Sky.
Travelling with You
Olga Stavrakis

Olga holds a Ph.D. in Anthropology specializing in peoples and cultures of Central America and the Caribbean. She started her graduate career at the fabled site of Tikal in the jungles of Guatemala where she worked with the original University of Pennsylvania archaeological and ecological project. She then continued her studies in northern Belize, where she studied nutrition and economics of the modern Maya, living and working in remote villages with her archaeologist husband and children over a period of 8 years. As a result of this research she became the regional coordinator for a major agricultural development project funded by USAID, aimed at improving training and information dissemination to farmers in the Caribbean region.

This work took her to Jamaica, Dominica, St. Lucia, St. Vincent, Trinidad and many other islands where she worked directly with rural families and gained an intimate knowledge of their history and way of life. At the end of this project she continued in international development working with the World Bank, the UN, and IFAD on projects in the Caribbean, Central America, Asia and Eastern Europe. Her career was interrupted, however, when she was widowed early in life, and required to return Minnesota so her children could continue their education at home. Undaunted, she started a new business at home in the area of food safety.

In 2002 she sold the business, retired and returned to her first love, anthropology and the study of human cultures, but this time working as a lecturer in the travel industry. She has a passion for the peoples of the Caribbean and keeps in close touch with the residents of her research village. She is writing the first major guidebook for the site of Tikal, and volunteers with various economic development projects around the world.

Olga Stavrakis will be on the following tour dates:

22

April 2019 to

14

May 2019

Jane Wilson

For the last 10 years Jane has worked on expedition cruise vessels (including some Russian polar ice strengthened and icebreaker vessels) as a zodiac driver, lecturer and expedition leader in many remote corners of the world including South America, the Arctic and Antarctica, Europe, South-east Asia and the South Pacific. She also keeps her hand in the science pie as Voyage leader for the Australian Antarctic Division, being responsible for deploying support personnel, cargo and scientists to stations and field camps in Antarctica on the Australian research and re-supply icebreaker Aurora Australis. She is a keen skier and now calls the Rocky Mountains in Canada home.

Jane Wilson will be on the following tour dates:

22

April 2019 to

14

May 2019

Sue Forbes

Sue has been creating wildlife, landscape and travel photos for 20+ years, traveling to over 80 countries on all 7 continents. She has combined this passion with an unusual career including everything from the Royal Air Force to various executive roles in Silicon Valley, California. Sue left her last job, at Motorola, a few years back to focus solely on wildlife & travel photography and her work has been published in newspapers, magazines & books in the UK and US since then. She spends most of the time on various Noble Caledonia ships as a member of the expedition staff helping passengers (and maybe the odd lemur as in this photo during her last visit to Madagascar!) take home great photos and learn more about their cameras / smartphones.

Sue is an avid naturalist looking at wildlife behaviour from a photographers perspective and has taught about wildlife and photography on expeditions ships around the world. She can also be found driving the odd zodiac!

You can find Sue's images on her website at www.sueforbesphoto.com

Sue has a BSc in Electronic Engineering from Warwick University, UK and an MBA from Stanford Graduate School of Business, California

Sue Forbes will be on the following tour dates:

22

April 2019 to

14

May 2019

Colin Munro

Colin is a freelance marine biologist and photographer, with a strong interest in underwater photography. Originally from the north of Scotland, he now lives in Southwest England.

As a marine biologist he has specialised in diving and camera surveys of the seabed, in particular he has worked on the monitoring of marine protected areas in temperate waters. His work has taken him from the sea lochs of Scotland to the seagrass beds off Libya and deep water reefs of the Persian Gulf. He has been a professional SCUBA diver for over 30 years, first starting as military diver in the rivers of Germany. This was by a brief stints as a salvage diver in East Africa and diving instructor, before his passion for ocean life lead him back to university and a career as a diving biologist. When not diving or driving zodiacs Colin spends his time restoring his own wooden sail boat or tinkering with old motorbikes.

Colin Munro will be on the following tour dates:

22

April 2019 to

14

May 2019

Dot Robertson

Born and bred in Melbourne I have always had a love of the outdoors and adventure. Getting out into the wilderness, exploring new places and meeting people from different cultures is my passion. For the past 25 years I have travelled to many places around the world, exploring everything from cities, wilderness, coastal regions and many historical sites.

A family history in both world wars first drew me to PNG. For the past seven years I have taken trekkers across the Kokoda Track to explore the history, experience the amazing environment and meet the wonderful people who live along the track. It is definitely an experience that stays with you and brings to life the battle fought by those courageous Australians during the Kokoda campaign.

Over the past few years I have also taken groups to hike Mt Rinjani on Lombok,walked the Inca trail, Mt Blanc, West Highland Way, Cuba and sea kayaking around the Komodo Islands.

In 2014 this work led to the opportunity as a tour director and expedition team member on the Caledonian Sky, a role that I totally embraced and absolutely love doing, carrying out numerous and varied roles and responsibilities.

Dot Robertson will be on the following tour dates:

22

April 2019 to

14

May 2019

Captain Peter Hore RN rtd

Peter Hore served in Royal Navy 1962-2001, spent ten years in the film and television industry and is now a full-time journalist and author. When not on the Camino in Spain, he lives in West Sussex.

Peter won the Harwood prize for modern languages at Dartmouth in 1965, and a gold medal in the Tall Ships race to Oslo in 1980. Highlights of his naval career include service on the staff of a seagoing admiral, and service in HM Ships Arethusa, Jupiter and Galatea; also exchange service in the USN and duty in NATO's Standing Naval Force Atlantic. He was Joint Logistics Commander on Ascension Island during the 1982 Falklands War, spent two years in Hong Kong, and was Head of Defence Studies during the British government's Strategic Defence Review (1997-2000).

In 2000-2009 he was CEO of the Cinema and TV Benevolent Fund, and host of the annual Royal Film Performance.

He has written numerous reviews, articles and a dozen books including the award-winning Sydney, Cipher and Search (2009), an account of his ten-year search - through archives and interviews with survivors, and the breaking of a German wartime code - for the fate of HMAS Sydney who was lost in 1941.

Peter is an obituarist for the Daily Telegraph, a member of the Royal Swedish Society of Nautical Sciences, a fellow of the Royal Historical Society and a fellow of the Society for Nautical Research.

Peter is the author of HMS Pickle, the Swiftest Ship at the Battle of Trafalgar, and editor of Nelson's Band of Brothers and the annual Trafalgar Chronicle which is the leading source of knowledge about the sailing navies in the age of Nelson.

Captain Peter Hore RN rtd will be on the following tour dates:

22

April 2019 to

14

May 2019

Bernabe Urtubey

Born in Argentina and currently living in Patagonia, all of his studies were orientated towards biology. During his Exchange Student time in Johannesburg, South Africa, Berna fell in love with nature and wildlife, travelling extensively around southern Africa, especially Zimbabwe, Zambia, Namibia, Mozambique, South Africa and Botswana.

In the past 17 years has been working as a Guide, Zodiac Driver, Lecturer and/or Expedition Leader to Antarctica, the Arctic and around South America.

South America is his home, with a vast knowledge of the Atlantic and Pacific costs, from Tierra del Fuego to Brazil and as far North as Panama and Colombia.

Berna's passions are the Polar Regions and travelling, making this his favorite place on Earth. During the excursions Berna will share his knowledge about wildlife, especially marine mammals, seabirds and the history of the area.

From 2006 and until 2009 he has worked as an External Consultant for UN in Tierra del Fuego Province in a major program called Coastal Management of the Argentine Patagonia. He has worked at Punta Tombo Magellanic Penguin Colony for several years as well, enjoying every moment around wildlife in its fullest.

During his little spare time, Berna is a Whale Watching, Tug and Pilot boat Captain around Peninsula Valdes, in the home of the Southern Right Whales.

Bernabe Urtubey will be on the following tour dates:

22

April 2019 to

14

May 2019
Book with Confidence
Speak to one of our advisors on 020 7752 0000