Antarctica, South Georgia & the Falklands - Island Sky
An expedition to the Great White Continent aboard the MS Island Sky
In today's highly accessible world there are few places that still hold the power to enthral and enchant. Antarctica is certainly one of these. No amount of travel books or films can prepare you for Antarctica. It is somewhere that has to be seen to be believed. Enormous icebergs rise from the sea, hillsides are covered with thousands of penguins and seals bask on icebergs dotted in the ocean; the sights, sounds and emotions will stay with you forever.
Antarctica is to be experienced, not just to be seen, and we believe the only way to do this is on board a small ship in order to maximise the time spent ashore. To enjoy the wonders of this icy paradise in the company of an expert expedition team and a small and enthusiastic party is the perfect way to achieve the most from a visit to this extraordinary place. We have timed our expedition for what is regarded as spring as the pack ice begins to melt. This is the mating season for penguins and other species and you can witness their spectacular displays of courtship ritual, nest building and such antics as stone stealing. This is also the time when fur seals claim their breeding territories.
Our expedition starts in Ushuaia from where we will be followed by albatrosses as we sail to the Falkland Islands for our exploration of these isolated islands thriving with wildlife and a fascinating history. We continue to South Georgia where we have ample time to explore what is one of the world's natural wonders with a remarkable concentration of wildlife. We will land on remote beaches, alive with great numbers of fur seals, elephant seals, wandering and sooty albatrosses, Macaroni and King penguins. These beach paradises are backed by some of the most breathtaking mountain scenery in the world. Finally we sail for the peninsula where enormous tabular icebergs rise from the sea, hillsides are covered with thousands of penguins and seals bask on icebergs. Whilst at sea or in between our landings you can pass the time looking for wildlife on deck, attending the series of lectures by the expedition team or simply relaxing on board.
Useful Links & Travel Advice
Please find a selection of useful websites to refer to for information from the Foreign & Commonwealth Office, on visa requirements, NHS travel health advice and other useful travel tips.
---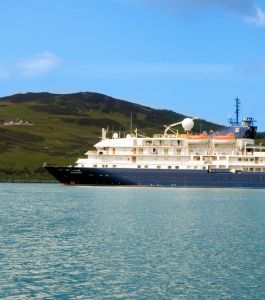 Island Sky
The MS Island Sky is one of our three flag ships and sister vessel to the MS Caledonian Sky and MS Hebridean Sky. All three vessels were built in the same ship yard in Italy at similar times and share the same excellent attributes that make them three of the finest small ships in the world.
Itinerary
Day 1 - London to Buenos Aires, Argentina
Fly by scheduled flight.
Day 2 - Buenos Aires.
Arrive this morning and transfer to our centrally located hotel for an overnight stay. This afternoon is free to relax in the hotel or maybe join an orientation tour of the city including the Plaza de Mayo, the Cathedral and the Cabildo (Old City Hall) before we continue towards the most traditional neighbourhood of Buenos Aires, San Telmo which is characterised by its old colonial houses and the cobblestoned streets. End the tour in La Boca to look around the colourful zinc houses which used to be the refuge and home for the first immigrants and popular artists. The evening is free for independent exploration.
Day 3 - Buenos Aires to Ushuaia.
After breakfast in the hotel we will transfer to the airport for our scheduled flight to Ushuaia. On arrival transfer to the MS Island Sky and start our adventure this evening as we cruise down the Beagle Channel.
Day 4 - At sea.
Among the wildlife spotting opportunities as we sail south are albatrosses, prions and petrels that frequently follow the ship. Our expedition team will be out on deck looking for whales and dolphins that may also be seen in the area. During our day at sea our onboard experts will begin their presentations with informative and entertaining talks on the wildlife, history and geology of the Falkland Islands and Southern Ocean.
Days 5 & 6 - Falkland Islands.
The Falkland Islands are isolated and windswept, a haven for wildlife. We hope to land on New Island, the westernmost island with one inhabitant and 40 species of breeding sea birds including rock hopper penguins. Weather and wind conditions allowing, we may also land on Steeple Jason, the north western outpost with the world's largest colony of black browed albatross. We will make sure to visit some of the many historic sites on the island and to call at Port Stanley, the charming capital of the Falklands.
Days 7 & 8 - The Southern Ocean.
As we cruise towards South Georgia the richness of these waters will be evident in the marine mammal life, especially the fur seals on fishing forays. We have a good chance of spotting whales such as fins and minkies whilst the birds circling our stern will be outstanding, especially the large albatrosses and numerous breeds of petrels.
Days 9 to 11 - South Georgia.
We have two and a half days of expedition cruising in and around South Georgia, a paradise island with snow-clad mountain peaks rising 9000 feet and with 165 glaciers tumbling down towards the sea. We arrive early in the season when parts of the island are still covered by a thin layer of snow. For anyone interested in wildlife, South Georgia is a true oasis. The beaches will be covered by elephant seal bulls and females with feeding pups. They share the beach with a myriad of nesting King penguins. Most of the other sea birds have arrived and started nesting. This is also the time when the great arrival of the fur seals starts. Millions of fur seals will, over a few weeks, return to the beaches to breed. During our time here we hope to visit Salisbury Plain where we will find enormous elephant seals which crowd the beaches alongside thousands of pairs of King penguins. In Fortuna Bay we will see nesting light mantled sooty albatrosses and hope to witness their gracious courting flights. A few thousand King penguins nest here. Meanwhile in Grytviken we will visit the old whaling station and of course pay our respect at the grave of 'the boss' – Ernest Shackleton.
Days 12 & 13 - At sea
The waters between South Georgia and the Antarctic Peninsula are rich with fin whales, where in good conditions we have seen as many as a hundred in a day. If not whale-watching, lookout for Antarctic Petrel, Kerguelen Petrel and one of the most beautiful birds of the Southern Ocean, the snow petrel. The icebergs will also become more plentiful as we sail south. Alternatively join the lecture programme as we learn more about the wildlife and history of the region.
Days 14 to 18 - Antarctic Peninsula and South Shetland Islands.
We have five days of exploration around the Peninsula which will include many of the best places for wildlife and magnificent scenery. Whilst we arrive with a planned itinerary the final schedule will be determined by our Captain and the Expedition Leader based on sea, weather and ice conditions. Using our Zodiacs we will make daily landings for unique close encounters with animals such as adelie and gentoo penguins, fur seals and petrels. We hope to visit the collapsed volcanic cone of Deception Island for a chance to visit Whalers Bay, Petermann Island, home to numbers of Adelie penguins, picturesque Neko Harbour, the Lemaire Channel where towering icebergs rise from the sea and Half Moon Island with its rookery of chinstrap penguins. We also hope to sail through the breathtaking Antarctic Sound, also known as 'iceberg alley', where massive icebergs drift north from the continent.
Days 19 & 20 - The Drake Passage.
Two days to relax onboard and reminisce with your fellow travellers about all you have seen and experienced during our expedition. Enjoy a lecture, look for wildlife or simply relax as we make our way across the Drakes Passage toward Ushuaia. Named after the 16th century English seaman, Sir Francis Drake, the Drake Passage separates the southernmost tip of South America from Antarctica. This is a particularly good area to spot royal albatross and blue petrel and we will also be on the lookout for pods of sperm whales.
Day 21 - Ushuaia to Buenos Aires.
Disembark after breakfast and transfer to the airport for our scheduled flight to Buenos Aires. On arrival transfer to our hotel for an overnight stay. The evening is free for independent arrangements.
Day 22 - Buenos Aires to London.
After breakfast in the hotel we will transfer to the airport for our scheduled flight to London.
Day 23 - London.
Arrive this morning.
Please note that flexibility is key to a successful expedition in Antarctica. Although we have outlined an itinerary above, this is only a preliminary plan, our exact route will depend on ice, weather conditions and the wildlife we encounter.
Dates and Prices
Prices per person based on double occupancy
29

November to

21

December 2019
Category
Price
Magellan Deck Standard Suites
£11995
Columbus Deck Superior Suites
£12995
Marco Polo Deck Premium Suites
£13995
Marco Polo Deck Corner Suites
£14595
Erikson Deck Deluxe Balcony Suites
£16295
Explorer Deck Owner's Balcony Suite
£17495
Explorer Deck Island Suite
£18995
Magellan Deck Standard for sole occupancy
£15995
Columbus Deck Superior for sole occupancy
£17995
Tour Reference Code: SCISK291119
Price Includes: Economy class scheduled air travel for international flights, two nights hotel accommodation on a bed and breakfast basis in Buenos Aires, city tour in Buenos Aires, 18 nights aboard the MS Island Sky on a full board basis with house wine, beer and soft drinks with lunch and dinner, Noble Caledonia expedition team, expedition log, shore excursions, gratuities on board the ship and on excursions, group transfers and port taxes, use of parka jacket and rubber boots on board the MS Island Sky.
Not Included: Travel insurance, visas.
2019 Deckplan
Island Sky
The MS Island Sky is one of our three flag ships and sister vessel to the MS Caledonian Sky and MS Hebridean Sky. All three vessels were built in the same ship yard in Italy at similar times and share the same excellent attributes that make them three of the finest small ships in the world.
Travelling with You
Professor Mark Brandon

Professor Mark Brandon is a polar oceanographer based in the UK. He has spent his entire career working in polar science at the Scott Polar Research Institute, The British Antarctic Survey, and now a university. With almost three years of Antarctic field work he has published more than 40 research articles and 3 text books. Mark pioneered the use of robots beneath the Antarctic sea ice and is an expert on the interaction between the ocean and ice. He is committed to teaching and communicating polar science as widely as possible and has worked extensively with broadcast companies. Based on his work as Principle Academic Advisor for the BBC Frozen Planet series he was awarded the Times Higher Education Most Innovative Teacher of the Year Award in 2012. He was also a member of the Blue Planet II team and is currently working on another exciting multi-year polar broadcast project.

Professor Mark Brandon will be on the following tour dates:

29

November to

21

December 2019

Dr Chris Edwards

A native of Scotland, after graduating from the University of Glasgow Chris was employed by the British Antarctic Survey and spent two and a half years in Antarctica as a field geologist. On return to the UK via a tour of South America he obtained a Ph.D. and published scientific papers based on his Antarctic work. Twelve years in the oil exploration industry saw Chris initially based in Aberdeen working both offshore and onshore before postings to South America and the Far East. On return to the UK he was based in London, Aberdeen and Glasgow. . Since 1989 he has been the horologist in his own antique clock restoration business.

This has allowed him the flexibility to leave the workshop for several months a year to work on expedition ships as an expedition leader and lecturer in the Antarctic, the Arctic and North-West Europe. Apart from his broad geological knowledge he is passionate about environmental and natural history matters, is a lichenologist, a bookbinder and keen photographer. Chris lives with his family in Aberdeenshire, Scotland where he grows trees, sails on ocean-going yachts for a charity, and bakes real bread.

Dr Chris Edwards will be on the following tour dates:

29

November to

21

December 2019

Colin Baird

Colin grew up on the west coast of Canada and developed a love for the sea at an early age, sailing and scuba diving the local waters off Vancouver Island. He spent 10 years as a marine mammal trainer working with seals, sea lions and orca (perhaps better known as Killer Whales). In 2002 he was hired by Jean Michel Cousteau as the director of field operations for the Free Willy/ Keiko Project in Iceland and Norway. This was and remains today the only attempt to release a previously captive orca back into the wild.

Since then, Colin has been expedition cruising to many out of the way places; including Iceland, Norway, Svalbard, the high arctic and Antarctic. When at home in Canada leads whale watching tours from Victoria, B.C. during the northern summer to see his favourite of all the cetaceans….the orca.

Colin Baird will be on the following tour dates:

29

November to

21

December 2019

Jane Wilson

For the last 10 years Jane has worked on expedition cruise vessels (including some Russian polar ice strengthened and icebreaker vessels) as a zodiac driver, lecturer and expedition leader in many remote corners of the world including South America, the Arctic and Antarctica, Europe, South-east Asia and the South Pacific. She also keeps her hand in the science pie as Voyage leader for the Australian Antarctic Division, being responsible for deploying support personnel, cargo and scientists to stations and field camps in Antarctica on the Australian research and re-supply icebreaker Aurora Australis. She is a keen skier and now calls the Rocky Mountains in Canada home.

Jane Wilson will be on the following tour dates:

29

November to

21

December 2019

Tony Crocker

Tony has spent many years living and travelling through the length and breadth of Europe, in the course of an extensive career in travel and tourism, including over a year spent in the High Arctic. He has a lifelong interest in ornithology and, in his native New Zealand, is acknowledged as one of the best birders. He was editor of the OSNZ magazine Southern Bird for nine years and council member for six.

Tony is regularly active in various projects, especially involving research and monitoring of waders and seabirds, including a number of significant international expeditions. In his spare time he has recently been involved with predator eradication on a mammal-free island, and publishing on oystercatcher hybridisation. Tony has a MA in French and GradDipSc in History and Philosophy of Science. These days he spends most of his time at sea, as ornithologist/lecturer/zodiac driver on expedition ships (including UK/Europe, the South Pacific, South-east Asia, and the polar regions). He was most recently manager of Educational Travel programmes at the University of Canterbury in Christchurch, NZ.

Tony Crocker will be on the following tour dates:

29

November to

21

December 2019

Julia Benson

Julia, originally from Bristol, has lived in London for many years working as a financial controller. Having always been passionate about nature and travel, it was after a number of trips to the Polar Regions by ship that she was inspired to say goodbye to the corporate world and follow her dream to become a naturalist.

After studying marine zoology, she trained to become a marine mammal observer and volunteered for various organisations involved in whale and dolphin research and marine conservation in the UK and Europe. This led to her working as a naturalist on dolphin watching boats in the UK and whale watching boats in Iceland. Her most recent adventure was spending the austral summer of 2017/18 living and working on a tiny island with just three others at the British historical site Base A, Port Lockroy, Antarctica.

Julia Benson will be on the following tour dates:

29

November to

21

December 2019
Tour Extensions
Before joining our group in Buenos Aires, we are offering the opportunity to visit the Iguazu Falls, often considered the most dramatic waterfalls in the world.

The Itinerary

Day 1 London to Buenos Aires. Fly by scheduled flight.

Day 2 Buenos Aires. Arrive this morning and transfer to our hotel for an overnight stay. Remainder of day at leisure.

Day 3 Buenos Aires to Iguazu Falls. After breakfast in the hotel
transfer to the airport for our scheduled flight to Iguazu Falls. On arrival check in to the hotel and this afternoon enjoy a guided tour of the falls. Today we will explore the Brazilian side of the falls walking through the tropical rainforest.

Day 4 Iguazu Falls. Enjoy a full day at the Iguazu Falls on a series of guided walks seeing the upper and lower circuits and also the triple frontier the meeting point of Argentina, Brazil and Paraguay. Highlights today include the 80 metre fall "Garganta del Diablo" (Devil's Throat).

Day 5 Iguazu Falls to Buenos Aires. Return to the airport this morning and join our scheduled flight to Buenos Aires. On arrival transfer to the hotel and join our fellow travellers (follow main itinerary from day 2).

Prices per person based on double occupancy

26

to

30

November 2019
Category
Price
Twin
£1595
Single
£2195

Price Includes: Economy class scheduled air travel, overnight hotel accommodation in Buenos Aires and two nights hotel accommodation in Iguazu Falls with breakfast daily, lunch and dinner on days 1 & 2, guided tours at the Iguazu Falls, transfers, airport taxes.

Not included: Travel insurance, visas.
Book with Confidence
Speak to one of our advisors on 020 7752 0000