Sub-Antarctic Island Odyssey
A rare opportunity to discover the astonishing wildlife of Macquarie, Campbell, Auckland & Snares Islands aboard the MS Caledonian Sky
"There is no other comparable expedition in the world and for an introduction to and understanding of the dynamic and diverse Southern Ocean ecosystem this is an expedition of a lifetime."
The spectacular, isolated, wild and seldom visited Sub-Antarctic Islands of New Zealand and Australia are recognised as some of the world's great "biodiversity hotspots" and listed as World Heritage Sites. Home to almost half of the world's albatross and penguin species, these islands are true havens for anyone interested in wildlife and pristine nature.
During our expedition we will visit four island groups - the Snares, Auckland, Campbell and Macquarie Islands. There is no other comparable expedition in the world and for an introduction to and understanding of the dynamic and diverse Southern Ocean ecosystem this is an expedition of a lifetime. The region hosts the most diverse collection of seabirds in the world, with over 40 seabird species breeding here and we will have the opportunity to hopefully spot up to eleven different species of albatross and even more penguin species during our voyage. Several of these are endemic to the area and can be found nowhere else on earth. Be one of the privileged few lucky enough to explore these magnificent and fragile islands, all of which are protected nature reserves and only a limited number of permits are granted each year to an exclusive number of operators.
Useful Links & Travel Advice
Please find a selection of useful websites to refer to for information from the Foreign & Commonwealth Office, on visa requirements, NHS travel health advice and other useful travel tips.
---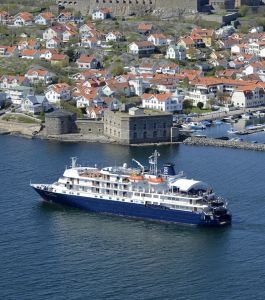 Caledonian Sky
The MS Caledonian Sky is one of our three flag ships and sister vessel to the MS Island Sky and MS Hebridean Sky. All three vessels were built in the same ship yard in Italy at similar times and share the same excellent attributes that make them three of the finest small ships in the world.
Itinerary
Day 1 - London to Singapore.
Fly by scheduled flight.
Day 2 - Singapore.
Arrive this afternoon and transfer to our hotel for an overnight stay. Remainder of the day is at leisure.
Day 3 - Singapore to Queenstown, New Zealand
After breakfast in the hotel spend a relaxing morning enjoying the facilities or explore independently. An afternoon tour will include the National Orchid Garden which displays the largest collection of orchids in the world with 2,000 hybrids and Chinatown. Continue to the airport for our scheduled indirect flight to Queenstown.
Day 4 - Queenstown.
Arrive this afternoon in Queenstown and transfer to our hotel for a two night stay. The remainder of the day and evening is free for independent exploration.
Day 5 - Queenstown.
Enjoy a full day in Queenstown. This morning we will take a scenic cruise on Lake Wakatipu enjoying wonderful views of the Remarkables Mountain range and Mount Nicholas. The afternoon is at leisure to explore independently before we meet this evening for a Welcome Dinner.
Day 6 - Queenstown to Milford Sound.
After breakfast in the hotel we will travel via the town of Te Anau to Milford Sound to embark the MS Caledonian Sky later in the afternoon. Enjoy Welcome Drinks and Dinner on board as we sail this evening.
Day 7 - Stewart Island & Bluff.
New Zealand's third island is well off the usual beaten tourist track. It is a wonderfully tranquil place and the scenery of untouched bushland is stunning. After a relaxing morning at sea we will arrive at Oban on Stewart Island and have the chance to wander amongst the shops and see the Rakiura museum. The island is rich with European, Maori and nautical history and the museum offers displays showing how early Stewart Islanders lived, the industries they were involved in and how they travelled. Alternatively join a drive along some of the 15 miles of sealed road to some of the beauty spots including Observation Rock with views over Iona and Ulva Island and the beaches lining the East coast. This evening we will clear New Zealand customs at Bluff before setting off towards the Sub-Antarctic Islands.
Day 8 - At Sea.
Spend the day at sea as we cross the Southern Waters. Maybe join one of the onboard lectures or find a spot on deck to look out for some of the wildlife that may follow the ship including albatross and southern ocean petrels.
Day 9 - Campbell Island.
The most southerly of the Subantarctic Islands, Campbell Island is a magnificent island offering great birding and unique photographic opportunities. It is home to six species of albatross including black-browed and greyheaded and holds the world's largest population of nesting southern royal albatross. The regeneration of the megaherbs since the removal of the sheep is another spectacle to behold. We should also sight Hooker's sea lions whilst birders search for the endemic Campbell teal and Campbell snipe which were previously believed to be extinct.
Day 10 - At Sea.
Our lecture programme continues as we make our way to Macquarie Island whilst our naturalists will be on deck keeping an eye out for wildlife.
Days 11 & 12 - Macquarie Island, Australia.
We have two days to explore Macquarie Island, a geological wonder where 3.5 million seabirds and 80,000 elephant seals come each year to breed against a backdrop of mountains and tussock covered headlands. It is the only island in the world composed entirely of oceanic crust and rocks from the mantle - deep below the earth's surface. We hope to visit the King penguin colony where up to 100,000 pairs breed each year as well as colonies of Gentoo and rockhopper penguins and fur seals. Several species of albatross also breed here including wandering, black-browed, greyheaded and light-mantled sooty. During our time here we will use the Zodiacs to land whilst our onboard naturalists run a series of walks on the island.
Day 13 - At Sea.
Spend a day at sea as we cruise towards the Auckland Islands. Here we border the Sub- Antarctic Convergence Zone so we expect abundant birdlife including albatross and petrels.
Day 14 - Enderby Island, Auckland Islands.
Spend the day on Enderby Island, regarded as one of the most diverse wildlife havens that fringe the Antarctic continent. A series of nature walks through lush vegetation and rata forest will take us to the nesting sites of the southern royal albatross with the chance to spot giant petrels, shags, parakeets and tomtits as we walk. We will also visit the beaches covered with Hooker's sea lions and keep an eye out for the shy yellow eyed penguins, one of the rarest species in the world.
Day 15 - Snares Island & Bluff.
After breakfast we will lower the Zodiacs for a morning cruise around the Snares Islands. More seabirds nest on this small island than around the entire British Isles and we should see the endemic Snares crested penguins and the endemic Buller's albatrosses soaring overhead. There are also an estimated six million sooty shearwaters nesting here. Return to the ship for lunch and spend the afternoon at sea arriving back into Bluff this evening where we will clear immigration back into New Zealand.
Days 16 & 17 - Fiordland, New Zealand.
We have two days to explore the incredible wilderness of fjords in the South West corner of the South Island. This is an area rich in history, Captain Cook landed here on HMS Resolution in 1773 and offers majestic scenery and abundant wildlife. It is only accessible by sea, making it the most remote region of New Zealand. Our schedule may include Astronomers Point, Doubtful Sound and Dusky Sound but final itinerary decisions will be made by the Captain and expedition team based on weather conditions. Zodiacs will be used daily either to shuttle from the ship to a landing site or as our transport to explore the fjords.
Day 18 - Milford Sound to Queenstown.
Be on deck this morning to watch the panorama of Milford's sheer cliff faces, which rise thousands of feet almost vertically from the water's edge, as well as the crashing waters of Bowen and Stirling Falls and the stunning mile-high Mitre Peak. Disembark the MS Caledonian Sky and drive to Queenstown, with lunch en-route, for an overnight stay.
Day 19 - Queenstown to London.
After breakfast transfer to the airport for our scheduled indirect flight to London.
Day 20 - London.
Arrive this morning.
Please note that flexibility is key to a successful expedition. Although we have outlined our itinerary, this is only a preliminary plan, and our exact route will depend on weather conditions and the wildlife we encounter. The use of Zodiacs will be integral on this trip.
Dates and Prices
Prices per person based on double occupancy
20

January 2019 to

8

February 2019
Category
Price
Castle Deck Standard Suite
£10495
Caledonian Deck Superior Suite
£10695
Promenade Deck Premium Suite
£11295
Bridge Deck Deluxe Balcony Suite
£11795
Promenade Deck Premium Balcony Suite
£11995
Promenade Deck Owner's Corner Suite
£12295
Castle Deck Standard for sole use
£11495
Caledonian Deck Superior for sole use
£11695
Tour Reference Code: SCCSK200119
Price Includes: Economy class scheduled air travel, overnight hotel accommodation in Singapore and three nights in Queenstown on bed and breakfast basis, dinner on day 5, 12 nights aboard MS Caledonian Sky on a full board basis, house wine, beer and soft drinks with lunch and dinner, Noble Caledonia expedition team, shore excursions, gratuities, group transfers, permits and port taxes.
Not Included: Travel insurance, visas.
Cruise Only Option: For guests that wish to arrange their own flights, we are offering a discount of £1945 per person for the non-use of the round trip flights to Queenstown, the Singapore and Queenstown hotels and excursion arrangements. Your holiday will therefore start on 25 January in Milford Sound and end on 6 February in Milford Sound.
Deckplan
Caledonian Sky
The MS Caledonian Sky is one of our three flag ships and sister vessel to the MS Island Sky and MS Hebridean Sky. All three vessels were built in the same ship yard in Italy at similar times and share the same excellent attributes that make them three of the finest small ships in the world.
Travelling with You
Lloyd Esler

Lloyd Esler is a teacher, historian and natural history enthusiast from Invercargill, the southernmost city in New Zealand. He has written extensively about the history and natural history of the South Island. Lloyd is the author of eight books and has a regular history column in the local newspaper. As a city councillor he has a particular interest in the natural landscape of Invercargill. He has been a tour guide for 20 years and has extensively explored Stewart Island, Fiordland and the Sub Antarctic islands.

Lloyd Esler will be on the following tour dates:

20

January 2019 to

8

February 2019
Also of Interest
Book with Confidence
Speak to one of our advisors on 020 7752 0000