Moroccan Memories

Good evening everyone! I didn't expect to be writing this now. It's currently 8.19pm on Tuesday 27th October, and I thought I would be watching Hythe Town v Sittingbourne in the Isthmian League South East. However, whilst walking to the ground (which is less than five minutes from my front door) I met fans coming the other way as the match has been called off – so here I am instead! I wanted to go along tonight as I'm one of those who refuses to stump up £14.95 to watch a Premier League match on pay-per-view. My beloved Brighton & Hove Albion's match against "the other" Albion (West Bromwich) was broadcast on pay-per-view last night. I decided to save the money, listen on the radio instead, and then use the money I would have spent to support my local team here in Hythe. Instead, I have come back home and am now sat here at the computer with a delicious pint of Blandford Fly and the wonderful opportunity to write to you all.
It was an early start this morning. I was on one of the longest shifts we have in the world of supermarket deliveries today. My alarm went off at 4.45am, and I clocked-in at 6.15am. I wasn't due to clock-out until 3.15pm, but it ended up being just after 4pm by the time I had sorted everything out on my return to the depôt. Over a hundred miles driven for my fourteen deliveries. That shift did include two breaks, as per the law, but it's still quite a slog. However, I was also out and about on both Saturday and Sunday evenings in truly abysmal weather, so whilst it was drizzly today, I was much happier to have only light winds and to be driving around in daylight!
One news story that caught my attention this week, and no doubt yours too, was the Special Boat Service dealing with stowaways off the coast of the Isle of Wight. I was half-tempted to call in to Vanessa Feltz, who is covering for Jeremy Vine on BBC Radio 2, and offer to tell my version of when the ship I was on at the time was attacked by Somali pirates. Those of you who have sailed with me before will have probably heard me tell the story – if you haven't yet, then I'll keep it for when we can sail again! However, that was an attempted piracy issue rather than a stowaway. I did recall an occasion when I was on a ship with a stowaway. I must first clarify that this was not whilst on Noble Caledonia, but with a previous company. Around 15 years ago I was on a ship and we arrived in Casablanca, Morocco.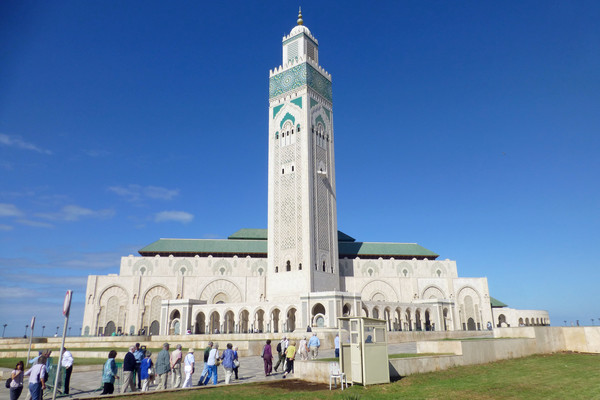 The passengers walk towards the incredible Hassan II Mosque in Casablanca

We had various tours operating from Casablanca, including the trip to Marrakesh. The ship's security officer had decided to accompany the tour to Marrakesh because (a) he felt that was the greater security risk, and (b) his wife wanted to do some shopping in the market. At some point during the day, and no-one quite knows how, a male stowaway must have shimmied up the aft ropes and made his way to one of the fan rooms located on the very top of the ship. The fan rooms are where the large air-conditioning units for the ship are located. The following day, at about 3pm, I heard a commotion on the top deck. My sense of urgency was such that I left a quarter of my scone on the plate, and meandered up the aft staircase to see what was happening. It transpired that the stowaway had appeared from the fan room and was asking for asylum in whichever country we were docking in. You couldn't help but feel sorry for the chap. We were still in Casablanca. We had stayed in port overnight and he mistook the greater noise from the engine room to mean that we were docking somewhere new, whereas we were actually just preparing for departure. He was a perfectly pleasant chap, who just appeared to be disheartened more than anything. If memory serves me rightly, we gave him a few sandwiches and scones from the afternoon tea display and then sent him down the gangway to the waiting authorities. A microscopic search of the ship was then undertaken to ensure nothing more sinister had taken place. With that complete, the ship's security officer arrived back, laden with his wife's shopping from the overnight tour to Marrakesh, and asked if anything had happened whilst he'd been away. With a wry smile, the Captain invited him to the Bridge and poured him a strong coffee and started telling the story. I don't think the ship's security officer ever went ashore again!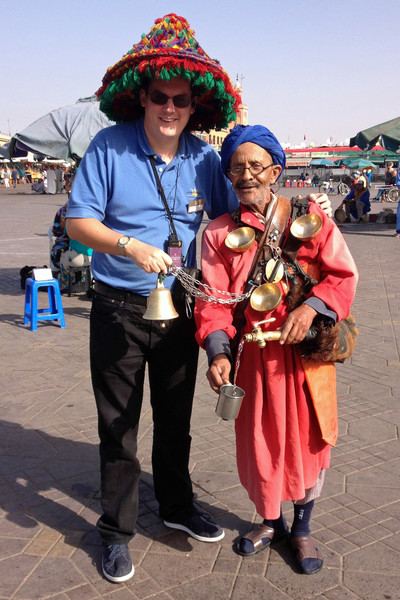 Me borrowing the hat of a traditionally dressed man in Marrakesh.

Since that incident, I've been back to Morocco many times, and always found it to be a superb destination. Whilst the rest of North Africa has suffered tremendous upheaval since the Arab Spring, Morocco has remained relatively calm. On a recent visit, the guide mentioned that the previous monarch, King Hassan II, had had three daughters, as well as his two sons. The guide went on to explain that Morocco is split along three ethnic lines, and that the late King's daughters had, by chance, each married someone from a different ethnic group. This, according to our guide, had helped show Moroccans that the Royal Family were keen to embrace all Moroccans and, whilst there has been unrest and protest, it has been nowhere near the scale witnessed further along the Mediterranean coast.
Another memory that has come to mind whilst thinking about Casablanca dates back to November 2015. I noticed this week that the delivery trucks have had a temporary large sticker placed on the bonnet, declaring the supermarket's support for the Royal British Legion's Poppy Appeal. I have always taken great care to ensure that Remembrance Day is suitably honoured if I have been on board a ship on 11th November. Back in 2015, I was working on a ship called 'Aegean Odyssey', which at the time always had a group of Noble Caledonia passengers aboard. (The ship's owner has since placed the vessel on permanent charter to the "Road Scholar" (sic) group in the USA). On 11th November 2015 we were on the Canary island of La Palma. The visit to La Palma was only a half-day call, and that allowed me the opportunity to gather all the passengers together for a Remembrance Day service. I had to improvise and utilise the cocktail pianist's keyboard, on trumpet mode, to play 'The Last Post' and 'Reveille'. I had thought ahead and had brought a Royal British Legion wreath with me when I had travelled out to the ship from the UK. The Captain followed the instructions I gave him (about the only time it is that way round) and the ceremony went very well.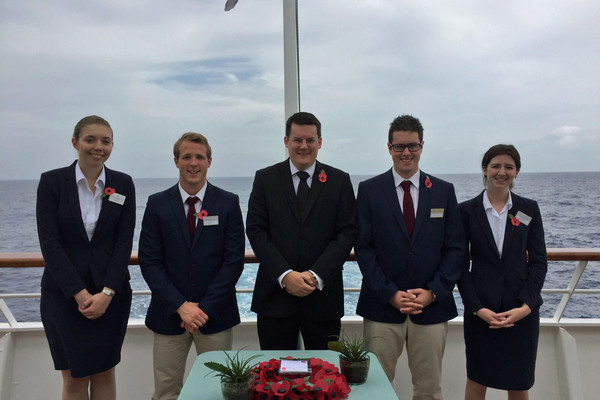 Remembrance Day ceremony in 2015 on board 'Aegean Odyssey'. I am flanked by the shore excursion team
In years gone by, we would have then thrown the wreath into the sea. However, quite rightly, that is not done in this day and age unless the wreath is wholly biodegradable. Also, throwing the wreath can be quite a problem in itself. I remember being on a cruise that marked the 200th anniversary of the Battle of Trafalgar. We were off the coast of Cape Trafalgar on 21st October 2005. A very senior Royal Naval Officer was with us, and also a representative of the French and Spanish navy. After a moving memorial service, all three officers cast their wreaths into the sea from the aft deck railing. Whilst we stood in silence, the Captain nipped down the aft stairs and collected the three wreaths, which had landed on the deck below, and re-threw them into the sea. Admirable quick thinking on the part of the Captain!
That then leaves the issue of what to do with the wreath after the service. I am quite a traditionalist in marking occasions and wanting to see things done properly. This has led to me starting some of my own traditions. One such tradition I now have is that whenever I am on board and we conduct a Remembrance Day service, I keep hold of the wreath until we next call at a port that has a Commonwealth War Grave, and place it there. Back in 2015, our first port after 11th November which had a listing on the excellent website of the Commonwealth War Graves Commission was Casablanca.
I remember standing in bright sunshine on the bustling street, just outside the port gate, and hailing one of the small red taxis that roam the city. Whilst Arabic and Berber are the official languages of Morocco, in the major cities you tend to find that most people understand French, and more and more also have a grasp of English. Using my rather pathetic GCSE French (and yes, I'm still annoyed some 26 years later that I only managed to gain a 'C' grade), I asked the taxi driver to take me to the Ben M'Sik European Cemetery, located four miles from the city centre. I persuaded him to wait for me whilst I found the Commonwealth War Graves section. After passing through a large French section, I found the British section. Interestingly, and in a such a way that I have never seen before or since, the British and German sections were directly opposite and facing each other.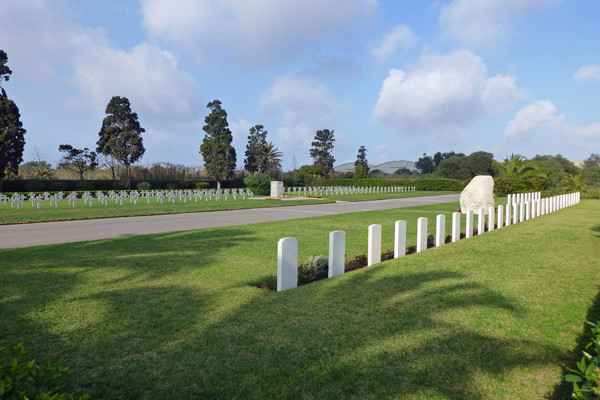 The German war cemetery on the left, facing the Commonwealth war cemetery on the right
Whilst the rest of the vast cemetery was in quite a poor state, the war graves and their surroundings were immaculately kept and maintained. I had done a little research before my visit, and discovered that the last two graves on the end of the row were of particular note. The last one was that of Field Marshal Sir Claude Auchinleck. This may seem slightly strange, given that he died in 1981, but he spent his retirement living in Marrakesh and it had been his wish to be buried alongside his fellow servicemen in the cemetery. The grave next to Auchinleck's was one of those moments where you read a gravestone and, for a while, you can't move. You can't speak. You can't close your eyes. You end up staring at the gravestone and trying to comprehend what you have read. The gravestone stated, "R. V. Steed. Galley Boy. S.S. "Empire Morn". 26th April 1943. Age 14".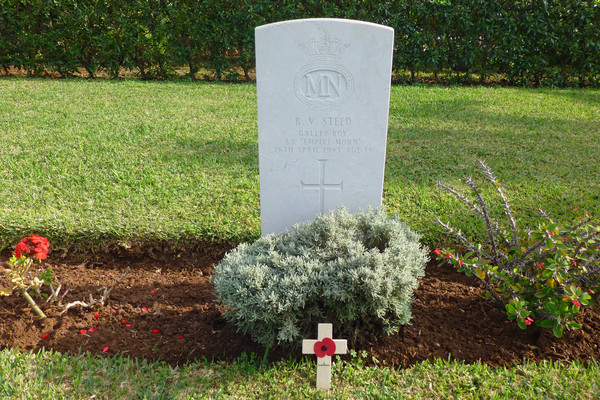 The grave of the second-youngest Allied victim of World War
Raymond Steed was from Newport in South Wales. He was only 14 years and 207 days old when his ship, which had been providing logistical support for the Allies in North Africa, struck a mine laid by U-117 off the coast of Morocco. Only two bodies were recovered, with Raymond's being one of them. Until 2010, Raymond was thought to have been the youngest British victim of World War II. Only then were records re-checked and it was found that Reginald Earnshaw, of Dewsbury, had lied about his age in order to join the war effort. He was 14 years and 152 days old when he died under enemy fire on board the S.S. "North Devon" on 6th July 1941. To stand there in the hot sunshine of Casablanca, and look upon the grave of Raymond Steed, felt truly humbling. It also struck me that he was born in 1928, three years after my Grandma, who is very much alive and well today, was born. We really do owe so much to the fallen, and I will be wearing my poppy with pride on my deliveries.
Sticking with a Moroccan theme… this morning I received a message from one of my nephews, Brandon, who is in his second year at the University of Hull, reading politics. He had been going through some old photos and come across this one, which had led him to understandably ask for an explanation.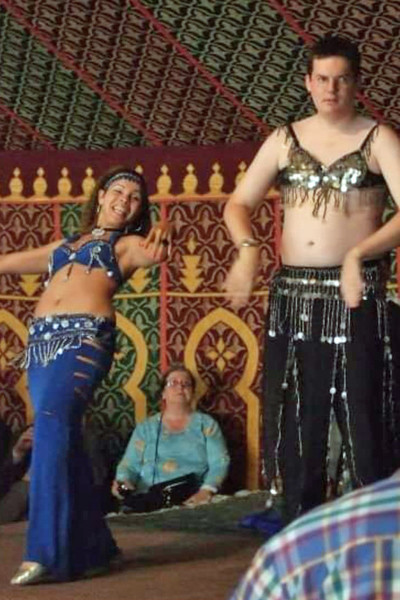 My face says it all! Being forced to Belly Dance in front of all my passengers in Tangiers

Whilst I have always tried to forget that moment, the photo still haunts me. It dates back to early May 2010. We were docked in Tangiers (or Tangier – apparently both spellings are correct). It was an overnight stop with nothing scheduled to happen in the evening. Me being me, I had wanted to take advantage of our overnight visit and host a local show. However, the port authorities were not keen on allowing visitors access to the vessel. Perhaps they were mindful of the earlier incident in Casablanca! Determined not to be outdone, I came up with the idea of taking the passengers ashore instead, and arranging a local show ashore. Sure enough, I made it happen and we had a demonstration of musket-firing whilst riding horses at speed, and some delicious Moroccan delicacies. We then sat in a large Bedouin tent and were entertained by superb traditional musicians, with a professional belly dancer occasionally performing with them. I had been there earlier in the day to check everything would be in order for the evening, and therefore I was only person from the ship that, prior to the show, the entertainers had met. Towards the end of the performance they gestured that they would like to have one of the passengers join them on stage. Sadly, this was only the second night of the cruise, and at that stage everyone is still wary of making a fool of themselves in front of their fellow guests. Suffice to say, in an act of desperation, the entertainers turned to me. I didn't want to let them down, and so there I was, stood on the stage, stripped to the waist, and having this man-size decorative bra strapped around my chest. I did my best to try and copy the moves of the belly dancers, but my hips don't lie and it must have looked awful. I think the face I am pulling was for comedy effect, but I can assure you I was very relieved to re-take my seat. Interestingly, that photo had disappeared from my collection of photos from that evening. My thanks to Brandon for finding it and sending it to me.
To end this blog, I thought I'd include another photo from my recent trip to Wales. The photo I showed last week, of me at the summit, made it look like it was awful weather. Whilst the summit itself was not very pleasant, the rest of the walk had been in glorious sunshine. According to my phone, it took me 25,741 steps to walk from Llanberis to the summit and back again, and on the climb to the summit I had ascended the equivalent of 263 flights of stairs. Clever things these phones – although I've no idea how accurate it is. With that, I'll say farewell for another week. I hope that all those reading this are on good form, and looking forward to the day we can sail together again. Goodbye for now!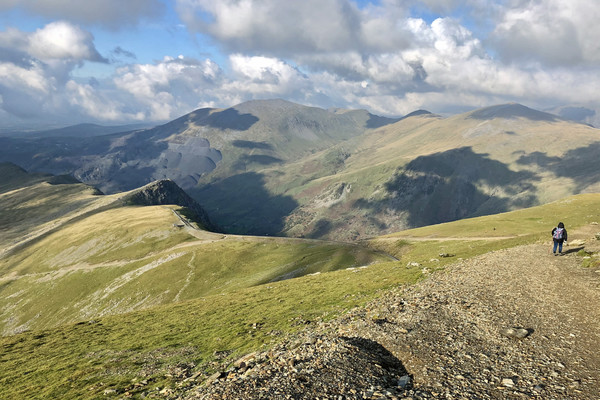 Snowdon in sunshine as we descended the mountain