Cruise Director's Corner with Neil Horrocks
Dear Traveller,
I have kindly, or foolishly, been given free rein to cover anything I feel might be of interest in my new weekly column for Travel Post. Therefore, if there is anything in particular you would like to ask then I would be very happy to hear your questions and will do my best to answer them in upcoming columns. Whether it is about the ships themselves, the places we visit, things that have happened, I will leave it up to you. Obviously I cannot guarantee to respond to every question, but I will do my best.
On behalf of all of us seafaring staff we hope that soon we can welcome you all back on board a Noble Caledonia cruise. In the meantime, stay safe and well and we really will meet again some sunny day.
Yours sincerely,
Neil Horrocks
Snargate to St. Kilda
Good evening everybody! Finally, a light covering of cloud has descended upon this corner of Kent after a very hot week. I have spent the last couple of days continuing in my role as trainee signalman at New Romney, and in spite of having every window open in the signal box, I've still been left praying for any form of breeze to materialise. However, I can well remember standing on the end of the platform at New Romney as a boy and silently willing the signalman to invite me in to see inside that same signal box. Around 35 years later and it's hard to believe I am now fulfilling that role, albeit under supervision. I have also been keeping an eye on our dove nest. I feel that by taking an interest in the doves and their babies, I can still feel like I'm pretending to be a peripheral part of the naturalist experts we have on board the ships. A week ago, the babies appeared, and they have grown incredibly quickly in a short space of time. I only hope there remains enough room for them all in the nest!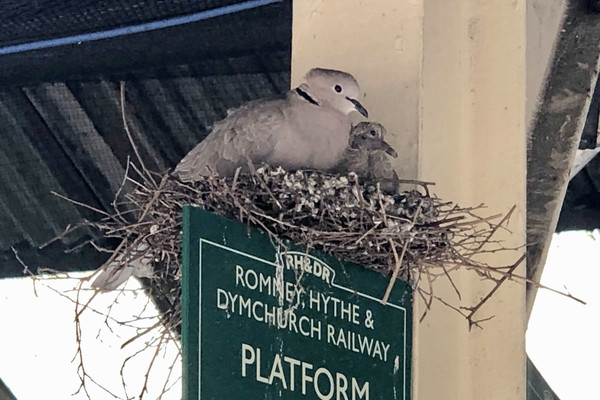 Mother and baby are doing well at New Romney. 13th June 2021.
After a year of almost daily deliveries, it feels rewarding to now be doing something that I have always wanted to do, but never seriously thought I would have the chance to achieve. Earlier this week I was again delighted to meet a Noble Caledonia passenger who was taking their family on the train. We have regularly exchanged emails and it was wonderful to see the gentleman again in person. Speaking of deliveries, as you know I still do one full day a week for the supermarket. Monday is that day, and a couple of days ago it was rather pleasant to have the windows down and be driving around with my seventeen deliveries. I was fortunate in that the majority were on Romney Marsh, including along the seafront, so the air was a little bit cooler. I switched around the order of my last few deliveries as I noticed that a favourite pub of mine was near the end of the list. I hatched a plan to make that my final delivery, and then I could enjoy a cool (non-alcoholic) drink before setting off back to the depot.
The Red Lion at Snargate, Romney Marsh. 14th June 2021
The plan worked a treat – until I arrived at the Red Lion and discovered it was shut on a Monday. I should have guessed that they wouldn't order their weekly shopping on a day that they were open. The pub is in the village of Snargate which seems to possess only the pub and the neighbouring medieval St. Dunstan's Church – where smugglers would store contraband in the tower. The pub dates from c1540 and hasn't been decorated since 1890. The bar top is antique marble, and there are low wooden beams, original gaslight fittings and outside toilets. There is no lager on tap – all the ales are served direct from the barrel, and the only food is crisps or a pickled egg. There are three small rooms, and one of them features an old upright piano. The last time I was there, I played the piano and noticed the visitors' book on top of the lid. I had a browse through it and stumbled across the entry of Paul and Linda McCartney. I'm guessing he'd have played the piano rather better than me. The pub has been in the same family since 1911, and when I worked as seasonal staff on the railway back in the late 1990's, all of us local staff would pile on to an old London double-decker bus that was owned by one of the volunteers. I can still remember the look of disbelief on the pub-goers faces as we would arrive in a bright red double-decker bus and descend on their pub. Happy days (and nights)!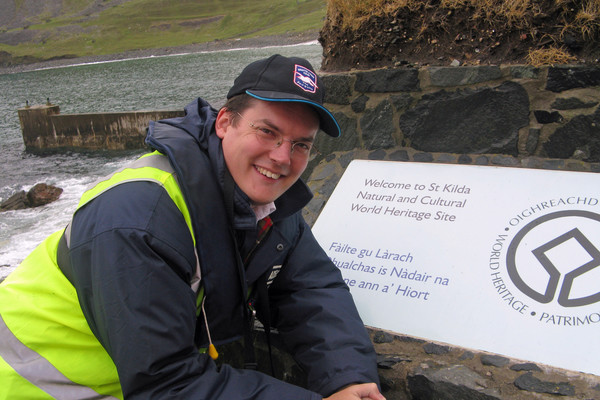 Welcome to St. Kilda! A much younger me is happy to be there. 3rd June 2008.
For this week's blog, I thought I would look again at the "Best of British" cruises that 'Hebridean Sky' is operating this summer. Last week, I talked about the visit to Whitby. This week, I thought I'd have a look at that most mysterious of destinations – St. Kilda. I am guessing that the photo above is on the date of my first visit to St. Kilda. At the time, I was working for a cruise ship which would be chartered each summer for two cruises by the National Trust for Scotland. One of those cruises would be a two-week trip to either North Cape, Iceland, the Gulf of Bothnia, the Baltic, or Iberia. However, the other cruise would be a one-week trip around the islands of the west coast of Scotland. The highlight of those cruises was always our call to St. Kilda. The National Trust for Scotland's record for landing there with their previous charter company was very low, but we had a Scottish captain who was determined to succeed – and he invariably did. I will set you a question now that I will answer at the end of this blog. The question was a favourite of the late Magnus Magnusson, and is, "What is St. Kilda the patron saint of?"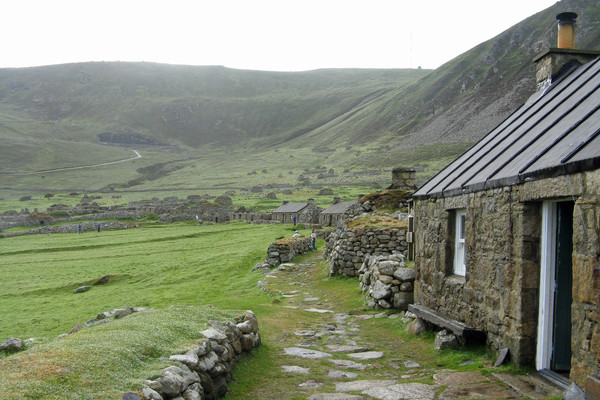 The old High Street in St. Kilda. 3rd June 2008.
In the days leading up to our visit to St. Kilda we had various talks about its history and wildlife. It is a spectacular place, not only for the 580,000 seabirds that live and breed there, but also for its unique human history that began over 3,000 years ago. It has been a National Nature Reserve since 1957, when it was bequeathed to the National Trust for Scotland who own and manage the archipelago. It certainly made 'clearing' the ship much swifter – when we told the warden that we were chartered by the organisation that own the islands! In 2005 St. Kilda was designated a Dual World Heritage Site, then one of only 24 such sites in the world, in recognition of its international importance for both human and wildlife history. One mistake people make about St. Kilda is that they do not realise it is the overall name for the archipelago. There are in fact four separate islands and numerous surrounding stacs. The islands are called Soay, Hirta, Boreray and Dùn. They comprise the only visible remains of a large volcano that is believed to have been active about sixty million years ago. Wind, wave and ice have since shaped the coastline and inland landscapes of St. Kilda.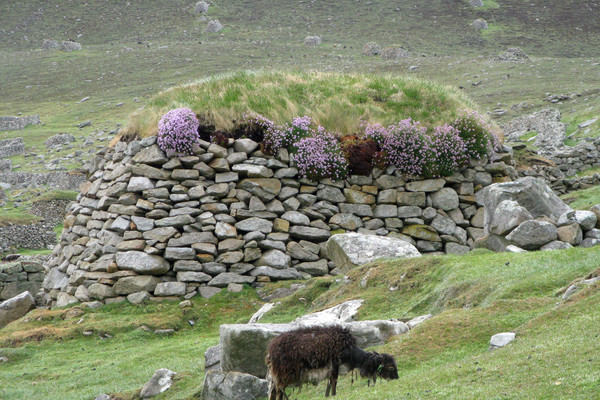 A typical St. Kilda scene featuring a cleit. 3rd June 2008.
As a proud Brit, I loved landing on St. Kilda. I am one of those people who, as a child, could be kept amused for hours by having a map placed in front of me. I always considered where I lived to be fairly boring in terms of the coastline. I would look at maps of places like the west coast of Scotland and the west coast of Ireland and be envious that there were so many islands to explore, whilst Littlehampton appeared to have a sea that was varying shades of brown and the smallest pier in the world. Looking after the National Trust for Scotland cruises, and landing on islands like Gigha, Islay, Jura, Canna, etc was heavenly – and much easier to send postcards. In 2015 I returned to St. Kilda for the first time with Noble Caledonia. I was Expedition Leader on a week-long cruise from/to Oban. I can remember the cruise well because the weather was excellent. To be honest, that is the greatest dilemma to any Expedition Leader sailing around the coast of western Scotland. I recall, a few years ago, doing the exact same week-long cruise, three times in a row. The results of the passengers' questionnaire varied wildly between the three cruises. We knew they had had exactly the same service on board, visited exactly the same places, and had exactly the same on board team – but each cruise had experienced completely different weather. However, Noble Caledonia passengers usually follow the Norwegian principle: "There is no such thing as bad weather, just a bad choice of clothing".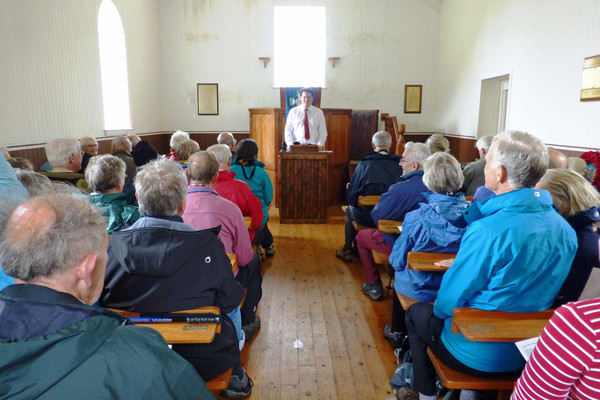 Leading a Sunday Service in the church on St. Kilda. 28th June 2015.
During that visit to St. Kilda in 2015, I noticed that our scheduled day for our landing was to be a Sunday. I still had a few connections with the National Trust for Scotland, and an idea came into my head. I knew that the old village church on Hirta was deconsecrated after the last villagers evacuated the island in 1930. I have a tradition of conducting a simple Sunday Service on all the cruises that I lead. I called a few of my contacts and was delighted to be granted permission to use the church on Hirta for our Sunday Service. I was not sure if we would be able to set everything up in good time, and so I informed the passengers that I would ring the large ship's bell that is hung outside the church to give them all ten minutes' notice. I recall it was a showery day, but I was in a determined mood to make it a success. I took over the ship's electronic keyboard, wrapped inside a waterproof sleeping bag, on a zodiac and set it up on a stand in the church. All was going well, until I looked round for a plug socket. How stupid of me! Of course the church did not have plug sockets in the wall. I had just rung the ship's bell prior to realising this, and the church was already filling up with passengers. One of the expedition team, former Royal Marine Chris Lockie, devised a plan. He found an extension lead from the nearby military quarters and, using his infinite charm, persuaded a chap in there to allow us to plug the extension into the socket in his quarters, and pass the wire through his open window, then along the ground, and finally up and through the window at the back of the photo above. With seconds to spare until the ten minutes' warning was due to expire, I had the sound of a church organ on my keyboard. Success!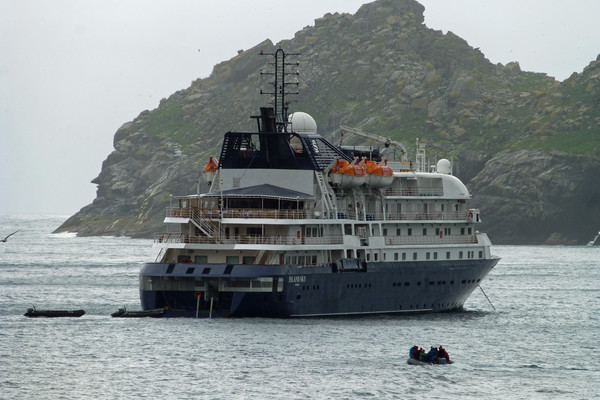 "Island Sky" at anchor in Village Bay, St. Kilda. 28th June 2015
Playing the 'organ' in that church, and conducting the service in there, still remains one of the highlights of my time with Noble Caledonia. Many a passenger has since travelled with me again and will tell me they were on "the cruise where we had the Sunday Service on St. Kilda". I was keen to hold a joyful service in the church, as I had read in the small museum that 'forced religion' was arguably one of the causes that ultimately led to the evacuation. In 1865, a new Free Church minister arrived on the island, called Rev. John Mackay. The islanders were quite subservient to whoever had been appointed as their minister since the first had arrived in 1822. Prior to that, there was no organised religion on the island. The first ministers appointed to the island had been welcomed, and improved the living and education standards of the islanders. They had helped with agriculture and the rebuilding of the village. Tourists commented how the island was a lively place with children playing games and singing Gaelic songs and everybody helping each other. That all changed in 1865. Mackay placed an uncommon emphasis on religious observance. He introduced a routine of three two-to-three hour services every Sunday at which attendance was effectively compulsory. One tourist noted in 1875 that: "The Sabbath was a day of intolerable gloom. At the clink of the bell the whole flock hurry to Church with sorrowful looks and eyes bent upon the ground. It is considered sinful to look to the right or to the left". The time that Mackay forced the islanders to attend his endless services interfered seriously with the practical routines of the island. Anyone, of any age, who made a noise in the church was lectured at length and warned of dire punishments in the after-world. During a period of drastic food shortages, a relief vessel arrived at the island on a Saturday. Mackay refused to allow the islanders (who also had to provide him with his meals), to unload the vessel, as he insisted the islanders had to spend the day preparing for church on the Sabbath. The ship was not unloaded until the Monday. Children were forbidden to play games or make music at any time, and were required to carry a bible with them wherever they went. Mackay remained minister on St. Kilda for 24 very long years. With this story in mind, I was so pleased to be able to lead a joyous Sunday Service in a church that must have borne witness to much sorrow during those dark times. We also raised a very healthy £400 via the collection, which was split equally between the Noble Caledonia Charitable Trust and the National Trust for Scotland's fund for the upkeep of St. Kilda's church.
Not particularly enjoying the St. Kilda summer! 15th July 2016
Speaking of dark times, the above photo was taken when I was helping as a zodiac driver on another Noble Caledonia cruise. As you can see, it is the height of summer in St. Kilda! I am wearing more waterproof layers than I had ever worn before or since, and yet the rain still somehow reached inside my clothing. The yellow hat is a sou'wester that I was presented with on the occasion of another ship's inaugural visit to Sydney, Nova Scotia. I think it is the only time I've worn it, and it was certainly needed!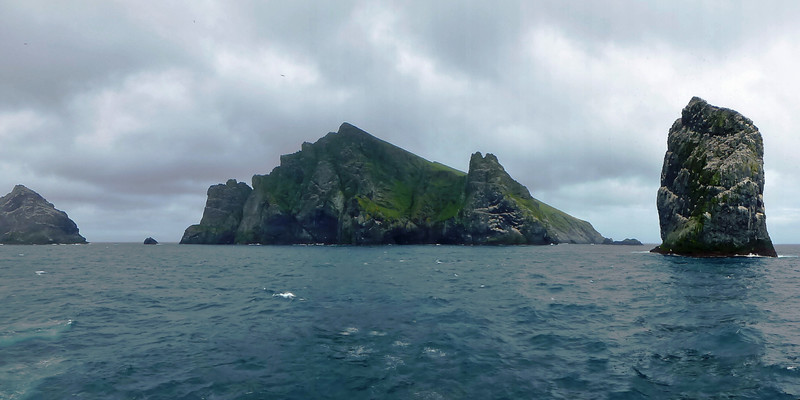 Scenic cruising around the St. Kilda archipelago. 28th June 2015
If you do ever have the chance to visit St. Kilda, then I cannot recommend it highly enough. Whilst I have written about the human history, those interested in the wildlife will see two different early breeds of sheep that have survived on these remote islands – namely the Soay (a Neolitic type), and the Boreray (an Iron Age type). Northern gannets, Atlantic puffins, northern fulmars and many more seabirds abound. On Hirta itself, look out for the endemic subspecies: St. Kilda wren and St. Kilda field mouse. The sea and wind conditions have to be right to make a landing, as the only jetty is in Village Bay which is exposed to any south-easterlies. On the vast majority of occasions we are successful, but even if we are not able to achieve a landing, we always take time to enjoy some scenic cruising around the archipelago. The islands and numerous stacs form incredible rock formations. I think I remember being told that they house the highest sea cliffs in the entire United Kingdom. Stac Lee possesses the world's largest colony of northern gannet – and I thought it would be fitting to end this blog with a photo of one that I took as it gracefully glided by the open decks of "Island Sky" six years ago. And finally… the question I posed. What is St. Kilda the patron saint of? It transpires that there was no-one called "Saint Kilda". It is thought the name is a corruption of the Old Norse term "skildir" which means "shield" – as the stacs, in particular Stac Lee, look like shields rising from the sea. Many other theories regarding the name have been suggested, but I'll stick with that one as it is the one that Magnus said was the best he had heard. And as the lightning and thunder start to echo outside, I will bid you a fond farewell for this week. Goodbye for now!
P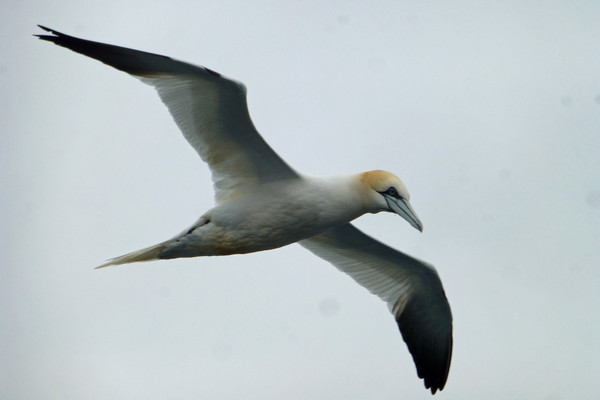 A fly-past from one of St. Kilda's residents. 28th June 2015
View details of our small ship cruises around the British Isles
Previous Blogs