Cruise Director's Corner with Neil Horrocks
Dear Traveller,
I have kindly, or foolishly, been given free rein to cover anything I feel might be of interest in my new weekly column for Travel Post. Therefore, if there is anything in particular you would like to ask then I would be very happy to hear your questions and will do my best to answer them in upcoming columns. Whether it is about the ships themselves, the places we visit, things that have happened, I will leave it up to you. Obviously I cannot guarantee to respond to every question, but I will do my best.
On behalf of all of us seafaring staff we hope that soon we can welcome you all back on board a Noble Caledonia cruise. In the meantime, stay safe and well and we really will meet again some sunny day.
Yours sincerely,
Neil Horrocks
Milos, Mozart, Menorca & More!
Hello everybody! I hope everyone is doing well, and no-one had holidays booked to Spain. Not surprisingly, I am often being asked when I think cruising will start again. There are days when you feel positive, for example, when news broke that vaccination trials appear to be going well. Then there are days when you don't feel so positive, for example, the imposition of travel restrictions on Spain. Imagine if a large cruise ship had been docked in Spain, doing her turnaround day, and then the restrictions were imposed, as they were, with almost no notice. The large ships tend to have passengers from various countries – my heart would go out to the Cruise Director having to announce that the British passengers have to remain in their cabins for two weeks, whilst other nationalities can enjoy the cruise! I know it might seem like I'm preaching to the converted, but I am in complete agreement with how Noble Caledonia are going about the current situation. Once we have the guarantee that we can operate again, with all parties (governments, harbours, tour operators, staff, crew, etc) in agreement, only then should we push forward with the programme we intend to operate. In the meantime, I'm sure Laura won't mind me saying that 'we', as in all the Noble Caledonia staff and crew, both ship-based and shore-side, are all incredibly grateful to know that once we can operate again, our wonderfully loyal passengers will be chomping at the bit to join us.
It is not like me to become somewhat political in these blogs, but I've been listening to the radio much more than usual since I last wrote. As I write it is late morning on Tuesday 28th July. Today is the thirteenth of fifteen consecutive days that I am delivering. Some of the drivers who are furloughed from other jobs are starting to drift back to their original jobs, and so over-time is becoming more available. I am doing what I can to make myself available for the over-time, so that once the mortgage holiday is over it becomes a slightly softer blow. I've still been managing to volunteer on the railway, but only on days when I am allocated to the evening shift at work. It makes for a long day, but I'm keen to keep lending a hand as the railway gradually welcomes more visitors. The huge upside of doing more driving is that I have had the delights of Test Match Special to entertain me on my rounds. I feel fortunate that the truck still has access to Radio 4 Long Wave. Alternatively, I have been swopping between Radio 2, Radio 4, Classic FM and Radio 5. I know the BBC comes in for a bashing from the print media on occasion, and sometimes with justification, but until you go abroad and realise what television and radio is like elsewhere, you don't appreciate how fortunate we are to have the BBC. I was having a tough day yesterday. I was feeling a little down as I should have been embarking 'Hebridean Sky' in Copenhagen for a five week run around the Baltic. The weather was poor, the driving conditions were not good, the addresses were hard to find, and when I stopped for my break at the service station, the toilets were out of order. Feeling sorry for myself I sat in my truck and put the radio on. By chance, Radio 4 were broadcasting a re-run of a classic episode of "I'm Sorry I Haven't A Clue" from 1999. Humphrey Lyttelton was hosting (with the Lovely Samantha), and was joined by Barry Cryer, Tim Brooke-Taylor, Graeme Garden and Jeremy Hardy. For the half hour length of my break I didn't stop laughing. Such brilliant wits and interplay between them. The end of my break coincided with the end of the broadcast, and I realised the sun had come out and the rest of my deliveries all went smoothly and happily. Thank you Humph! With that, it's now time for me to head to work. Whilst on my rounds I'll think of what to write when I get home late tonight…
Fast forward a couple of days and it's now Thursday morning (30th July). A long day yesterday as both Dungeness station master and then on the evening delivery run. Today is the afternoon and evening shift so I'm here to write the blog before I head into work. I had another glance back through what I was up to on this day in previous "normal" years. Last year I had enjoyed a day at Romney Sands station, and then taken myself to watch Hythe Town v New Romney in a pre-season friendly. Two years ago I had spent the morning in Folegandros before a fabulous afternoon of zodiac cruising around the stunning southwestern coast of the Greek island of Milos. I'll find a photo for you…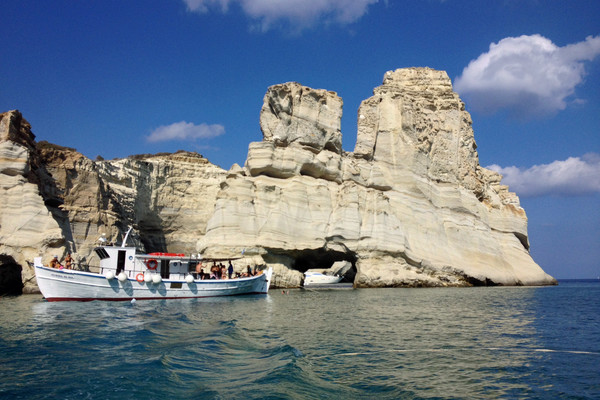 The coastline at Kleftiko on the Greek island of Milos
Four years ago I was at Wembley Arena for an event that marked the fiftieth anniversary of England winning the World Cup, with Sir Geoff Hurst and Sir Bobby Charlton in attendance. Five years ago I was surprising the passengers on the 'Island Sky' with a late evening visit to the Svartisen glacier in Arctic Norway. And finally… six years ago today I took myself to the then newly-reopened Chichester Festival Theatre to see Rupert Everett star in Peter Shaffer's "Amadeus". I had never thought of how a 'new kid on the block' would be perceived by others. Whilst the relationship between Mozart and Salieri is fictionalised, I can well imagine that, at the time, the great composers of the day must have been in two-minds about this child prodigy who appeared on the scene!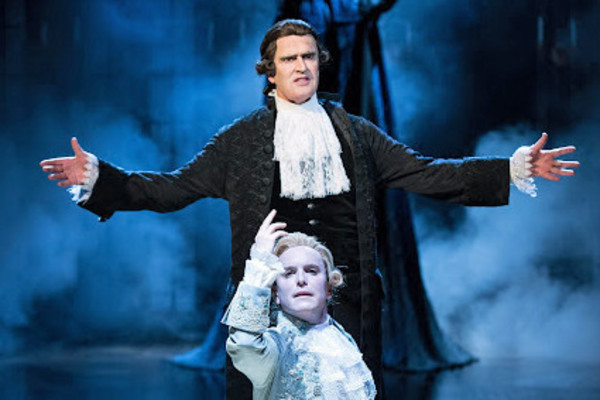 Over the last couple of days there has been a lot of mention on the news about the Balearics and the Canary Islands, and whether it would be possible to exclude them from the quarantine measures enforced on those returning from Spain. This made me start to think about those destinations and the enjoyable visits I have made to them. There are undoubtedly many stunning natural harbours in the Mediterranean. Those that immediately spring to mind are Grand Harbour in Valletta, Malta; and the Bay of Kotor in Montenegro. However, one of my favourites has to be Mahon (or Maó in Catalan, or Mahón in Spanish, or Maó-Mahón in the local dialect) on the island of Menorca. It is not just the sail into the inner harbour itself, but the relaxing and calming feel of the island as a whole. The harbour is one of the longest natural harbours in the world, stretching just over three miles inland. Unlike many harbours, the water is usually clear as it is also very deep. Similar to almost all islands in the Mediterranean, Menorca has changed hands frequently over the centuries. The Treaty of Utrecht (1713) confirmed British sovereignty over Menorca. The French ceased the island in 1756, but after the ensuing Seven Years' War, it was returned to the British in 1763. A Franco-Spanish alliance attacked the island and it was transferred to Spain as part of the Treaty of Paris (1783). Not to be outdone, the British recaptured the island in 1798. The Treaty of Amiens followed in 1802, at which the British and the French both agreed to withdraw from various territories. Menorca was one such territory, and it was passed to the Spanish who have ruled ever since. However, this relatively recent history has led to Menorca developing a wonderful blend of the best of all components of those who occupied the island. The Spanish influence is, naturally, to the forefront, but there are definite signs of the previous occupants. For example, I personally think of mayonnaise as being a French creation, and yet Mahon is said to be the birthplace of the sauce ('salsa mahonesa' in Spanish). You could not have a more English scene than a village cricket match on a glorious summer day. Listening to Henry Blofeld on 'Test Match Special' a few years ago, I recall him saying, "I moved to Menorca because it has the best small Cricket Club I have ever seen". Sure enough, the Menorca Cricket Club (who amusingly call themselves the 'MCC') were formed in 1985 and have grown from strength to strength with many teams eager to tour there and enjoy the Mediterranean weather and hospitality.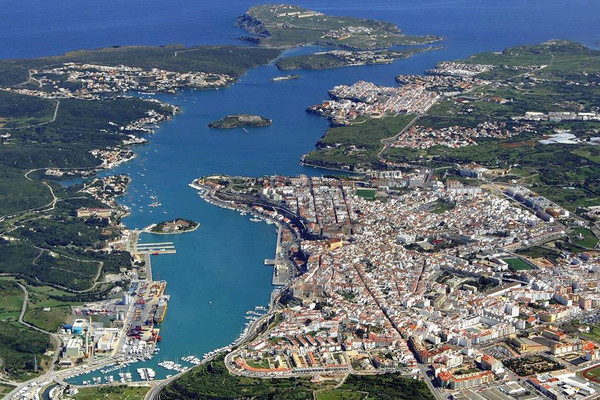 It is often said that the beauty of small ship cruising is that you can dock in the heart of the places you visit. Mahon is another example of this. Whenever we are there it is wonderful to be able to announce on the public address system that those passengers wishing to do their own thing can simply meander up the steps directly opposite the ship and they'll be in the centre of the town. I always venture to the small newsagents on the corner and buy a postcard and stamp to send to my parents, and the English-language newspapers for the ship's library. If I am not on the shore excursion, then a morning coffee overlooking the ship from one of the many cafés with a balcony concludes a perfect morning.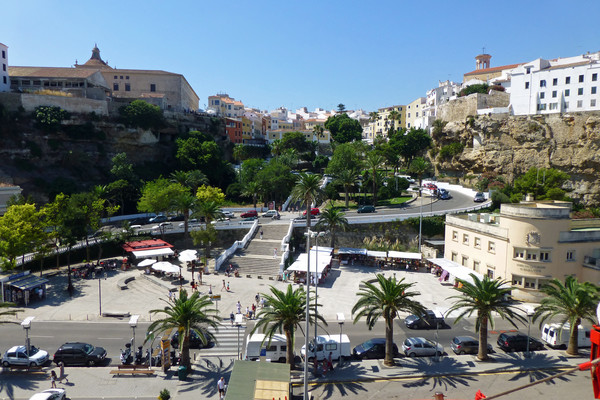 Another very enjoyable factor in visiting Menorca is that the half-day shore excursion we usually offer takes in the whole island. Whilst we are docked in Mahon on the east coast, the excursion visits the original capital of Menorca, Ciutadella, on the west coast. The harbour in Ciutadella is also beautiful, but is home to small yachts rather than visiting ships. The Town Hall is fascinating, as it is the former palace of the Arab governor and later served as a royal palace under the Crown of Aragon. It was the British who moved the capital to the more easily defended Mahon in 1722.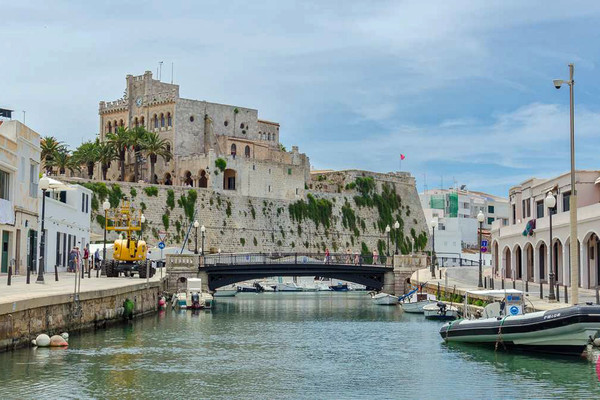 On the way to Ciutadella we pause to view the talayots. These Bronze Age megaliths are only found on Menorca and Majorca and are the only remnants of the Talaiotic Period, dating back to the late second millennium and early first millennium BC. Naturally, the highlight of the shore excursion for me is the free time we have at the end of the visit in Ciutadella. Free time is so important. I have spoken with friends who work for other cruise lines and the tours can be incredibly regimented to ensure that you spend time in shops that are 'friendly' to said cruise line. I adore the fact that we are the opposite, and make sure our local operators know that free time is vital to allow passengers to 'breathe in' the places that we are visiting. It is no surprise that some of my favourite days on ships have been when we've arrived somewhere like Canna in the Hebrides and been given a simple map and told what time the last zodiac back to the ship will depart. That way, everyone can go at their own pace for however long they wish. Perfect!
On one occasion, a few years ago, the town of Mahon was celebrating an anniversary and the local authority laid on an impressive horse show for our passengers to watch from the open decks, shortly before we were due to depart. It was pleasing to see that it drew a sizeable crowd of locals as well. Naturally, I attempted to take the credit for it, but the passengers pointed out that no trains or pianos were involved so, on the balance of probability, I had been as surprised as they were!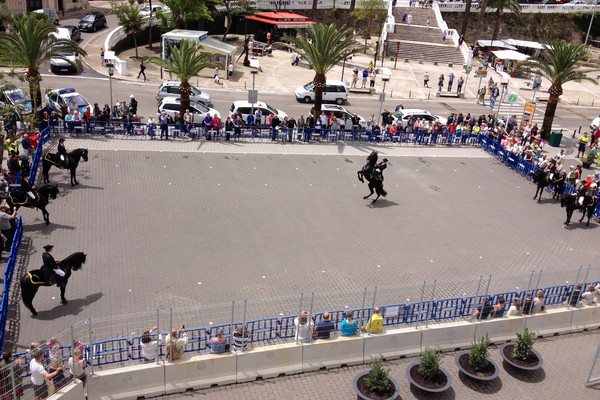 One thing I do always insist on is sail-away (or sail-in, depending on the schedule) drinks on deck as we arrive or depart from Mahon. I always go up to the Bridge and, with kind help from the Pilot, offer a deck commentary as we pass by the former Royal Navy Dockyard. The Dockyard was established in 1715 and served as the Royal Navy's principal Mediterranean base for much of the 18th century. Its strategic location is proven by the fact it is still in use today by the Spanish Navy. As we sail past, several buildings from the British era can still be seen, including a Naval Storehouse with its prominent clock tower. The island housing the base, originally known as Saffron Island, is easy to spot as it is octagonal in shape. This shape was deliberate as it allowed several warships to be careened simultaneously. Another island houses the Royal Naval Hospital, built in 1711. It made for a rather sorry sight until its recent restoration, and now stands proudly overlooking the harbour.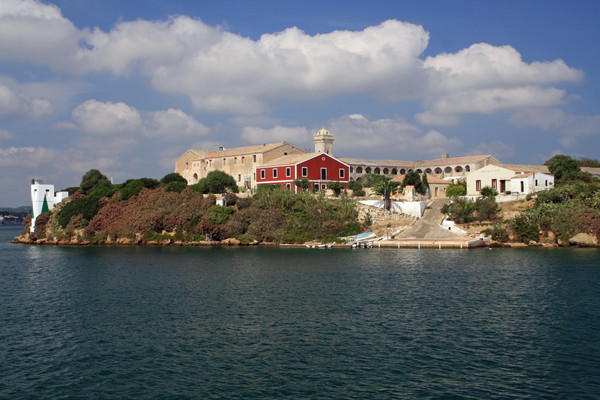 With that ladies and gentleman, I'll call it a day for this week. I was very excited yesterday when some post arrived in a Noble Caledonia envelope. Could it be a new contract offer? Could it be that light at the end of this Covid-19 tunnel? No. However, it was wonderfully heart-warming to open the envelope and discover a collection of your letters that have been sent in to the Belgravia office and now forwarded to me. I will take them with me on my delivery rounds this afternoon and read them during my break in some random lay-by. Thank you very much for being in touch and I'll reply as soon as I can. To end with, I do feel fortunate to be doing this delivery job now, whilst the days are still long and the weather is good. This was the scene at my final delivery a couple of evenings ago in Smeeth, near Ashford. All the best to you all reading this, and may our paths cross again soon.
Previous Posts