Cruise Director's Corner with Neil Horrocks
Dear Traveller,
I have kindly, or foolishly, been given free rein to cover anything I feel might be of interest in my new weekly column for Travel Post. Therefore, if there is anything in particular you would like to ask then I would be very happy to hear your questions and will do my best to answer them in upcoming columns. Whether it is about the ships themselves, the places we visit, things that have happened, I will leave it up to you. Obviously I cannot guarantee to respond to every question, but I will do my best.
On behalf of all of us seafaring staff we hope that soon we can welcome you all back on board a Noble Caledonia cruise. In the meantime, stay safe and well and we really will meet again some sunny day.
Yours sincerely,
Neil Horrocks
Feeling Brava in Santiago
Hello everyone! I hope all my readers are doing well and making the most of the continuing strange times we are living through. I promised last week that I would conclude the voyage around Cape Verde. Whilst thinking about what to write earlier today, I realised that I could link one of the remaining Cape Verde islands with Guatemala, St Kilda and Dominica. How? Well, you'll have to read on to find out!
So far, on our trip around Cape Verde, we have visited São Vicente, Santo Antão, São Nicolau, Sal and Maio. That leaves us with Santiago, Fogo and Brava. Along with São Vicente, Santiago is the other island that we used as our turnaround base. This meant we had three days docked in Praia. Day one was a full day for the passengers finishing off their cruise, day two was turnaround day, and day three was a full day for the new passengers beginning their cruise. It is always the best way to do a turnaround day if the schedule (both in terms of timing and geography) can allow it. I joined the shore excursion with the new passengers to see what Santiago had to offer, and there was much to see, both beautiful and poignant.
Once again, as in all Cape Verde islands, the transport was provided by minivans. I grew to prefer this way of getting around. Sure, a luxury coach has its advantages, but it would have looked very out of place on these islands. The drivers of the minivans clearly took great pride in their vehicles and worked very well with the guides. Occasionally, we would have more vans than we had guides, and the drivers would be wonderfully keen to offer their version of a commentary – often with very amusing results. Once we had gathered at the next stop, the guides would group us all together and explain what we were seeing, and then the guides would rotate around the vans. Very clever system and one which worked superbly.
Our first stop on Santiago looked like an innocent looking former ornate lamp-post. However, on further inspection, its tragic past was brought to light. Sculpted in white marble at the beginning of the 16th century (c.1516), the pillory was the symbol of municipal power and of the severity of slave law, and was the place where this law was executed. Manuelian in design, the pillory is made up of a Gothic-style column topped by an armillary sphere, a symbol of the navigators of the time. Despite being one of the smallest monuments in the Cidade Velha (old town), the guides explained how it was also one of its most significant, as it harked back to the time when disobedient slaves were publicly whipped. The pillory had survived the ravages of time and, interestingly, was one of the first monuments on the island to undergo restoration work in the late 1960s. It was good to see that, rather than destroy these monuments to an awful period of history, that they had chosen to preserve it in order that it continues to serve as a lesson for future generations.
The 16th century pillory in Santiago

Our next stop was a short walk away at the brilliantly named Rua Banana. Why would we visit a street? This was no ordinary street. I remember being told that it was the oldest street urbanised by Europeans in sub-Saharan Africa and in the tropics. It was, and still is, lined with straw-roofed whitewashed stone houses. We walked up the street, passing swaying palm trees and well-maintained gardens, to reach Nossa Senhora do Rosário (Our Lady of the Rosary) Church. It is one of the oldest existing European buildings in all of sub-Saharan Africa. The keystone of its vault contains a seal representing the cross of the Portuguese crown. The church, the main part of which was built from 1495, is located on a promontory that looms over Carrera Street (parallel to Rua Banana), and was erected in honour of Our Lady of the Rosary, the patron saint of Black men. The church has never lost its religious vocation and continues to bring the population of Cidade Velha together for its Sunday masses. Various prominent personalities visited the church. In 1497, Vasco da Gama paid a visit, whilst on his voyage that would discover the maritime route to India. A year later, Christopher Columbus called in during his third voyage to the Americas. And in 2015, the passengers of 'Hebridean Sky' graced the church with their presence too.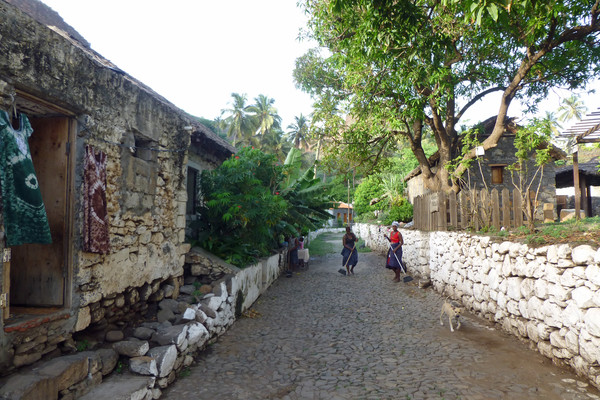 Walking along Rua Banana after visiting the Church

Having visited the oldest inhabited part of Cape Verde, we took lunch at a café on the shore. Local ladies sang and danced in their traditional way. I can still hear them laughing at each other as each one stood up and danced in turn. I was most amused by the café owner's dog. He was quite excited at the influx of tourists, and decided to lie on his back in the doorway, in the hope that someone would give him a tummy tickle as they went past. Sure enough, almost every passenger who was missing their dog at home did indeed lean down and offer a tickle. In that brief moment, he was surely the happiest dog in the world!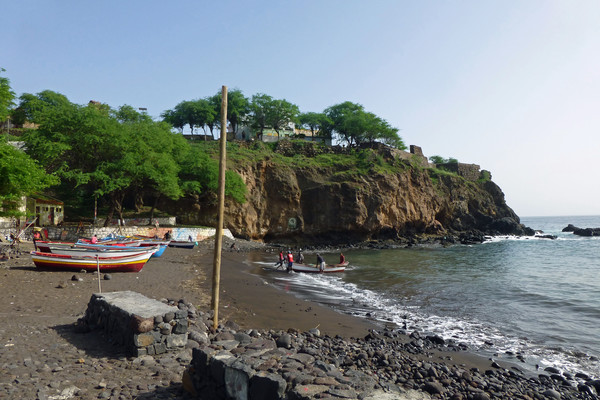 Colourful fishing boats hauled up on the shore next to our lunch venue
After lunch we headed up into the hills to visit the impressive São Felipe (Saint Philip) Fort. The fort was built during the reign of Philip I of Portugal, following an attack by the Francis Drake in 1585. The stones used in its construction, which took place between 1587 and 1593, were brought from Portugal. The fort dominated the defence system made of artillery and battlements distributed along the coast, allowing for simultaneous prevention of attacks coming from land and sea. The structure, characteristic of the pre-renaissance period, is made up of three ramparts – a larger one in the centre and two half ramparts to the east and west. The north entrance was encircled by a dry moat to reinforce the defence system. The southern flank is naturally protected by the cliff atop which the fort was erected. Along the south wall, we were shown the ruins of the governor's residence, the garrison camps, the prison and the São Gonçalo (Saint Gonzalo) Chapel, structures that also served as shelter in case of attack. The fort was restored in the 1960s, and much archaeological work took place in the 1990s, culminating in the construction of a visitor centre outside the main entrance. Standing on the walls of the fort, the view was spectacular, both out to sea, and looking inland up the valley. We all stood there in awe to think about how they managed to construct such a vast fort in this location.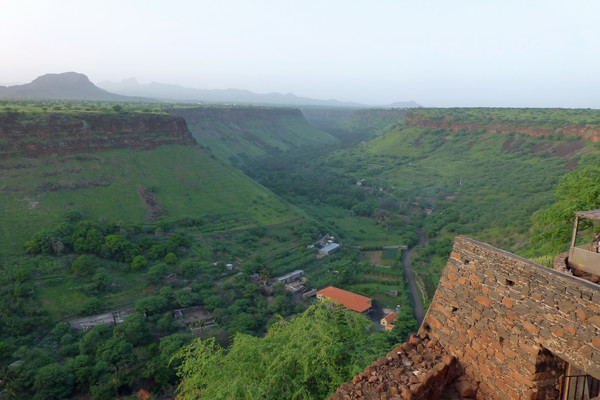 Looking out up the wide valley from the vantage point of the fort
The visit to the fort concluded our time on Santiago, and we then sailed off to Fogo and Brava. I say 'Fogo and Brava' together because, whilst we only carry a maximum of approximately one hundred passengers, even that was too much at one time for Fogo and Brava. As a result, we spent two days in Fogo and Brava. We dropped half of the passengers off in Fogo and then sailed over to Brava to drop off the other half. After their tour of Brava, we collected said passengers and then sailed back over to Fogo to pick up those that had been dropped off earlier. The next day, we did it all over again, so that everyone had the opportunity to explore both islands. Imagine trying to do that with one of those mega-liners!
Our day on Brava has to rank as one of my favourite days ashore, although I cannot really give you a solid reason why. It was just a combination of things. I guess it boils down to the fact that we went ashore really not knowing what to expect, and every corner was a pleasant surprise. I find that destinations we visit can often play out that way. Some places have such a powerful reputation that anything less than a truly magnificent visit and perfect weather can seem like a let-down. Whereas going somewhere you don't know about and have little expectations will then lead to far greater level of satisfaction. So it was with Brava.
As with many of the other islands, the Zodiac landing stage was in a relatively new port settlement. One of the other reasons for dropping passengers off at Fogo first, before sailing over to Brava with the other half of the passengers, was that we had hired all the minivans that were on Brava. Therefore, they had requested that we drop-off at Fogo first whilst they complete the school run, and then they would collect the children again after our visit was finished. We were only too happy to oblige. With the minivans all in the small harbour, we boarded and headed up the cobbled roads to the old settlement, Nova Sintra. You know sometimes you get that feeling when you arrive somewhere for the first time that, yes, I like this place. Instantly I felt that. The views on the way up to Nova Sintra had been spectacular…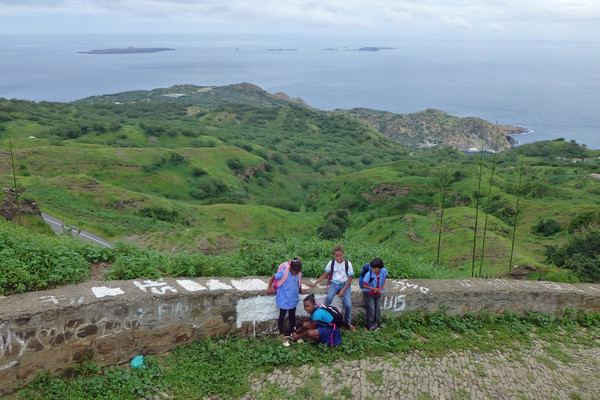 School children eagerly pose amidst the green landscape of Brava
The island of Fogo was clearly visible in the distance. The town of Nova Sintra had been beautifully laid out. Whoever had been in charge of town planning a few centuries ago had done a splendid job. The main road was a wide boulevard with a lane of traffic either side of a central reservation that housed large trees and ornate street lights.
The bandstand with mosaic pattern in the heart of Nova Sintra

We said are goodbyes to the people of Nova Sintra and continued in our minivans on the long and winding roads through Brava. From a hilltop, we paused to look down on the small coastal village that we were to visit and enjoy our local lunch. Once again, the locals had gone to town in preparing for our visit and a vast spread of local delicacies were laid out before us. We had been allocated an hour for lunch and to wander around the town. However, this also allowed the opportunity for those who used to walk out to the rock pools to have a swim in the sea. There were no changing rooms, so those that had previously attended boarding school were at an advantage as everyone who wanted to have a swim had to change under a towel. I had brought the ship's doctor on the tour with me and she looked on nervously, having presumed that none of our passengers would fancy a dip. Never under estimate a Noble Caledonia passenger! You are all the hardiest of cruise ship passengers, and if was no surprise to me that a few brave souls did venture down the steps and have a swim in this most magnificent of natural swimming pools.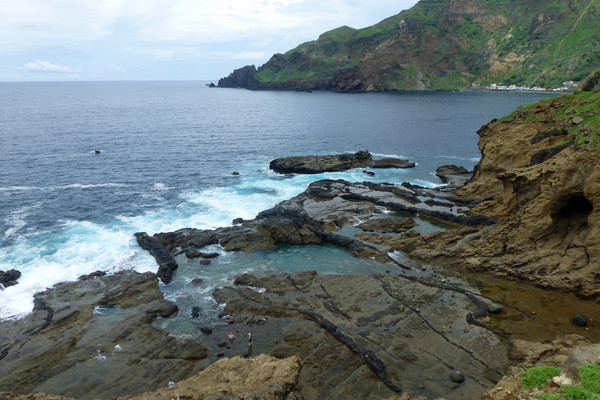 Nature's way of creating a swimming pool

Once everyone was dry, we were all back on the minivans and we soon arrived at the harbour where our flotilla of Zodiacs was ready and waiting for us. Once we were all aboard the 'Hebridean Sky' we heaved the anchor and set sail for Fogo, in order to collect those passengers we had disembarked there in the morning. I distinctly remember the dinner conversations that evening. The Lido Deck was buzzing as everyone who had been to Fogo told those who had been to Brava that they were in for a treat, and vice versa. With no distance to run during the night, but the sea being too deep to drop anchor off Fogo, the Captain took the ship to the sheltered side of the island and we spent the night drifting in calm waters. Early the next morning, we were in position to repeat the day before, with our trips to Fogo and Brava.
In my enthusiasm, I've reached the limit again with one island to go – Fogo. Also, from re-reading this blog, many might be wondering what on earth could be the connection between Fogo, St Kilda, Guatemala and Dominica. Well my dear friends, I'm going to have to leave you in suspense until next week, and reveal all then. If you think you know what the answer might be, then feel free to email in, and I promise to reply whether you are right or wrong. In the meantime, all the very best to all of you and I hope, especially if you've read this far, that you've found something of interest in my writings. Goodbye for now.
Click here to view details of our small ship Cape Verde cruises
Previous Posts