Cruise Director's Corner with Neil Horrocks
Dear Traveller,
I have kindly, or foolishly, been given free rein to cover anything I feel might be of interest in my column for Travel Post. Therefore, if there is anything in particular you would like to ask then I would be very happy to hear your questions and will do my best to answer them in upcoming columns. Whether it is about the ships themselves, the places we visit, things that have happened, I will leave it up to you. Obviously I cannot guarantee to respond to every question, but I will do my best.
On behalf of all of us seafaring staff we hope to see you soon on board a Noble Caledonia cruise.
Yours sincerely,
Neil Horrocks
Cruising Cape Verde, the Canaries & Madeiran Archipelago - Part II
Good evening everybody! As I write to you I am now back on board 'Hebridean Sky' and we are passing between oil and gas rigs in the North Sea on our way to Oslo, Norway. I embarked in Portsmouth yesterday, and it was wonderful to see 'Island Sky' and 'Hebridean Sky' alongside each other on the berth. Upon arrival in Oslo we will commence a charter cruise where the New York Yacht Club will be embarking for a cruise to Helsinki, and then it will be the start of our "Islands of the Baltic" cruise from Helsinki to Aberdeen via Estonia, Sweden and Denmark. In the meantime, I did promise at the end of the last blog that I would write about the six islands of the Canaries and Madeiran archipelago that we visited a month ago on 'Hebridean Sky'.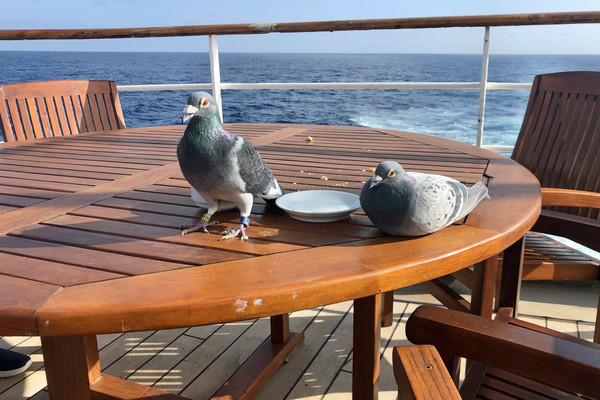 Two cheating racing pigeons hitch a lift from Cape Verde to the Canaries. 16th April 2022.
We had two days at sea heading from Cape Verde to the Canaries. On the first of those days, our resident everything-ologist, Dr Chris Edwards, noticed that we had taken on two stowaways. Being the ultimate all-rounder he realised that the pigeons were tagged and got in contact with their owners to check that they were heading in the right direction. We offered the pigeons some food and water and they sat merrily on the table on the Lido until we again reached land. Sadly, I never discovered if they won their race. We had our turnaround day set for Tenerife, but both the Cape Verde cruise, and the following one from Tenerife to Portsmouth, included a full day on the islands of La Palma, La Gomera and El Hierro. The first of those cruises also included a full day on Tenerife. To me, there is a huge difference between the eastern and western Canary Islands – not just in terms of geology, but also in terms of ambience and style. I feel this is partly echoed by the way that Las Palmas de Gran Canaria and Santa Cruz de Tenerife are joint-capitals of the Canary Islands. Politically, the Canary Islands consists of two provinces, named after the joint-capitals. Island-wise, Gran Canaria is grouped together with Fuerteventura, Lanzarote and La Graciosa; whilst Tenerife is combined with La Gomera, La Palma and El Hierro. Larger cruise ships will focus on the joint-capitals, and also call into Lanzarote, whereas not so many large vessels call into La Palma, fewer call into La Gomera, and almost none call into El Hierro. Hence I was delighted that we were to visit all the islands in the province of Tenerife.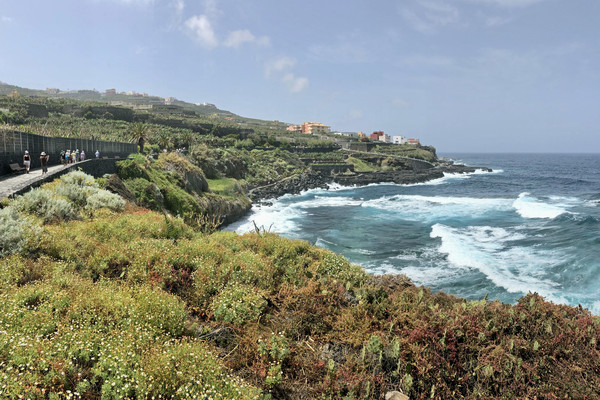 Walking along La Palma's dramatic northeastern coast on 17th April 2022.
Both of our visits to La Palma consisted of half-day visits, the first being an afternoon call, whilst the second was a morning visit. I really like La Palma. I would go so far as to say it is my favourite Canary Island. Back in early November last year we had been scheduled to visit La Palma with 'Island Sky', but the eruption on the Cumbre Vieja volcanic ridge put paid to that plan. However, the eruption finished on 13th December and this time we were allowed to visit the island. The dramatic eruption affected the western side of La Palma, whilst its capital, where the main harbour is located, is on the eastern side of the island. Once docked we offered a choice of equally enjoyable shore excursions. I can say that with confidence because I accompanied them both over the course of our two visits. The slightly more leisurely tour included being taken to a beautiful view-point with dragon trees, and then visiting the interesting archaeological park which overlooks a deep ravine where cave-dwellers lived long before Europeans arrived. A charmingly quaint white church stood next to the entrance to the archaeological park. Our next stop saw us stepping off the coach at San Andrés before walking along the coastal path, as shown above, to the wonderfully-named Los Sauces. Whilst the main crop is undoubtedly bananas, there is also a small sugar cane plantation that serves the island's only distillery. Having walked along the path, a guided tour of the distillery ended in a complimentary rum tasting, at which I bought enough for everyone to enjoy a tot later in the cruise. The tour then rather merrily continued into the National Park and we walked along a ravine to a waterfall though the lush landscape.
On our return visit to La Palma I enjoyed the alternative tour which saw us drive high up into the mountains for a walk in another National Park, with stunning views across a vast volcanic crater. We then headed to a view-point where we could sombrely witness the power of nature and look down on the lava field that was created last year. A few more photo-stops, including time to admire the Church of Our Lady of the Snows, who is patron saint of La Palma, and then it was time to head back to the ship.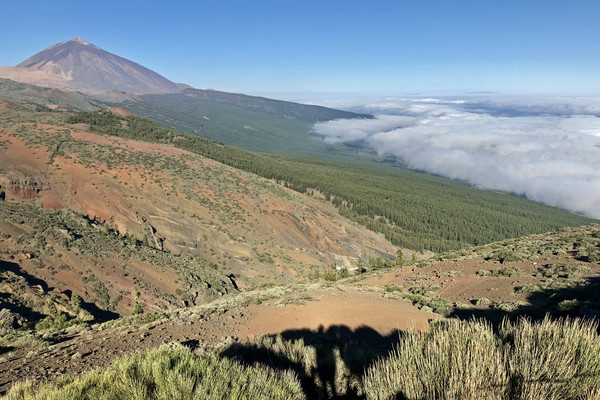 Looking down on the Tenerife clouds, with Mount Teide on the left. 20th April 2022.
Not wanting to sound like I have any prejudices, but I wasn't particularly looking forward to having a full day on Tenerife. Stereotypical thoughts turn to visions of British and German tourists arguing over sun loungers and such things. However, it is definitely wrong to paint an entire island with a single brush. In all my visits to Tenerife, I had never ventured up into the hills to Mount Teide. What a treat it was! I didn't hold out much hope as we left the ship in light rain. However, we climbed and climbed, through ever thickening clouds, and then, as if by magic, we were above the clouds and bathed in glorious sunshine. I think that looking down on a sea of clouds, whilst being on land rather than from an aeroplane window, is one of those views that everyone should have on their list. It is breathtakingly beautiful. We stopped at viewpoints on both our way up to and down from Mount Teide to appreciate this view, and it is one I could never tire of.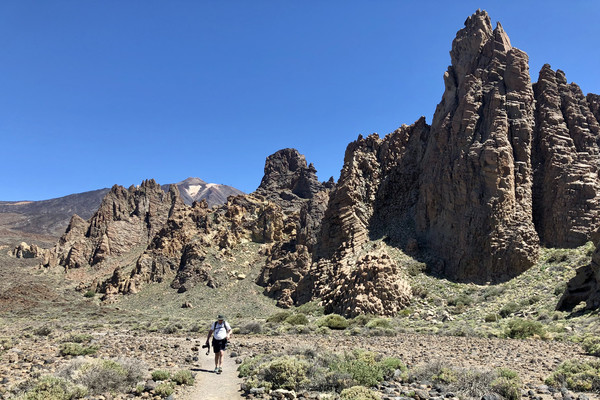 Walking in Mount Teide National Park, Tenerife. 20th April 2022.
Having driven a little further, we arrived at the start of our three-mile hike. It was a geologist's dream, as you can see from the photo above with Dr Chris Edwards enthusiastically being the backmarker and taking a seemingly infinite number of photos. It really is a hike that I can't recommend highly enough. It is as though you are walking through the ultimate geology field trip, with huge samples of geological activity to admire and appreciate. The air at that altitude is dry, but while the rest of the island might be hot, the temperature is also somewhat cooler, which made for perfect walking conditions. Having completed our semi-circular hike, our vehicle took us to a restaurant for a delicious local lunch and then we meandered back down, through the clouds, to the harbour. I can remember feeling invigorated that evening from such a glorious day up in Mount Teide National Park.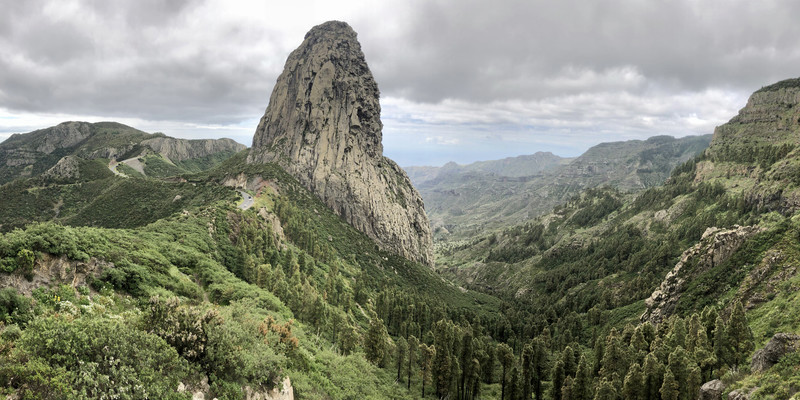 Roque de Agando, La Gomera. A prominent symbol of the island. 22nd April 2022.
For our visits to La Gomera, we offer two different tours. One is a half-day hike within the laurel forest of Garajonay National Park, whilst the other is a full-day tour of the island. The latter is often most-remembered for the demonstration of "El Silbo". This is the whistling language of La Gomera, which was used to communicate across the narrow valleys and ravines. It was used to great effect during the Franco regime as soldiers from mainland Spain could not understand the messages that the locals were relaying to each other. The language is now protected by UNESCO and is compulsorily taught in La Gomeran schools. When I first heard of it, I thought someone was pulling my leg, but then at the demonstration you realise that you can clearly make out what is being transmitted. Both of the tours on offer include a photo-stop at Roque de Agando, as shown above. It is one of several volcanic plugs that dominate the summit of La Gomera, although this one is easily the most photogenic. Climbers are no longer allowed to climb to the top, as it is now a protected area. La Gomera itself has a very laid back feel to it. On this occasion we docked in the capital, San Sebastián de La Gomera. On our visit in November we docked on the opposite side of the island in Valle Gran Rey – and everyone we happened upon was German. Even the shop signs were in German with Spanish in smaller letters underneath. However, it is mostly those Germans who live, er, 'alternative' lifestyles and they have helped make the island a truly welcoming and friendly destination.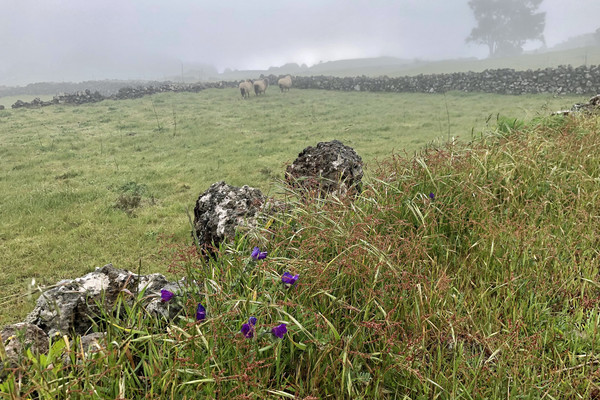 The British countryside or the top of a Canary Island? Confusing scenery on El Hierro. 23rd April 2022.
The other Canary Island we visited was the westernmost and smallest of the seven main Canary Islands (the eighth – La Graciosa – only officially became a 'Canary Island' in its own right in 2018). El Hierro is a fascinating destination and one which is rarely visited by any other ships, apart from the daily ferry to and from Tenerife. At one point (until the Azores were discovered) it was thought that El Hierro was the end of the known world, and ancient maps used El Hierro as their westernmost point. Our local agent and guides are all German (having found the slow pace of La Gomera to be too fast for them) and, as you'd expect, speak perfect English. Similarly to La Gomera we offer a hike or an island tour, although both are back on board in time for lunch. To illustrate how they are not used to large ships, I have a permanent asterisk by my notes on El Hierro to indicate that the shore excursions cannot leave before 9am on a school day as the island's coaches are needed for the school run! The photo above was taken by a field opposite the first view-point. The stone walls, large tree, incoming mist, sheep, everything made me think that to the unknowing viewer it could be anywhere in the British countryside. However, I adore El Hierro, and it was a highlight for many of our passengers. Whilst the first view-point may have been a little misty, we continued round the island and visited their outdoor museum with examples of the first primitive dwellings on the island. Next door is an active breeding programme for the El Hierro Giant Lizard, thought at one time to have become extinct, but now being carefully managed and released into areas that have been cleared of introduced predators.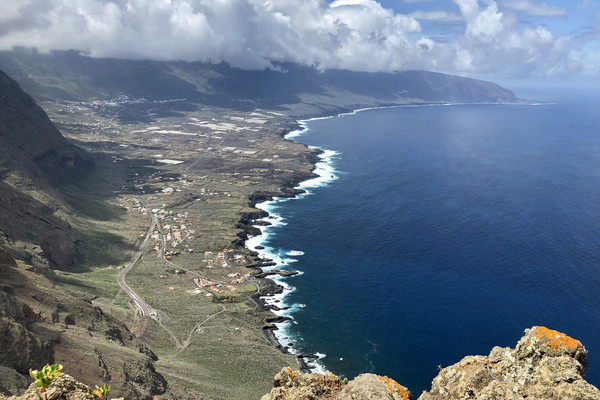 The final view-point on El Hierro. 23rd April 2022.
In order to stagger our arrival at the final view-point, which included a complimentary glass of local wine and some local cheese, our coach made an additional stop at what was once the world's smallest hotel (until they added one more room), which is based within a former harbour building on the edge of El Hierro's dramatic coastline. The owners kindly let us in to have a look around, and it is more of a maritime museum that happens to have a couple of rooms and a bar. I love discovering hidden gems like this. As you can see from the photo above, the view from the balcony of the final view-point was staggering. The tiny hotel we visited can just be seen about a third of the way up the image, on a small promontory sticking out into the waves. Given how few tourists visit El Hierro, it was one of those occasions where I felt quite honoured that we had had the chance to explore their island and I would happily return at any opportunity.
Playing 'Spot the Ship' from the cable car in Funchal, Madeira. 26th April 2022.
We bade farewell to the Canary Islands and headed north from La Palma to Funchal, Madeira. We arrived in pouring rain mid-morning, but it gradually eased throughout the day, and by the evening it was dry. The following day, all the clouds had dispersed and it was glorious sunshine with a perfect temperature. We tend to focus on gardens whilst in Madeira, and this overnight visit was no exception. The first day saw us enjoy this cable car ride (given the weather, I know I took the photo on the second day) up to Monte and then a visit to Monte Palace Tropical Garden. It really should be in the plural as it felt like many gardens within the one estate. Memories of 'Caledonian Sky' trips to Japan abounded as we strolled through the Japanese Garden. The galleries of southern African art were fascinating to admire, and the dozens of Koi Carp were certainly enjoying the weather conditions. A complimentary glass of Madeira Wine lifted everyone spirits and we continued on the coach up the mountainous road to the Eira do Serrado view-point. This was my guiltiest moment of the cruise. Sadly, the clouds were still blocking the view and, in spite of waiting, the first of our two coaches then had to leave to start wending its way back down the narrow steep road. However, ten minutes later, as I was about to call for the second coach to leave, the clouds suddenly lifted and we could appreciate the majesty of the famous view. I did ask the guide if we should call the other coach to return, but it was pointed out that it would be another fifteen minutes before they reached anywhere that they could turn around. Sorry to those on Coach 1! The second day, in glorious weather, saw us take the coach back to Monte, and then use another cable car route to bring us to the famous Botanical Gardens. After free-time to wander and wonder in the gardens, we returned to Funchal and paid a welcome visit to Blandy's Wine Lodge, with samples being offered to the passengers. After lunch on board, passengers could choose to join a walk along one of Madeira's many scenic levadas, or stroll into town from our berth which was very close to the centre – and directly opposite the modest statue of Madeira's most famous son – Cristiano Ronaldo. Whilst we had been at Blandy's, I had bought four bottles so that come the evening we could all venture on deck and enjoy a glass of Madeira Wine as we slowly sailed away from Madeira to the neighbouring island of Porto Santo.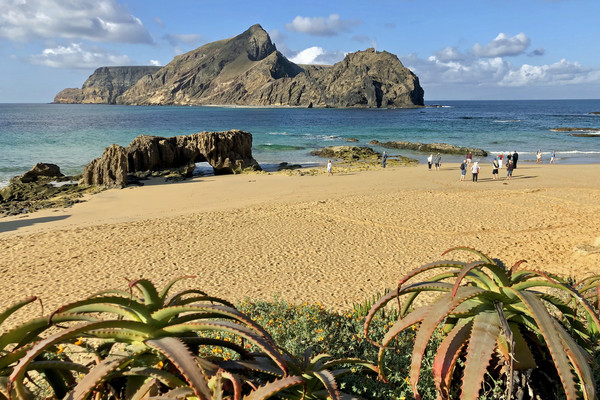 Ponta da Calheta, on the southwestern tip of Porto Santo. 27th April 2022.
I think if you were ask most people in the UK whether Madeira is an island or an archipelago, most would answer that it is only the former. However, the honest answer is both. The archipelago of Madeira consists of the eponymous island, along with Porto Santo, the Desertas Islands and the further afield Savage Islands. With names like 'Savage' and 'Desertas', you will not be surprised to learn that they are uninhabited, apart from a warden. However, Porto Santo is very much alive-and-kicking. One way I described it to passengers is as though Porto Santo is Madeira's Isle of Wight. A daily ferry links the two islands, and whilst Madeira is volcanic with no decent beaches, the southern shore of Porto Santo is one long, inviting golden sandy beach. Indeed, our first stop was at Ponta da Calheta, as shown above, at the opposite end of the island from where we had docked (and therefore about a ten minute drive). Within thirty seconds of alighting from the coach, many passengers had abandoned their socks and shoes and were enjoying a paddle in the Atlantic waters. The two coaches did the same tour but in opposite directions so as to avoid congestion at the respective sights. When you think that some of these large ships can command over fifty coaches at once, it makes you realise why hidden gems like Porto Santo are perfect destinations for our size of ship. The two coaches came together half way through the morning at a delightful little coffee bar that was built into the base of one of the many historic windmills that dot the landscape. What made it even more memorable was that each freshly made latte only cost €1.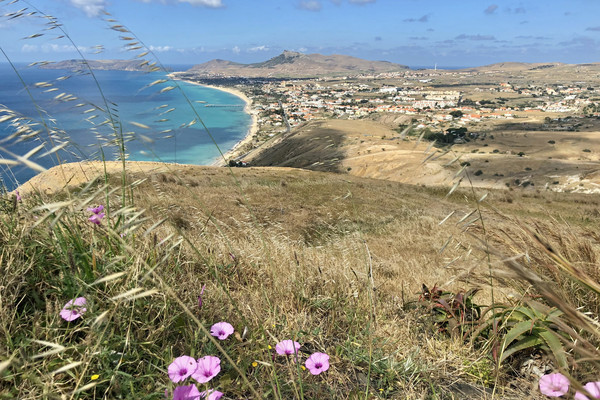 Looking down on the sweeping sandy southern coastline of Porto Santo. 27th April 2022.
The tour included a full panoramic drive around the island, including the more exposed northern coast, and numerous view-points. A new golf course, designed by Seve Ballesteros, receives charter flights from Denmark each week, and there can be fewer finer places to play all year round. It was puzzling to see the greenery of the golf course, but the brownness of the surrounding landscape. Cleverly, the locals had only given planning permission for the golf course if the builders constructed a sewage treatment works for the island. As a pay-off, the treated water is then used to irrigate the golf course. Excellent idea! Our final visit on the tour of Porto Santo was to the museum which is housed within the building where Christopher Columbus lived. He had married the daughter of Bartolomeu Perestrelo, who was the first Governor of Porto Santo and claimed to have discovered the island. Whilst we were visiting the Canary Islands, we found other places where Christopher Columbus was said to have been romantically involved with a local lady. One of our passengers turned and said to me that perhaps he discovered the New World by accident, and was actually just trying to find any island where he wasn't already with someone! Either way, he certainly left his mark on Porto Santo and the museum is small and well-presented. I could quite happily spend a few peaceful and relaxing days on Porto Santo. At present the only regular flights to the island are from neighbouring Madeira, with charters from mainland Portugal, Italy, Germany and England. I hope the islanders remain as sensible as they currently are in limiting the numbers that arrive to a manageable level – as I hope to visit on one of our ships many more times in the future.
Well, that has brought me to the end of this latest pair of blogs. I hope you have enjoyed reading them as much as I have enjoyed writing them. Thank you to all the passengers who were on those two island-hopping cruises and I hope that you will join us when we return to the islands later this year. In the meantime, happy sailing wherever our ships may take you!
Click here to view details of our small ship cruises to Cape Verde
Previous Blogs