The Kimberley - The Heart of Australia
Discover Australia's 'Top End' on an expedition cruise aboard the MS Island Sky
Join us on a visit to the Kimberley, the real 'Outback' and an area the Australian's refer to as "The Land of Wait A While". It was the last great empty section of Australia to be explored, with European settlers arriving only just over a hundred years ago. Ignored by the early explorers, the Kimberley today is one of the richest areas of Australia. Record gold and diamond rushes, great cattle drives and hauls of pearl shells have put the Kimberley on the economic map, yet for all its latterly discovered wealth it still remains one of the most untouched areas in the world today. Covering nearly 423,000 square kilometres, the region has fewer people per square kilometre than almost any other place on earth and is truly one of the world's last great wilderness areas with a complex landscape which encompasses spectacular gorges and waterfalls, fascinating cave systems and an incredibly diverse variety of wildlife.
Due to its wild and undeveloped nature, the Kimberley is a wonderful place for the genuine traveller to explore and it is perfect for expedition style cruising. There are so many highlights, it is difficult to know where to begin when extolling its virtues. From the King George River and Falls to the tidal phenomena at the Montgomery Reef, from the fantastic wildlife viewing opportunities of Bigge Island to the horizontal waterfalls near Talbot Bay and the hundreds of islands in the Buccaneer Archipelago. The whole vast area offers a cornucopia of natural world delights on a scale seldom witnessed anywhere else in the world.
Useful links & Travel Advice
Please find a selection of useful websites to refer to for information from the Foreign & Commonwealth Office, on visa requirements, NHS travel health advice and other useful travel tips.
---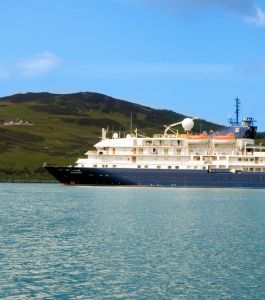 Island Sky
The MS Island Sky is one of our three flag ships and sister vessel to the MS Caledonian Sky and MS Hebridean Sky. All three vessels were built in the same ship yard in Italy at similar times and share the same excellent attributes that make them three of the finest small ships in the world.
Itinerary
Day 1 London to Perth, Australia.
Fly by scheduled indirect flight.
Day 2 Perth.
Arrive this afternoon and transfer to the Duxton Hotel (or similar) for a two night stay. The remainder of the day is at leisure.
Day 3 Perth.
After breakfast in the hotel join a guided tour of Perth which will include a walk of Kings Park, perched on Mount Eliza. Absorb impressive views of the city and the Swan River and visit the Caversham Wildlife Park. Enjoy a leisurely afternoon to explore at your own pace before we meet tonight for a welcome dinner.
Day 4 Perth to Wyndham.
This morning transfer to Perth airport for our flight to Kununurra. On arrival transfer to the MS Island Sky in Wyndham and sail this evening.
Day 5 King George River.
At dawn we will start our 12 kilometre journey through some of the world's most spectacular scenery along the mighty King George River. Millions of years of erosion have created vertical sheer walls that resemble stacks of sandstone. The highlight is sure to be King George Falls, the highest single drop falls in the whole of the Kimberley and our expedition team will get you to the cascading waters. Those feeling active may like to accompany some of the expedition team on a trek to the top of the falls for breathtaking views. For those that remain at the foot of the falls we will run a series of Zodiac cruises through the gorge looking for wildlife such as flying foxes, dugong and crocodiles.
Day 6 Bigge Island.
Off the coast of the Kimberley, approximately six kilometres from the mainland, Bigge Island is filled with fantastic wildlife viewing opportunities and is well known for its Indigenous Australian rock art, created by the Wunambal people. In caves throughout the island, you will be able to see paintings including fascinating examples of first contact art and Wandjina figures.
Day 7 Raft Point & Montgomery Reef.
This morning we arrive at Raft Point and use the Zodiacs to land on the beach. Either enjoy time to relax whilst the energetic can climb to a secluded Aboriginal rock art gallery to view Wandjina art which is over 4000 years old. Enjoy the spectacular views from the top before returning to the ship. Over lunch we position to the magnificent Montgomery Reef which 'rises' out of the ocean as the tidal waters cascade down in to the surrounding deep channels in an awesome display of the power of nature. Join our expedition team aboard the Zodiacs to experience this natural phenomenon up close and discover the reef's diverse marine life including turtles, manta rays and reef sharks.
Day 8 Horizontal Falls, Talbot Bay.
Talbot Bay is known for its massive 12 metre tides that create an amazing spectacle, the unique Horizontal Falls. David Attenborough described the phenomena as "one of the greatest natural wonders in the world". Subject to tidal conditions we board local boats for an exhilarating ride through the falls. This afternoon we will use our Zodiacs to explore Cyclone Gorge. Here we hope to see crocodiles and fiddler crabs in the waters whilst observing the unique geology and amazing rock formations.
Day 9 Adele Island, Buccaneer Archipelago.
Today we will cruise through the Buccaneer Archipelago, home to more than 800 islands and arrive at Adele Island. A hook shaped island off the central Kimberley coast, this is an important location for breeding seabirds including the lesser frigate bird and the brown booby.
Day 10 Careening Bay.
This afternoon we arrive at Careening Bay. Visit the iconic site of the ancient carved double-trunked Boab tree bearing the engraving 'HMC Mermaid – 1820'. Carved by one of the crew, the inscription commemorates the site where the ship was grounded and repaired.
Day 11 Prince Frederick Harbour, Hunter River & Naturalist Island.
The Prince Frederick Harbour is home to some of the most spectacular scenery we will see. Soaring red cliffs, green rainforest and mangroves paint a beautiful canvas for our arrival as we sail through Nine Pin Head, the sandstone bluff that marks the mouth of the river. We follow the Hunter River to reveal the spectacular backdrop of Mount Trafalgar while to the north Mount Anderson rises to an impressive 480 metres. We will drop anchor at Naturalist Island and have the choice to join a Zodiac excursion around the island and mangroves looking for wildlife, especially crocodile, or an optional helicopter excursion to Mitchell Falls. This amazing four-tiered waterfall drops 80 metres and is surrounded by the red escarpment lands of the Mitchell Plateau making the view from the air quite stunning. We will land at the top for a short walk to the lookout points and may even have a chance to swim in the river at the top of the falls.
Day 12 Vansittart Bay & Jar Island.
We have the whole day to explore Vansittart Bay. First thing this morning we will use the Zodiacs to land on Jar Island to see the Gwion Aboriginal art gallery. Discovered by Joseph Bradshaw in 1891, some of the art has been dated back over 17,000 years and is unique to this region. We will walk to the two rock art galleries and see the rocky burial mound between the sites. Return to the vessel for lunch and this afternoon land on the Anjo Peninsula. Our onboard naturalists will lead various walks over the mud flats, rock pools and sand dunes looking for wildlife, birds and plants.
Day 13 At Sea.
Enjoy a relaxing day at sea and attend a lecture or two.
Day 14 Darwin.
This morning we arrive in Darwin and join a full day tour to Litchfield National Park which is famous for its spectacular waterfalls. See Florence Falls and enjoy an interpretive bush and monsoon vine forest walk. Travel onto Tolmer Falls for a magnificent view of the water cascading down to the deep waterhole at the base of the falls. We will return via Wangi Falls with its large crystal-clear pool; maybe take a dip in the cool waters and witness Litchfield's amazing stand of termite mounds.
Day 15 Darwin.
Disembark and transfer to the airport for your scheduled indirect flight to London.
Day 16 London.
Arrive this morning.
Dates and Prices
SPECIAL OFFER – SAVE £400 PER PERSON FOR A LIMITED TIME ONLY
Prices per person based on double occupancy
19

August to

3

September 2021
Category
Brochure Price
Special Offer Price
Magellan Deck Standard Suites
£7995
£7595
Columbus Deck Superior Suites
£8195
£7795
Marco Polo Deck Premium Suites
£8695
£8295
Marco Polo Deck Corner Suites
£8995
£8595
Erikson Deck Deluxe Balcony Suites
£9495
£9095
Explorer Deck Owner's Balcony Suite
£9995
£9595
Explorer Deck Island Suite
£10695
£10295
Magellan Deck Standard for sole occupancy
£9795
£9395
Columbus Deck Superior for sole occupancy
£9995
£9595
Tour Reference Code: SCISK190821
PRICE INCLUDES: Economy class scheduled air travel • Two nights hotel accommodation in Perth with breakfast • Dinner on day 3 • 11 nights aboard the MS Island Sky on a full board basis • House wine, beer & soft drinks with lunch and dinner • Shore excursions • Noble Caledonia expedition team • Gratuities • Transfers.
Not Included: Travel insurance, Australian ETA visa, optional helicopter excursion.
Deckplan
Island Sky
The MS Island Sky is one of our three flag ships and sister vessel to the MS Caledonian Sky and MS Hebridean Sky. All three vessels were built in the same ship yard in Italy at similar times and share the same excellent attributes that make them three of the finest small ships in the world.
Travelling with You
Phanor H Montoya-Maya

Phanor H Montoya-Maya is a marine biologist, diving instructor and Coral guru hailing from Colombia. His love for all things oceanic emerged after sighting his first giant grouper on the Caribbean coast of his native Colombia. Since that moment he has dedicated his life to better understanding, conserving and raising awareness for the ocean and its inhabitants. A BSc in Marine biology was followed by his MSc in Icthyology and finally a PhD in coral reefs. He has worked all over the world leading cage less shark dives in South Africa, starting the first Marine based NGO in Colombia or heading up the World's largest coral reef restoration programme in the Seychelles. He has been invited to work on countless Scientific expeditions through North and Central America, Southern Africa and most recently was the on board Coral specialist for the National Geographic Pristine seas team in Mozambique! Outside of work he has hitch hiked through Jamaica, ridden camels past Ancient Egypt and even tried his hand at Ice fishing in the remote Canadian wilderness. Phanor loves the possibilities found on expedition cruises to see more of the world and take his guests on some of their most informative, interesting and incredible dives of their lives. He doesn't create log book entries he creates everlasting memories.

Phanor H Montoya-Maya will be on the following tour dates:

19

August to

3

September 2021

Conrad Weston Hernandez

Conrad Weston is a Second Generation costarrican. Conrad has been involved in ecotourism since 1986 in South and Central America mainly. Diving has been a family tradition for him. He has a great interest in the coral reef ecosystems of both the Pacific and Caribbean. Bird identification makes him get up early in the morning. Fishing is among his passions along with surfing and these activities have allowed him to travel out of the beaten path extensively.

Conrad Weston Hernandez will be on the following tour dates:

19

August to

3

September 2021

Rebecca Hodgkiss

Becky is a conservation biologist who was born in the UK but spent her childhood on the move. She grew up in the USA, Norway, Indonesia and Singapore; this exposure to different cultures and wildlife instilled in her a love of travel, exploring and nature. After graduating with an MSc in Animal Behaviour, she returned to SE Asia to work as a Field Biologist in Malaysia. Becky then moved to Seychelles and spent four years coordinating projects on sea turtles, giant tortoises, seabirds and endemic passerines, and was part of a team who set up a lemon shark tagging project. As Conservation Manager for a private island reserve, she was responsible for monitoring populations of terns, tropicbirds and the Seychelles magpie robin (once one of the rarest birds in the world!). Her most recent posting was on the RSPB's Little Tern Recovery Project on the Norfolk coast. She is a PADI/SSI Divemaster and keen amateur wildlife photographer and holds a ringing permit with the South African Bird Ringing Unit. Her multi-national upbringing has given her itchy feet for life, and what better way to satisfy this urge to explore the world, whilst sharing her passion for wildlife and conservation, than on expedition cruises!

Rebecca Hodgkiss will be on the following tour dates:

19

August to

3

September 2021
Tour Extensions
Upon disembarking the MS Island Sky we are offering a six night extension to further explore this varied and fascinating country.

The Itinerary

Day 1 Darwin to Alice Springs, Australia.

Disembark after breakfast and enjoy an orientation tour of Darwin followed by a light lunch before we make our way to the airport for our flight to Alice Springs. Upon arrival transfer to the Doubletree by Hilton Hotel (or similar) for our overnight stay. This evening we will travel south into the outback and enjoy a traditional Aussie style BBQ dinner before exploring the night sky with our local guide. (B, L, D)

Day 2 Alice Springs to Uluru.

After an early breakfast we will visit Desert Park Alice Springs, located at the base of the spectacular West MacDonnell Ranges and closely connected to the local Arrernte people. Enjoy the self-guided walking trails through three distinct desert habitats and see some of the Australian native wildlife that call this harsh, remote environment home. We will then transfer to the airport for our flight to Uluru. Treasured as Australia's spiritual heart, the dual World Heritage-listed wilderness of Uluru-Kata Tjuta National Park is an ancient desert landscape. Upon arrival transfer to the Sails in the Desert Resort (or similar) for our two night stay on full board basis. This evening travel to the Uluru sunset viewing area to witness the striking colour changes of Uluru before returning to the hotel for dinner. (B, L, D)

Day 3 Uluru.

Arise early and journey to ancient Uluru to learn about the history of the Mala people. Enjoy the Mutijulu walk at the base of this incredible monolith. The track leads to a special waterhole and the sacred site of Kuniya Piti where we will learn about the ancient Indigenous Kuniya Tjukurpa and the Liru. After lunch we will visit the mystical domes of Kata Tjuta (the Olgas). The Aboriginal people have lived in this region for 22,000 years. Kata Tjuta is one of the most sacred of sites in the region, used to perform many of the traditional men's ceremonies. Walk into the Walpa Gorge toward the heart of the site, where the trail follows the natural creek bed between two of the tallest domes. Our guided walk will include commentary on local stories, flora, fauna and geology. Return to the hotel for dinner before we visit the Field of Light. This award-winning exhibition was created by artist Bruce Munro and surrounds the sacred site of Uluru, bringing more than 50,000 stems topped with illuminated glass spheres to an area that spans an area the size of more than nine football fields. The work of art is entirely illuminated by solar power and the spheres are connected with an illuminated optical fibre which lights up as darkness falls. (B, L, D)

Day 4 Uluru to Sydney.

Enjoy a morning at leisure to explore independently, relax in the hotel or join one of the optional tours on offer. After a light lunch we will transfer to the airport for our flight to Sydney. Upon arrival we will make our way to the Hyatt Regency Hotel (or similar) for our three night stay. (B, L)

Days 5 & 6 Sydney.

The following two days will be at leisure to explore Sydney independently. (B)

Day 7 Sydney to London.

After breakfast transfer to the airport for our scheduled indirect flight to London. (B)

Day 8 London.

Arrive this morning.

Prices per person based on double occupancy

2

to

9

September 2021
Category
Price
Twin
£2895
Single
£3495

PRICE INCLUDES: Overnight hotel accommodation in Alice Springs • Two nights hotel accommodation in Uluru • Three nights hotel accommodation in Sydney • Scheduled internal flights • Meals as indicated (B - Breakfast, L – Lunch, D – Dinner) • Excursions as described • Noble Caledonia Tour Manager • Gratuities • Transfers.

Not Included: Travel insurance, dinner on day 4 and lunch & dinner on days 5 & 6, optional excursions.

NB. Minimum numbers apply.
Also of Interest
Discover the wonders of Papua New Guinea aboard the MS Island Sky with Guest Speaker Dr Shirley Campbell
SPECIAL OFFER - SAVE £300 PERSON
Island Sky
Itinerary at a glance
Brisbane / Port Moresby / Bonarua Island / Fergusson & Dobu Islands / Tufi / Tami Islands / Madang / Sepik River / Alim Island / Tingwon Island / Rabaul / Cairns
17 nights from £8695
More Info
Next Departure
2

September 2021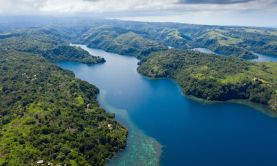 Book with Confidence
Speak to one of our advisors on 020 7752 0000