Circumnavigation of Sicily
An in-depth exploration of the wonders of Sicily aboard the MS Hebridean Sky with Guest Speakers Olga Stone & David Stuttard
2

October 2022

10

October 2022
Join us aboard the all-suite MS Hebridean Sky for this circumnavigation of Sicily and all its wonders in the company of just 118 fellow guests. This unique island has an incredible wealth of treasures and a geography which lends itself beautifully to exploration by sea with most points of interest located close to the coast. Owing to its benevolent climate and superb strategic position, Sicily has been coveted, fought over and colonised numerous times with the Phoenicians, Greeks, Romans, Arabs, Normans, Byzantines and Bourbons having all made their mark. With our circumnavigation of the island aboard the MS Hebridean Sky we have the luxury of time allowing us to explore Sicily's rich heritage at a relaxing pace.
From magnificent Doric temples to great Byzantine cathedrals and bizarrely styled villas, there is so much to explore during our circumnavigation of the island which we have timed for October when the crowds of summer will have departed and the temperatures will be pleasant for our guided tours. We will visit the Roman mosaics of Villa Romana di Casale, the Valle dei Templi, the superbly well-preserved Greek temples of Segesta and the Norman Royal Palace and Palatine Chapel in Palermo, Byzantine Monreale Cathedral and the stunning Greek theatre at Taormina. We have planned some late departures from port which afford the opportunity to enjoy dining ashore or an after dinner stroll in some towns which are particularly atmospheric in the evening. In addition, local guides and our onboard Guest Speaker will contribute greatly to your enjoyment and understanding of Sicily.
Useful links & Travel Advice
Please find a selection of useful websites to refer to for information from the Foreign & Commonwealth Office, on visa requirements, NHS travel health advice and other useful travel tips.
---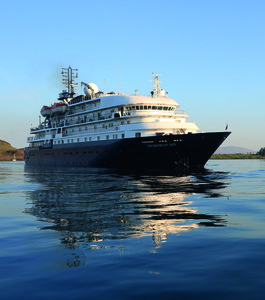 Hebridean Sky
The MS Hebridean Sky is one of our three flag ships and sister vessel to the MS Island Sky and MS Caledonian Sky. All three vessels were built in the same ship yard in Italy at similar times and share the same excellent attributes that make them three of the finest small ships in the world. Formerly known as the Sea Explorer, the vessel underwent a multi-million pound refurbishment in Sweden in Spring 2016 before being re-launched as the MS Hebridean Sky.
Itinerary
Day 1 London to Valletta, Malta.
Fly by scheduled flight to Malta. On arrival transfer to the MS Hebridean Sky and enjoy welcome drinks and dinner as we sail this evening
Day 2 Licata for Piazza Armerina, Sicily.
From the port of Licata we travel inland to what is regarded as the finest Roman site in Sicily, the Imperial Roman Villa of Casale, which is located close to Piazza Armerina amidst wooded rolling countryside. This huge villa was built in the 3rd century and has some stunning floor mosaics. Our return drive takes us through the province of Caltanissetta, recognised today as one of the best winemaking regions in Italy thanks above all to its production of high quality, prestigious red wines including Nero D'Avola. We will break our journey at one of these vineyards and enjoy a chance to sample some wine over a Sicilian lunch before returning to the ship.
Day 3 Agrigento for Valley of the Temples.
Although handsome in its own right and awash with Medieval atmosphere, Agrigento is not our main reason for calling at this southern coast port. Close by is the Valle dei Templi, a series of Doric temples and the most captivating of Sicilian Greek remains, a grouping unique outside Greece. Surrounded in greenery of olive and almond trees, admire the Temple of Hera, the Temple of Concordia, the Dioscuri Temple, the Temple of Olympic Jove and the Temple of Hercules. After lunch on board the afternoon is free to explore Agrigento and shuttles will run from the port to the town and the excellent archaeological museum which you can explore at leisure.
Day 4 Trapani.
Trapani was the landing point for Peter of Aragon in 1282 to start the Spanish occupation of Sicily. This morning there is the option to travel inland to explore Segesta, one of the grandest Doric monuments to survive. See the unfinished temple dating from 424 BC as well as the theatre from where you can enjoy excellent views of the countryside and distant coastline. Alternatively visit Erice, famed in antiquity for its temple dedicated to the goddess of love, the Phoenician Astarte, Greek Aphrodite or Roman Venus. A tour via cable car will take us to this stunning site high above the sea and to the beautifully preserved Medieval town characterised by its winding cobblestone streets and beautiful courtyards. Both tours will then enjoy a Sicilian lunch at a nearby olive oil farm. We return to the ship later in the afternoon and there will be the opportunity to wander around Trapani at leisure as we plan to sail later in the evening.
Day 5 Palermo.
Arrive this morning in the Sicilian capital of Palermo. After breakfast we will explore the city, famous for its jumbled and picturesque streets punctuated with ornate Baroque churches, domed Arab mosques and the glittering Byzantine mosaics that reveal a unique and diverse heritage. We visit the impressive 12th century cathedral which houses the royal tombs of Henri VI and King Ruggiero. Return to the ship for lunch and this afternoon either enjoy some time to explore independently or join an excursion to Monreale Cathedral, said to be the most beautiful Norman Church in Italy, designed and completed by William the Good in 1174. With its thick walls and powerful towers, the exterior looks like an austere fortress yet it is the interior of this great cathedral which is its crowning glory. Here the large nave, with its side aisles and grey granite columns set off the exquisite Byzantine mosaics on the walls above the arches.
Day 6 Messina for Taormina.
From the nearby port of Messina we will visit Taormina, a walled town lying in the shadow of Mount Etna, Europe's highest volcano. The town has been a popular tourist destination since the 19th century and our guided tour will include walking the characteristic alleys before visiting the 15th century Palazzo Corvaja and the impressive Greek Theatre from where there are marvellous views over the town and coast. Those who wish to spend longer here will be able to take lunch independently in one of the local restaurants and enjoy an afternoon exploring at leisure before our coach returns to Messina. Alternatively, return to the ship for lunch and enjoy free time in Messina before we sail this evening.
Day 7 Syracuse.
Syracuse was founded by the Greeks in 734 BC and by the 5th century was a political and military power throughout the Mediterranean which rivalled Athens as the largest and most beautiful city in the Greek world. On leaving the vessel we visit the Neapolis Archaeological Park where we will find a well preserved Greek theatre with seats carved from limestone. Paradise Quarry, now an attractive garden and orange grove, was the primary source of that limestone and is the site of the curious 'Dionysus' Ear,' a vast grotto with an amplifying resonance. We will continue to explore the island of Ortigia where we will find the Temple of Apollo, considered to be Sicily's most ancient Doric temple and the Baroque Cathedral, erected over the remains of the Temple of Minerva. The afternoon is free to explore independently before we meet this evening for a private concert in one of the town's palazzos accompanied by local food and wine.
Day 8 Noto & Ragusa.
From our berth in Pozzallo we will explore the Baroque villages of Noto and Ragusa. Built in 1703 Noto is a picturesque city located on the terraced slopes of Mount Iblei among olive groves and almond trees. A guided walk along the central streets will reveal the 18th century Palazzo Ducezio and some Baroque churches: San Francesco Immacolata, the cathedral, San Carlo, Santa Chiara and the imposing Palazzo Nicolaci di Villadorata, built in 1737. We return to the ship for lunch and this afternoon continue to charming Ragusa which has been included in the UNESCO World Heritage list for its artistic architectural heritage with its Baroque palaces, churches, squares and winding narrow streets, all of which create an evocative and ancient atmosphere. We will discover the wonderful Ragusa Ibla: the "Pearl of the Baroque", the gardens, the magnificent palaces, the splendid church of San Giuseppe and the Dome of San Giorgio, built in the 18th century on the site where an older church stood before the earthquake of 1693.
Day 9 Valletta, Malta to London.
Disembark this morning and transfer to the airport for our scheduled flight to London.
Dates and Prices
SPECIAL OFFER - SAVE £300 PER PERSON FOR A LIMITED TIME ONLY
Prices per person based on double occupancy
2

to

10

October 2022 •

10

to

18

October 2022
Category
Brochure Price
Special Offer Price
Amundsen Deck Standard Suite
£5295
£4995
Byrd Deck Superior Suite
£5495
£5195
Mawson Deck Premium Suite
£5695
£5395
Mawson Deck Corner Suite
£5995
£5695
Scott Deck Deluxe Balcony Suite
£6495
£6195
Shackleton Deck Owner's Balcony Suite
£6795
£6495
Shackleton Deck Hebridean Suite
£7795
£7495
Amundsen Deck Standard for sole use
£6595
£6295
Byrd Deck Superior for sole use
£6995
£6695
Tour Reference Code: SCHKS011022/SCHKS101022
Price Includes: Economy class scheduled air travel • Eight nights aboard the MS Hebridean Sky on a full board basis • House wine, beer and soft drinks with lunch and dinner • Noble Caledonia onboard team including Guest Speaker • Shore excursions • Gratuities • Transfers • Port taxes.
Not Included: Travel insurance.
Deckplan
Hebridean Sky
The MS Hebridean Sky is one of our three flag ships and sister vessel to the MS Island Sky and MS Caledonian Sky. All three vessels were built in the same ship yard in Italy at similar times and share the same excellent attributes that make them three of the finest small ships in the world. Formerly known as the Sea Explorer, the vessel underwent a multi-million pound refurbishment in Sweden in Spring 2016 before being re-launched as the MS Hebridean Sky.
Travelling with You
Olga Stone

Olga Stone was born in Crimea, Ukraine. She graduated from the Odessa Conservatoire with distinction in piano, piano accompaniment and the teaching of music and then became a professional pianist and accompanist, performing in Moscow, Minsk, Kiev and other cities of the former Soviet Union. She has made many appearances on Ukrainian, Russian and Belorussian TV. She moved to the Isle of Man in 1998 and, in 2001, was elected a Fellow of Trinity College of Music in London.

Olga has performed in various venues around the world. She also teaches piano, Classics and Russian at King William's College (Isle of Man) and is the organist at St Andrew's Church, Isle of Man. Aside from degrees in Music, Olga has a MA in Classics and BA in the History of Arts, and is a part -time History lecturer for the University of Liverpool and for the University of Chester.

Olga Stone will be on the following tour dates:

2

to

10

October 2022

David Stuttard

David took an MA in Classics from St. Andrews University. He subsequently taught Classics for eleven years in Edinburgh, St. Andrews and York.

David is a prolific author of books on classical history and literature including. AD 410, The Year That Shook Rome (British Museum Press), co-authored with Sam Moorhead, The Romans Who Shaped Britain, also co-written with Sam Moorhead (Thames and Hudson) A Traveller's Guide to Roman Mythology (Thames and Hudson), and Looking at Ajax (Bloomsbury Press) were both published in August 2019. David is currently writing Phoenix: Cimon and the Rise of Athens (Harvard University Press) and working on Looking at Agamemnon (Bloomsbury).

In 1993, David founded the theatre company, Actors of Dionysus (aod), to perform productions of Greek drama throughout the UK and beyond, and for which he directed his own translations and adaptations of Greek tragedies, remaining with the company as Joint Artistic Director until 2004.

In 2013 David curated two events (including a programme of readings) at The British Museum in association with their exhibition, Life and Death in Pompeii and Herculaneum, while in 2015 he curated a further two events linked to their exhibition on the Greek body, Defining Beauty. In 2019 he was invited to reprise his programme of readings as a curtain raiser for the Ashmolean Museum's exhibition, Last Supper in Pompeii.

An accredited lecturer for The Arts Society, David is an energetic champion of classics and writes for publications such as Minerva, The British Museum Magazine, All About History, History News Network and The Wall Street Journal.

David has served on the Council of the Roman Society and regularly chairs programmes of lectures on Greek tragedy. He speaks at a wide range of venues including The British Museum and The Ashmolean Museum, events including literary festivals such as Oxford and Cheltenham and forum discussions.

In October 2018, David was elected a Fellow of Goodenough College, London.

David Stuttard will be on the following tour dates:

10

to

18

October 2022
Tour Extensions
If you would like to spend some time in Malta after disembarking the MS Hebridean Sky we are offering a two night extension providing the chance to explore Valletta and the surrounding area.

The Itinerary

Day 1 Valletta, Malta.

After breakfast we will disembark and begin a city walking tour of Valletta, the 16th century "Fortress City" built by the Knights of St John. Our morning tour will include the highlights of Valletta with its stunning views across the harbour from the Barakka Gardens. We will explore Merchants Street, containing the surviving auberges built by the Knights of St John of Jerusalem, together with the palace where Napoleon Bonaparte is believed to have stayed in 1798. Our final stop will be at St John's Cathedral. After lunch we transfer to our hotel and check in. The remainder of the afternoon and evening are free for independent exploration.
(B, L)

Day 2 Mdina.

A morning tour will take us to Mdina. Originally this city was given the name of "Citta Nobile" and it is now known as the "Silent City" at the heart of the island. Mdina is Phoenician in origin and was the fortified capital of the island before the arrival of the Knights. Spend the afternoon at leisure before we meet for dinner. (B, D)

Day 3 Valletta to London.

Check out and transfer to the airport for our scheduled flight to London. (B)

Prices per person based on double occupancy

10

to

12

October 2022 •

18

to

20

October 2022
Category
Price
Twin
£695
Single
£945

Price Includes: Two nights hotel accommodation, meals as indicated (B - Breakfast, L - Lunch, D - Dinner), tours as described, Noble Caledonia Tour Manager, gratuities, transfers.

Not Included: Travel insurance.
Book with Confidence
Speak to one of our advisors on 020 7752 0000