Treasures of Burgundy
An eight day river voyage along the Saone aboard the Amadeus Provence with Guest Speaker Michael Hindley
Travelling by river offers a marvellous opportunity to slowly absorb the villages, towns and passing countryside; the subtle changes of landscape, lifestyles and architecture can be appreciated fully, and nowhere is this more relevant than along the scenic French waterways. Come with us and enjoy this enchanting region of France well known for the good things in life: delicious food, fine wine, idyllic scenery and historic towns and villages that all make for an appealing and rewarding journey. Leave the crowded roads behind and relax on board our elegant river vessel as she cruises through Burgundy on an eight day journey along the River Saone.
Starting in France's gastronomic capital, Lyon, this leisurely trip will concentrate on Burgundy and all its wonders. We will visit bucolic villages with well-preserved churches and monuments, discover the heritage of the Dukes of Burgundy, and explore historic castles and Medieval fortresses as well as the wine capital, Beaune, with its Hotel Dieu. Our programme combines excursions ashore with informative local guides as well as time at leisure, so you can truly relax and experience all that Burgundy has to offer.
Useful links & Travel Advice
Please find a selection of useful websites to refer to for information from the Foreign & Commonwealth Office, on visa requirements, NHS travel health advice and other useful travel tips.
---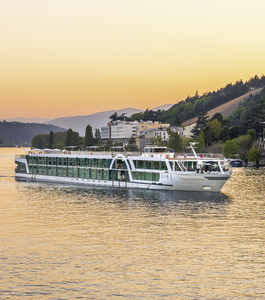 Amadeus Provence
Launched in April 2017, the vessel has been designed for luxury and comfort. The ship is bright, airy and comfortable and the atmosphere on board informal, yet with close attention to detail. The friendly crew will do their utmost to ensure your stay is enjoyable, informative and agreeable throughout.
Itinerary
Day 1 London to Lyon, France.
Fly by scheduled flight to Lyon or travel by train from London St Pancras. Upon arrival transfer to the Amadeus Provence and embark. Meet your fellow travellers this evening during welcome drinks and dinner as we sail upstream along the River Saone.
Day 2 Macon & Cluny.
Today we visit Cluny Abbey, once the most powerful Benedictine Abbey of the West. Built in the Romanesque style, it was founded by William I, Duke of Aquitaine in 910. The Abbey was renowned for its strict adherence to the Rule of St Benedict and is the place where the Benedictine Order was formed. Although most of the great Abbey of Cluny stands in ruins, the ruins still suggest the size and glory of the Abbey at its zenith, and imagining it as it once was is part of the attraction. Return to the ship for lunch and enjoy an afternoon sailing.
Day 3 Beaune.
From Seurre we travel to the principal town of the Cote d'Or and here we visit the world-famous 15th century Hospices de Beaune, with its remarkably decorated roof, gallery, kitchen and a well-preserved idea of how the beds would have looked in the Grand Salle des Malades. Beaune is a blend of cobbled streets, Medieval half-timbered houses, flowered squares and gardens. After some free time to stroll through the alleys and old streets we return to the ship for lunch and an afternoon at leisure. Sail this evening during dinner.
Day 4 Dijon.
Today's excursion will take us to Burgundy's capital and one of the most attractive French cities. Filled with elegant Medieval and Renaissance buildings, Dijon served as the capital of the Duchy of Burgundy from the 11th to 15th centuries. Visit the old town including the Palais des Ducs de Bourgogne with its 18th century Neoclassical façade, and the Chateau du Clos de Vougeot, a former Cistercian abbey and now the headquarters of Chevalier du Tastevin brotherhood. Return to our mooring at St. Jean de Losne for an afternoon at leisure.
Day 5 Tournus.
Today we visit the charming town of Tournus. On a morning walking tour we will visit the Eglise St Philibert; this magnificent Romanesque church has an austere façade dating from the 10th century. Explore the rest of the town with its wealth of old buildings, alleyways, and cafes. Set sail during lunch and enjoy a lecture on board.
Day 6 Lyon.
Today begins with a guided tour of the old part of the city, including the amazingly decorated 19th century hilltop Basilica of Notre Dame. Take a walk through the 'Halles de Lyon', a famous food market where renowned chefs are often spotted selecting their ingredients. The afternoon is free to wander past the shops and cafes on the banks of the Saone, or perhaps visit the marvellous fabric museum (Musee Historique des Tissus) or the equally fascinating Musee des Beaux-Arts housed in a 17th century Benedictine Abbey. Sail south during dinner to Vienne.
Day 7 Vienne.
On our morning walking tour of the town of Vienne, we will learn about its Roman era with a visit to the Temple of Augustus & Livia and the Roman theatre located in the centre of town. Also visit the Romanesque- Gothic Cathedral St Maurice. Relax on board this afternoon, or enjoy some free time in this delightful spot before joining your fellow travellers for the farewell dinner this evening. Sail to Lyon and moor overnight.
Day 8 Lyon to London.
Disembark this morning and transfer to the airport for the return scheduled flight to London, or travel by train to London St Pancras.
Dates and Prices
SPECIAL OFFER – SAVE £200 PER PERSON FOR A LIMITED TIME ONLY
Prices per person based on double occupancy
12

to

19

May 2022
Category
Brochure Price
Special Offer Price
C Haydn Deck Twin Cabin
£2495
£2295
B Strauss Deck Twin cabin
£2695
£2495
A Mozart Deck Twin Cabin
£2895
£2695
S Mozart Deck Suite
£3095
£2895
C Haydn Deck Twin cabin for sole use
£3095
£2895
Tour Reference Code: RCAP120522
PRICE INCLUDES: Economy class scheduled air or train travel • Seven nights aboard the Amadeus Provence on a full board basis • House wine, draught beer and soft drinks with lunch and dinner on board • Shore excursions as described with use of Quietvox headphones • Cruise Director • Tour Manager • Guest Speaker • Gratuities • Transfers • Port taxes • Airport taxes.
Not Included: Travel insurance.
Deckplan
Amadeus Provence
Launched in April 2017, the vessel has been designed for luxury and comfort. The ship is bright, airy and comfortable and the atmosphere on board informal, yet with close attention to detail. The friendly crew will do their utmost to ensure your stay is enjoyable, informative and agreeable throughout.
Travelling with You
Michael Hindley

Michael Hindley was born in Blackburn, UK and educated at Clitheroe Royal Grammar School and London University (BA Hons in German and French), Lancaster University (MA in Comparative Cultural Studies), and the Free University of West Berlin. Michael also has a post graduate diploma in International Law. Michael was an elected council leader in North West England, a Lancashire County Councillor and a Member of the European Parliament for three terms (1984-99). He was the Majority Leader on the Trade Committee (1989-99). Michael is now a freelance political consultant and has acted as an expert adviser for the European Economic and Social Committee (EESC) where his most recent report was on "Sustainable Development and Trade". He wrote a report on "Fair Trade" for the United Nations, International Trade Centre, Geneva. Michael is a frequent lecturer on European politics and has lectured at the Universities of Greifswald and Gottingen, Germany. Most recently he has been guest lecturer at Mangalore University, India. He has recently published a book on Britain's relationship with Europe since 1945 entitled "The semi-detached European". Michael has travelled extensively in France and is a regular Guest Speaker for Noble Caledonia.

Michael Hindley will be on the following tour dates:

12

to

19

May 2022
Tour Extensions
If you would like to spend some more time in France after disembarking the Amadeus Provence we offering a three night extension in the charming city of Annecy.

The Itinerary

Day 1 Lyon to Annecy.

Disembark this morning and transfer to Annecy with a stop en route for a guided tour of the ancient fortified Medieval town of Perouges. After lunch, continue to Annecy where we take a stroll through the Old Town with its charming canals, flowery banks, little bridges and beautiful houses with colourful facades. Transfer to our hotel for check in and meet later for dinner this evening. (B, L, D)

Day 2 Annecy.

After breakfast we explore Annecy in more depth. Discover the Palace of the Island, a former prison and courthouse which is now a museum with an emblematic 12th century building, and Rue Sainte-Claire, lined with pretty arcaded houses. Overlooking the city we will see the castle, the former residence of the Counts of Geneva and the Dukes of Genevois-Nemours, which is now a museum dedicated to archaeology, ethnology, art, history and alpine lakes. Our morning tour will end with a beautiful walk along the marvellous Lake Annecy. Enjoy lunch aboard a cruise whilst witnessing the picturesque lake and mountain scenery. The remainder of the day and evening are at leisure. (B, L)

Day 3 Yvoire.

Depart this morning for a tour of Yvoire. On the shores of Lake Geneva, this adorable Medieval village is considered one of the most beautiful villages in France. With over 700 years of history, we will witness the charming ramparts, fortified gates and the impressive 14th century castle and garden. Return to Annecy and enjoy the remainder of the day at leisure. Meet for dinner this evening. (B, D)


Day 4 Annecy to London

Check out this morning and transfer to the airport for our scheduled flight to London. (B)

Prices per person based on double occupancy

19

to

22

May 2022
Category
Price
Twin
£995
Single
£1195

Price Includes: Three nights hotel accommodation in Annecy, meals as indicated (B - Breakfast, L - Lunch, D - Dinner), tours as described, Noble Caledonia Tour Manager, gratuities, transfers.

Not included: Travel insurance.
Also of Interest
Explore the wonders of Provence aboard the MS Van Gogh
SPECIAL OFFER - SAVE £200 PER PERSON
Van Gogh
Itinerary at a glance
6 nights from £2195
More Info
Next Departure:
30

September 2021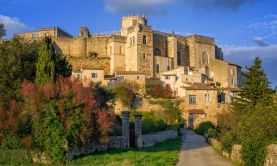 Book with Confidence
Speak to one of our advisors on 020 7752 0000