Christmas & New Year in the Falkland Islands & Antarctica
Discover the magnificent wonders of the Falkland Islands & Antarctic Peninsula aboard the MS Island Sky
In today's highly accessible world there are few places that still hold the power to enthral and enchant. Antarctica is certainly one of these. No amount of travel books or films can prepare you for Antarctica. It is somewhere that has to be seen to be believed. Enormous icebergs rise from the sea, hillsides are covered with thousands of penguins and seals bask on icebergs dotted in the ocean; the sights, sounds and emotions will stay with you forever.
For most travellers Antarctica is a once in a lifetime visit, it is therefore important that the trip should be as rewarding as possible and the MS Island Sky is the perfect vessel both in terms of the educational opportunities on board and the number of occasions to go ashore. Antarctica is to be experienced, not just to be seen, and we believe the only way to do this is on board a small ship. To enjoy the wonders of this icy paradise in the company of a small and enthusiastic party is the perfect way to achieve the most from a visit to this extraordinary place. Our highly adaptable Zodiac craft will allow us to enter tiny inlets, explore fjords and marvel at some truly wondrous sites. Whilst at sea or in between our landings you can pass the time looking for wildlife on deck, attending the series of lectures by our expert expedition team or simply relaxing on board.
We are combining our exploration of the Antarctic Peninsula with a few days on the Falkland Islands which makes for an interesting contrast. The wildlife on the 420 rocky islands is staggering and it really is an enchanting place with a unique character, a true outpost and particularly fascinating for the British. Rolling hills are interspersed with bogs and small lakes, creating a habitat for penguins and seabirds which nest among tall tussock grass, while seals and whales cavort along the seacoasts. Leaving the Falkland Islands on Christmas Day we will make our way across to the Antarctic Peninsula and witness enormous tabular icebergs rise from the sea, hillsides covered with thousands of penguins and seals basking on icebergs.
Useful links & Travel Advice
Please find a selection of useful websites to refer to for information from the Foreign & Commonwealth Office, on visa requirements, NHS travel health advice and other useful travel tips.
---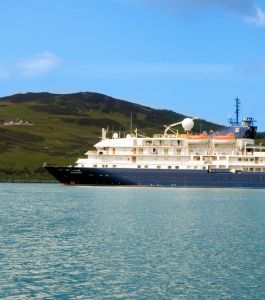 Island Sky
The MS Island Sky is one of our three flag ships and sister vessel to the MS Caledonian Sky and MS Hebridean Sky. All three vessels were built in the same ship yard in Italy at similar times and share the same excellent attributes that make them three of the finest small ships in the world.
Itinerary
Please note that flexibility is key to a successful expedition in Antarctica. Although we have outlined an itinerary below, this is only a preliminary plan, our exact route will depend on ice, weather conditions and the wildlife we encounter.
Day 1 London to Santiago, Chile.
Fly by scheduled indirect flight.
Day 2 Santiago.
Arrive this morning and transfer to our hotel for an overnight stay. Spend the afternoon and evening at leisure to relax and enjoy the hotel facilities or explore the city independently.
Day 3 Santiago to Punta Arenas.
After breakfast in the hotel we will transfer to the airport for our scheduled flight to Punta Arenas. On arrival transfer to the MS Island Sky and embark. Enjoy welcome drinks and dinner as we sail this evening.
Day 4 Chilean Fjords.
We will spend the day cruising through the spectacular scenery of the Beagle Channel. Here the mountains, still partly unmapped, drop as sheer, densely wooded cliffs into the channel and six glaciers flow from the 8000 foot Mount Darwin into the sea. Flamingos, dolphins and the South American sea lions abound here in the channel. At Puerto Williams we will clear Chilean customs formalities before we start our journey to the Falkland Islands.
Day 5 At sea.
During our day at sea our onboard experts will begin their presentations with informative and entertaining talks on the wildlife, history and geology of the Falkland Islands and Southern Ocean. Among the wildlife spotting opportunities are albatrosses, prions and petrels that frequently follow the ship and our expedition team will be out on deck looking for whales and dolphins that may also be seen in the area.
Days 6 to 9 Falkland Islands.
The Falkland Islands are isolated, windswept and a haven for wildlife. We will spend three and a half days here and hope to include stops at Grave Cove, home to the largest colony of gentoo penguins in the Falklands. See the rockhopper penguin colony and black-browed albatross on West Point Island whilst on Pebble Island we arrive at one of the most important wildfowl breeding areas in the Falklands with penguin colonies, king cormorants and sea lions. At Port Howard we will learn about farming on the islands as well as see the small museum dedicated to the Falklands War before exploring the capital of Stanley on Christmas Eve. Spend Christmas morning on George and Barren Islands with the resident elephant seals, Gentoo and Magellanic penguins before we sail in the afternoon for the Antarctic Peninsula, enjoying a festive afternoon on board.
Day 10 At Sea.
Spend the day at sea, maybe join a lecture or find a spot on deck to watch for wildlife.
Days 11 to 17 Antarctic Peninsula & South Shetland Islands.
We have seven days of exploration around the Antarctic Peninsula and South Shetland Islands which will include many of the best places for wildlife and magnificent scenery. Whilst we arrive with a planned itinerary the final schedule will be determined by our Captain and the Expedition Leader based on sea, weather and ice conditions. Using our Zodiacs we hope to make daily landings or enjoy Zodiac cruises for unique close encounters with animals such as Adelie and gentoo penguins, fur seals and petrels. Watch avidly from deck as we approach land or sail though breathtaking channels surrounded by lofty peaks looking down on ice-strewn waters where resting crab-eater or leopard seals can be spotted. En-route south we plan to see Elephant Island with its rocky and inhospitable shore where Shackleton's crew famously survived. We hope to sail past the collapsed volcanic cone of Deception Island for a chance to visit Whalers Bay, Petermann Island, home to numbers of Adelie penguins, picturesque Neko Harbour, the Lemaire Channel where towering icebergs rise from the sea and Half Moon Island with its rookery of chinstrap penguins. We will also endeavour to sail through the breathtaking Antarctic Sound, also known as 'iceberg alley', where massive icebergs drift north from the continent. We will ring in the New Year under the light of the summer Antarctic night skies.
Days 18 & 19 At sea.
A final two days to relax on board and reminisce with your fellow travellers about all you have seen and experienced during our expedition. Enjoy a lecture, look for wildlife or simply relax as we make our way across the Drake Passage toward Ushuaia. Named after the 16th century English seaman, Sir Francis Drake, Drake Passage separates the southernmost tip of South America from Antarctica. This is a particularly good area to spot royal albatross and blue petrel and we will also be on the lookout for pods of sperm whales.
Day 20 Ushuaia to Buenos Aires, Argentina.
Disembark after breakfast and transfer to the airport for our scheduled, internal flight to Buenos Aires. On arrival transfer to our hotel for an overnight stay. This afternoon is free to relax before we meet this evening for a tango show and dinner at a local restaurant.
Day 21 Buenos Aires to London.
After breakfast in the hotel, transfer to the airport for our scheduled indirect flight to London.
Day 22 London.
Arrive this morning.
Dates and Prices
SPECIAL OFFER – SAVE £1000 PER PERSON FOR A LIMITED TIME ONLY
Prices per person based on double occupancy
17

December 2020 to

7

January 2021
Category
Brochure Price
Special Offer Price
Magellan Deck Standard Suites
£10995
£9995
Columbus Deck Superior Suites
£11995
£10995
Marco Polo Deck Premium Suites
£12995
£11995
Marco Polo Deck Corner Suites
£13595
£12595
Erikson Deck Deluxe Balcony Suites
£15295
£14295
Explorer Deck Owner's Balcony Suite
£16495
£15495
Explorer Deck Island Suite
£17995
£16995
Magellan Deck Standard for sole occupancy
£14995
£13995
Columbus Deck Superior for sole occupancy
£16995
£15995
Tour Reference Code: SCISK171220
PRICE INCLUDES: Economy class scheduled air travel • Overnight hotel accommodation in Santiago and Buenos Aires with breakfast • 17 nights aboard the MS Island Sky on a full board basis • House wine, beer & soft drinks with lunch and dinner on board • Dinner & Tango show on day 20 • Gratuities • Noble Caledonia expedition team • Use of parka jacket & rubber boots whilst on board • Port & airport taxes.
Not Included: Travel insurance.
Deckplan
Island Sky
The MS Island Sky is one of our three flag ships and sister vessel to the MS Caledonian Sky and MS Hebridean Sky. All three vessels were built in the same ship yard in Italy at similar times and share the same excellent attributes that make them three of the finest small ships in the world.
Travelling with You
Dr Chris Edwards

Chris Edwards spent three summers and two winters stationed in Antarctica in the early 1970s. As a geologist for the British Antarctic Survey, he regularly traveled hundreds of miles by dog-sledge, camping for six months at a time away from base, to conduct his field research.

His doctoral studies based on this research resulted in a Ph.D. from the University of Birmingham. This experience and his knowledge of the geology, botany, wildlife and exploration history of Antarctica. with 11 years in the oil industry and further travels in the Arctic, South America, the Far East and NW Europe make him a sought-after lecturer, field guide and expedition leader.

Chris lives in Aberdeenshire, Scotland where, when not afloat, is a horologist in his own antique clock restoration business. Passionate about environmental and natural history matters, he is also a lichenologist, bookbinder, keen photographer and bakes real bread.

Dr Chris Edwards will be on the following tour dates:

17

December to

7

January 2021

Pamela Le Noury

Coming from South Africa, Pam is a marine scientist, PADI dive instructor, zodiac skipper and sailor, and has worked in and on the ocean just about every day for the past 16 years. After leaving school she worked in the diving industry whilst studying a BSc in zoology and physiology, and ended up managing the dive school before starting up her own whale watching charter and boat business.

She has participated in several marine research cruises, has published 3 APPS for smartphones on sharks & rays and whales & dolphins and Antarctic Wildlife, and enjoys teaching people about the oceans and conservation through her travels. Pam started expedition cruising in 2008 and soon after closed her business to travel full time. She has been almost everywhere a small cruise ship can take you; 120 countries from the poles to the remote reaches of every ocean – loving life as a citizen of the sea. When not at sea – Pam is a beach bum in her home town of Umdloti.

Pamela Le Noury will be on the following tour dates:

17

December to

7

January 2021

Julia Benson

Julia, originally from Bristol, has lived in London for many years working as a financial controller. Having always been passionate about nature and travel, it was after a number of trips to the Polar Regions by ship that she was inspired to say goodbye to the corporate world and follow her dream to become a naturalist.

After studying marine zoology, she trained to become a marine mammal observer and volunteered for various organisations involved in whale and dolphin research and marine conservation in the UK and Europe. This led to her working as a naturalist on dolphin watching boats in the UK and whale watching boats in Iceland. Her most recent adventure was spending the austral summer of 2017/18 living and working on a tiny island with just three others at the British historical site Base A, Port Lockroy, Antarctica.

Julia Benson will be on the following tour dates:

17

December to

7

January 2021

Bernabe Urtubey

Born in Argentina and currently living in Patagonia, all of his studies were orientated towards biology. During his Exchange Student time in Johannesburg, South Africa, Berna fell in love with nature and wildlife, travelling extensively around southern Africa, especially Zimbabwe, Zambia, Namibia, Mozambique, South Africa and Botswana.

In the past 17 years has been working as a Guide, Zodiac Driver, Lecturer and/or Expedition Leader to Antarctica, the Arctic and around South America.

South America is his home, with a vast knowledge of the Atlantic and Pacific costs, from Tierra del Fuego to Brazil and as far North as Panama and Colombia.

Berna's passions are the Polar Regions and travelling, making this his favorite place on Earth. During the excursions Berna will share his knowledge about wildlife, especially marine mammals, seabirds and the history of the area.

From 2006 and until 2009 he has worked as an External Consultant for UN in Tierra del Fuego Province in a major program called Coastal Management of the Argentine Patagonia. He has worked at Punta Tombo Magellanic Penguin Colony for several years as well, enjoying every moment around wildlife in its fullest.

During his little spare time, Berna is a Whale Watching, Tug and Pilot boat Captain around Peninsula Valdes, in the home of the Southern Right Whales.

Bernabe Urtubey will be on the following tour dates:

17

December to

7

January 2021

Ignacio Marino

Ignacio Marino – or Nacho - was born in Ushuaia, the capital city of Tierra Del Fuego Antartida e Islas Del Atlantico Sur, Argentina. From the age of 14 he has spent many seasons working with guests, at first taking care of Huskies used to pull the sledges in winter time and then over the years working for various hiking and trekking companies. He has taken guests to hidden lagoons, glaciers and different viewpoints in the mountain surrounding Ushuaia and has done climbing expeditions around South America. In 2010 Ignacio started guiding 4x4 excursions around the island of Tierra Del Fuego, never leaving the mountains far behind. During the climbing season he gives a hand at the climbing school of the CAMU (Club Amigos de la Montana Ushuaia). At the present he works as a freelance guide in Ushuaia for many different conventional an unconventional tours. Ignacio is an 'all weather conditions' zodiac driver, working down in Antarctica since 2014. He is also an active circus clown using this as a job when traveling around the world and he always carries juggling tools. During his first Antarctic season he married a couple below the Antarctic Circle at Detaille Island, which earned him the nickname "The Minister".

Ignacio Marino will be on the following tour dates:

17

December to

7

January 2021
Tour Extensions
After your expedition we are offering the opportunity to visit the Iguazu Falls, considered by many to be the most dramatic waterfalls in the world.

The Itinerary

Day 1 Buenos Aires to Iguazu Falls, Argentina.

After breakfast in the hotel transfer to the airport for our scheduled, internal flight to Iguazu Falls. On arrival transfer to our hotel, the Loi Suites (or similar) for a two night stay and this afternoon enjoy a guided tour of the Brazilian side of the falls.

Day 2 Iguazu Falls.

Enjoy a full day at the Iguazu Falls on a series of guided walks seeing the upper and lower circuits and the Triple Frontier, the meeting point of Argentina, Brazil and Paraguay.

Day 3 Iguazu Falls to Buenos Aires.

Return to the airport this morning and join our scheduled flight to Buenos Aires. On arrival transfer to the Sofitel Hotel (or similar) and enjoy the rest of the day at leisure.

Day 4 Buenos Aires to London.

After breakfast, transfer to the airport for our scheduled indirect flight to London.

Day 5 London.

Arrive this morning.

Prices per person based on double occupancy

6

to

10

January 2021
Category
Price
Twin
£1895
Single
£2395

Price Includes: Economy class scheduled air travel, two nights hotel accommodation in Iguazu Falls & overnight hotel accommodation in Buenos Aires with breakfast, lunch and dinner on days 1 & 2, guided tours at Iguazu Falls, Noble Caledonia Tour Manager, transfers, airport taxes.

Not Included: Travel insurance, visas.

NB: Please note that there is a limited luggage allowance on the Iguazu flight and arrangements will be made to store main cruise luggage at the hotel in Buenos Aires.
Also of Interest
An expedition to the Great White Continent aboard the five-star Hanseatic Inspiration
SPECIAL OFFER – SAVE £500 PER PERSON
Hanseatic Inspiration
Itinerary at a glance
Buenos Aires / Falkland Islands / South Georgia / South Orkney Islands / South Shetland Islands / Antarctic Peninsula / Ushuaia / Buenos Aires
22 nights from £15995
More Info
Next Departure
1

January 2021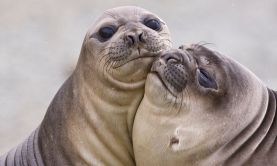 Book with Confidence
Speak to one of our advisors on 020 7752 0000