15 nights
from £7495
Circumnavigation of Hokkaido
An exploration of Japan's remote island wilderness aboard the Caledonian Sky
New Search
Brochure
View
Order brochure
View All
Hokkaido, Japan's northernmost and least developed island is often considered by the Japanese to be the country's last frontier and is a world away from the traditional view of Japan. Every year the island emerges from a bitter Siberian winter into the warmth of spring, when the thaw reveals a glorious landscape littered with wild flowers. Only colonised by Japan in the past 150 years, we won't find a land of ancient temples and shrines or developed cities with skyscrapers during our visit, but what the island lacks in regard to 21st century development, it more than makes up for in natural wonders with large swathes of wild, open spaces, primeval forests, crystal clear lakes, beautiful alpine flowers, active volcanoes and bubbling hot springs. During our circumnavigation of this remarkable island, we will visit the outlying Rebun and Rishiri Islands, explore nature trails, watch for wildlife in the national parks, learn more of the indigenous Ainu people and hopefully see the multitude of colourful flowers that should be in bloom to coincide with our visit.
More than two million acres on Hokkaido are dedicated to national parkland and we will visit some of the most remarkable including the Shiretoko National Park located on the north eastern tip of the island and which in Ainu means 'end of the world'. UNESCO has called it one of the richest integrated ecosystems in the world and in 2005 designated it as a World Heritage Site. We will have a full day to explore the national park, home to brown bears, Yezo shika deer and red fox whilst birders can keep an eye out for Steller sea eagles, Blakiston fish owl and white-tailed eagles. Whilst in the Kushiro Marshlands we visit the home of Hokkaido's resident red-crowned cranes, Japan's iconic bird, known as the bird of happiness. We hope you can join us for this rare circumnavigation of Japan's most enchanting isle.
Useful links & Travel Advice
Please find a selection of useful websites to refer to for information from the Foreign & Commonwealth Office, on visa requirements, NHS travel health advice and other useful travel tips.
---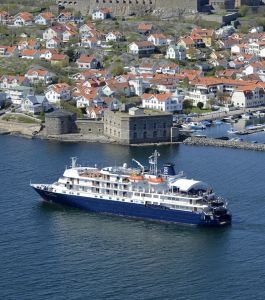 Caledonian Sky
The MS Caledonian Sky is one of our three flag ships and sister vessel to the MS Island Sky and MS Hebridean Sky. All three vessels were built in the same ship yard in Italy at similar times and share the same excellent attributes that make them three of the finest small ships in the world.
Itinerary
Day 1 - London to Sapporo, Japan.
Fly by scheduled flight via Tokyo.
Day 2 - Otaru.
Arrive today in Sapporo and transfer to Otaru on the west coast of Hokkaido Island. Transfer to our hotel for an overnight stay and spend the rest of the day at leisure to explore or relax in the hotel.
Day 3 - Otaru.
This morning is at leisure. You may wish to explore independently and visit Sakaimachi Street where you find seafood vendors, cafes, shops selling some of Otaru's famous glassware and the town's steam clock situated outside the Music Box Museum. In the early afternoon we will check out of the hotel and spend some time at the Otaru Art Base, a series of former office buildings that have been renovated to house exhibitions of Japanese and Western art, before continuing to the Tanaka Sake Brewery to learn more about this famous Japanese drink. After our visit we will transfer to the MS Caledonian Sky for embarkation and enjoy Welcome Dinner and Drinks as we sail this evening.
Day 4 - Teuri-Jima & Rishiri Island.
At dawn we arrive at the tiny island of Teuri Jima, part of the Shokanbetsu-Teuri-Yagishiri National Park and an important sanctuary for nesting seabirds including common murre and black-tailed gulls. We will use our ship to sail by the cliffs and, if time permits, we will use the Zodiacs for a closer look. Later this morning we continue our journey to the Rishiri- Rebun-Sarobetsu National Park, arriving at lunchtime. At Rishiri Island the skyline is dominated by the dormant volcano of Mount Rishiri which climbs to 1721 metres. On an afternoon tour we will see the beautiful scenery and alpine wildflowers in bloom at Himenuma Pond and Kutsugata Cape Park whilst we hope to see Black Woodpecker during a walk at the Forest Park.
Day 5 - Rebun Island.
We remain at anchor overnight in the National Park and will spend the day at neighbouring Rebun Island which is famous for its rich flora, including many alpine flowers, some of which cannot be found anywhere else in the world, and which carpet the island from late April to mid September. Today we will take a series of walks around the coastline offering views over to Rishiro volcano and Cape Gorota. Return to the ship for lunch and sail this afternoon. We will clear immigration formalities from Japan this evening as we sail to Russia.
Day 6 - Korsakov, Russia.
Arrive this morning at Korsakov where we will clear into Russia. Once the formalities are concluded we will explore part of this city which was founded in 1853 as Sakhalin's first Russian military post. From here we drive to Yuzhno-Sakhalinsk, the capital of the island with a population of just over 160,000. Founded as a small Russian settlement in the 1880s, the city became a Japanese prefect capital when the southern half of Sakhalin was declared a Japanese colony in 1905; after World War II it was returned to Russia. Highlights include a visit to the Russian Orthodox Church, the Regional Museum housed in an impressive former Japanese mansion, and the bustling market. Return to the ship this afternoon as we return to Japanese waters.
Day 7 - Shiretoko National Park, Japan.
We return to Hokkaido this morning at the port of Abashiri where we will spend a day and a half. From here we will make a full day excursion to the Shiretoko National Park which covers the majority of the Shiretoko Peninsula. This remote and untouched park combines rivers, forests, mountains and waterfalls and is home to an array of wildlife including brown bears, Yezo shika deer and red fox whilst birders can keep an eye out for Steller sea eagles, Blakiston fish owl and white-tailed eagles. If weather permits we will also take the Shiretoko pass offering stunning views of Mount Rausu. We will return to the ship via the Koshimizu Gensai-kaen, an eight kilometre long dune covered in over 40 varieties of wildflowers against a backdrop of the Sea of Okutsk. Return to the ship this evening as we moor overnight in Abashiri.
Day 8 - Abashiri.
There will be a choice of activities this morning. Chose to take a trip to Lake Kussharo, a beautiful caldera lake where we can enjoy the scenery or join a nature walk and maybe take a dip in one of the hot spring baths. We return to the ship via the eight hectare Shibzakura Park in Ozora where we hope to see it covered in the tiny red, pink, white and purple flowers of spring. Alternatively spend a more leisurely morning in Abashiri and learn more about the Ainu at the Hokkaido Museum of Northern Peoples and visit the Okhotski Sea Ice Museum which offers insight into the sea ice that surrounds the city during the winter. Return to the ship for lunch and spend the afternoon on deck as we sail this afternoon around the Shiretoko Peninsula and into the Nemuro Channel where we will keep an eye out for wildlife, the abundant birdlife and minke, orca and sperm whales who inhabit these waters.
Day 9 - Kushiro.
Today we will visit Kushiro Marshlands, Japan's largest wetland and marsh habitat and home to the only known population of Japan's sacred red-crowned cranes. The cranes were thought to have been made extinct due to overhunting and habitat destruction. However in 1926 a group of 20 birds were discovered in this area and with conservation efforts now number more than 1000. We will visit the observatory with displays of the fauna and fauna of the region and views over the marshlands before taking the walking trails. Return to the ship via the small but excellent Kushiro City Museum that offers an insight into Ainu culture and natural history of the area.
Day 10 - Tomakomai.
Spend the morning at sea as we arrive into Tomakomai in the early afternoon. Choose to visit Nibutani, one of the country's best museums about the Ainu people, the indigenous people of Hokkaido. See some of the traditional clothing and hunting implements, learn about their legends and literature and see displays of traditional dancing. Alternatively, visit Hokkaido's capital city of Sapporo where we can explore the colourful botanical gardens, visit the small Ainu museum displaying around 2500 artefacts and enjoy a tour of the famous brewery.
Day 11 - Muroran.
We will spend our morning around the Shikotsu-Toya National Park, named after the two caldera lakes which offer wonderful scenery and excellent hiking and walking opportunities. This is still an active area and a geological wonder with the volcano Showa Shin-zan only created in the 1940s. Our day will be flexible around the weather but if clear we may take the cable car to the top of Mount Usu for the wonderful views to Lake Toya, visit Jigokudani, "Hell Valley", a steaming lunar like valley of steam vents and sulphurous streams formed over 10,000 years ago or enjoy scenic walks in the volcanic peaks that surround Lake Shikotsu. Return to the ship for lunch and spend the afternoon at leisure in Muroran, maybe visit the scenic cape and lighthouse or the active may wish to walk up Mount Sokuryo offering views to the city below.
Day 12 - Hakodate.
Our final day in Hokkaido will be at the southern port of Hakodate. We will make our way to Onuma Park, on the outskirts of the city and known for its picturesque, island-dotted lakes and majestic dormant volcano, Mount Komagatake. We have the option to take a series of walks around the lake's peninsulas and islands, several of which are connected with each other by small bridges and surrounded by birch and maple forests. Return to the ship for lunch and this afternoon either relax on board or join a city tour including the 19th century Fort Goryokaku, built as a citadel but now a public park. We will remain in Hakodate till late for anyone who wishes to take an after dinner stroll or perhaps even the cable car up Mount Hakodate for the spectacular night views.
Day 13 - Aomori.
This morning we arrive on the northern coast of Honshu. From our berth in Aomori we offer a choice of options. Maybe join the tour to Towada Hachimantai National Park which involves a scenic drive through the Kayano plateau, Hakkoda mountains and scenic Oirase Valley. We will take the Hakkoda cable car which climbs to 1324 metres above sea level and offers stunning views before continuing to Lake Towada, a magnificent ancient caldera lake surrounded by deciduous forests. Enjoy walking along the paths and through the woodlands to the viewpoints around the lake. Alternatively, visit the former Feudal town of Hirosaki which was the political capital of the region in the Edo Period. A tour of the city will include the three story castle, which was the focal point of the old city and the base of the powerful Tsugaru Clan. Surrounding the castle was the samurai and merchant district where we can visit the preserved houses and the Fujita Kinen Teien, a Japanese landscape garden built in 1919.
Day 14 - Akita.
Spend the day in the Akita Prefecture, known for its rice farming, traditional festivals, and treasured dog breed of the same name. This morning we will drive inland to Kakunodate which was established in 1620 by the Lords of Akita as a military outpost with a castle built on Mount Furishiroyama. Two distinct areas were then developed, one for samurai and the other for merchants. Today it remains one of the best examples of a castle town in Japan and the Uchimachi samurai quarter maintains a number of the original wooden houses and well maintained gardens which we can explore. The afternoon is free to explore Akita. At the centre lies Senshu Park, built from the ruins of Kubota Castle, a former samurai fortress. Lotus flowers now fill the remnants of old moats, and tree-lined walking trails lead to its watchtower, temple, and shrine. You may also wish to visit the Akita Museum of Art which includes a large collection of work by Fujita Tsuguharu including his giant "Annual Events in Akita" mural.
Day 15 - Niigata to Tokyo.
Disembark this morning and take the bullet train to Tokyo. On arrival we enjoy an afternoon city tour including Meiji Shrine, Sensoji Temple and the Imperial Palace Plaza. We then transfer to our hotel for an overnight stay.
Day 16 - Tokyo to London.
After breakfast in the hotel we transfer to the airport for our scheduled flight to London. Arrive this evening.
Dates and Prices
SPECIAL OFFER – SAVE £500 PER PERSON FOR A LIMITED TIME ONLY
Prices per person based on double occupancy
17

May 2019 to

1

June 2019
Category
Brochure Price
Special Offer Price
Castle Deck Standard Suite
£7995
£7495
Caledonian Deck Superior Suite
£8295
£7795
Promenade Deck Premium Suite
£8795
£8295
Bridge Deck Deluxe Balcony Suite
£9295
£8795
Promenade Deck Premium Balcony Suite
£9595
£9095
Promenade Deck Owner's Corner Suite
£10595
£10095
Castle Deck Standard for sole use
£9995
£9495
Caledonian Deck Superior for sole use
£10295
£9795
Tour Reference Code: SCCSK170519
Price Includes: Economy class scheduled air travel, overnight hotel accommodation in Otaru and Tokyo on bed and breakfast basis, 12 nights aboard the MS Caledonian Sky on a full board basis, house wine, beer and soft drinks with lunch and dinner on board, Noble Caledonia onboard team, shore excursions, gratuities, transfers, permits, port taxes, group Russian Visa.
Not Included: Travel insurance, visas.
SHIP TO SHORE
The ship will be at anchor at Teuri Jima and Rebun Island and Zodiacs or tenders will be used to transport passengers ashore.
Deckplan
Caledonian Sky
The MS Caledonian Sky is one of our three flag ships and sister vessel to the MS Island Sky and MS Hebridean Sky. All three vessels were built in the same ship yard in Italy at similar times and share the same excellent attributes that make them three of the finest small ships in the world.

Your Suite

Your Suite

On board there are 57 exceptionally spacious and well designed suites, 23 of which have private balconies located on the Promenade or Bridge Decks. Each cabin exudes great character and grandeur with wood panelling and brass features found throughout. The large suites are arranged over four decks and all have outside facing views. All suites feature a sitting area complete with coffee table, armchairs and flat screen televisions (DVD players and DVDs can be borrowed from reception for use in your suite). The beds in each cabin offer exceptionally comfortable mattresses and pillows and can be configured as large double beds or twins. Each suite affords considerable comfort with en-suite bathroom featuring a country style wash basin, a heated towel rail, shaver outlet and vanity unit with sink and walk-in shower and/or corner bath tub. Dressing gowns and slippers are also provided for your comfort.

Further facilities in the suites include walk-in or spacious wardrobes, dressing table with large mirror and stool or desk, mini-fridge, cabin to cabin telephone, programmable electronic safe, hairdryer, assorted Molton Brown toiletries, individually controlled air-conditioning and heating, bottled water replenished daily, as well as extra blankets and pillows. Ship announcements made from the Bridge and Reception area are also broadcasted in your suite. A laundry service is also available on board.

Your Space

Your Space

The spacious and finely decorated public rooms on board the MS Caledonian Sky include a large lounge featuring comfortable seating. Daily briefings given by the onboard team and talks from Guest Speakers take place in the main lounge which is fitted with multiple screens. For your convenience it is also possible to follow the onboard lectures from the comfort of your suite. Also featured in the Lounge is a a 24-hour tea and coffee station along with an elegant bar where the onboard pianist plays periodically throughout the day.

In addition to the main Lounge on the Caledonian Deck, there is the Lounge on the Panorama Deck which has a bar, library and internet area and further spacious seating arrangements, ideal for watching the world go by as you cruise to your next destination. The travel library is the perfect place to relax with a good book. Well stocked with reference books pertaining to the destinations the vessel is visiting and a selection of essential reads, you will not find yourself short of literature on board. A selection of games and two computers complete with complimentary internet access can also be found in the library along with newspapers and magazines which are placed there depending on local availability. The main dining room which can seat all guests at one sitting is located on the Castle Deck. Outside there is a rear Lido Deck which is complete with deck tables and chairs where meals are served in warm weather under shade and often occasions such as sail away parties and barbeques are held here.

Your Dining

Your Dining

It is quite a task to create a dining experience as that found on board the MS Caledonian Sky whilst cruising in far-flung corners of the globe, indeed it takes a team of highly talented chefs to deliver fresh, varied dishes no matter where you are at sea. Fortunately, our catering teams are well adapted to the world of small ship cruising where no two days are the same and the menus are often scheduled and tailored around the days' excursions. With only one sitting and a maximum of just over 100 passengers, the cuisine on board is of a consistent superior quality that befits such a vessel. Where possible and when it meets their high standards, our accomplished chefs will obtain local produce in markets. Such purchases enhance the well stocked larders and enable the chefs on board to exhibit their culinary skills and bring a local touch to the varied menus, emphasising the international expertise of the chefs on board. Afternoon tea and pre-dinner canapes take place every day in either the comfort of the Lounge or out on the Lido deck when the weather is favourable. Tea and coffee are also available 24 hours a day. Special diets can be catered for with sufficient notice.

In keeping with the informal atmosphere on board, when dining you are able to choose your seating arrangements at your leisure. Whether that be joining a table of four to six other passengers outside on the Lido Deck in the evening's sunshine or whether you prefer to enjoy meals in the à la carte restaurant. For those travelling alone, our friendly restaurant staff will take care to ensure you are seated with other like minded travellers. In the main elegant dining room, breakfast is served buffet-style, with certain items cooked to order on request. Lunch and dinner are à la carte with an excellent choice of dishes, with the menu reflecting the daily catch or local delicacies. To enhance your dining experience even further a selection of wines are included with both meals and there is also a comprehensive wine list with a wide selection of new and old world wines from which to choose.

The onboard catering and restaurant staff are experienced at sea and enthuse a passion for superb service. Whether it be ensuring you have an outdoor blanket as you enjoy the crisp sea breeze on the Lido Deck or sharing their knowledge of the characteristics of the days' wine selections, you will experience a service on board like no other. You may also enjoy sumptuous barbeques on deck whilst at times, the chef will make your dish to order at special pasta or stir fry stations.

Click on image above to view a sample menu.

Life Onboard

Life on Board

If large resort-style vessels accommodating many thousands of passengers are your ideal, then our ships are not for you as you will not find endless entertainment, round the clock buffets and the people management which is so much a part of today's big ship on board style. However, if like us you prefer a more peaceful life at sea you will find our flagships the perfect vessels.

When choosing your next voyage the choice of vessels is astounding. You can select a ship carrying in excess of 4000 passengers with impersonal service or join us aboard the MS Caledonian Sky, MS Island Sky or MS Hebridean Sky where peace, high quality service and attention to detail are the order of the day. We promise there will be no organised entertainment, fancy dress, deck games or any of the usual big ship experiences. Instead, the atmosphere is warm and convivial and more akin to a private yacht or country hotel in which you can learn more about the wonders of nature, culture and ancient civilisations in the company of like-minded people. A little music in the lounge or bar after dinner, Guest Speakers and informative port briefings from our Expedition Leader or Cruise Director and of course good food with wine included at lunch and dinner, all contribute to make any voyage aboard these wonderful vessels a memorable and joyful experience. After a day ashore you will return to the comfort and peace of an exceedingly comfortable ship.

The daily programme on board is in the capable hands of our Cruise Director or Expedition Leader and staff who coordinate with the Captain and Officers to make the most of each day. Briefings and talks will be provided throughout the voyage together with a 'Daily Programme' that is distributed every evening to your suite outlining the next day's activities. Dress on board is casual and relaxed and there will be no 'black tie' evenings.

For your comfort

For your comfort

MS Caledonian Sky is equipped with the latest safety, navigation and communications equipment along with roll stabilizers to minimize the ship's motion. As is the joy of small ship cruising, during your voyage, we hope to offer the opportunity to visit the Captain and Officers on the Bridge to check the vessels progress by charts and learn more about your journey (subject to weather or security conditions). There is a navigation channel on the television in your suite showing the routing of the vessel. On board you will also find a clinic and doctor and a lift that serves all decks. Smoking on board is restricted to a specific area on deck.

Inclusions

Our All Inclusive Policy

Unlike many other cruise vessels, onboard the MS Caledonian Sky you do not need to worry about tipping staff as we have included this in your holiday price. In addition we tip all our guides and drivers along the way, thereby taking away the hassle of always having to remember to have some small change with you. We also include excursions and drinks with meals onboard.

Ship Directory

Ship Directory

Please find below further details pertaining to the vessel or click on the booklet to download.

We are delighted you have chosen the MS Caledonian Sky for your upcoming voyage. The 114-passenger, all-suite vessel is one of the finest small ships in the world and benefits from unusually spacious accommodation, public areas and outside decks.

You will find the atmosphere onboard akin to a private yacht or country hotel with a little music in the lounge or bar after dinner, talks from our onboard team and informative port briefings from your Cruise Director or Expedition Leader. After a day of exploration ashore, you will return to the comfort and peace of a well-run and exceedingly comfortable ship.

Along with the Captain and officers and the Noble Caledonia team, our crew of 70 are dedicated to offering you the best possible experience during your time onboard. We hope this information booklet answers any questions you may have pertaining to the vessel and wish you a pleasant voyage.

ADAPTORS

Adaptors for hairdryers, mobile phones etc. can be obtained from the Reception Desk, located on Deck 3 midships. These should be returned to Reception at the end of the cruise and are the property of the MS Caledonian Sky.

AIR-CONDITIONING

The entire ship is air-conditioned. All cabins feature individual temperature controls. In order to keep the air-conditioning system working efficiently, please keep doors closed when in use.

ANNOUNCEMENTS

The ship uses a public address system to advise guests of all important information and activities during the cruise. Announcements can be heard throughout the public areas of the ship and in all cabins.

CABINS

Onboard there are 57 exceptionally spacious and well designed cabins. All feature a sitting area, en suite bathroom with marble topped vanity unit and walk-in shower, spacious wardrobe, dressing table. Cabins on Bridge Deck (Deck 5) and selected cabins on Promenade Deck (Deck 4) have private balconies.
All cabins have the following facilities:

Dressing gowns and slippers
TV
Electrical outlet
Hair dryer
Heating and air-conditioning (individually controlled)
Mini bar & Fridge – upon request it can be filled with soft drinks and beer for purchase. The mini bar is stocked on arrival and replenished daily. Price list can be found in the cabin.
Safe
Molton Brown toiletries: hand soap, shower gel, shampoo, hair conditioner and body lotion
Telephone

Each cabin has two twin beds that can be reconfigured to form a double bed upon request. Please advise the Reservation Department or the Reception if you want a double bed. Cabins are serviced each morning by your cabin attendant and again in the evening when the beds are turned down.

Standard Forward Suites – Castle Deck (Deck 2): The two Standard Forward Suites on the Castle Deck (Deck 2) measure 22.7 square metres, and feature two portholes, spacious wardrobes, and an en-suite bathroom with shower. Suites 250 – 252.

Standard Suites – Castle Deck (Deck 2) Standard Suites on the Castle Deck (Deck 2) measure 22.7 square metres, and feature portholes, spacious wardrobes, and an en-suite bathroom with shower. Suites 254 – 262. Suites 254, 255, 256 and 262 have four portholes. Suites 257, 260 ,261 have 3 portholes. Suites 258 and 259 have 2 portholes. Superior Suites – Caledonian Deck (Deck 3)

Superior Suites on the Caledonian Deck (Deck 3) measure 21.6 square metres, and feature a large window, spacious wardrobe, and an en-suite bathroom with bath tub and shower (except for suites 329, 330 and 331 which feature only a shower). Suites 329 – 348.

Corner Suites – Promenade Deck (Deck 4) The two Corner Suites on the Promenade Deck (Deck 4) measure 22.6 square metres, and feature a private balcony measuring 11.6 square metres and two forward-facing portholes, a walk-in wardrobe, and an en-suite bathroom with shower. Suites 414 – 415. Premium Suites – Promenade Deck (Deck 4)

Premium Suites on the Promenade Deck (Deck 4) measure 20.2 square metres, and feature a large window, spacious wardrobes, and an en-suite bathroom with shower (except cabins 431 and 432 which have a jacuzzi bath tub and shower). Suites 431 – 434. Premium Balcony Suites – Promenade Deck (Deck 4)

Premium Balcony Suites on the Promenade Deck (Deck 4) measure 20.2 square metres and feature a private balcony measuring 5.6 square metres, a walk-in wardrobe, and an en-suite bathroom with shower. Suites 416 – 428. Deluxe Balcony Suites – Bridge Deck (Deck 5)

Deluxe Balcony Suites on the Bridge Deck (Deck 5) measure 20 square metres, and feature a private balcony measuring 4.2 square metres, a walk-in wardrobe, and an en-suite bathroom with bathtub and shower. Suites 505 – 512.

COMMUNICATIONS

If you wish to contact the ship please call 00 1 954 672 6835. This is a US number so calls to this number are charged at an international rate. There is a phone in your cabin, which has access to an outside line. Outgoing call costs will be advised onboard. You can make cabin-to-cabin calls free of charge (see section on Telephone Calls). You can contact the ship by email at rec@cs.salenship.com please indicate passenger name and cabin number as the subject.

There are two computers with complimentary internet access in The Library. In addition Wi-Fi is available in The Library, public areas and in passenger cabins. In order to access the Wi-Fi you will need to bring your own laptop, tablet etc and purchase an internet card which are available to buy at reception. Depending on the ship's location, please note that there may be times when the connection is very slow or is disrupted and the same level of connectivity that you enjoy at home cannot be expected onboard. Please also follow the instructions about logging off carefully in order not to waste any minutes.

DAILY PROGRAMME

A Daily Programme, detailing the following day's arrangements as well as any specific information about the day's activities is produced onboard and delivered to your cabin daily.

DIETARY REQUIREMENTS

If you have any dietary requirements such as vegetarian, low salt, gluten free and low cholesterol, please notify the Reservations Department. We regret that these, and any other special dietary needs, cannot be guaranteed. If you have any specific or special foods that you require we recommend that you take some with you although we will endeavour to accommodate your needs. Once onboard, please speak to the Chef or the Maitre D' at dinner on your first night onboard to reconfirm your needs.

DINING AND DRINKING

Breakfast, Lunch and Dinner are served in the Restaurant. During good weather, early riser's coffee, breakfast, lunch and dinner may also be served on The Lido Deck. Afternoon tea is served in The Caledonian Lounge. Complimentary tea, coffee and biscuits are available self-service 24 hours a day in The Caledonian Lounge. House wine, beer and soft drinks are included at lunch and dinner.

MS Caledonian Sky operates an open seating policy which greatly enhances the convivial atmosphere onboard. The Restaurant has +44 (0)20 7752 0000 7 table configurations of 8, 6, 4 and some 2's. Room service is not available onboard. As we operate an open seating policy, we regret that reservations cannot be made. Please note that passengers are not permitted to consume their own supplies of alcohol onboard. Water is safe to drink onboard and is treated with chlorine. A complimentary bottle of water is provided in your cabin upon embarkation and can be replenished upon request.

Special dietary requests such as vegetarian, low salt and low cholesterol should be made with Noble Caledonia in advance. However, we recommend that you contact the Maitre D' once onboard to reconfirm such requests. We regret that these, and any other special dietary needs, cannot be guaranteed. If you have any specific or special foods that you require we recommend that you take some with you.

DISABLED FACILITIES

There is an elevator/lift, but the ship does not have facilities for disabled or wheelchair dependent passengers. Additionally, most shore excursions involve some walking and some excursions are walking tours only. There is no chair lift onboard and access to the ship is by gangway.

DISEMBARKATION

Your Cruise Director / Expedition Leader will provide you with detailed disembarkation information prior to the end of your cruise. This will include transfer information (where applicable). If you should have any specific queries, please do not hesitate to contact the Cruise Director / Expedition Leader as soon as possible after embarkation.

DRESS CODE ONBOARD

The dress code onboard is defined as casual. During the day casual attire is appropriate. The evenings are smart casual. Jackets and ties are not required. However, we kindly ask you to refrain from wearing shorts during evening meals in the Restaurant. You may wish to wear something a little dressier for the Welcome and Farewell Dinners, for example, a jacket and tie for gentlemen and a dress for ladies. No "black tie" is necessary. It is recommended to wear footwear at all times whilst onboard.

ELECTRICITY

Voltage is 110V/60Hz (American standard) and a 220V razor socket. This is only suitable for low voltage electrical appliances, e.g. mobile phone or camera charger. We recommend that you bring a two pin American adaptor for the 110v plug. Please note that the use of personal hairdryers, clothing irons, coffee makers, curling tongs, etc. in the cabins is strictly forbidden as they may damage the ship's electrical system. Hairdryers are provided for your convenience in the top right hand drawer of your dresser. If you require electrical medical equipment, please notify the Reservation Department as soon as possible.

GOING ASHORE

Wait in public areas or in your suite until an announcement is made with instructions to disembark. Sailing times for each port are listed in the Daily Programme. Please note sailing times and ensure that you return back to the vessel at least 30 minutes prior to departure. In some ports a passport or port landing card must be carried when going ashore. This will be announced over the PA System if required. If the ship is in a remote area and you hear a continuous blast of the ship's horn then please return immediately to the landing site. When leaving the ship at any time while in port always ensure you have checked IN/OUT at the gangway.

HAIR & BEAUTY SALON

MS Caledonian Sky has a hairdresser providing haircuts and hairstyling. Some beauty treatments and massage are also available. Appointments for hair styling can be made onboard only by dialling 300 from your cabin or at the Reception Desk. Fees for all treatments are available at Reception and will be charged to your onboard account. Each cabin is equipped with a hairdryer, this can be found in the right hand top drawer of the dresser.

HEALTH & HYGIENE

In order to maintain health standards you will find hand sanitizers at key positions around the ship particularly at the entrance to restaurants and near the gangway. We kindly ask you to use these regularly.

LAUNDRY SERVICE

Laundry service is available onboard. Laundry bags and a price list can be found in the wardrobe in your cabin. Please complete the laundry list and leave it together with the bag of dirty laundry on your bed. Your laundered items will be returned within 24 hours. There are no public launderette or ironing facilities onboard. In the interest of safety we ask that you do not use an electric iron in your suite. An ironing service is available at reasonable cost. Dry cleaning facilities are not available onboard. In the interest of the environment, towels will not be automatically changed every day. We ask that you put used towels on the bathroom floor if you wish them to be changed for fresh towels. Towels left hanging on the towel rack will not be changed.

LIFT

All passenger decks can be reached by lift/elevator. Please do not use the elevator in the case of a fire or an emergency.

LOST PROPERTY

Before you disembark the ship, please check your cabin to ensure you do not leave anything behind. Onboard the ship, any liquids, cosmetics, paper(s) and perishable items left behind will be disposed of immediately. Any books left onboard the ship will be incorporated into the ship's library or donated to charity. Other items left behind on the ship will be kept onboard for 1 month or 2 cruises (whichever is the longer period), and after this period, any unclaimed items will be given to a local charity at the next main port the ship visits. If you discover you have left any items behind, please contact Noble Caledonia within 21 days of disembarking. If we are able to recover your item(s) we will contact you to arrange delivery or collection, and any costs incurred will be at your own expense.

MAIL

Although reception staff are happy to post letters on your behalf, they may not be able to do so straightaway or at the port of call at which you make such a request. Some postal services are unreliable and many letters or postcards that you ask to be delivered on your behalf may be delayed or even lost en route. Under no circumstances can we be held liable for such occurrences.

MEDICAL FACILITIES

Medical services are available 24 hours a day. There is a doctor onboard, and crew members are trained in first aid. Cabin visits by the ship's doctor are available. Please note that all consultations and services are charged for. To arrange an appointment with the ship's doctor please contact Reception by dialing 300. It takes some people longer to find their sea legs. Sea sickness tablets are available from Reception, and should be taken at least one hour prior to departure.

MINI BAR

For your convenience a Mini Bar facility has been set up in your suite on a chargeable basis. Items consumed during the cruise will be charged to your onboard account. Your Stewardess will restock your mini bar on a daily basis and replenish consumed items. The mini bar price list is placed in the cabinet of your mini bar. The final statement will be delivered to your cabin in the early morning of your disembarkation.

NEWS

News channels are available on your cabin TV and in addition daily news bulletins can be found at Reception and in The Library.

NOBLE CALEDONIA TEAM

Throughout your cruise you will be accompanied by your Noble Caledonia team who will be happy to assist you with any queries or requests you may have.

ONBOARD ACCOUNT

All passengers will have their own "ship account" which allows you to sign a receipt for any expenses and then settle your bill at the Reception Desk at the end of the cruise. You will need to register your card at Reception shortly after sailing. If you are sharing a suite with a friend and would like separate bills, please inform Reception. Prices onboard are shown in British Pounds. All final accounts will be presented in British Pounds. Your ship's account can be paid by:

• Credit Card (Visa, MasterCard or American Express). A 2% charge will be applied to all payments made by credit card. By their bank.

• Cash (British Pounds, Australian Dollars or US Dollars).

• Travellers' Cheques (British Pounds, US Dollars or Euros).

Debit cards and prepaid credit cards are not normally accepted.

PASSPORTS

All Passports are collected by the Purser upon embarkation. Passports are necessary to facilitate immigration formalities at each port of call and are returned at the end of the cruise.

PUBLIC AREAS

The Panorama Lounge – Located on Deck 6. Here you can find a comfortable area to relax in with as well as the Library and the Panorama Honesty Bar. Outside you can enjoy the forward facing observation platform and comfortable sun loungers.

The Library – Located on Panorama Deck (Deck 6 aft). In The Library you can find a well stocked selection of reference books pertaining to the destinations. Fiction books, games and playing cards are also available for your pleasure. Novels brought onboard may be exchanged with other books in the paperback library. Should you wish to donate any books which you may have brought with you, we will be happy to add these for the pleasure of future guests. Reference books may not be removed from the ship. Please return all borrowed materials as soon as you have finished using them. Complimentary internet facilities are also located in The Library.

The Lido Deck – Located on Bridge Deck (Deck 5 aft). Breakfast, Lunch and Dinner are served here outside (weather permitting). Sample the delicious barbeques and eye catching displays prepared by your chefs.

The Gym – Located on Promenade Deck (Deck 4 aft). A small gym features a treadmill, bicycle cross trainer, weights and yoga mats.

The Caledonian Lounge – Located on Deck 3 aft. Daily Briefings by the Cruise Director or Expedition Leader are given in The Caledonian Lounge which is fitted with multiple screens and presentation equipment. Informative talks from the Guest Speaker or Expedition Team are also given here. The Caledonian Lounge features the main bar and a 24 hour tea and coffee station. In the evening our onboard resident pianist plays before and after dinner.

QUESTIONNAIRE

Your comments are important to us therefore before your cruise ends, you will receive a questionnaire. We are always looking for ways to improve your holiday experience and appreciate the time you take to complete the questionnaire. Kindly hand your completed questionnaire in at Reception.

SAFE

There is a safe in every suite located in the closet. The safe can be programmed with your own code, instructions can be found inside the closet door. We recommend that you leave money and other valuables in the safe. Kindly remember to remove all items from the safe before disembarking the ship at the end of your cruise.

SAFETY DRILL & SAFETY

International Maritime Law requires a lifeboat safety drill to take place prior to sailing. All guests must attend this compulsory and important exercise. Please listen for the announcements. During the drill, all ships services will be suspended. Your assigned lifeboat station, location of your life jacket and the signal for lifeboat and fire drills are clearly explained on the emergency card posted on the back of your suite's door. Life jackets are located in your suite. During the safety drill you will be shown how to wear the life jacket. It is essential that you take certain safety precautions while onboard: • Walk, never run and be especially careful on wet and slippery decks. • Ladies are advised to wear low heeled shoes especially on deck. • Footwear should be worn at all times. • Hold on to the handrails in passageways and stairways.

SHIP'S ID CARD

These personal ID cards with essential information are issued to each guest during embarkation. Please ensure you remember to check in and out at the gangway with the crew member on duty in order to ensure that you are onboard prior to sailing.

SMOKING POLICY

The MS Caledonian Sky offers a smoke-free cruise environment. Smoking is not permitted inside the ship, including the balcony areas. Smoking is only permitted in the designated area outside on Deck 4 aft. Please never throw any cigarette ends overboard – the breeze could carry the smouldering end back onboard and start a fire. We thank you for your cooperation in this matter.

TELEPHONE CALLS

Calls to other cabins can be made free of charge by dialing the cabin number. Lift the handset and dial the cabin number. If you wish to make an outside call, please check at Reception to purchase a prepaid telephone card and instructions. Costs are available from Reception and charges are automatically billed to your onboard account.

TELEPHONE DIRECTORY

THE CALEDONIAN LOUNGE Ext: 301
RECEPTION Ext: 300
RECEPTION AFTER HOURS Ext: 500/501
THE RESTAURANT Ext: 201
SUITE STEWARDESS Ext: 300
IN CASE OF AN EMERGENCY Ext: 500/501
HOSPITAL Ext: 202

TOILETRIES

Molton Brown shampoo, hand soap and shower gel are provided in your bathroom. If you have forgotten anything ie. toothpaste, please ask Reception, who have a selection of items available for purchase.

VISITORS

For the safety and security of all passengers no visitors are allowed onboard the ship.

VISITING THE BRIDGE

At times Bridge visits may be possible. If visiting the Bridge, please note this is a working area and access may sometimes be restricted.

WAKE UP CALL

Wake up calls can be requested through the Reception Desk by dialling 300 before 11pm.

WATER

Currently the MS Caledonian Sky uses 54,000 bottles of water a year. In order to reduce the damage caused to the environment by waste plastic, we are replacing plastic bottled water where possible with reusable water bottles. The water bottles are for your use during the cruise and we kindly ask you leave them in your cabin at the end of the cruise. The bottles can be filled from the tap – the tap water is safe to drink – or from the water station in The Caledonian Lounge. Some bottled water will be available in your cabin on arrival and can be replenished upon request.

ZODIAC OR LOCAL BOATS TO TENDER ASHORE

Some destinations may require the use of the ship's Zodiacs or local tender boats to go ashore. Guests will be advised where and when to meet the Zodiac or local tender boat to go ashore. Please ensure that your hands are free at all times and accept the assistance given by the crew onboard the MS Caledonian Sky when boarding tenders / Zodiacs. A Zodiac safety briefing will be given.

Please Note:

The above information is accurate and correct to the best of our knowledge at the time of publishing. Noble Caledonia accepts no responsibility for any errors or omissions and none of the facilities or features of the vessel described herein which are not specifically described in our advertisements and on your holiday invoice as being included in your holiday price will be deemed to be included in your holiday package. If you would like further information about the vessel or about any of your holiday arrangements, please do not hesitate to contact us.

Cabin Plan

Cabin Plans

Deck plans

Deckplan
Travelling with You
Rev'd Dr Judith Thomas

Judith has lived and worked in many countries including the USA, Indonesia, New Zealand, the Middle East and Japan. Her early work as a Management Training specialist for overseas assignments developed her interest in globally mobile families and the cultural changes they confront. Her earliest experience of Japan dates from the 70's up to the present day, including two extended periods of living and working there. Her expertise is Japanese Culture; gardens are a cultural expression in their own right. Traditional Cultures adapting to the modern world are of particular interest to her.

Rev'd Dr Judith Thomas will be on the following tour dates:

17

May 2019 to

1

June 2019
Also of Interest
Discover the cultural treasures of Japan and the ancient wonders of South Korea aboard the MS Caledonian Sky
Caledonian Sky
Tokyo, Japan
Niigata
Sado island
Kanawaza
Matsue
Hagi
Kyongiu, South Korea
Haeinsa
Nagasaki, Japan
Uwajima
Miyajima
Hiroshima
Kobe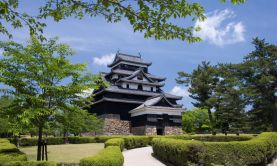 14 nights from £7295
Next Departure
8

May 2018
More Info
A voyage from Kyoto to Taiwan exploring Japan's many island groups
SPECIAL OFFER – SAVE £500 PER PERSON FOR A LIMITED TIME ONLY
Caledonian Sky
Osaka
Kyoto
Kobe
Koraku-en & Kurashiki
Takamatsu
Miyajima & Hiroshima
Ube, Yamaguchi
Aberatsu
Yakushima Island
Amami Oshima, Amami Islands
Okinawa, Ryuku Islands
Miyako-Jima, Miyako Islands
Ishigaki & Taketomi, Yaeyama Islands
Hualien, Taiwan
Keelung.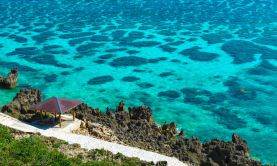 16 nights from £7795
Next Departure
8

June 2019
More Info
Book with Confidence
Speak to one of our advisors on 020 7752 0000