An Ode to Albania – Part 1.
Hello everyone! Once again, thank you for the emails in relation to the previous blogs. Always good to read them, and I am managing to reply to them all. A few people have said that it's interesting to hear what I have been up to. I spent some of last week writing the new quiz on the Travel Post website. However, as per the new guidelines, I've been out and about a little more, but obviously keeping to the social distancing rules. Yesterday (Saturday 16th May), I did a click-and-collect at a local DIY store to purchase a few light fittings. I've finally decided it's time to spruce up the house, now that I've had to live in it properly these last two months and realised what needs doing. Having collected them, I meandered along country roads and parked my car at Dymchurch, before walking along the sea wall to St Mary's Bay. Diverting inland, I headed to St Mary's Bay station and litter-picked the track of the RH&DR back to Dymchurch. It should have been the railway's Gala Weekend, and I would no doubt have been either attending or volunteering, so I felt I wanted to do something practical to assist in the meantime. Finally, I brought my two full bin bags home and sifted through it for the various recycling bins. With that I prepared my dinner and, very proudly, made gravy for the first time in my life. I fully appreciate that I've led a charmed life in terms of not bothering to learn how to cook. I went straight from home to being at university and spent four years in catered halls. Then I was back home again until I went away to sea at the age of 23. Since then I have only had relatively short periods at home and, when we're not having a global pandemic, the social diary is rather full, so I tend to either eat out or just do the simplest things at home. Naturally things have changed, and I'm even beginning to learn where items are stocked in my local supermarket (now that the shelves are slowly filling up again). Needless to say I deeply miss the fantastic crew that we have on our ships. It all seems so effortless when we come back from a morning excursion and a vast buffet is laid out before us. If you could have witnessed the sense of pride I felt last night at the achievement of pouring 280ml of boiling water onto four heaped teaspoons of gravy granules (whilst stirring at the same time, I might add) then you would no doubt be quite alarmed. I guess that holding a gravy boat is the closest I'll get to being on a ship at the moment. And yes, I have realised that I hadn't taken account of the fact that I live on my own. If anyone would like three-quarters of a boat-load of cold gravy then feel free to email in (buyer collects).
What to write about this week? I've had numerous suggestions from your good selves, and thank you for those. My opening paragraph has started me thinking about meals we have enjoyed ashore as part of the shore excursions. It is, of course, always an easier option to have lunch on board. The Executive Chef and Maître d'hôtel know of all the dietary requirements and such things, and we, who are escorting the excursion, know that if there is any delay then that will be accommodated. Lunches ashore create a few more nerves if we have not used the venue before. Everything from whether they can cater for the dietary requirements to whether they have enough toilets to avoid excessive queues springs to mind. However, with the research that will have been done by our office-based Product Manager in the years leading up to our arrival, we are always in safe hands. I was asked once to say which was the best lunch ashore that I can recall. Having watched Alan Shearer and Ian Wright last night, agonising over their "top ten" on 'Match of the Day', I can fully appreciate what they are going through. How do you compare one to the other? It could be the food, it could be the setting, it could be the company, all manner of things. However, there is one lunch ashore that does stand out for me, and that was in… Albania.
I had been to Albania a few times before. At the southern tip of Albania, directly opposite the Greek island of Corfu, is the large bay containing the small port of Sarandë. Previous cruise ships I have worked on would anchor in the bay and the passengers would head off to Butrint. That was all we ever saw of Albania. However, as Paul Mildon (Head of Planning and Operations) alluded to in his excellent interview with Pam Le Noury on The Travel Post, it is always good to explore the less-trodden path and see what else a country has to offer.
On 28th May 2017, the Island Sky sailed into the magnificent Bay of Kotor on the coast of Montenegro. One of my favourite memories of visiting Kotor was my very first occasion, 5th June 2006. Only two days before our visit, Montenegro had formally become an independent nation, having previously been Serbia & Montenegro. I was on the Bridge as the pilot boat approached. The Captain turned to the 2nd Officer and told him to prepare to raise the courtesy flag (the national flag or the civil ensign of the country you are visiting). My place on the Bridge was to be seen and not heard whilst manoeuvring, but I plucked up the courage to ask the Captain if he had the correct flag. He looked at me, taking a moment to come to terms with the fact I had dared question something that was deck department related, and asked what I was suggesting. I can remember the look of concern on his face as I mentioned that Montenegro had proudly become independent two days before, and that the flag he had instructed to be raised was the pre-independence version. He decided not to raise any flag and seek advice from the pilot once he had come aboard. The pilot arrived, complete with naval uniform and huge bushy beard, and greeted those on the Bridge with a bellow of "Welcome to Montenegro". I wondered whether Brian Blessed had a distant cousin in the Balkans. The Captain sheepishly welcomed him and asked what we should do about a courtesy flag. The pilot laughed heartily and said, "I realised you would not have one so soon, so my wife created one for you yesterday", and with that he pulled out a large red flag with yellow trim, and with the crest of Montenegro newly sown in the centre. He continued, "Please make sure you return it to me though, as I have another ship tomorrow". A mightily relieved Captain passed it to his 2nd Officer and we were the first ship to arrive into Montenegro flying the flag of the newly-independent nation.
That is the problem with writing these blogs… I start on one course and suddenly find myself remembering something else and writing about that. My apologies! Fast-forwarding eleven years and I was back in Kotor, and after an overnight stay in the beautiful little town, we attempted a full-day overland trip from Kotor to Shëngjin in Albania. The main attraction would be visiting the town of Shköder, including the stunning view over the town, rivers and lake from Rozafa Castle. Our local agent in Albania, Auron Tare, is incredible. He was the driving force behind us trying an extended stay in Albania, and worked tirelessly with Saskia Vrolyk, the Island Sky's Product Manager, to see it through to fruition. Auron has had so many roles that someone has even created a Wikipedia page for him. Among those roles, he has served as Member of Parliament for Tirana, and worked for UNESCO, the World Bank, and continues to have a huge impact in opening Albania to visitors. We have become good friends these last few years and his influence and impact has made Albania one of the places I most look forward to visiting.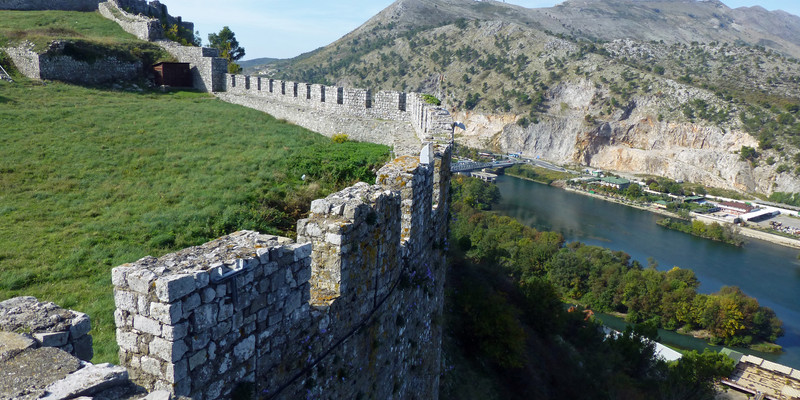 Our visit to Rozafa Castle was hard work with a steep climb over large cobbles to the top, but the view made it incredibly rewarding. After a careful descent, we visited Shköder itself, including a private viewing of the superbly laid-out National Museum of Photography. The weather was glorious and passengers were offered free time at the nearby street cafés to enjoy a coffee. Albania applied to join the EU in 2009, but it was only in March this year that accession talks began. Our passengers were ready with their Euros to pay for the coffees, but understandably the local cafés were keener to receive the Albanian Lek. I had a word with Auron and before I had had the chance to finish he was off to speak to the café owners and agreed that they would keep a tally of everything the passengers had consumed and that he would pick up the bill. Imagine trying to do that with a large cruise ship! When you have a local agent as responsive and supportive as that, it makes the job of Cruise Director so much easier. Before heading back to the coaches, I remember buying lots of postcards and stamps, as I had spotted that the stamps bizarrely featured British steam locomotives including "Rocket", "Locomotion", "Salamanca" and "Puffing Billy". I can also recall a few passengers pointing out that they were rather ashamed at being amused that we were in Albania during the summer sales, as many of the shops in the street where we had been enjoying our coffee had the word "sale" in the window, which is written as "shitje" in Albanian.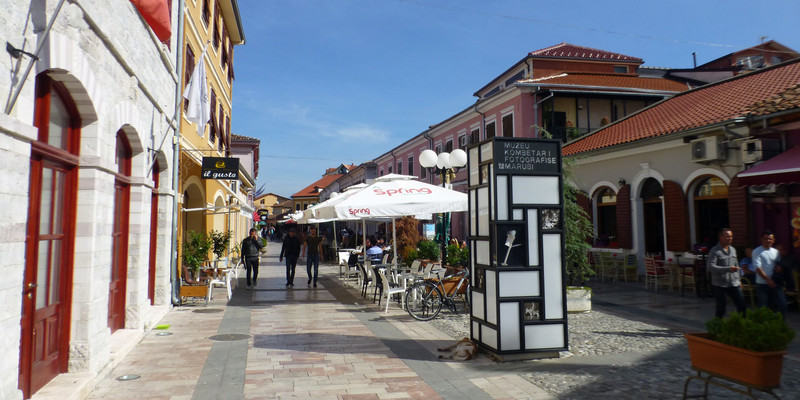 Shkoder photography museum and high street
Next to where the coaches had assembled, there was a statue of Mother Teresa. I had forgotten that she was of Albanian origin (although born in what is now North Macedonia). I took a photo and sent it to one our travel consultants, Gemma-Louise, who had previously shown me that when she was a child she had written to Mother Teresa. To Gemma-Louise's astonishment, she had received a hand-written reply from Mother Teresa. Nothing surprisingly, it has become one of her most treasured possessions. We made our way to our late lunch venue in the remote village of Fishtë. The most notable former resident is Gjergj Fishta (1871-1940), the National Poet of Albania. We arrived at what had been described to me as a 'slow food' restaurant called Mrizi i Zanave. What happened next was the most wonderful surprise. The whole area is a centre for agritourism, with restaurants specialising in growing, harvesting and supplying all their own food. The food arrived in good time and we all began to indulge. Feeling full, the courses kept coming. Each course being beautifully presented. I know it seems a silly trend these days to see youngsters photographing their food, but it was perfectly understandable in this instance as each course appeared to resemble an artwork just as much as it was a joy to taste.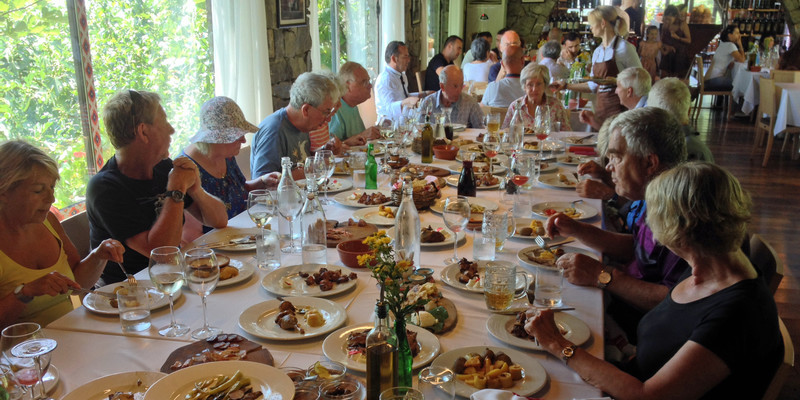 Finally, the dessert came. I had been told it would be ice cream. Surely that would be simple? Not a chance. Presented before me was a large pink ball of ice. I had no idea what to do with it so, as ever in these situations, I made conversation with the person next to me whilst hoping to see what someone else did first. The trick appeared to be that you bang the top of the ball with the underside of your spoon, as though you were cracking a boiled egg, and then it would shatter, revealing the ice cream inside. I was delighted to successfully succeed in this challenge, and the ice cream tasted divine.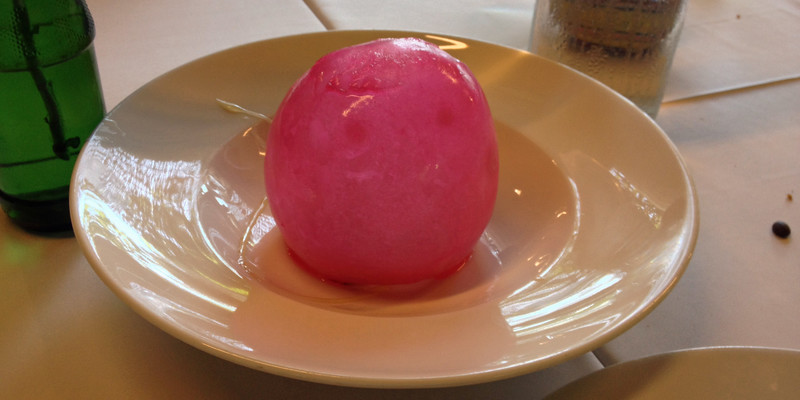 With everybody fit to bursting, we thanked the restaurant staff profusely and slowly clambered back aboard the coaches for the 45 minute drive to Shëngjin, where Island Sky had transferred to. I can remember passengers being puzzled to see a British-looking fire engine on the quayside in Shëngjin. Even more surprising was that it had "Dorset Fire and Rescue Service" written along the side! I could only presume that the couple we had on board from Wimborne Minster had called the emergency services a few days before and they had now caught up with them. Instead, it transpired that the fire engine had become surplus to requirements in Dorset, and been donated by Dorset Fire Brigade, in partnership with Poole Bay and Christchurch Rotary Clubs, in association with Lightforce International, to the people of Lezhë, Albania. They had brought it down to the quayside, knowing that we had predominantly British passengers, to proudly show us and thank us.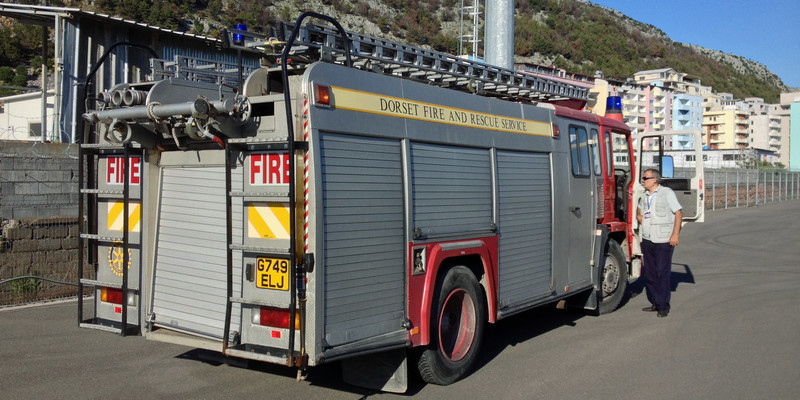 Still struggling to contain the feast that was lunch, we wearily climbed up the gangway and were welcomed back aboard Island Sky. As we entered the Lounge, we saw the vast spread that had been laid on for Afternoon Tea by the Hotel Manager as he was concerned that our local lunch might not have been enough. I could only apologise to him and the chef, but the crew were very happy to have an afternoon tea to enjoy!
With that, I have already written nearly 2,500 words and have not even begun on the story I originally intended to tell. My approach to this blog writing is certainly proving to be tangential. So as not to bore anyone, I'll call this 'Part 1', and continue with 'Part 2' next week. Those of you who were with me in Albania will not be surprised to know that Auron's dog, Bora, features heavily in the Part 2. As I write this, I can see from my window that the sun is starting to set over the hills which rise up just the other side of the Royal Military Canal. I hope that all those who are reading this, and their friends and family, are all continuing to be healthy and that everyone has comfortably adapted to this new way of living. Thank you for reading this far and enjoy your week ahead.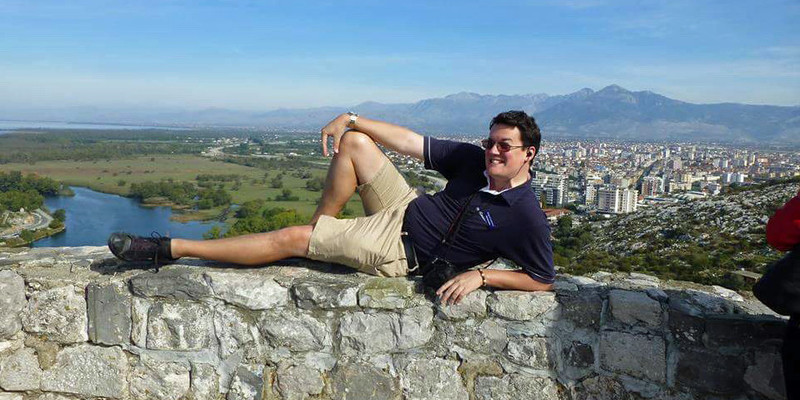 Spoiling the view from Rozafa Castle