Passage along the Rhone
Discover the cultural & natural splendours of the Rhone aboard the MS Van Gogh
Exploring any country by river provides the traveller with extra insight, understanding and a lasting memory. This is particularly true of France where Mother Nature has provided the most perfect means of observing a great swathe of the country and as we meander along the scenic Rhone we will explore one of her loveliest corners. The Rhone, dubbed the "River of Angels" by Robert Louis Stevenson, offers a passage through history past great architectural treasures, through some truly wonderful scenery and an ever-changing countryside dotted with cypress, umbrella pine and vines.
Our programme combines excursions ashore to nearby towns and sites as well as time at leisure, so you can truly relax and experience all that the region has to offer. There will be the opportunity to explore France's gastronomic capital Lyon and visit Avignon, the great City of Popes which boasts a number of splendid museums, churches and palaces. We will also discover some of the many impressive Roman sites including the amphitheatre at Arles, the Roman theatre of Orange and the magnificent Pont du Gard. But, no trip to Provence would be complete without visiting the surrounding countryside and we will visit the Ardeche Gorges as well as some of the surrounding hillside villages. All this will be accomplished with ease from the comfort of the delightful MS Van Gogh.
Useful links & Travel Advice
Please find a selection of useful websites to refer to for information from the Foreign & Commonwealth Office, on visa requirements, NHS travel health advice and other useful travel tips.
---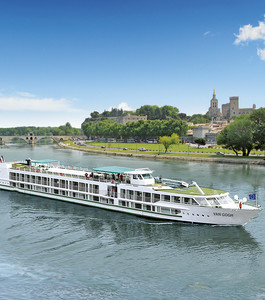 Van Gogh
For our voyages along the Rhone we have chartered the delightful MS Van Gogh from our associates at Croisi Europe. The vessel accommodates a maximum of 105 passengers and offers spacious public areas and comfortable cabins. She is a charming vessel and joining you on board will be a Noble Caledonia team including a Cruise Director, Tour Manager and Guest Speaker.
Itinerary
Day 1 London to Avignon, France.
Fly by scheduled flight to Marseille or Nice airport or travel by train from London St Pancras. Upon arrival transfer to the MS Van Gogh in Avignon and embark. Meet your fellow travellers this evening during welcome drinks and dinner. The ship moors overnight in Avignon.
Day 2 Avignon & Abbaye Saint-Andre.
The great City of the Popes boasts a number of splendid museums, churches and palaces. Our guided walking tour will include the Palais des Papes, one of the wonders of Provence and the largest and most important Medieval Gothic buildings in Europe. We will also visit the Cathedral and famous Pont Benezet, a bridge that spans the Rhone between Villeneuve les Avignon and Avignon. After lunch on board, we will visit Abbaye Saint-Andre's beautiful gardens with its Florentine inspiration and excellent views of Avignon and the Rhone Valley. The Abbey is located atop the hill known as Mont Andaon and now lies within the impressive Saint Andre fortress.
Day 3 Arles.
A UNESCO World Heritage Site, Arles sits on a low hill where the Rhone river branches in two parts to the sea. The town dates back to the 7th century BC, and was a major Gallo-Roman city. The Roman sites are unique in that they are integrated into the houses and buildings of the town. During our walking tour we will see the huge amphitheatre and the former Cathedral of St Trophime, a Romanesque Basilica constructed in the 12th century. After lunch on board, enjoy some free time before we sail upstream this evening.
Day 4 Pont du Gard, Uzes & Chateauneuf du Pape.
Today we will drive to Pont du Gard, the impressive Roman aqueduct built in the first century as part of a system to bring water to Uzes and Nimes. Later, we continue to historic Uzes, a gem of a town with a captivating history and some imposing and beautiful buildings including the castle of the Ducs d'Uzes. After lunch on board the ship we will enjoy a wine tasting in Chateauneuf du Pape, an area renowned for its rich ruby reds.
Day 5 Orange & Viviers.
This morning we have a half day tour of Orange, site of the greatest of all Roman theatres to survive in the West. The magnificent, semicircular Theatre Antique, situated in the centre of town, was built just before the birth of Christ. Accommodating 7000 spectators, its acoustics are superb. This is also the only Roman theatre still possessing its original Imperial statue of Caesar Augustus, which, at 12 feet in height, is one of the tallest in existence. Sail later to Viviers and enjoy some free time in this charming town.
Day 6 Ardeche Gorges & Chateau Grignan.
This morning we will visit the Ardeche Gorges with its magnificent scenery, most notably the spectacular limestone cliffs and the Pont d'Arc, the largest natural arch in Europe. We will also stop at a lavender museum where we will learn about the secrets of the flower and its culinary, medicinal and cosmetic uses. Return to the ship for lunch after which we will drive to Grignan. A charming hillside village, Grignan was made famous by Madame de Sevigne in her letters. Here we will visit a truffle farm where we will have the chance to taste some of these local delicacies. Continue to Chateau de Grignan which, originally built in the 11th century, was transformed into a luxurious residence during the Renaissance.
Day 7 Vienne.
We will spend this morning in the fine Roman town of Vienne, beautifully located in the Rhone Valley and surrounded by hills. On our walking tour, we will learn about its Roman era with a visit to the Temple of Augustus & Livia and the Roman theatre located in the centre of town. Also visit the Romanesque-Gothic Cathedral St Maurice. Relax on board this afternoon as we continue sailing north.
Day 8 Lyon.
Today begins with a guided tour of the old part of the city including the amazingly decorated 19th century hilltop Basilica of Notre Dame. Take a walk through the 'Halles de Lyon', a famous food market where renowned chefs are often spotted selecting their ingredients. The afternoon is free to wander past the shops and cafes on the banks of the Saone, or perhaps visit the marvellous fabric museum (Musee Historique des Tissus), the equally fascinating Musee des Beaux-Arts housed in a 17th century Benedictine Abbey or the modern Musee des Confluences located at the southern tip of the Presqu'île at the confluence of the Rhone and the Saone. This evening join your fellow travellers for farewell drinks and dinner.
Day 9 Lyon to London.
Disembark this morning and transfer to Lyon airport for the return scheduled flight to London, or travel by train to London St Pancras.
Dates and Prices
SPECIAL OFFER – SAVE £200 PER PERSON FOR A LIMITED TIME ONLY
Prices per person based on double occupancy
15

to

23

May 2021 •

30

June to

8

July 2021
Category
Brochure Price
Special Offer Price
1 Main Deck Twin
£2895
£2695
2 Upper Deck Twin with French Balcony
£3095
£2895
3 Main Deck Single
£3395
£3195
2 Upper Deck Twin with French Balcony for sole use
£3695
£3495
Tour Reference Code: RCVGRHONE
Price Includes: Economy class scheduled air or train travel • Eight nights aboard the MS Van Gogh on a full board basis • All-inclusive drinks from 10am to 11pm daily (please note premium brands & sparkling wine are not included) • Shore excursions • Cruise Director • Tour Manager • Guest Speaker • Gratuities • Transfers • Port taxes • Airport taxes.
Not Included: Travel insurance.
N.B. The outbound transfer time from Marseille airport to Avignon is 1 hour and 15 minutes, and from Nice airport to Avignon is 2 hours and 45 minutes.
Van Gogh
For our voyages along the Rhone we have chartered the delightful MS Van Gogh from our associates at Croisi Europe. The vessel accommodates a maximum of 105 passengers and offers spacious public areas and comfortable cabins. She is a charming vessel and joining you on board will be a Noble Caledonia team including a Cruise Director, Tour Manager and Guest Speaker.
Travelling with You
Michael Hindley

Michael Hindley was educated at London University (BA Hons in German and French), Lancaster University (MA in Comparative Cultural Studies), and the Free University of West Berlin. Michael also has a post graduate diploma in International Law.

He was an elected council leader in North West England, a Lancashire County Councillor and a Member of the European Parliament for three terms (1984-99) - where he was the Majority Leader on the Trade Committee (1989-99). From 1991-1995 he was responsible for relations with the new democracies in Central and Eastern Europe.

Michael is now a freelance political consultant and acts as an expert adviser for the European Economic and Social Committee (EESC) where he is currently writing a report on Agriculture and Trade. He has also written a report on Fair Trade for the United Nations, International Trade Centre, Geneva.

Michael is a frequent lecturer on European politics and has lectured at Greifswald University, Germany and Georgetown University, Washington DC. Most recently he has been guest lecturer at the Taras Schevchenko University, Kyiv, Ukraine.

He acted as an election observer for the Organisation for Security and Cooperation in Europe (OSCE) in the Ukraine in May and October 2014.

Michael has travelled extensively throughout Europe, the Middle East and Asia. He speaks fluent German and French.

Michael Hindley will be on the following tour dates:

15

to

23

May 2021

Neil Horrocks

Neil has been at sea full-time since 2001, a year after he graduated in Pure Maths from the University of Manchester. Working his way up through the cruise industry led him to experience everywhere from the Arctic to Antarctica. He developed a passion for small-ship cruising and was delighted to lead his first Noble Caledonia cruise in January 2014. Now full-time with Noble Caledonia, he has experience of ocean and river cruising, and enjoys the variety of cruises and expeditions that Noble Caledonia offer. Equally adept at destination cruising or zodiac landings, Neil is very much an all-rounder, as well as being an accomplished pianist with a keen sense of humour and eye for detail. When not at sea, Neil lives in the southeast corner of England and tries to enjoy following the misfortunes of his football team, Brighton & Hove Albion, and is an active volunteer on the much-loved Romney, Hythe & Dymchurch Railway.

Neil Horrocks will be on the following tour dates:

15

to

23

May 2021

Brenda McLoughlin

Brenda is from Lancashire and has worked in the travel and tourism industry for over thirty years in operations, as a Tour Manager and Cruise Director. She was for many years responsible for creating cruise itineraries and exciting shore excursions for discerning travellers. Brenda is fascinated by other cultures and truly believes that travelling opens the mind and should be compulsory! At home Brenda runs and hosts five reading groups and creative writing groups and leads guided walking tours in the Yorkshire Dales, the Forest of the Bowland and in the southern Lake District. She is also Chairman of her local branch of the Arts Society (formerly NADFAS, National Association of Decorative and Fine Arts Society) and volunteers for the National Trust. Brenda is delighted to work with Noble Caledonia, very much enjoys helping to make holidays special and always looks forward to getting to know everyone. Brenda works on sea vessels, river boats and land programmes in any and all parts of the world.

Brenda McLoughlin will be on the following tour dates:

30

June to

8

July 2021

Dr Katherine Lack

Kate originally trained as an agricultural scientist at Oxford, where she took a doctorate in 1985. More recently she has been a visiting lecturer in medieval and church studies at Birmingham University, and this diverse background has encouraged her to explore the links between superficially different subjects. Kate now lectures and leads training seminars on a range of historical subjects, often for voluntary groups.

Kate has written two books tracing historical journeys and their cultural background, and a biography of Duke Robert Curthose, all of which give an insight into life in the 'dark ages' and medieval times. In 2010 she left the Middle Ages and wrote on civilian internment diaries from World War Two. She was awarded a second doctorate in 2012 for a study of migration within the United Kingdom in the eighteenth century. For her latest major project she has been privileged to be a partner in an innovative scheme combining historical and archaeological research with the work of the mental health charity MIND.

Kate first began working with tours to sites of historic and spiritual interest in the 1980s, and has been a Guest Speaker with Noble Caledonia since 2009. She always looks forward to travelling on a North Sea to the Black Sea cruise, with its broad sweep of European history and culture from classical to contemporary. These cruises also offer a wonderful opportunity for her to indulge her interest in bird-watching.

Dr Katherine Lack will be on the following tour dates:

30

June to

8

July 2021
Tour Extensions
Before embarking the MS Van Gogh in Avignon, we are offering the opportunity to join our three night pre-cruise extension in Aix-en-Provence.

The Itinerary

Day 1 London to Aix-en-Provence, France.

Fly by scheduled flight to Marseille and transfer to our hotel in Aix-en-Provence. Meet later tonight for our welcome dinner. (D)

Day 2 Sainte Victoire and Mountain & Aix-en-Provence.

After breakfast at our hotel, we will drive to Sainte Victoire Mountain, the subject of many of Paul Cezanne's paintings. Back in Aixen- Provence, we have some free time for lunch before we meet our guides for our afternoon walking tour where we discover the town's leafy boulevards and public squares lined with 17th and 18th century mansions. Fountains hold an important place in the architecture here and the city is also known as the 'city of a thousand fountains', a name which it more than lives up to with its many beautiful and intricate marble sculpted fountains that can be found in nearly every square. We finish with a visit to the Granet Art Museum. Dinner tonight is under your own arrangements. (B)

Day 3 Cassis.

We depart this morning for Cassis where we will enjoy a boat trip through the Calanques National Park. Here, long narrow deep fjord-like inlets have cut into the limestone cliffs. Enjoy some free time for lunch under your own arrangements, after which we will return to Aix-en-Provence for the late afternoon and evening at leisure. (B)

Day 4 St Remy-de-Provence.

After breakfast we will enjoy a tour of St-Remy-de-Provence. Nestled in the hills of Les Alpilles, the town centre is full of narrow Medieval alleyways, fountains and squares. We will visit Saint Paul de Mausole where Vincent Van Gogh was interned for a year. It was here where he painted 150 canvasses, including 'Olive Grove' and 'Starry Night'. After lunch in a local restaurant we will transfer to the MS Van Gogh moored in Avignon. (B, L, D)

Prices per person based on double occupancy

12

to

15

May 2021 •

27

to

30

June 2021
Category
Price
Twin
£945
Single
£1345

Price Includes: Three nights hotel accommodation, meals as indicated (B – Breakfast, L- Lunch, D – Dinner), Tour Manager, gratuities, transfers.

Not Included: Travel insurance.

N.B. Please be advised that train travel is not available in conjunction with the pre-cruise extension.
Book with Confidence
Speak to one of our advisors on 020 7752 0000