Of Great Whale Journeys
On Wednesday 21st November 2018, passengers and crew aboard the MS Island Sky's 'In the Wake of Shackleton' voyage were treated to an incredible sighting. Our journey had begun in Ushuaia, we had sailed east through the Falkland Islands making a few expedition calls on this chilly windswept archipelago. The combination of nesting albatross and world-class high tea is hardly concomitant and goes down a treat. The sea crossing from Falklands to South Georgia is 'downhill' with the prevailing weather but at such high latitudes in the southern hemisphere, one always expects some pot holes. South Georgia is breathtaking, sharp grand white peaks of massive mountains in such a remote area of the south Atlantic. It's the concentrations of wildlife that lure people but it's the grandscapes, the white windswept wilderness, that sit in their mind's eye forever.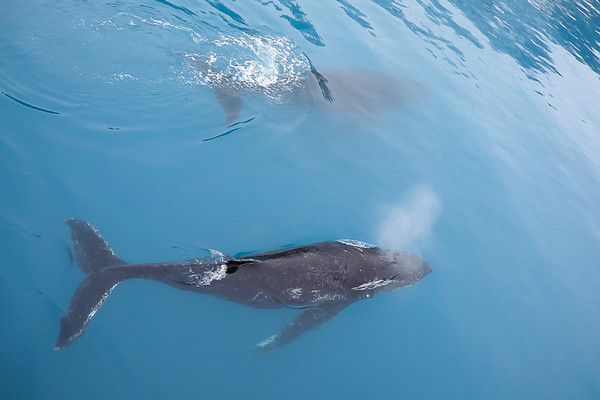 South Georgia is where you go to see millions of seabirds and not just any seabirds, iconic and charismatic creatures like king penguins and light-mantled sooty albatross. You can see seals and not just any seals but thousands of elephant seals the size of a small car plopped like boulders on a beach. It really is an astounding place and when not being chased around by the wind at sea we are chased around by Antarctic fur seals on shore. It's really a sensory overload and our departure from South Georgia is typically marked by silent reflection. On our last day, with the upwind crossing to Antarctic Peninsula looming, we always try to make one last stop at Drygalski fjord.
Drygalski fjord is usually a tranquil and wildly scenic journey of reflections; glassy glacial blue water mirroring the waterfalls and white peaks above. On this particular day we were making our way up the fjord at glacial speed, 4800 tons and 90m of steel barely creating a ripple, it was dreamy. And on this day we were joined, literally escorted, by two large humpback whales – 35tons / 15m of cetacean alongside us….. also barely creating a ripple.
As they edged closely and closer our captain maintained his course and slow speed of 3 knots and the whales came right alongside our hull, the shadow of the mountains eliminating glare off the icy blue water and everyone had a clear view, breath held…. you could have heard a pin drop.
Fast forward to 2021. One of our field staff, exceptional birder and guide, also the co-author of the 'Antarctic Wildlife' APP, Jim Wilson, got a ping from Happy Whale. After our voyage Jim had uploaded an image of the humpback whale in Dygalski fjord to a website called Happywhale. As it turned out this same whale had been sighted just 4 months before us, in Brazil!
On 17th July off Bahia, Brazil the Humpback Whale Institute had sighted and photographed this same whale on the breeding portion of its journey, before it headed down south to feed.
Humpback whales in the southern hemisphere spend their summers in the freezing waters of the Southern Ocean around the Antarctic. The cooler waters hold more oxygen and therefore sustain more life, notably krill on which the whales feed. Being warm blooded mammals in near zero temperatures is possibly challenging for new born calves and does not allow for skin moulting, so the whales make an enormous and epic journey half way across the globe towards the equator to breed and moult their skin.
At the end of each summer, many female whales will have been pregnant for almost a year. They start to leave the secluded Antarctic waters at this time and head north. The journey is long and tiresome, crossing the enormous currents that swirl around the uninterrupted Southern Ocean. Many follow the contour of the land masses up the east coast, the gauntlet includes large ports with many ships. The whales head north until they eventually reach sufficiently warm subtropical and tropical seas where the water is sufficiently warm to calve. The impressiveness of this journey is compounded by the fact that the adult whales barely eat the entire time! The opportunities to feed in the tropics are almost non-existent and the whales may spend months without food. It is an enormous sacrifice to make. In addition, males making the journey are trying to mate which means courtship. The courting rituals of humpback whales include, among other things, singing and breaching. The energy used to launch a 40 tone animal clear out of the water is quite astounding!
The whales calve in the tropics, and within weeks start heading back south since now the whale cows are nursing the calves with extremely rich milk, further depleting their energy. There are, once again, dangers on the journey back such as ships and fishing gear. The cow calf pairs generally pass closer to the shore than on the northward journey, and are slower with the young calf.
Eventually they arrive to cold waters that support krill and they can relax and feed. This is how we observed them in Drygalski fjord, relaxed and splendid, giving nothing away of the great journey they had taken down from Brazil where they were just 4 months prior.
Happywhale is a platform created by fellow expeditioner, Ted Cheeseman, where anyone can upload their whale images and sightings, and be able to track these whales. IAATO operates a speed reduction geo-fenced area around the peak whale concentrations and times in Antarctic Peninsula. Noble Caledonia Charitable Trust also funded the creation of an online course, created by World Cetacean Alliance, to help captains and skippers globally, of any vessel, spot and avoid strikes "Becoming Whale Aware".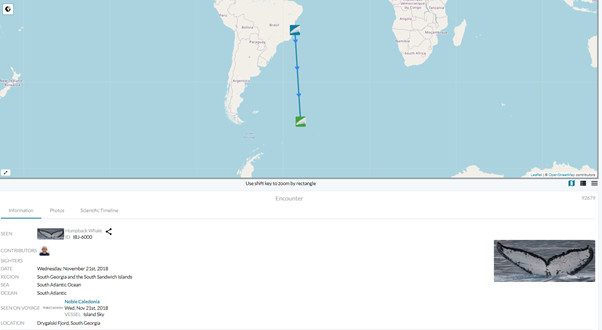 Pam Le Noury
Head of Expedition Operations at Noble Caledonia
Pam is co-author with Jim on the Antarctic Wildlife APP, available for apple and android smartphones.
Further reading:
Log your whale sightings!
You can assist in tracking individual whales throughout our world's oceans. By harnessing the power of millions of whale watching enthusiasts, Happywhale has expanded the knowledge of whale behaviour and distribution. Simply set your cameras to local time, capture photos of whale sightings and upload to www.happywhale.com
Read about the humpback whale super groups that have started to appear off South Africa in the last few years:
https://phys.org/news/2021-10-humpback-whale-super-groups-african-coast.html#
Images: Sue Forbes