Turkish Delights!
Good afternoon everyone. Firstly, a big thank you for all the kind messages after my first column about Syracuse. Some of you were there when it happened, some of you have been there on other occasions (when it ran more smoothly), and some of you hope to be there in the future. I certainly hope to be back!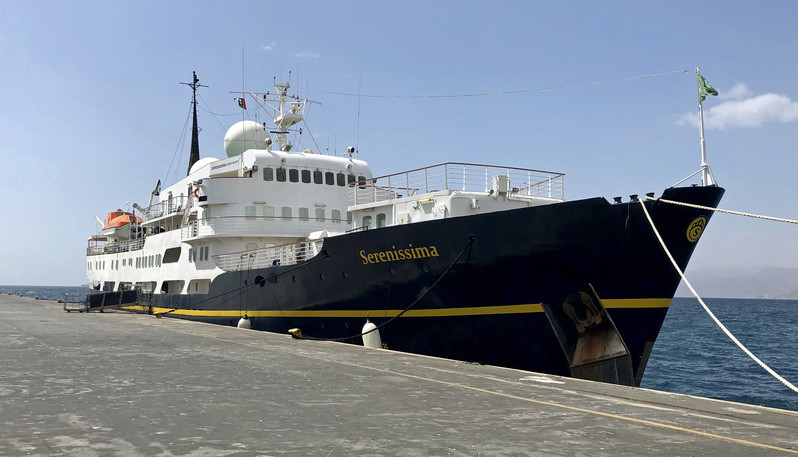 In keeping with the way I started the previous column, I will have a look at where I should be today. I should be on the last of Serenissima's six Mediterranean cruises. We would have started in Valletta, Malta and be heading to Lisbon, Portugal, from where Serenissima would have sailed empty to Plymouth to begin the Northern Europe summer season with a cruise to the Isles of Scilly and the Channel Islands. On the day I write this, Monday 4th May, we should be in Melilla. Now, I would happily write a story about a previous visit to Melilla, but I won't. The main reason being that I have never been there before and was very much looking forward to going! I have always had an interest in geographical anomalies, and was keen to visit the Spanish semi-enclave of Melilla which lies on the North African coast, surrounded by Morocco and the Mediterranean Sea. Many years ago I remember visiting one of the other Spanish semi-enclaves, Ceuta. (For any quiz enthusiasts, the third semi-enclave is Peñón de Vélez de la Gomera. The other Spanish possessions in the area are all islands.) My lasting memory of visiting Ceuta (almost directly opposite Gibraltar) was that we were only there for the morning and left at midday. We then arrived in Tangiers for an afternoon and evening visit at 3pm, and discovered there was bizarrely a two-hour time difference between Ceuta and Tangiers, even though they are only 29 miles apart. Therefore it suddenly became only 1pm and everyone wished they'd had extra helpings at lunch. Melilla will have to wait for another time I'm afraid.
So what to write about instead? Well, I thought I would write about the most recent cruise and how we ended up somewhere that we shouldn't have been, and then had to work out how to get home…
It started smoothly, but perhaps that is because I wasn't there. The cruise began with almost a week enjoying an overland adventure through Jordan. My wonderful Assistant Cruise Director, Reba, was looking after all the passengers along with the resourceful Tour Managers Pierre and Tina. I knew the passengers were in safe hands as all three have incredible experience in the industry. I was informed that the Jordanian guides were excellent and the weather was perfect.
I flew directly to Aqaba to be on the ship when the passengers arrived, and the cruise part of the holiday also began smoothly. We stayed overnight in Aqaba and then departed at lunchtime on 6th March. The following morning we arrived in Safaga. The Egyptian authorities carried out a temperature check on all passengers and crew and everyone passed. With overnight bags at the ready, we headed off on the long drive to Luxor. If you have not been to Luxor before, whether it be from Safaga or on a Nile cruise, then it must be added to your 'to do' list. I have worked for other cruise lines where they do the visit to Luxor as a day-trip from Safaga. A three-hour drive each way makes this something I would not recommend. The Noble Caledonia way? That consists of everyone staying overnight at the Luxor Hilton on the banks of the Nile. I know which I prefer! Our time in Luxor included lunch on a felucca as we crossed the Nile, the Valley of the Kings, the Temple of Hatshepsut, the Colossi of Memnon, an evening Horse and Carriage Ride, the Temple of Luxor, and Karnak. None of the sites were busy and the weather could not have been better. Absolutely perfect conditions. We arrived back in Safaga and were soon on our way up the Red Sea towards Port Suez, the city and harbour at the southern end of the Suez Canal.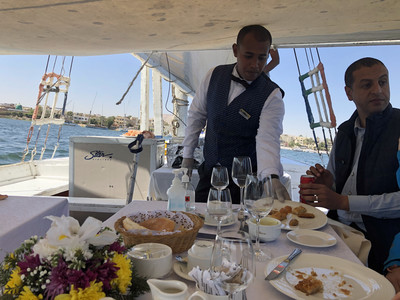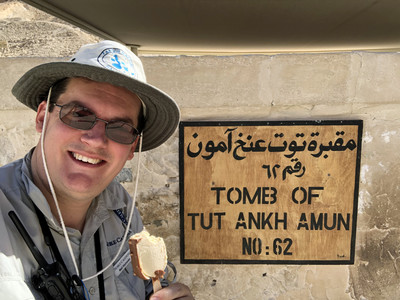 It was when I arrived back at the ship from Luxor that the Captain called me to his office. Whilst I had been in Luxor, the Israeli authorities had updated the list of countries from which they were no longer accepting visitors (unless they had been in quarantine for 14 days before arriving in Israel). The UK was still absent from this list, but Egypt had been added. My heart sank. I had deliberately asked Noble Caledonia to allow me to direct this cruise, and had brought my parents with me, as my mother had said she always wanted to visit the Holy Land. However, when a country says no, there is nothing you can do about it. We had a day at sea arranged for between Safaga and Port Suez, so I had some time to create a Plan B.
Early the next morning, as passengers enjoyed breakfast before basking in the sun or reading in the shade, I had the navigational charts for the Eastern Mediterranean open on the desk adjacent to the Bridge. I had my dividers with me and was working out what we could do. Perhaps this is the rare occasion when my education in mathematics becomes useful, as I try to look at these issues in a logical way, and separate the constants from the variables. The constant was that we had to transit the Suez Canal in our allocated timeslot. Therefore, whatever happened, we would be passing Port Said on the evening of 11th March. The other constant was that the flights home were from Larnaca, Cyprus on 17th March. We were due into Limassol on 16th March. I also took into account that Egypt was the one country that we definitely knew were happy for us to operate in, because we were already there. That meant that I had to find somewhere for us to go on the 12th to 15th inclusive. In light of knowing that Egypt were enthusiastic to help, I worked out that we could have a day at sea (12th) sailing from Port Said to Alexandria. Then have an overnight stop in Alexandria (13th and 14th) and then a day at sea (15th) before arriving in Limassol as scheduled on 16th. I asked the Captain to contact the port agent in Alexandria to see if they'd be willing to accept us, and I spoke with my shore excursion agents to see if they could have coaches and guides dispatched to Alexandria. In addition, we had to check that the necessary security arrangements could all be put in place at short notice. During all of this, we continued to sail up the Red Sea towards Port Suez, and arrived at lunchtime at the anchorage. Passengers had the opportunity to witness a US Task Force sail close by, as the vast aircraft carrier USS Dwight D. Eisenhower transited the Suez Canal and headed out into the Red Sea during the afternoon.
Late afternoon came and I was ready to deliver my Daily Briefing. I had decided that we would spend the two days in Alexandria by being in and around the city area on the first day, visiting places like the Library, Fort, Jewellery Museum, Opera House, Montaza Palace and Garden, Roman Amphitheatre and more. The second day would be a day trip to El Alamein, visiting the War Museum and Commonwealth War Cemetery. The alternative for anyone not wishing to go on the day trip would have been to enjoy more of Alexandria or a transfer to a nearby Mediterranean beach resort. My Egyptian agents, based in Cairo, had confirmed that they could operate this plan, and I was feeling confident. I stood before the passengers and read out the latest communiqué from Israel, stating that we were no longer allowed to visit. I then explained that we would be turning west upon exiting the Suez Canal and having an overnight stay in Alexandria instead, and that we would be including visits as I have outlined above. I was elated to finish my Briefing to a round of applause and thanks for the alternative plans. Not a murmur of dissent. This is one of the joys of working for Noble Caledonia. As long as you explain what the problem is, and what you are going to do as an alternative, then the passengers are understanding because they know you have done all you can to find the best solution for them.
That evening (9th March) we came alongside in Port Suez during dinner. The Egyptian authorities again came on board and carried out a temperature check. All passengers passed but one crew member failed. I was feeling very nervous, but the Hotel Manager, Fernando, was on hand and pointed out that the crew member in question was the soup chef who had come directly from the galley. The authorities agreed to allow him five minutes to cool down, and sure enough he then passed. Phew!
A quiet night alongside the pier in Port Suez and we all headed off for our day trip to Cairo the next morning (10th March). I came on the trip too, with the idea of breaking off at some point to personally visit the offices of our local agents in Cairo to confirm all the arrangements for Alexandria. The day-trip went well, in spite of the best efforts of the Cairo traffic to delay us. The Pyramids, the Sphinx, Khufu ship, buffet lunch, and then the Museum of Egyptian Antiquities. I missed out on the museum as the offices of my local agent were within walking distance. Once there, I went through all the logistics of how the two days would operate, and I ordered a wreath so that we could conduct a short ceremony at El Alamein. Everything was looking rosy and I felt comfortable enough to have a snooze on the coach as we drove back in the darkness to Port Suez. When we arrived, the Captain was keen to depart from the pier. We would only be sailing for about half an hour before we dropped anchor in our allocated position for the following day's northbound convoy. With us safely at anchor he called me to his office. Whilst he was also keen to visit Alexandria, he had had been looking ahead at the weather forecasts. A storm in the central Mediterranean had slightly changed direction and was due to make landfall in Alexandria at the same time that we were due to arrive. He contacted the Harbour Master in Alexandria, and my heart sank (again) as the Harbour Master confirmed that he "expected" to have the port closed to all shipping on the day we were due to arrive. I considered the options. Do we sail that way and hope that they remain open? Having told the passengers we would be going there and done so much work to set it up, I did not want to have to pull the plug. However, at that point the logistical brain takes over from the heart. Imagine if we had a very rough sea sailing there and then could not enter the harbour. Common sense said that we should look at another alternative. We had a little bit of time on our side as we still had a full day of transiting the Suez Canal tomorrow. I stayed up into the early hours of the morning, pouring over navigational charts and guidebooks, and checking the latest news on various countries websites to see what we could do. With my mind still racing through the ideas, I went to my cabin for a few hours' sleep.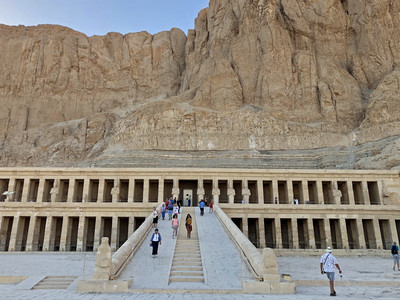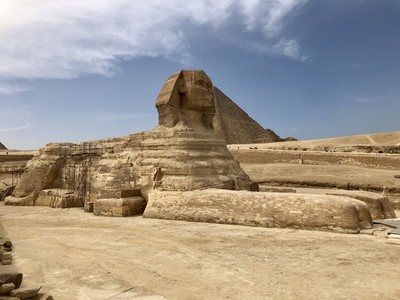 The morning of Wednesday 11th March came and we were already in the Suez Canal by the time I reached the Bridge. I think I was more fascinated than most by this particular transit. I had sailed through the Suez Canal before, particularly memorably in 2006 during the 50th anniversary of 'The Suez Crisis'. However, this was my first time transiting the canal on the new sections that have been recently constructed. The pilot was a charming gentleman, who was clearly very proud of the construction, and I persuaded him to offer me as many interesting facts and figures as he could, and then I relayed them over the public address system to provide a commentary to the passengers. This trick can work with varying degrees of success. I remember doing a Kiel Canal transit many years ago and the German pilots sussed what I was doing and started making up stories to see if I would believe them and repeat them to the passengers. I fell for it completely – but was wiser thereafter!
In between delivering the commentary on the canal, I was furthering my ideas on where we could go now that Alexandria did not look possible. I considered Port Said, but the main attraction in Port Said is going to Cairo, which we had accomplished the day before. The only countries within reach were Israel, Lebanon, Syria, Turkey and Cyprus. Israel was already ruled out, Lebanon was a possibility but we did not have local representation there, Syria was obviously ruled out, Cyprus was in our plans anyway, so that left Turkey. We were making good time through the Suez Canal and so I confirmed with the 2nd Officer that with a single day at sea we could easily reach the southern Turkish coastline. A new plan! 12th day at sea, 13th & 14th two days in Turkey, 15th arrive in Limassol half a day early and continue as scheduled. The office in London were in agreement and so I started liaising with our superb local agent in Turkey, Mr Yasar Karadag. I can only imagine what his face must have been like when I called him and asked if he could have guides and coaches in Antalya in two days' time. However, this being Yasar, he assured me it would be no problem.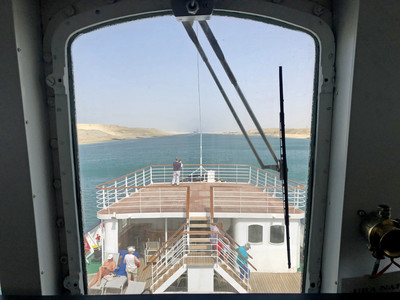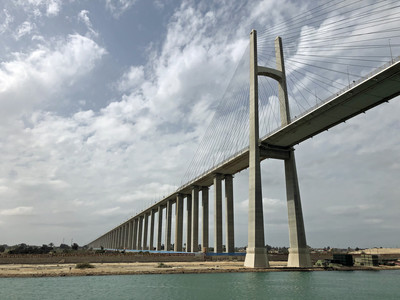 Before we could proceed, I had to ask the Captain to request permission to visit Antalya and Alanya. We would need reassurances that (a) we were allowed to visit, (b) the port facilities would be open and available, and (c) that there was a berth available. The news came back positive and so, in a three-way conversation between the London office, myself and Yasar, it was agreed that we would visit Antalya on 13th and Alanya on 14th. In Antalya, the passengers would be taken to Aspendos and Perge for a morning tour, and then have the option of returning to the ship for lunch, or having a local lunch ashore and continuing to the excellent Antalya Archaeological Museum. In Alanya, the passengers would be offered a trip to Side and Damlatas Cave. With all this information in hand, I called a Briefing of the passengers during a quieter period in the Suez Canal and informed them of the new plan. I also included screenshots from the Meteorological Office of the weather system that was approaching Alexandria, so that they could clearly see that the best option was to head north upon leaving the canal to avoid the storm. Once again, I was in awe of the passengers as they completely accepted and understood. Nothing brings a group of passengers together more than when things are going awry and "we're all in this together".
Our guest lecturer, Ernie Rea, is a superb lecturer. He and his wife, Gaynor, are two of my very best friends and I had been to the Holy Land with them before and had been delighted that they were on this cruise with me. Ernie was Head of Religious Broadcasting at the BBC, and still presents "Beyond Belief" on BBC Radio 4. He is one of those lecturers who has saved all their powerpoint presentations from previous cruises and keeps them to hand, just in case. So it was that I could turn to him and ask if he had anything on Turkey, and he instantly offered to deliver lectures related to St Paul's journey and more. Thank you Ernie!
We arrived in Antalya (13th March) and there was no on board temperature check, but the thermal imaging cameras were all set up in the cruise terminal. Thankfully everyone passed and we headed off to explore Perge and Aspendos. The theatre at Aspendos is incredible. I have visited many Ancient Greek theatres, but this one, completed in the 2nd century AD, could almost have still been in use. It was an occasion when I felt privileged to be there. Those who stayed on for the full-day tour visited the Archaeological Museum and confirmed to me that the rave reviews I had read were completely justified. I had taken part in the morning tour, as I knew that information could change at any time and I wanted to be on board in the afternoon to deal with any more potential alterations. Sure enough, during the afternoon the Cypriot government announced that they were closing all tourist sites. This threw a very large spanner into our works. There was not really much point in going to Cyprus if, once you are there, you cannot do anything. I spoke with our Cypriot agents and they confirmed that we would still be allowed to disembark the passengers in Larnaca in order to catch their flights on 17th March. I also knew that the ship had supplies waiting on the quayside in Limassol. My thinking became that, as we knew we were welcome in Turkey and we had coaches and guides to hand, we should make the most of our time here and then head over to Cyprus to simply collect the supplies and then disembark the passengers for their flights home. Ideally, I therefore wanted to extend our stay in Turkey by another day. That would mean we would be in Turkey from 13th to 15th inclusive, then arrive into Limassol on the afternoon of 16th to collect the supplies, and finally disembark in Larnaca on 17th as scheduled. My first thought was that we could visit Fethiye. The port is in a delightful location, not far from the most photographed beach in Turkey, Ölüdeniz Beach with its turquoise waters and white sand. I had twenty minutes before I was due to deliver the Daily Briefing to the passengers, and I was still standing in the Cruise Terminal on the telephone to the Harbour Master in Fethiye. He was adamant that we would have to anchor there and use a local tender to bring the passengers ashore. On previous visits we had used the berth. While I would normally be happy to utilise a local tender, I had learnt that the tender in question could only carry 20 people and would take 15-20 minutes each way. By my reckoning, you would have to bring the first passengers back on board just as the last passengers were heading ashore! I could see the passengers all mustered in the Andrea Lounge, waiting for me, so I had to say "thank you but no thank you" to Fethiye and agreed that we would have two days in Alanya instead. I ventured back up the gangway and informed the passengers that our visit to Cyprus would now be shortened, but that we had received assurances that we could still disembark in Larnaca, and that we would have an extra day in Alanya.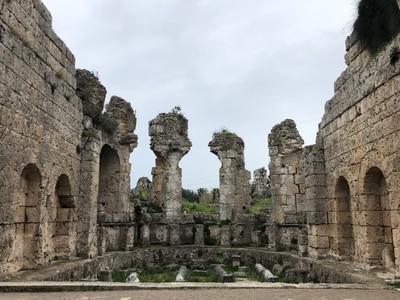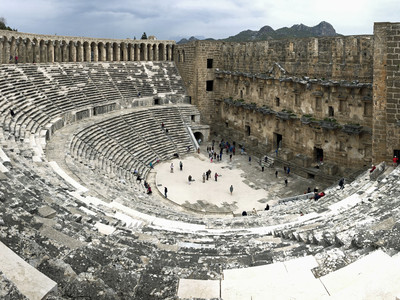 We sailed that evening from Antalya and arrived the next morning in Alanya. Alanya has to be one of the most beautiful berthing locations in the Mediterranean. The castellated peninsula adjacent to the ship is superbly illuminated in the evening, and the town is a very pleasant resort. You could easily mistake it for one of the more famous Riviera in the western Mediterranean. The passengers headed out to Side and Damlatas Cave, whilst I stayed behind to work out a plan for our second day in Alanya, but discovered that the Cypriot government had issued a new decree that they were closing their borders to all visitors, regardless of their nationality. I urgently called the port agent in Cyprus, who only the day before had given me reassurances that it would be no problem to disembark the passengers in Larnaca. He was painfully honest when he confirmed that he no longer knew what was going on, and that he was having difficulty finding out. As I write this now, I can vividly recall standing on the starboard side of deck five and telephoning Paul Mildon, Head of Sea Cruising at Noble Caledonia, and saying that our luck had run out, and that we needed to look at repatriating the passengers from Turkey. With Israel and Cyprus now closed, I did not want to risk Turkey closing their borders as well. A hugely frustrating element was that the airlines would not refund or exchange the flights we had booked from Larnaca. They were offering to change the date, but not the airport. That is not much help when you cannot access the country! The full force of the London office kicked-in to action. Our Turkish agent, Yasar, flew from Istanbul to Antalya to personally oversee the bookings of flights and try to ensure everyone was accommodated. Reba worked very hard to help arrange flights for the half dozen Australian passengers we had on board. The passengers, meanwhile, were enjoying visiting Side, Damlatas Cave and having an afternoon stroll around the fortifications of Alanya. Just before dinner, I had the Daily Briefing in the lounge and made sure all passengers were present. I delivered the news that Cyprus had now closed its borders to all visitors and therefore we would have to end the cruise in Turkey. By this stage, with incredible efficiency on the part of our agent, my team on board, and the London office, I was able to tell the passengers that tomorrow there would be coaches laid on to transfer them from the ship to Antalya airport. Then they would fly to Istanbul. At Istanbul they would be met by more staff from the local agency and taken to a luxurious hotel overlooking the Bosphorus and the Golden Horn. A full dinner would be provided, and then the next morning, after breakfast, they would be taken back to Istanbul Airport for their flights to London. The passengers were staggered across various flights, as we took every available seat to ensure we could accommodate everyone. Reba, Tina, Pierre and I were also staggered across the groups to ensure that everyone was accompanied on their trip. So it was that, at the end of my Briefing, the full potential implications of the pandemic hit me in terms of when we would be able to operate again. However, the 'Dunkirk Spirit' among the passengers was wonderful and they turned their unexpectedly last night on board into something of a carnival atmosphere. A few passengers had the misfortune of having to disembark at 6am the next morning, but the Filipino restaurant staff and galley team were their usual fabulous selves and opened at 5am so that they had a good breakfast before saying goodbye.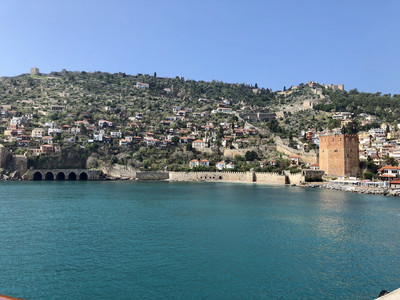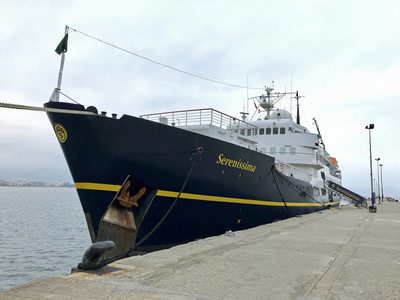 The staggered departure from Alanya, flights from Antalya to Istanbul, and then transfer to the hotel in Istanbul worked out perfectly, and we all gathered for dinner in the Istanbul hotel. I said a few words of thank you to everyone for their understanding, and also to my team for their hard work. The next day we had our staggered departures back to Istanbul airport and then our flights to London or Manchester. After landing at Heathrow, Reba and I stood at the baggage reclaim for our flight and waited until every passenger had collected all their luggage. I said goodbye to my parents and then wandered through the eerily deserted airport to catch the Piccadilly Line to St Pancras. Knowing that I don't have a piano at home, I played the piano on the concourse at St Pancras as I had a while to wait for my train to Sandling Junction. And finally, at 10pm on 16th March, I was home. I had only been away for 13 days, and yet it felt like an eternity. I wasn't due to have come home until 7th May, but here I am. The next day I went to my local supermarket. In those 13 days it had gone from a normal shop to an empty wilderness devoid of anything I needed. I could only be grateful for the toilet roll I had relocated from my hotel bathroom in Istanbul to my bathroom in Hythe. I also visited the Post Office and sent the Noble Caledonia Charitable Trust Collection from the Sunday Service to the office, along with all the necessary paperwork from the cruise. I included a card to everyone at the office to thank them for their help and to wish them all well. Whilst I was relieved to have repatriated our passengers from Serenissima, I knew that there was still much work to be done for our other clients who were overseas, and was delighted when I later read that we had everyone home.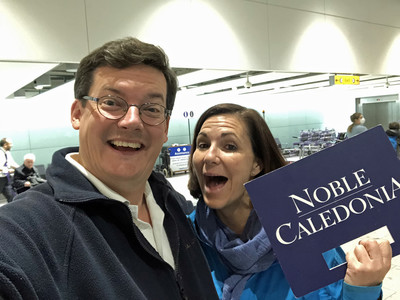 I hope that has been an interesting insight into the work of a Cruise Director coming into the pandemic. The only vague comparison could be when the Icelandic ash cloud disrupted air travel, but that now feels trivial in comparison. I was very fortunate on this occasion to have Reba, Tina, Pierre, the excellent crew of the Serenissima, the wonderful support of the London office, and the sheer determination of our local Turkish agent to get the job done. Once again, thank you ever so much if you've managed to stay with me until the end of this column. I continue to wish you and your loved ones the best of health and look forward to our next adventure – wherever and whenever it may be!