The Search for the Norwegian Blue Parrot
Good afternoon everyone! I must apologise to Laura that this blog is a little later than usual. As I write it is Thursday afternoon on 10th September. I've been delivering for the last eight consecutive days, but have been rewarded with today and tomorrow off. It has also meant I am a little behind in replying to all your lovely emails, so I apologise to all who've written in – I will get round to responding very soon!
Since I last wrote I have not been up to too much. Other than the delivery runs, the only other moment of doing something different was on Sunday when I volunteered during the day at the railway's Bus Rally. I was on the evening shift and somehow managed to keep going! I had never been to a bus rally before and was interested to attend one. I was quite alarmed to arrive at New Romney at 8.15am and there not be a single bus in sight. I had presumed they would all arrive the day before. However, by 9.30am the car park was filling up with vintage buses. They are clearly the pride and joy of their owners. The Southdown buses caught my eye. They operated in Sussex up until 1989, so I can remember their colour scheme from my childhood. Naturally, it would normally have been a much busier event, but numbers were limited to comply with Covid-19 regulations. Passengers had to board a train at Hythe, travel the half hour to New Romney, have an hour to look around, and then depart again just before the next train arrived. It worked like clockwork and the weather was marvellous. I'm sure I'm not the only one who feels that these little achievements in doing something 'normal', but in a safe and secure manner, all help to boost our morale.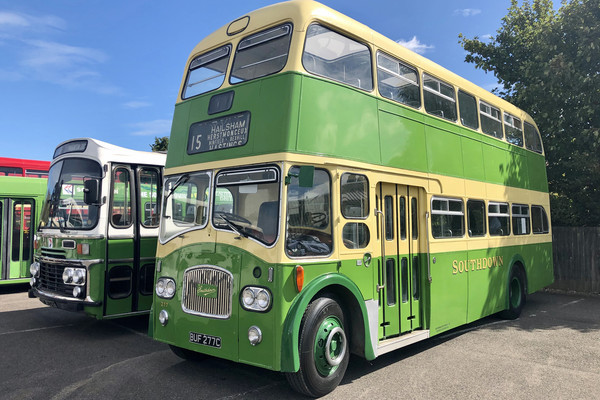 A classic Southdown bus at the Bus Rally

Most of my deliveries this past week have seen me driving over to Royal Tunbridge Wells from Ashford and back again each day. It really is quite a vast area that we cover. The favourite route for all the drivers is Romney Marsh. The roads are quiet, there is usually somewhere to park, and the delivery drops are never too far apart from each other. Another bonus is that there are public toilets readily available! On one occasion this week I was surprised to see Dungeness Railway Station on my list, especially as the delivery slot was at a time when the last train would have left 2½ hours before. It turned out to be a family who have rented one of the old fishermen's cottages and had arranged for a delivery upon their arrival. The only postcode they knew was that of the railway station so they decided to meet me there. On my continuing quest to take photos of my truck in interesting locations, this week's entry is with the Old Lighthouse at Dungeness. The lighthouse would still be in use today, but when the nearby first nuclear power station was built, the lighthouse keeper pointed out that it blocked some of the light's beam. Therefore, Trinity House ended up building a new one about 300 yards further east!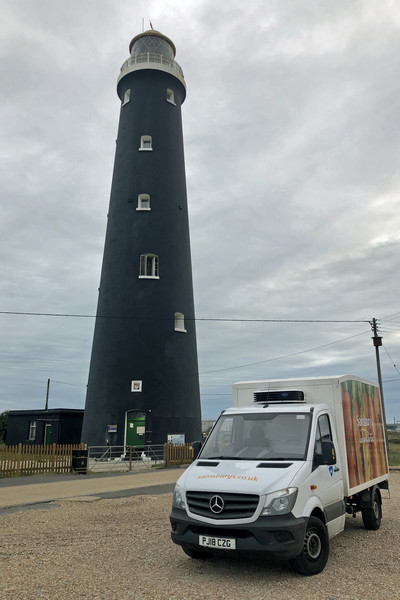 Posing with my truck whilst on a delivery to Dungeness

With a day off work today, and not volunteering, I've tried to make the most of it. I really do take my hat off to the people I work with who also balance bringing up a family. Today was the first opportunity I've had in a week to do the washing and hang it on the line and all such things. Thankfully it's a beautiful late summer day here on the Kent coast. I walked into Hythe town centre this afternoon, and by pure chance, I was forced to pause at the foot crossing as 'Green Goddess' headed out of Hythe station with the 2.30pm for Dungeness. Tomorrow I'll be volunteering at Hythe station so I popped in to check when I need to be on duty. One of the possibly annoying habits I have is that I like to take the time to meander and see where I end up. I had the goal today of buying and sending a birthday card, but, for example, rather than take the direct route into town, it's good to divert and stroll along the canal towpath and appreciate the surroundings. Also, whilst in the town, you spot things you hadn't noticed before. I have used the post office many times, but hadn't previously read the faded brass plaque on the wall outside. It reads, "Sir Francis Pettit Smith, 1808-74, was born here. Inventor of the Screw Propeller". The inscription goes on to say, "In 1836 Frances Pettit Smith patented the screw propeller which was used in the SS Archimedes in 1839. Its immediate success prompted designers to use it in more important ships, such as the Great Britain, built in dry dock at Bristol (1843), constructed entirely of iron and designed by I K Brunel, whose intention originally was to make her a paddle steamer, but he fitted screw machinery. Later, H.M. Navy was immensely grateful for the Screw Propeller which offered increased manoeuvrability and was less vulnerable in warfare." I thought I would research Pettit Smith as, with Hythe being a military town, I presumed his father must have been a Master Mariner who had influenced his son. I was wrong, given the building upon which the plaque is located, perhaps I should have guessed that his father was the local postmaster.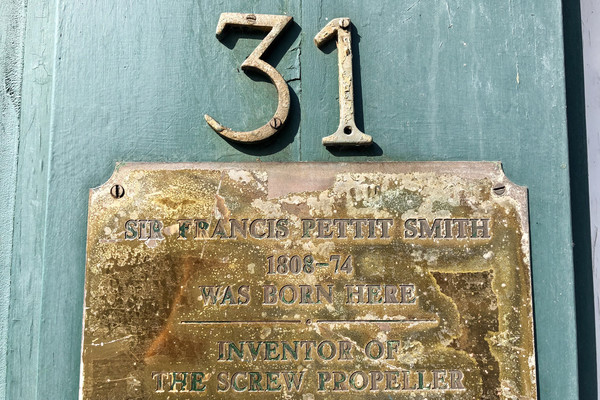 The plaque marking the birthplace of Sir Frances Pettit Smith
The thought did occur to me of what I would give right now to have one of Pettit Smith's inventions turning again on one of our ships.
Going back more than two hundred years prior to his invention, this month marks the 400th anniversary of the 'Mayflower' sailing from Plymouth to, er, Plymouth! How lucky the pilgrims were to land in a place that had the same name as that from whence they came. Today should have marked the end of my own year-long Plymouth to Plymouth journey. Exactly a year ago I disembarked 'Serenissima' in Plymouth after the cruise from Oban. Today, I should be embarking 'Hebridean Sky' in Plymouth to take her down the Atlantic coast to Gran Canaria. No one could have predicted what a difference a year would make, but I'm so grateful that Noble Caledonia, in terms of the staff, crews and passengers, epitomise the "keep calm and carry on" mantra in the knowledge that we will be back some sunny day.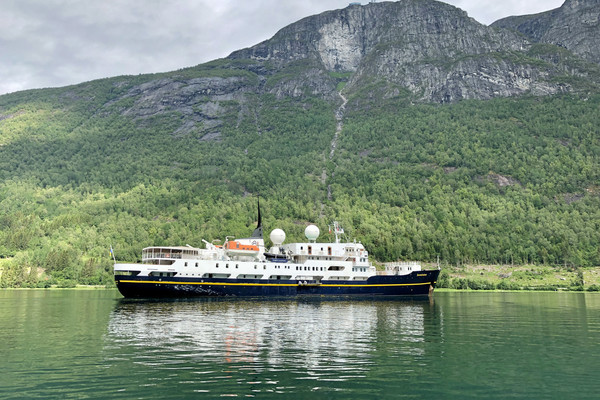 'Serenissima' in Nordfjord with the Loen Skylift in the background
Last week I had started to talk about the Norwegian fjords, and promised to continue this week. I was waxing lyrical about Olden. It is fairly rare that we dock in Olden in recent years. Sadly, the regular trip from Olden to the Briksdal Glacier is not quite what it once was. I have photos somewhere of me standing by the glacier in 2001 on that first cruise, and then in more recent years you can just about see a slither of ice at the top of the crevice. All the tourists are buying postcards to send to their friends and family and, sadly, the postcards offer more of a historical view than the current one. I remember looking in the souvenir shop at Olden and they were selling bottles of Olden Glacial Water. The label mentioned that it had fallen as rain a couple of thousand years ago and been filtered through various rocks and was incredibly pure. It then tickled me to read "best before end of October". I guess they were lucky to find it in time! Instead of Olden, we tend to drop anchor (or drift, given the depth of the fjords) in nearby Loen. Even though it is literally "round the corner" from Olden, there is much more to see and do. To start off with, there is this view…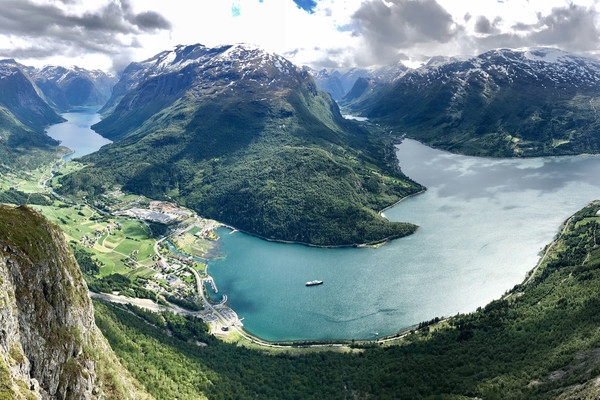 An overview of Middle Earth from the top of the Loen sky lift
If you look very carefully, you can just about make out 'Serenissima' in the fjord below. You may be disappointed to learn that I did not hike up there to take the photo. One of the main reasons for anchoring off Loen is the purpose-built zodiac landing stage, and the Loen Skylift. Opened in 2017 by HM Queen Sonja, it transports nearly 100,000 visitors each year to the summit of Mount Hoven. The cable car climbs 1,011 metres (3,317ft) on its journey – and the view, as you can see, is spectacular. You can make out Olden straight ahead of you, and it really does feel like you are standing on top of the world. On the occasion of my last visit, I had had to buy the passengers' tickets for the Skylift in advance. Two passengers did not wish to go to the summit, but then I discovered that the tickets were non-refundable. I took a copy of the crew list, closed my eyes, and stuck two pins in it and gave the tickets to the crew members. Lourdes and Nina were very happy to have the chance to do something that they wouldn't normally be able to. I am forever on the lookout for ways to find interesting things for the crew to participate in. It really is a case of a happy crew makes a happy ship.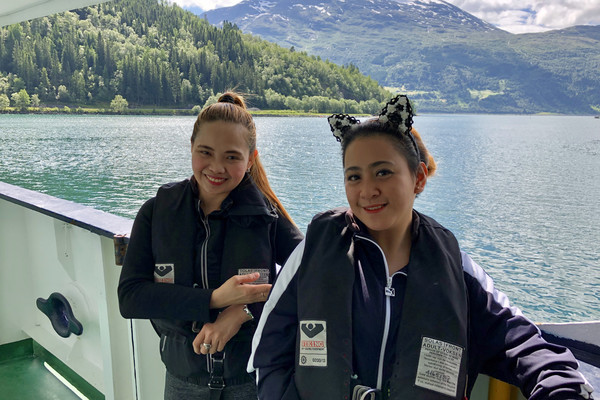 Housekeeper Lourdes and Bar Waitress Nina prepare to head ashore to go up the Loen Skylift

In addition to the skylift, Loen offers the opportunity to view a glacier that is much more visible than that at Briskdal, and far less crowded. We are often the only visitors as we meander along the gravel path, through the wood, to reach the clearing and admire the glacier arm stretching down from the mountain top. As with most Norwegian fjord excursions, there are waffles provided at some point. In Loen, this happens on the excursion to view the glacier as half the group usually take a local sightseeing boat along a lake, whilst the other half use the coach, and then vice versa for the return. The halfway point is a delightful lakeside restaurant with a huge pile of waffles that we all bravely battle through.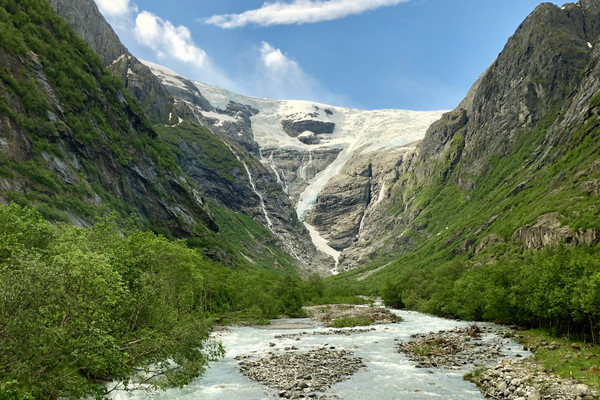 The Loen Glacier as seen from the wooded trail

Thinking about the west coast of Norway (to be fair, they don't have much of an east coast), another favourite spot is when we spend the day in the Lofoten Islands. One end of the day will be at Svolvær, whilst the other end may be at Reine or Å. The latter is, of course, one of my favourite places, purely because I don't know anywhere else that has a name that is a single letter.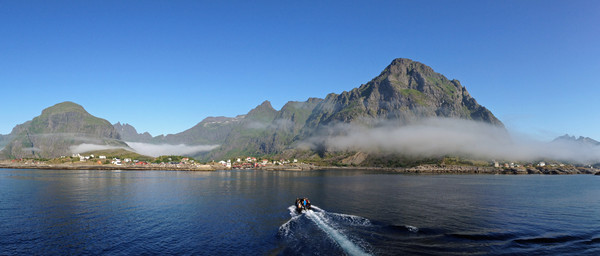 Looking out on Å as we send the first zodiac ashore
The Lofoten Islands are well inside the Arctic Circle, and if you are sailing northbound, it really is the first place where you can truly feel that you are in the Arctic. I have experienced some awful weather there, but I have also experienced stunning summer days. On 15th June last year I took part in the Lofoten excursion and I felt very fortunate to have chosen to wear shorts. The weather could not have been better. We called in at a variety of places as we made our way along the main road that runs the length of the islands – connecting the islands and settlements by an array of cleverly engineered tunnels and bridges. The Lofoten Viking Museum provided us with a traditional Viking lunch. I was nervous to read that lunch would be one bowl of soup and piece of bread. I needn't have worried. The soup was a delicious, thick Viking-style soup, served hot from the cauldron above the crackling fire in the centre of the reconstructed longhouse. Combined with the doorstop of bread, it was more than enough to keep us going until afternoon tea. All the places we visited on that excursion were interesting, but it was the fact that the view from the coach could easily have been an excursion in itself that made it extra special.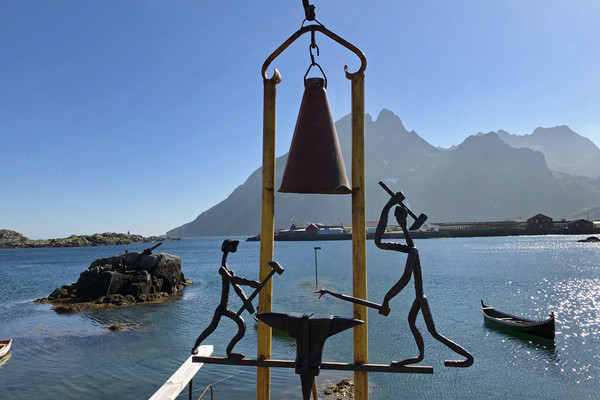 The view from the Blacksmith's workshop in the Lofoten archipelago
There are so many locations in Norway I could write about, but my mind is tending towards the Arctic Circle now. When we are heading northbound, there is a palpable sense of excitement as we cross the Arctic Circle. Technically, the circle moves ever so slightly each year, but we ignore that and admire the globe monument that has been built on Vikingen Island to mark the circle. Everyone holds on to the side of the ship as we feel the bump as we cross the line and head into the Arctic. I normally offer a shot of Aquavit all round, but I'm not sure how much of it ends up in the sea – certainly a drink you need to consume quickly rather than sip!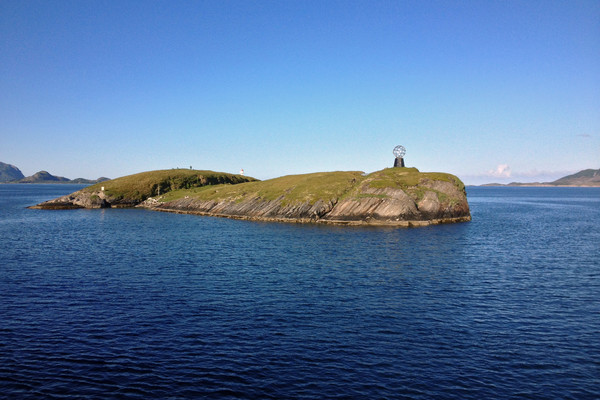 Sailing close by the Arctic Circle Monument on Vikingen Island
Once inside the Arctic Circle, if we have time, it is always a treat to attempt a landing at the Svartisen Glacier. Timing is such that it can only normally be attempted whilst on a northbound route, and if conditions are perfect. We also need to have the Norwegian pilots on side to allow us to break our passage. By chance, our call invariably falls on the occasion of Captain's Farewell Dinner. By this stage of the cruise, our passengers are all intrepid explorers. On my most recent visit, back on 15th June last year, we held the Captain's Farewell Dinner and, with the Captain skipping dessert to be on the Bridge, we were ready with the zodiacs to take passengers ashore once they had finished their dinner. I didn't have time to change, so once I had safely seen the passengers off at the gangway and on to their zodiacs, I placed my zodiac lifejacket over my white suit and headed to shore. Time was of the essence for this unscheduled stop, and so I borrowed a nearby bicycle and caught up with the passengers at the glacial lake. I persuaded my colleague, Becky Hodgkiss, to record a short video segment of me, which I'll include here. Not surprisingly, the video did not make it into any official Noble Caledonia promotional material, but my parents enjoyed seeing it!
Viewing Svartisen Glacier in my unique style
With everybody back on board we could continue our passage northwards towards our ultimate destination of Tromsø. Speaking of Becky, that just reminded me of a lovely moment on the ship. We were conducting the regular staff introductions and Becky introduced herself as the ornithologist for the cruise. She explained that, with parents working abroad, she had been brought up in a variety of locations which had helped to develop her passion for wildlife. Becky then asked the passengers which bird species they were most hoping to see on their Norwegian cruise. The usual answers of sea eagles, fulmars, gannets, etc came back. Then it happened. "I really want to see the Norwegian Blue Parrot", said a voice from the audience. "A parrot?" replied Becky. "Yes, it's got beautiful plumage", came the response. The audience started to giggle, but were soon in hysterics when they realised that poor Becky wasn't aware of the Monty Python sketch. It took about four days before someone finally told her – just long enough for her to have been through every bird book we had in the library to search for the elusive parrot.
With that, it brings me to the limit for this week's blog. I hope you have enjoyed reading it and it has either brought back happy Norwegian memories, or created a desire for you to make your own. In the meantime, enjoy your weekend and all the best for now.