Stories of Stanley
Hello everyone. As always, I hope everyone is doing well. The news that the vaccine will now be offered to more people was certainly something of a fillip to me. I have received emails from some passengers who are already fully vaccinated, and I can tell they are raring to go on their travels again. You won't be surprised to know that all of us crew are raring to go too, but naturally we have to take things steadily, safely and securely. However, I allow myself to continue to daydream about the day we can start again. When this pandemic began, I thought it would take until the end of 2020 to be sorted out. Sadly, I budgeted accordingly, and hence I have recently been pushing my bosses for as much overtime as possible. A result of that is that you might pick up a shift that is rather unexpected. Yesterday, for example, I found myself driving 105½ miles for just eight deliveries. Naturally, I started and ended in Ashford, but en route I took in Bethersden, Royal Tunbridge Wells, Bexhill-on-Sea, St Leonards-on-Sea and Hastings. I've never delivered to the latter three before. I felt quite rejuvenated to be taking the truck to territory that is relatively uncharted for us Ashford-based drivers. As I drove along Hastings seafront last night, with their palm trees swaying in the wind, I could imagine myself being in Central America right now (where I was originally scheduled to be). Admittedly I had to turn up the heating to the maximum in the truck and close the windows to the bitterly cold breeze to achieve this effect, but for that brief moment I had a feeling of joyous escapism.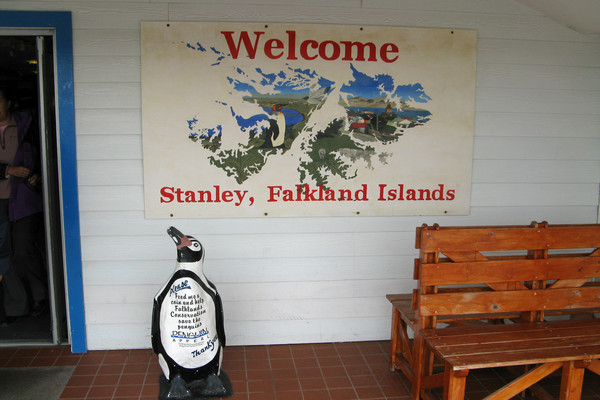 A friendly welcome to Stanley
Last week I wrote about the Falkland Islands, but ran out of space to say much about Stanley. The first things I learnt about Stanley upon arriving there, is that it is called Stanley. I made a comment to the local official about how I had always wanted to visit Port Stanley, and the official replied that they had never been there. To be fair, the official had a twinkle in his eye, and then said that both names are accepted but everyone on the island just uses "Stanley". Stanley itself is located east to west along a bay. The bay has quite a narrow entrance, and only ships of similar size to those used by Noble Caledonia can 'come alongside' in Stanley. Larger vessels have to anchor out in the distant bays. The land is low-lying around these bays, and can make tendering ashore very tricky for these larger ships. Another reason why, to have the best chance of landing at Stanley, smaller ships are definitely better! The small Stanley Airport (to add to the confusion, its official title is "Port Stanley Airport") is on the left as you make the approach to Stanley, upon Cape Pembroke. This was the only airport with a paved runway in the Falkland Islands at the time of the conflict. Famously, the runway was bombed during Operation Black Buck by RAF Vulcans operating from Ascension Island. The bombing raids, involving a 6,600 nautical miles, and 16 hours duration, return journey were then the longest-range bombing raids in history. After the conflict, RAF Mount Pleasant was opened in 1985 and Port Stanley Airport is now used for internal flights within the Falkland Islands, and for use by the British Antarctic Survey.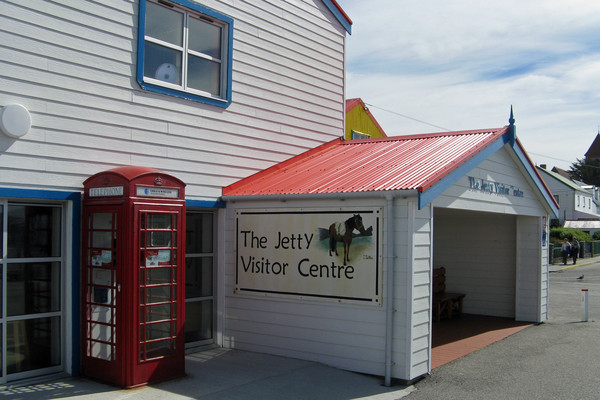 The Jetty Visitor Centre, complete with red telephone box.
Once inside the more sheltered bay, you can usually come alongside and the local authorities provide an old Leyland bus to transport you from the jetty to the town. On the occasion of the Governor's visit, as written about in the previous blog, we had an extended stay in Stanley. One of the main factors of Stanley's economy, until the opening of the Panama Canal, was the repairing of ships that had faced the wrath of the Straits of Magellan. Naturally, once the canal opened, this trade lessened significantly, but there are still ships that need to traverse the straits and end up having to call in to Stanley. Back in February 2009, I was on one of those ships. During our passage from South Georgia to Stanley, we had sailed through a formidable storm. The wind was not so much the issue, but rather the swell. Once the swell was combined with the wind, then occasional large "rogue" waves would appear.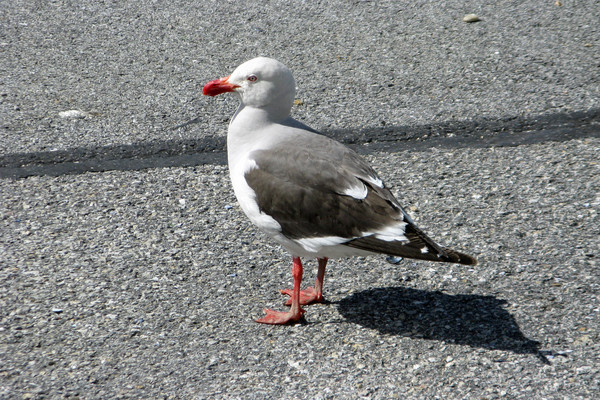 A dolphin gull, native to the Falkland Islands and southern Argentina and Chile. I remember taking the photo and thinking that it was a seagull. I was soon corrected.
Having battled through the storm, we arrived in Stanley on time, and it was decided to make a thorough check to ensure all was well. I can recall on many occasions, during a Staff Captain's ship inspection, being told to ensure that anything that could move must be securely fixed at all times. Fortunately, that was the case with us. Nothing had happened that would threaten the ship's seaworthiness, but it was still very useful to be able to call upon the good people of Stanley to assist us with any work that needed doing. As you might expect, the one area that did suffer was the bar, as bottles and glasses had fallen over. I am giggling as I write this because I remember our Turkish bar manager asking his Filipino barman if he could count the number of broken glasses. The barman looked at him incredulously and suggested that, perhaps, it might be easier to simply count the glasses that were still intact. The Bar Manager eventually agreed that that might be the better idea.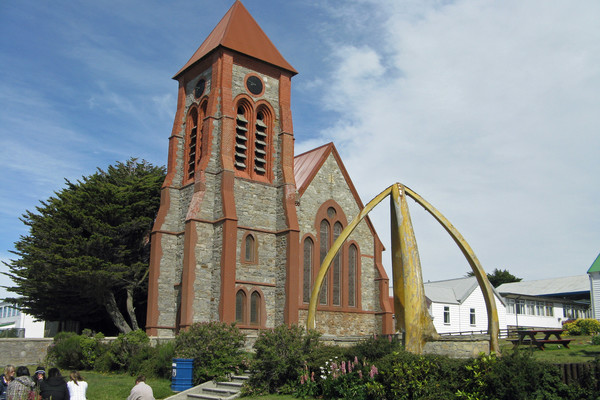 Christ Church Cathedral and the Whalebone Arch.
We ended up spending 36 hours in Stanley, and I will always be grateful to the way the local people happily joined forces with our crew to make sure everything ran smoothly. We also had the visit of the Governor, as previously noted, and it provided a perfect moment to offer him our thanks and request that they be extended to all the people of the Falkland Islands for their kind hospitality. We had also invited one of the General Practitioners at Stanley's King Edward VII Memorial Hospital to come on board. The reason for this invitation was that the GP's brother was one of our Expedition Team members, and they had not seen each other for quite a few years. I'll never forget the look of surprise on our ornithologist's face when, the day before we arrived, he informed me that his brother would not be in Stanley. Communications to the Falkland Islands were still a little ropey back in 2009, and the message of our expedition team member's arrival hadn't got through. Our poor chap then discovered that his brother had chosen the fortnight that coincided with our two visits to Stanley, to go on holiday to Chile! There was a happy ending though, as our ornithologist has been back many times since, and communications are much more reliable now.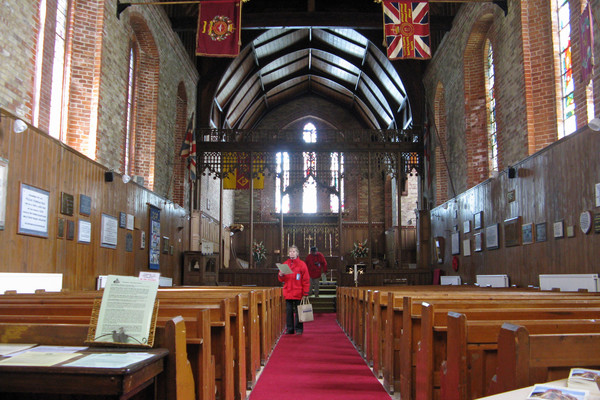 Inside Christ Church Cathedral.
Going back to when we visited Stanley in fine weather a few weeks before, I really found the place to be interesting. As can be seen in the above two photos, the Anglican Cathedral, with the whalebone arch outside, is definitely on the must-see list. I was reminded that whenever you go to Tromsø in Arctic Norway, almost everywhere seems to have "the northernmost" as a prefix. In Stanley, there are similar claims to being "the southernmost". Certainly, Christ Church Cathedral is the southernmost Anglican cathedral in the world. The cathedral was built using local brick and stone, and replaced an earlier church on the same site. Consecrated in 1892, the cathedral really does stand out as one of the few buildings built of brick and stone in Stanley. The whalebone arch comprises the jaws of two blue whales, and was erected in 1933 to commemorate the centenary of British rule in the Falkland Islands. It is also a nod to the fact that, as well as ship repairs, Stanley became an important base for whaling and sealing operations in the South Atlantic. Whilst such practices are now rightly seen as abhorrent, I feel it is important that the whale bone arch acts as a reminder to what happened in the past, and lessons can be learnt from it.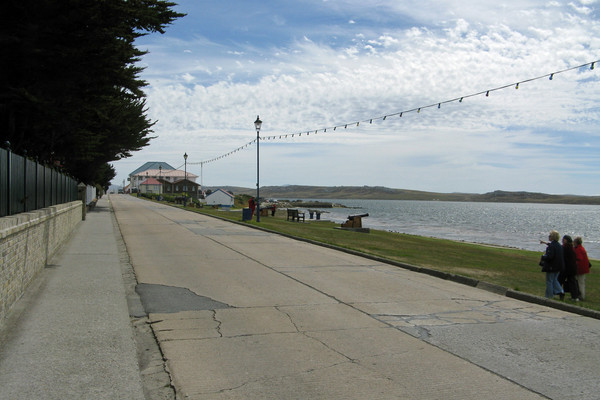 Promenading in Stanley, strolling along Ross Road towards the centre of the town.
The visitor centre was bustling with our passengers, and the enthusiasm with which the locals were offering ideas on what to do and where to go was encouraging. I can remember many people saying how they'd like to spend longer in Stanley and the Falklands in general, but it's not a particularly easy place to get to and from. On the same road as Christ Church Cathedral, passengers visited the wooden St Mary's Catholic Church. The four pubs around Stanley did a healthy trade, as the passengers were keen to help the local economy. Quite a few of the crew lent a hand as well, with me almost certainly being one of them. I think it was more for the novelty value than anything. It had been quite a few months since we'd last been in a British pub, so we took the opportunity when it arose. The shuttle bus between the ship and the town also doubled-up as an orientation so that passengers would know which way to head. During the previous year, I had been to Anfield football stadium in Liverpool with my best friend from university, Simon. He was quite baffled that I had wanted to take a photo of the flagpole outside the Kop end. The reason is that the flagpole is the topmast from the SS Great Eastern. At the time, Everton FC owned Anfield, and were looking for a new flagpole, when the SS Great Eastern was being scrapped. Everton later moved out of Anfield and into their new ground at nearby Goodison Park, whilst a new team took over the Anfield stadium.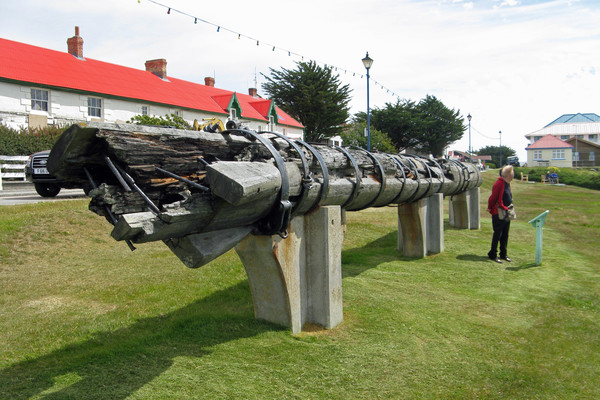 The Mizzen Mast of SS Great Britain
Having seen one of the only surviving remnants of the SS Great Eastern, I was keen to see part of SS Great Britain, which I had been told was on display on the waterfront in Stanley. Sure enough, whilst strolling along Ross Road, I came across what I was looking for. The SS Great Britain (1843) was the first deep sea iron screw-propelled steam ship. She was designed and built at Bristol by Brunel. In 1882 her engines were removed and she became a sailing ship. She came to Stanley in 1886 and was used as a floating warehouse until 1937 when she was towed away and abandoned in Sparrow Cove. She was salvaged in 1969 and carried back to Bristol on a barge where she is displayed in her building dock. The mizzen mast is the third mast (next to the stern). I had taken myself round the SS Great Britain when I was last in Bristol, having watched Brighton win at Bristol Rovers the evening before. There can't be too many people who have walked around the ship in Bristol and touched her original mizzen mast in Stanley!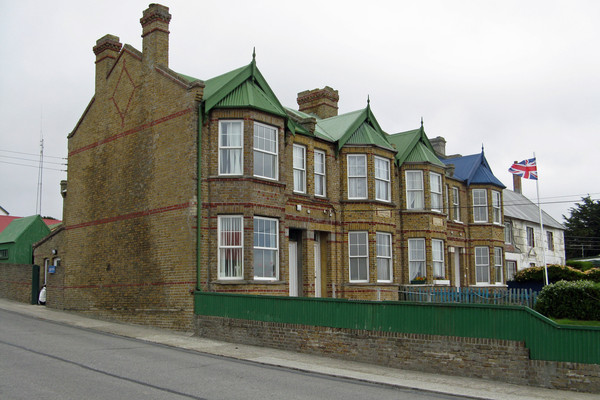 Jubilee Villas in Stanley
I don't know why this row of terraced houses appealed to me. I think it might be that they were the only row of Victorian-style terraced houses that I found in Stanley. The four houses are called Jubilee Villas. They were built in 1887 to commemorate Queen Victoria's Golden Jubilee and make a wonderfully curious contrast to the rest of Stanley's architecture. I remember thinking that they looked very substantial, and that if I were to ever live in the Falkland Islands, then I would wait until one of them came on the market. I'm not sure how easy it would be to transport a piano to Stanley though – and whether there is a piano tuner available once it arrives there?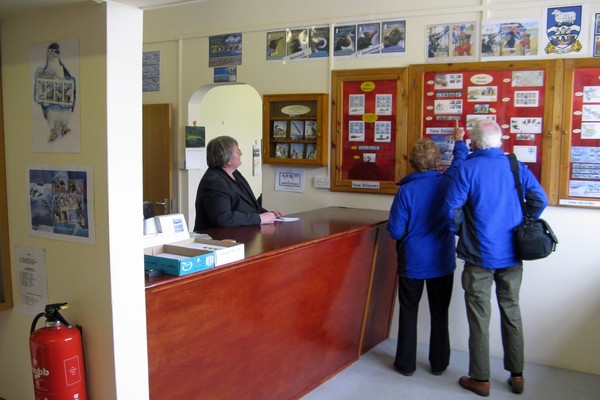 Inside the Philatelic Bureau section of Stanley Post Office.

The philatelic bureau inside the post office was doing a roaring trade during our visit. Many passengers were buying postcards as soon as they arrived and had address labels pre-printed in order to send something back to the UK from this remote British outpost. As you can see here, the postmistress was most helpful and was pointing out the various first-day covers and such things that were available. I've no doubt that my parents have a Falkland Islands postcard from me in their vast collection at home.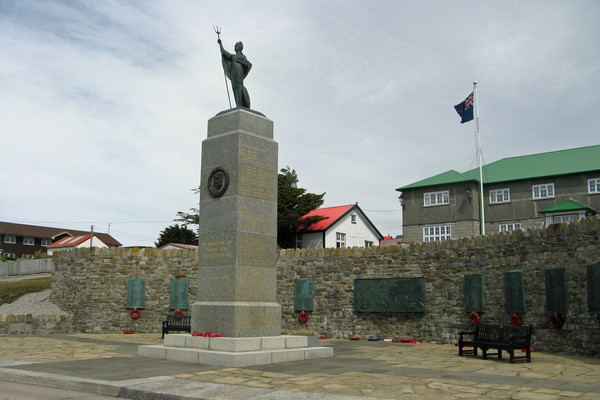 The 1982 Liberation Memorial.
And finally… we all took a moment to visit the 1982 Liberation Memorial. The memorial is situated so that it looks out over Stanley harbour. The Falkland Islanders themselves paid for the memorial, which was unveiled on the second anniversary of the end of the conflict. The names of the 255 British military personnel who died during the conflict are listed on ten plaques behind the memorial, divided into the relevant service branches. I have attended many on board lectures regarding the Falklands Conflict, and each time I learn something new. The entire logistical operation is hard to believe, before you even start to think about the human cost. Each time I have taken a ship to Stanley, there has always been someone on board who either fought in the Falklands Conflict, or is a relative of someone who did, and I feel truly honoured when they share their story with me. Occasionally, said person has been willing to talk about it as part of an interview with me in front of their fellow passengers. At the same time, I am pleased for the people of Stanley that they are doing their utmost to respectfully move on and build their tourism industry. In October last year, the final land mine on the island was cleared. A celebratory event took place in November at Yorke Bay, the final area to be cleared, and the last recovered mines were ceremoniously detonated. I sincerely hope to be back one day, and I hope it will be on board a joyous Noble Caledonia cruise. All photos were taken by me on 14th January 2009.