M
emories of Prince Philip and St Vincent
Good evening everyone! It's currently Monday 12th April 2021 and I am patiently sat here in front of the computer, with a couple of hours until Brighton kick-off against Everton. In normal times, if I was on shore leave, I would have parked my car and caught the train to Falmer, changing at Hampden Park on the outskirts of Eastbourne, from Ham Street railway station. (Strangely, the railway station is called "Ham Street", but the town is called "Hamstreet". In spite of asking the locals when I have been delivering there, no-one can tell me why the railway station has made it into two words). On arrival at Falmer station (between Lewes and Brighton) I would walk up to the stadium and meet my friend Ray. Whilst my father originally would take me to matches, once the club left the Goldstone Ground he chose not to come. For many years I went on my own, but then on a cruise in 2013 I chatted with a couple who were the last in the bar one evening. It transpired that Ray and Donna lived in Portslade, and that Ray was also a season ticket holder and sat in the same stand and on the same row as me, about twelve seats to my right. Ever since, we always meet up either before, after and/or during all matches that we attend. It's much better to have each other to moan about the football, rather than moaning to ourselves!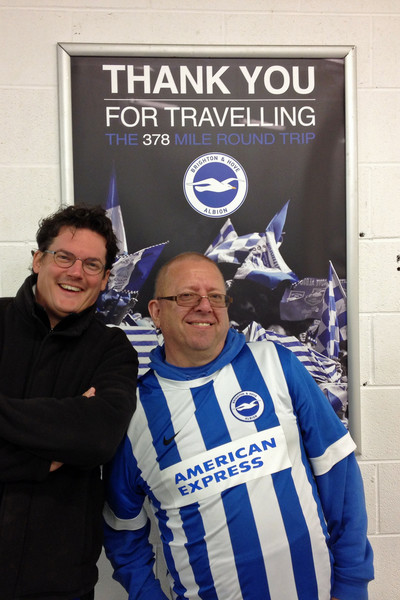 Me with Ray, having seen Brighton defeat Nottingham Forest 2-1 away on 11th April 2016.

Whilst some lockdown restrictions have been lifted today, attending a football match is understandably not one of them, and so I will wait for the radio to start their commentary later this evening. Speaking of lockdown restrictions easing, I was up early this morning (a 5am alarm) as I was scheduled to clock-in at 6.15am. The temperature was a ridiculous -2°C (28°F) and I had to de-ice the car. Having gone to all that effort, I then had to perform the same trick on the truck when I arrived at work. During my morning and early afternoon rounds I drove through a couple of snow showers. I could have sworn that only three weeks ago it was so warm that everyone was wearing shorts and t-shirts! Anyway, in spite of the cold weather, it was amusing and uplifting to see some people braving the newly re-opened beer gardens of the Kent country pubs that I passed on my route. It's only a relatively small step, but it made me feel good that we are on the right path, and that it'll hopefully soon lead to cruising being able to operate as we did before. In the meantime though, it is of course absolutely right that we take things one step at a time so that we keep progressing. On the final part of my deliveries, as I headed back to Ashford, I saw a small queue of traffic ahead of me, and the lorry at the front appeared to be on fire. I was quite alarmed at first, and couldn't understand why the lorry would still be moving if it was on fire. We slowly turned a corner, and to my delight I realised that the lorry was directly behind a traction engine! Hence the illusion from the rear of the queue as the steam billowed from the funnel of the erstwhile traction engine. The driver was waving to us when it was clear to overtake, so the queue gradually became shorter. I could quite happily have remained at the front of the queue all the way back to Ashford, but sadly the road cleared in front of us and I too was waved past. I did then take my break in a lay-by and watched the traction engine as it eventually caught up with my position and steamed along the road – accompanied by a friendly toot on the whistle by the driver. By the time I was back at the depot, the temperature was a balmy 16°C (61°F). One day the weather will make up its mind.
A traditional Kent traffic jam on Monday 12th April 2021.
The news since Friday has been rightly dominated by the passing of HRH The Prince Philip, Duke of Edinburgh. I have no doubt that many Noble Caledonia passengers will have met Prince Philip, either by attending functions which he was hosting, or receiving awards, or perhaps even personally. I was at home, preparing myself to head off to work, when the news broke across the airwaves. I found myself instinctively doing what I would have done had I been on board a ship at the time. I went back to my bedroom, removed my uniform, and put on a white shirt with a black tie. I was wary that this might break the uniform rules, so I zipped up my coat whilst I carry out the routine vehicle checks and loaded the deliveries. Once clear of the depot, I carried out my shift whilst listening to the BBC radio news broadcasts and I had a few customers remark that it was thoughtful that their delivery driver was attired in this manner. It was only a small gesture, but I wanted to do something.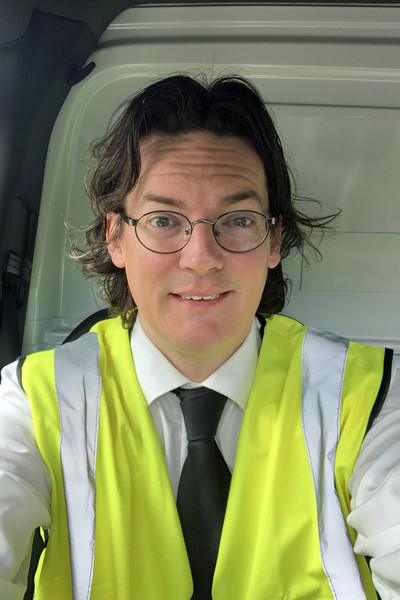 Me with black tie for my deliveries following the announcement of the death of Prince Philip. 9th April 2021.

Whilst listening to the thoughtful rolling news coverage on Friday afternoon, it made me appreciate the Duke's life even more than I previously had done. A few years ago I had listened to a BBC Radio 4 series by the former First Sea Lord, Admiral West, on the maritime history of the UK, called "Britain at Sea". I remember listening to it and being surprised when I heard Lord West interview Prince Philip about his service in the Royal Navy. The six minute interview is still available on the BBC website, and having just listened to it again, you can tell that Prince Philip is clearly pleased at being able to speak about that time in his life – including his tale of having to shovel coal from Puerto Rico to Newport News. The coal trimmers had absconded in Puerto Rico and so our future Queen's Consort ended up shovelling coal for the 1,244 nautical miles across the Bermuda Triangle! I only saw Prince Philip on two occasions. The first time was on 27th March 1986. It might seem surprising that I can be so certain of the date, given I was seven years old, but that is because it was Maundy Thursday. The Queen and Prince Philip came to Chichester Cathedral for the Royal Maundy Service. I remember that my brother and I both wore our school uniforms as it was the smartest outfit we had and we made the short journey from our home in Littlehampton. We stood near the level crossing at the eastern end of Chichester railway station. I can recall the Royal Train arriving, with its seemingly polished rich burgundy livery. Being rather shorter than I am now, I was pushed to the front of the barrier and waved as the royal couple drove past. I read in an article in the last couple of days that it was Prince Philip who questioned why they always went to Westminster Abbey for the Maundy Service, and so began the tradition of visiting a different cathedral each year. Good on him.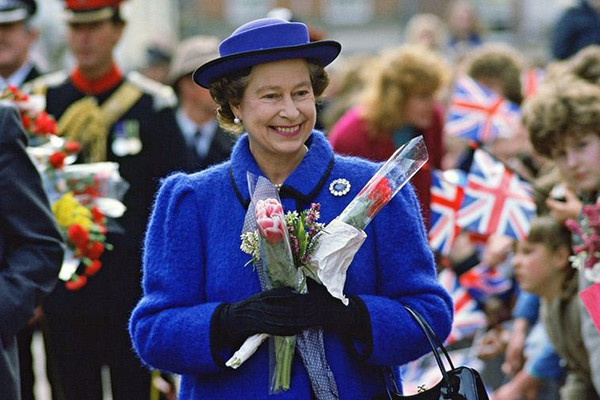 HM The Queen visiting Chichester on Maundy Thursday 1986.
The only other time I saw Prince Philip, again with The Queen, was on 29th April 2011. It was the occasion of Prince William's wedding to Kate Middleton. Can that really have been almost exactly ten years ago? I had never been to London for any royal events, and I happened to be on leave at the time. I decided that, given it was a relatively rare moment when I was in the UK and something special was taking place, I would catch the first train up to London and try and see what I could. Walking briskly from Victoria to Westminster, I arrived in time to gain to spot opposite the entrance to Westminster Abbey. Sadly, the service was not relayed to the crowds of us who were standing there, either in audio or video form, so we missed the whole thing, but we did see everyone arrive and depart. You only had a split second to take a photo, and it was sheer luck if you managed to capture a clear image of someone. Hence, the only photo I ever took of Prince Philip is the one below, and even in my randomly snapped photo, it is as though he is allowing The Queen to take centre stage. Naturally, my thoughts and prayers are with Her Majesty and all the Royal Family at this time.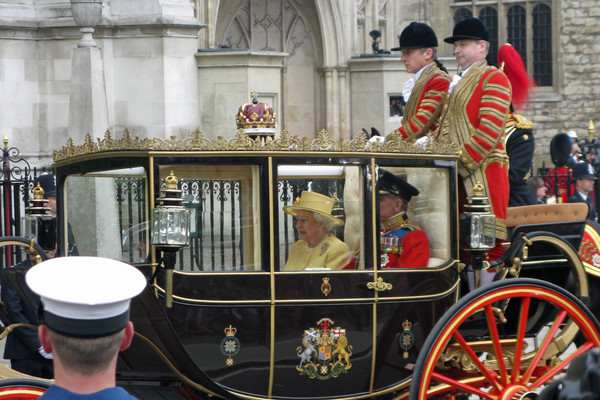 My only photo HM The Queen and Prince Philip, as they passed by at speed after the Royal Wedding. 29th April 2011.

The other news item that caught my attention was the eruption of the volcano on the Caribbean island of St Vincent. Some of you reading this will have sailed with me in the Caribbean, and may have been understandably confused to hear that the volcano that has erupted is called "Soufrière". I even received an email from a passenger saying they were sure they had been to Soufrière, but that it was located on the island of St Lucia! Well, that is indeed correct. The name Soufrière is rather popular in the Caribbean. There are towns called Soufrière in both Dominica and St Lucia. However, there are also volcanoes called Soufrière on the islands of Montserrat, St Vincent and Guadeloupe. Clearly the people who named these volcanoes had a lack of imagination. On our visits to St Lucia, we have often dropped anchor in the bay which houses the town of Soufrière. From the viewpoint on the neighbouring hillside, it looks as though the ship has dropped anchor in the middle of a postcard.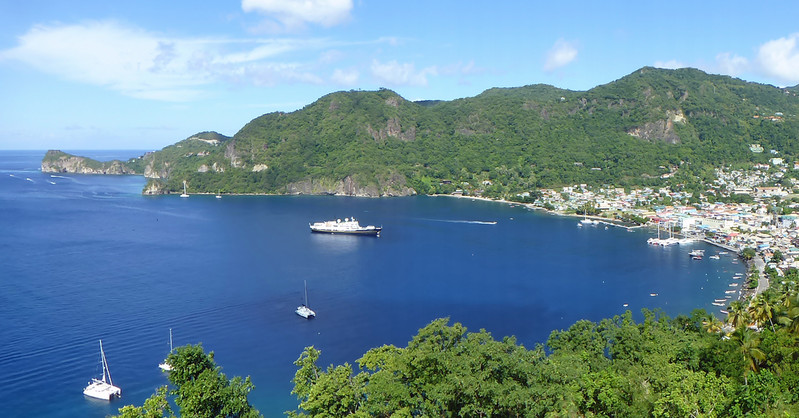 'Serenissima' rests at her anchorage off Soufrière, St Lucia. 15th December 2015.

The tour from Soufrière includes driving by the famous Pitons – the pair of giant volcanic plugs next to Soufrière. We also visit the world's only "drive-in volcano" and you can certainly smell the sulphur in the air as we watch the land bubbling away. Additionally, there is a visit to the Soufrière Estate which houses an intriguing botanical garden and charming waterfall. Finally, we visit a plantation house which provides demonstrations of how the crops were processed in bygone days. During the visits to the latter, I have become friends with Noël. He was given that name because he was born on Christmas Day. Every time I visit he always seems pleased to see me. Before leaving for the tour, I request a couple of carrots from the Executive Chef, and whilst he is hesitant at first, Noël soon realises they're the loveliest carrots he'll have ever tasted and happily munches away.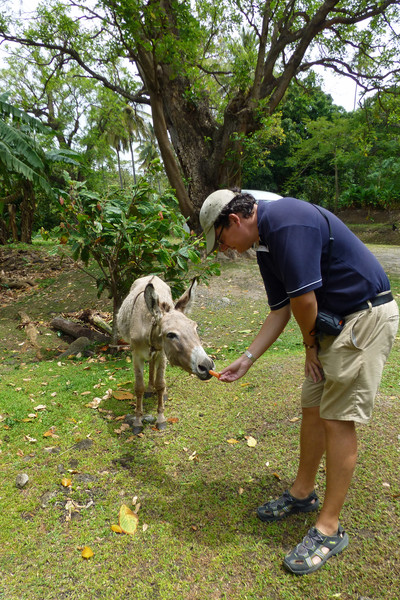 Me feeding my buddy Noël in St Lucia. 22nd March 2016.

The most famous Soufrière is surely the volcano on the British Overseas Territory of Montserrat. Whilst I say British, to all intents and purposes it was all-but Irish before the volcano erupted. The coat of arms of Montserrat includes an Irish Harp, and the island was first colonised by Irishmen in 1632. Indeed, it is the only place in the world, other than Ireland itself, that has a public holiday for St Patrick's Day. In July 1995, Montserrat's Soufrière Hills volcano, dormant for centuries, began erupting. It is always an emotional moment whenever we return with a ship to Montserrat. In recent years, we have been able to drive all the way to the original quayside in the abandoned capital of Plymouth. The last time I did this, I remember feeling humbled as two of our passengers held hands and gently wept. It transpired that they had at one point spent a few very happy years living in Plymouth, and this was the first time they had been back. Their former home was buried deep under the lava. If you do ever get the chance to visit Montserrat, then I do recommend it. I don't think there can be a more powerful demonstration of the might of Mother Nature than to stand on the quayside in Plymouth and look at the guide's photograph of how the view from the same spot would have looked thirty years ago.
Standing on the quayside of what was a bustling capital city on Montserrat. 23rd February 2019.
This may sound strange, but I've always felt slightly sorry for the island of St Vincent. The reason is that I feel it is thought of as being in the shadow of its own Grenadines. The likes of Mustique, Bequia, Mayreau and Petit St Vincent. Not surprisingly, few ships visit Mustique, as the residents there certainly like to enjoy their privacy. However, with Noble Caledonia we have made visits to Bequia, Mayreau and the island of St Vincent itself. A charming little cruise ship pier was built on St Vincent, which can take a large vessel on either side. We would often combine St Vincent with Bequia, and I would enjoy adjusting the itinerary to make the most of both locations. Bequia is reached via the anchorage at Port Elizabeth, and so we run our zodiacs from the ship to the shore, passing by Princess Margaret Beach. Converted jeeps provide our transport as we enjoy a tour of the island, and then the afternoon is free to explore at leisure.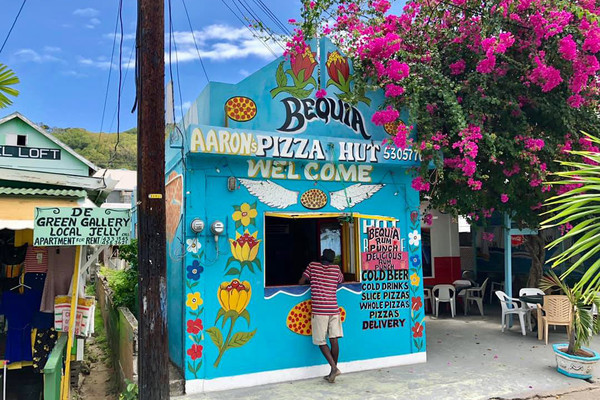 Bequia's rather quaint version of 'Pizza Hut'! 10th March 2019.
However, come sunset, we have to finish using our Zodiacs before darkness. With everyone back on board, rather than simply remain at the anchorage, I always see if it is possible to sail over to Kingstown, St Vincent and berth at the pier. It takes about an hour and a half to meander over there from Bequia. Whilst the passengers are completing their dinner, and once we are docked in Kingstown, myself and the Expedition Team will have helped to bring the St Vincent Steel Orchestra on board and set them up on the fo'c's'le. Of all the Caribbean islands, the group we use on St Vincent are undoubtedly the best. Note that they are a Steel 'Orchestra', rather than a Steel 'Band'. The latter would regularly consist of four to six steel drum players. However, a Steel Orchestra will have all different sizes of steel drum, including large stand-alone bass steel drums, an accompanying regular drum kit, and more besides. With dinner complete, and the orchestra ready to play, the bar would be open on the fo'c's'le. We may even have decorated the deck railings with coconut palm leaves, responsibly sourced from the island, and a night of Caribbean music under the stars would prevail. Having earlier enjoyed a full day on Bequia, this would be the perfect way to end the evening. Occasionally, we have stayed in port until later the following morning, and I have been able to take the passengers, some of whom will have needed a strong coffee or two after the night before, up to the St Vincent Botanical Garden. This is, in my opinion, the one "must-visit" of the island. Only Kew Gardens, London and Bartram's Garden, Philadelphia, are older than these botanical gardens. The twenty acres were established in 1765. Most famously, they house a breadfruit tree which is descended from the original plant brought by Captain Bligh in 1793. Five years earlier, Bligh had been to Tahiti to collect breadfruit and other useful plants for the West Indies. His ship was called 'HMS Bounty', and you don't need me to tell you that the trip didn't go according to plan. Undaunted, he tried again with 'HMS Providence', and finally landed on St Vincent on 23rd January 1793 with plants from the South Seas that were taken into the care of the Botanical Garden's curator, Alexander Anderson (1748-1811). His curation was a triumph, as is evident from the widespread distribution of breadfruit, the most useful food plant throughout the West Indies. To see the news footage of St Vincent being covered in a layer of volcanic ash has made me wonder not only about the islanders themselves, but also how the gardens are and will be coping. I wish them every success in these most worrying of times. I had so many more things to write about, but I'm afraid I've already reached the limit for this blog. As I sign off, it is now lunchtime on Thursday 15th April and I need to head off on my delivery run. In hindsight, I was fortunate that fans were not allowed to attend Monday night's football match as it finished as a rather disappointing goalless draw. All the best to everyone and I'll leave you with the St Vincent Steel Orchestra…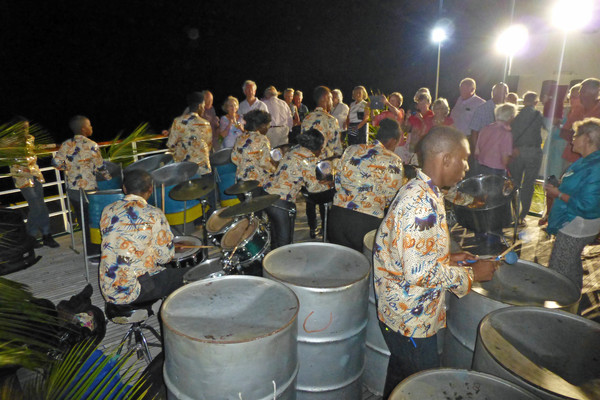 The lights from Serenissima's Bridge illuminate the St Vincent Steel Orchestra in full flow. 17th December 2015.