The Jura's in, the Fish are Guarded, and it's just another Manic Lundy
Good afternoon all. It's Tuesday 14th July. As I sit here in Hythe, a quick check on Google Earth tells me that, as the crow flies, I am a mere 26¼ miles from France. Rather brilliantly, the nearest French town to me (a further half a mile away) is called "Le Sodit". Using the Channel Tunnel I could be there in a little over an hour and a half. With my ear to the south-easterly wind I can just about hear the beginnings of the Bastille Day celebrations. I hope all (or, more accurately, 'both') of my French readers have a wonderful day!
As always, thank you again for the correspondence. I have had a busy week since I last wrote. On Wednesday I managed to get rather lost in my delivery truck. If an address is difficult to find, then previous drivers kindly leave notes to help the next driver find it. Whilst this had been done, one vital word had been wrongly inserted. It turned out that instead of "right", said driver should have written "left". As a result I ended up on a long private driveway and found myself facing the imposing structure of Higham Park. Unperturbed, I continued round it as the instructions said to go to the very end of the drive. Only upon reaching the hay barn at the end of the lane did I consider that a mistake might have been made. As for Higham Park, I was thrilled to have seen it for the first time, as it was once the home of Count Louis Zborowski (1895-1924). After the death of his father in 1903, in 1910 his mother had bought Higham Park. The sale included a farm, 225 acres and twelve houses. On his mother's death in 1911, 16-year-old Louis instantly became the fourth richest under-21-year-old in the world, with cash of £11 million and real estate in the USA, including seven acres of Manhattan and several blocks on Fifth Avenue, New York. His passions were motor racing and miniature railways (some of you will have worked out where this story is heading). He built four racing cars in the stables at Higham Park, the first being a 23,093cc six-cylinder Maybach aero engine, and he called it "Chitty Bang Bang". A young Ian Fleming, in his pre-James Bond days, saw Zborowski race the car at Brooklands and used it as the inspiration for his famous trilogy of books. Zborowski also built a 15" gauge railway around the estate, and hatched a plan with his fellow racing driver friend, Captain Jack Howey (1886-1963), to build a mainline in miniature. Thus, the Romney, Hythe & Dymchurch Railway, where I had a most enjoyable day volunteering in the sunshine at Dungeness on Sunday, was born. Zborowski was tragically killed in what he had intended to be his final race, the 1924 Italian Grand Prix at Monza, but before his untimely death he had already ordered the first two locomotives for the railway, "Green Goddess" and "Northern Chief". The latter of those two were on duty on Sunday, still looking as good as the day they arrived in Kent 95 years ago. And yes, I did eventually find the address that I was looking for and they happily received their shopping on time.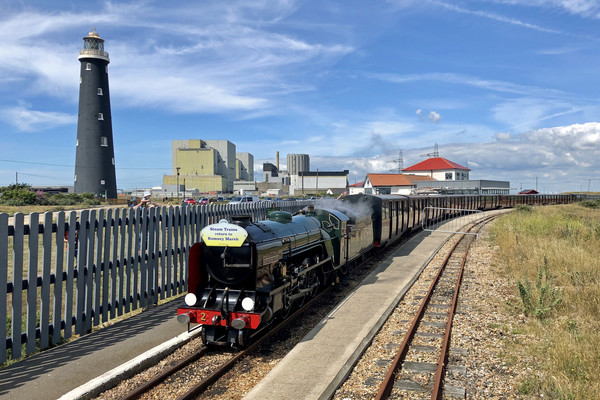 Volunteering at Dungeness on Sunday
After my delivery escapades on Wednesday, I took advantage of the quiet roads and drove over to Dorset to see my dear friend, Hazel. I hadn't been allocated a shift on Thursday or Friday and, as many of you will know, I like to be constructive with my spare time. Hazel has a great appreciation of nature, both on land and at sea, and so I booked in advance (as is the way of things these days) for us to visit Exbury Gardens in neighbouring Hampshire on Thursday. Hazel was surprised that I had made the effort to take us to visit a garden, but then, as we approached, she saw the road sign, "Exbury Gardens and Steam Railway", and started to laugh. "Oh, I didn't realise they also have a steam railway", I lied out loud. As with all attractions, visitor numbers are strictly limited, but that turned out to be an unexpected bonus as we could take our time and enjoy the tranquillity and beauty of the gardens. The steam railway, by chance, happened to be running too and we went for a ride on the 12¼" gauge Rhododendron Line. The line was built by Leopold de Rothschild and opened in 2001, with HM The Queen enjoying a footplate ride in May 2008. I hope we can revisit the gardens in better weather and in different seasons. The evening ended with my favourite event, a chippy tea. A leisurely wander around Wimborne Minster on Friday took place in much better weather. The Minster itself is still closed, but we walked around the outside and explored the town. It really is a delightful spot. It was then time for the long drive home ahead of my early morning shift on Saturday.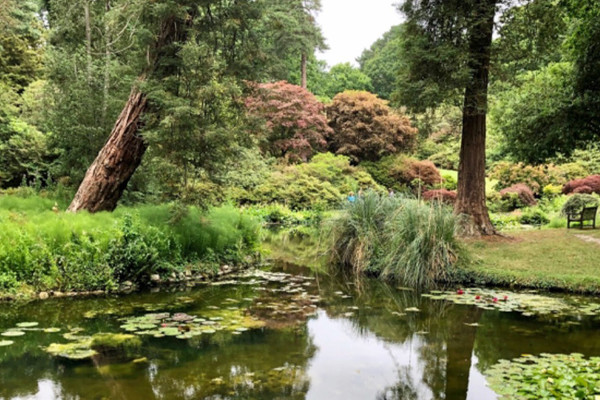 As already mentioned, I was volunteering on Sunday, before enjoying my first dinner out since March as a few of us fellow railway staff and volunteers descended on the 15th century Woolpack Inn on Romney Marsh. A former smugglers' haunt, surrounded by dykes and reed beds that would have been easy to disappear into, it certainly oozes character with hops adorning the old beams. Yesterday, Monday, I was on the late shift so had planned to have a lie-in to be fresh for the evening. Those plans came to nothing as the people I'd arranged to remove a fence in my back garden turned up. How dare they come on the day and at the time I had agreed, and then promptly forgotten! Good to have another job done though. Over an hour has passed since I started writing, so excuse me while I re-read last week's blog, and then I will carry on from where I had reached. Back in a moment…
That moment is now over 24 hours later. I was delivering until 11pm last night, and then today I've spent six hours washing and scrubbing Hythe station, so that it is ready for the public on Saturday. So, where were we? Ah yes, we have now left Fort William and headed for an unscheduled visit to Jura.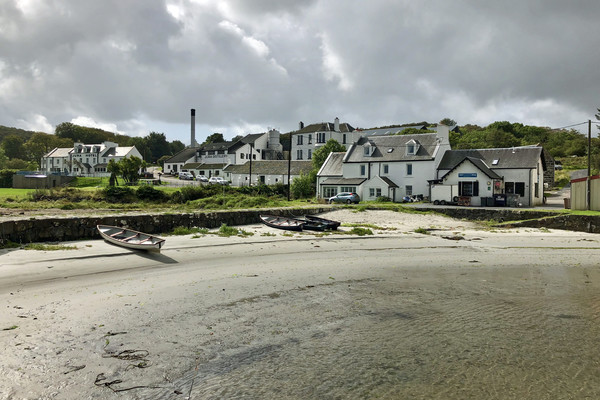 Craighouse, Jura seen from Zodiac landing

I had never been to Jura before, and was grateful to have found a "Walking Trails on Jura" booklet in a shop in Fort William. I had managed to get hold of a contact on Jura, and made use of the internet in Fort William, to warn the locals that we were coming. The Daily Programme for that day included mentions of 'Sarah' at the Jura Hotel, 'Sharon' at Antlers Bistro Restaurant, and 'Lynsey' at Jura Community Shop. All of them had been very helpful in advising me, with just a day's notice, what they would be able offer our guests. I'd arranged for the Expedition Team to lead long, medium and short walks, and also for the local minibus driver to offer four trips, with his own commentary, along the island from our zodiac landing stage in Craighouse.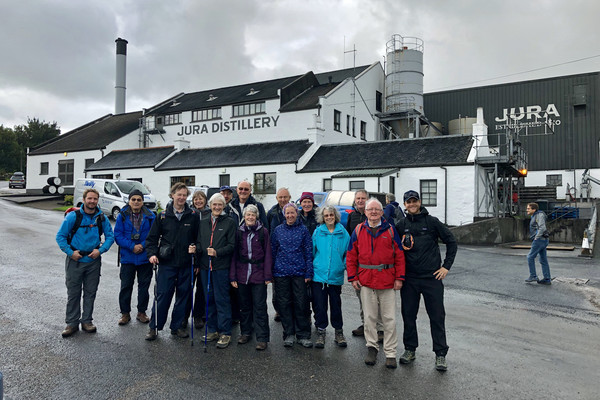 Kev & James set off on the long walk
Finally, I had persuaded the Jura Distillery to offer four guided visits for those who fancied a wee dram. On top of this, we ran a half-hourly zodiac shuttle service so that everyone could spend as long or as short a time ashore as they wished. Everything went according to plan, and the sun even ventured out in the afternoon. The only puzzle was how Phil, who was leading the short one-mile walk, had managed to make it last over two hours. I don't think I'll ever know how he did that! The day was a triumph and I felt very happy as I boarded the last zodiac back to the ship. It is wonderful how events can turn out. We had not expected to visit Jura, they had not expected us to come. 48 hours prior to our arrival I would not have been able to point it out on an unlabelled map of the Scottish islands. And yet, via liaising positively with the locals, we had received a joyous welcome and everyone, both passengers and locals, had a smile on their face. Although it is naturally frustrating to do preparation work for places that we don't end up visiting – I find it much more satisfying to have to come up with new ideas 'on the run' and, as long as you always keep the passengers aware of what you are intending to do, I think they enjoy the adventure too. At the pre-dinner Briefing that evening, I invited every passenger to sample a dram of Jura whisky, as I had decided to buy two litres after the distillery tour. I remember the restaurant being quite noisy that evening!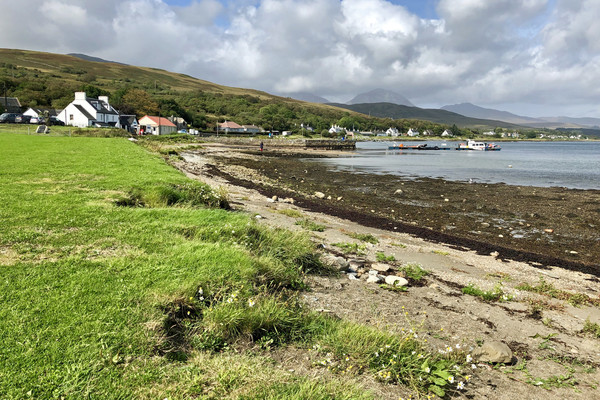 The sun comes out on Jura
The next day we were in Douglas on the Isle of Man, which I've written about in a previous blog, so won't say much here other than I had a splendid day supervising the passengers on the steam railway and then praying that the clouds would lift on Snaefell. Fortunately my prayers were answered, and on we sailed to Wales…
The last time I had been to Fishguard was as part of a GCSE geography residential field trip in 1995. We had all stayed in a youth hostel in Saundersfoot, and one of the day trips saw us visit Fishguard. My only recollection was being told that the last invasion of mainland Britain had taken place there, but had been repelled by a fierce local lady. 24 years later, when I returned with 'Serenissima', I was surprised to see said lady, Jemima Nicholas, standing on the pier! She was looking good for her age, considering she is now 269 years old. A charming welcoming committee, calling themselves the "Fishguard Friendly Faces", including the local lady who was dressed as Jemima Nicholas, greeted us on the pier. The passengers had a morning tour to Tenby and Pembroke, and then a choice of afternoon tour, with the option of St. David's – the smallest city in the UK (in terms of population and urban area), or a guided walk along part of the Pembrokeshire Coastal Path. As always, they were also welcome to do their own thing. I always try and put local information in the daily programme for those that wish to explore independently. There is not much point in putting lots of information about what you will see on the tours, as the guides will do that anyway. Therefore I tend to try and focus on what is nearby the berth.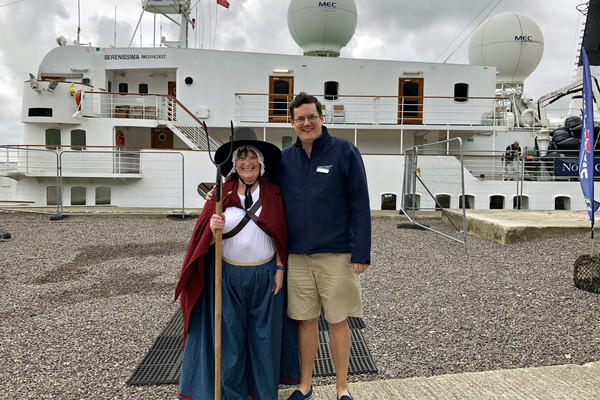 Jemma Nicholas welcomes us to Fishguard
The passengers headed out on the morning excursion, but I stayed behind as I needed to do more preparation for what would be my first visit to Lundy Island the following day. I had asked one of the Expedition Team, former Royal Marine Kev Treacher, to stay behind as well, as he had recently visited Lundy. We walked the fifty yards from the ship to Fishguard Harbour railway station and caught the 9.53am to Fishguard & Goodwick. There was no ticket machine on the station so we approached the guard on the train and asked if we could buy one. He pointed out that it would take him longer to sell us a ticket than the ninety-second train journey that we were now undertaking, and as we were well behaved, he would pretend he hadn't seen us. With the journey complete, Kev and I found a local newsagent so that I could buy the daily newspapers for the ship's lounge, and then we found a coffee bar and sat there with a map of Lundy Island. One of the great perks of having an Expedition Team is that, invariably, there is at least one person who has been to all the different places. Kev pointed out to me where the landing stage was, how the Landrovers operate to offer to take some passengers up the hill, and where the best walks are. Even more importantly, Kev had his tide-table app with him and pointed out that we wouldn't be able to land anyone ashore before 10.30am as the tide would be too low, and recommended that we had the last zodiac back to the ship at 5.00pm. We planned a long, medium and short walk, and I advised the hotel manager that quite a few passengers would probably be out for lunch, certainly those on the long and medium walks. I called the warden on Lundy Island, who was pleased to hear confirmation that we were coming, and she confirmed that the pub and community shop would be open for us. As it would be a Sunday, I asked if anything would be taking place at St Helen's church. The response was that nothing was taking place, but we would be welcome to visit. I was also informed that, other than those staying on the island, we would be the only visitors as the day-trippers did not visit on a Sunday. Splendid!
With the plan for Lundy Island sorted, Kev and I meandered back along the waterfront to the ship. (It would have been a seven hour wait for the return train!) I ventured ashore in the afternoon to join the excursion to St. David's. I love to see the look on the passengers' faces when they first set eyes on the magnificent cathedral. It really is in a beautiful setting, and our guide was thorough and informative.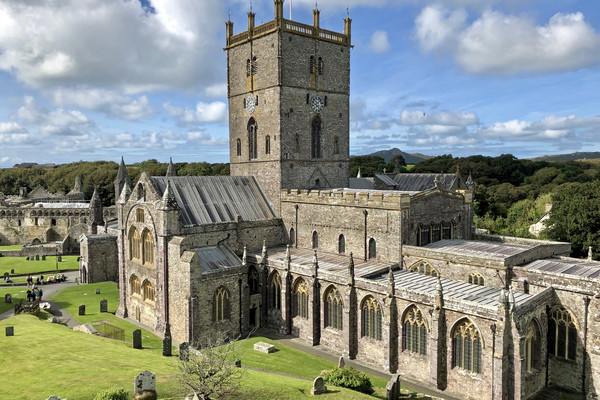 The next morning we arrived on a flat calm sea in glorious sunshine off the coast of Lundy. We really could not have wished for more perfect conditions – and such a contrast to a week earlier in Oban! Ornithologist John Love presented a post-breakfast talk on Sea Eagles, which also gave the Expedition Team the chance to ensure the tide had risen enough for us to land the passengers. With perfect timing, John finished just as we were ready to begin our zodiac operation. I had always wanted to visit Lundy. I love places that are individual, quirky, hard to reach, and the fact that they sell their own postage stamps endears me to them. The only other place in the British Isles that I have been to which sells their own stamps was Tanera Mòr in the Summer Isles of the Inner Hebrides. I would love to know if there is anywhere else?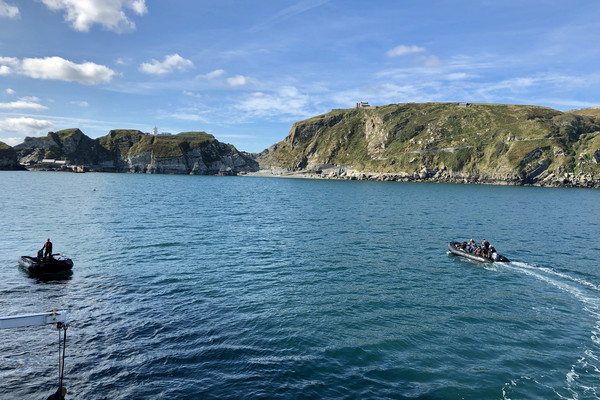 Zodiacs head ashore to Lundy
I came ashore with the last wave of passengers and then realised what a long uphill walk it is to the settlement. The views were stunning and completely worth the trek. Whilst the Expedition Team led the walks, I found the warden and her helpers and thanked them all for their hospitality. I bought a pile of postcards from the local shop and, more importantly, an equally large amount of Lundy stamps, and sat in the Marisco Tavern and wrote them so that I could send them from the adjoining bright blue post box.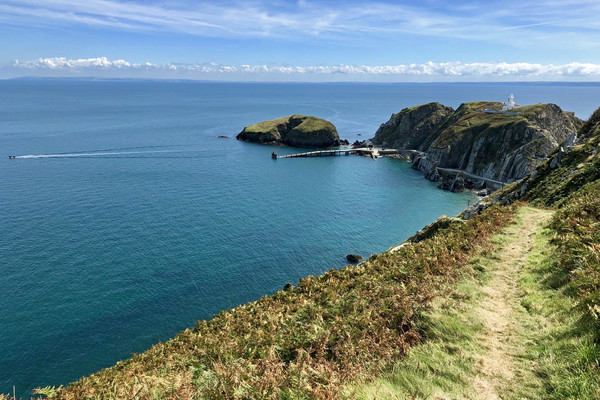 Walking down to the landing stage on Lundy
I returned to the ship for a quick lunch and then came ashore again as, with kind permission from the Bishop of Exeter, I had decided to hold the regular Sunday Service in St Helen's Church on Lundy. The church had been recently restored and it seemed a shame not to utilise it for its original purpose. Part of the funding for the restoration had included a clause that the church should also have a community use, and when we arrived it was being used to display interested facts about seals. Therefore, for the first time ever, I conducted my Sunday Service to a full congregation which included a complete seal skeleton in the sixth pew from the front! It had taken much of the morning to work out how to turn on the huge organ. I ignored the plethora of peddles at my feet and hoped that by pulling enough stops I could make a sound come out. Fortunately it worked, and the generous collection was split between the Lundy Island Trust and the Noble Caledonia Charitable Trust.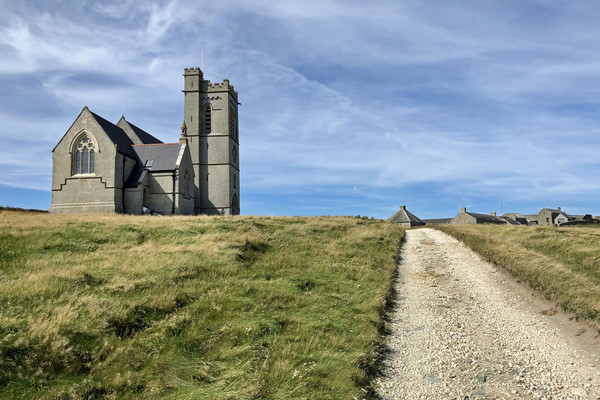 The road up to St Helens Church
Our last full day of the cruise was spent in the Isles of Scilly. The weather could never be as good as the previous day on Lundy, but it started well enough. The morning was to be spent on Tresco, and the afternoon on St Agnes. Tresco is a highlight on any cruise. The curator of Tresco Abbey Gardens, Mike Nelhams, has been a dear friend of mine for over a decade and it's always a delight to visit and have a catch-up. Unlike some other cruise lines, we offered all our passengers a guided walk with one of the resident gardeners. It is so much better to be able to offer that option, than just force everyone to explore unguided.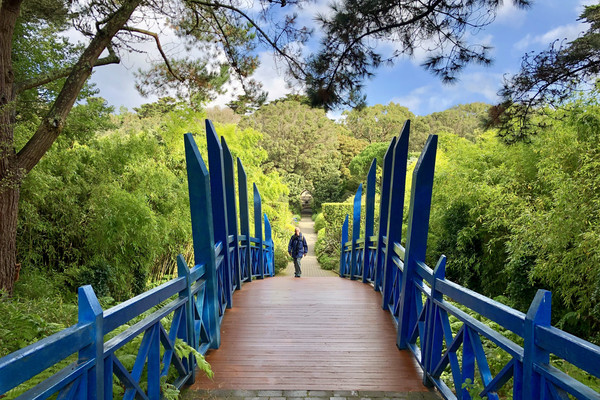 Welcome to Tresco Abbey Garden
With all the passengers admiring the garden, watching the red squirrels at play, or indulging in a morning coffee from their excellent café, Mike took me on a trip round the island. The post boat had already arrived and I wanted to collect the morning papers from their shop.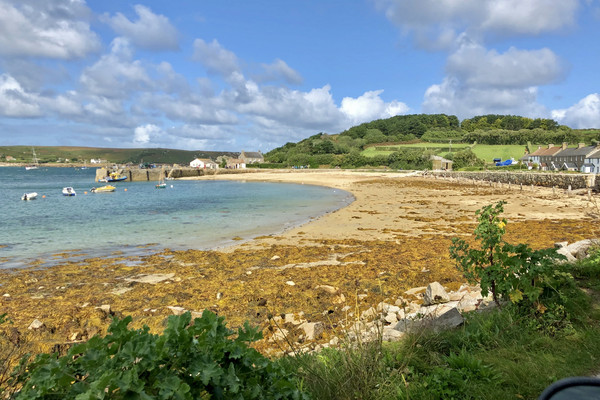 New Grimsby on Tresco on the way to collect papers
All too soon it was time to say goodbye and we headed back on the zodiac to the ship for lunch. During lunch, the wind picked up, and two local boats, complete with a sailor's dog on each, tried multiple times to come alongside our gangway to ferry the passengers to St Agnes. Sadly, the sea conditions ultimately prevented us from doing this, but with a dynamic Expedition Team we were able to create additional afternoon activities. John Love spoke on the Lighthouses of Britain, and Kev Treacher looked back on his life in the Royal Marines. Both were particularly apt subjects, as the next morning we passed Eddystone Lighthouse on our way into Plymouth, where Kev had been based for some of his army life. A prompt disembarkation ensued, as the ship was then sailing empty straight away, heading south to begin the Mediterranean season a few days later. We all arrived at Plymouth Railway Station, and in a scene reminiscent of the end of George Clooney's version of "Ocean's Eleven", we all gradually filtered off in whichever direction we were headed. I went the opposite way to most, and took the train to St Ives in Cornwall to have dinner with one of my most favourite former passengers. I'll tell you who it was in the next blog. Thank you to all the Expedition Team, my Assistant Billy Tait, Captain Bonačić, all the crew of 'Serenissima', and all the passengers of 'Serenissima' for what was a short but memorable cruise down the west coast of Britain. One day we'll be back!
MS Serenissima at anchor off Lundy

Click here to view details of expedition cruises around the UK