Manaus, Mammals and the Mediterranean
"Rabbits!" As I write this, it is the first day of March, so I thought I'd start off by saying "rabbits" in an attempt to bring good luck for the rest of the month. Certainly, I think we, as a world, could do with some good luck at the moment as we try and forge our path through to the end of the pandemic. The news this morning talks of a Brazilian variant, originating in the Amazonian city of Manaus. Immediately that brought back memories of wonderfully flamboyant overnight visits to Manaus in years gone by. When I have delivered one of my reflective after-dinner talks on the ships, I usually mention a few stories about the challenges of navigating the Amazon. However, the reward of reaching Manaus and, usually, spending a couple of days there make it very much worthwhile. Sadly, the last time I took a cruise ship up the Amazon, the difficulties of dealing with the local and national authorities had increased to such an extent that far fewer ships head that way now. I always think it is a travesty to the local people when national authorities decide to move the goalposts. Quite often I have had passengers ask me about the process that goes into formulating cruise itineraries. You really would be amazed to know the number of rules and regulations that have to be included in the mix before any itinerary can be signed off. I have often come up with my own suggestions for a cruise, but once it is looked at forensically you realise that there is so much more to it than meets the eye. Not only that, but rules and regulations change constantly, and sometimes without warning or informing the operator until they reach said place! I could definitely fill a book with such tales. My most recent effort at cruise planning included the idea of taking one of our ships up the Manchester Ship Canal. I had carefully researched and confirmed that our ships are within the length and width limit of the canal, and that their draft is small enough for the transit. However, on proudly presenting my plans, I had to withdraw them when it was pointed out that the Runcorn Bridge would have to be removed to allow us to pass underneath. Back to the drawing board with that one!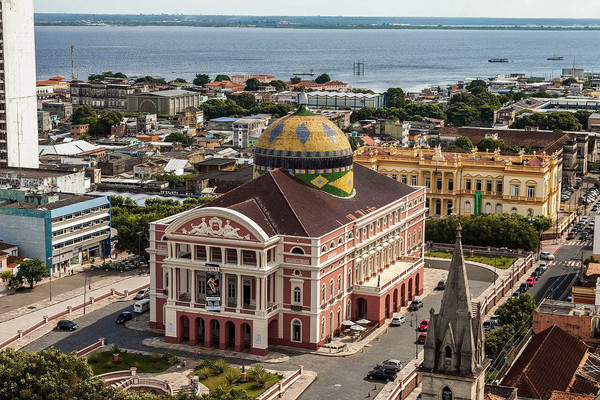 An exterior view of the Teatro Amazonas, with the famous river in the background.
Manaus is one of those places I would like to go back to under my own steam one day. I remember taking a group of passengers into the ornate Teatro Amazons, which opened in 1896. At the time, I had a Belarussian four-piece band and three-piece string trio on board. They were very excited to be visiting Manaus as, to my surprise, there are quite a few Belarussians in the theatre's orchestra. It transpired that a Minsk-based orchestra was once touring Brazil, and a few members of the orchestra liked it so much that they have remained there ever since. An idea struck me, as we had been due to visit the theatre whilst it was empty. I asked my musicians if they could have a word with their compatriots to see if we could make the visit more memorable. The following day, when the city tour took place, I brought the groups of passengers into the theatre and we all sat in the stalls. To my sheer delight, and probably the passengers' delight too, my musicians had convinced the entire theatre orchestra to have a rehearsal at the time we were visiting. So it was that we sat in the 701-capacity auditorium and enjoyed half an hour of musical extracts from Wagner's 'Ring Cycle'. Sublime. I know that Noble Caledonia, along with many other companies, no longer takes ocean-going ships up the Brazilian part of the Amazon, but I've previously met passengers who have been on the trip called "Natural Wonders of the Amazon & Galápagos", which focusses on the Ecuadorian region of the Amazon. Having been fortunate enough myself to watch Pink River Dolphins playing in the wild, it is one I would certainly recommend.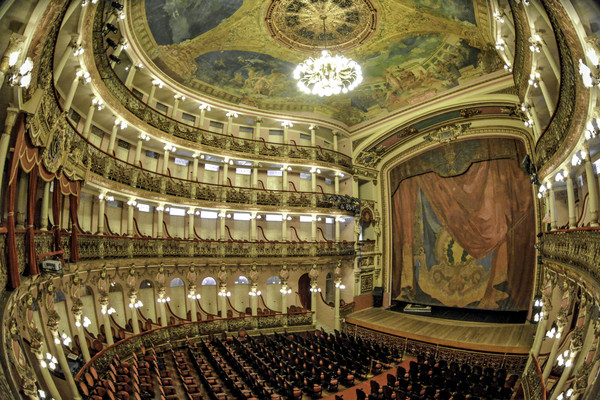 The grand interior of the stunning Teatro Amazonas, Manaus.
Not too much has happened since I wrote the last blog. I've been either working or getting on with the list of jobs around the house. I'm hoping I'm not the only person who finishes one job, but in doing so, finds two more that need doing. I don't think I was particularly cut out for a life at home. As my mother pointed out to me recently, I was born on a Thursday, which according to the famous poem, means I have "far to go". Hence having spent nearly twenty years at sea! What has been noticeable this past week was the glorious weather. As I write this, I can hear sheep contentedly bleating on the hills (which were cliffs in Saxon times) that form the view from my spare bedroom window. The sun is shining, and whilst there is still a chill in the air, I no longer look a fool for wearing shorts. Most of the past week has seen me on morning and afternoon shifts. It is always preferable to be able to see house names and numbers rather than driving slowly along busy roads and searching my torchlight for an elusive house number. One delivery did stand out more than the others.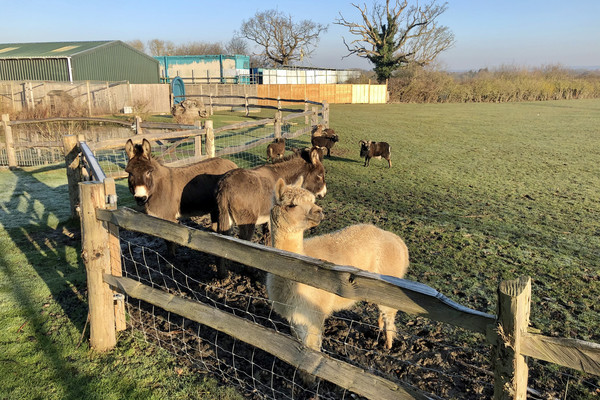 A friendly greeting from the locals near Bethersden, Kent. 27th February 2021.
On the handset we use for deliveries, we are notified of any instructions left by the customer, or by drivers who have previously delivered to said address. The customer notes said, "Please deliver through gate and follow fence round to the left. All animals are friendly". The driver notes unerringly said, "Good luck and don't stop walking". I had no concerns about the donkeys or the sheep, but the alpacas just have that look about them which, in my view, raises questions about their motives. As soon as I opened the gate, the donkeys and sheep moved away. The alpacas moved towards me. I had hoped that if I moved in a slow and steady manner, that perhaps they wouldn't notice me. I then realised that I'd opened a creaking gate, was wearing a hi-vis jacket, and then had to balance the crate on the gate whilst I performed a sneeze that was probably audible in Hampshire. As a result, the alpacas came over to say hello. I'd heard stories of them spitting and such things, but thankfully they turned out to be merely inquisitive without being threatening. Needless to say, I did take a few deep breaths once I was safely back in my driver's seat, before heading off to Lydd for the next delivery.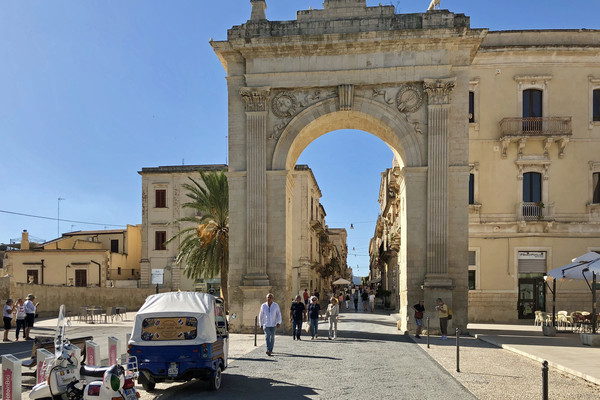 The Porto Reale (Royal Gate) marking the entrance to Noto, Sicily. 5th October 2019.

Last weekend also saw the publication of the latest travel quiz, elsewhere in the Travel Post. The theme I chose was Mediterranean Islands. I hope all those reading this blog have managed to make an attempt at the questions I posed. I challenged a few of my colleagues (at Noble Caledonia, rather than my fellow delivery drivers) and the top score was 11 out of 14. Please give yourself a congratulatory pat on the back if you came close to anything like that. Whilst compiling the quiz, it reminded me of travels around Sicily. It was on a circumnavigation of Sicily that I once sailed with the legendary George Hart. A couple of weeks ago, my fellow Noble Caledonia Cruise Director, Peter Graham, wrote to me to advise me of the sad passing of George. There is a separate page on the Travel Post full of beautiful, fitting tributes to George. If my memory serves me right, we only sailed together on the one occasion, and that was a circumnavigation of Sicily, starting and ending in Malta.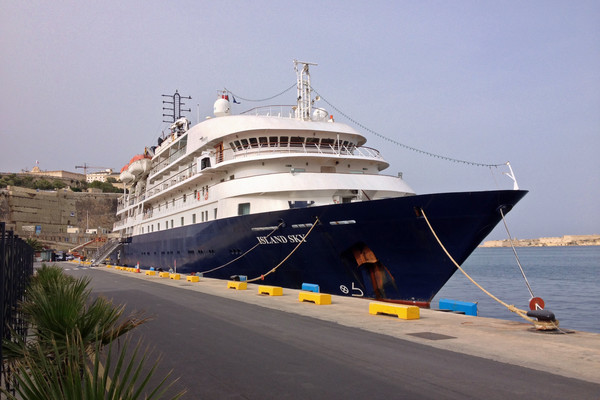 'Island Sky' on her berth inside Grand Harbour, Valletta. 13th May 2017.
The circumnavigations of Sicily are undoubtedly one of my favourite cruises. I have been lucky enough to have undertaken five complete circles of Sicily, and there is so much to take in that you are forever learning (or trying to remember) more and more of the amazing detail. I know I wrote about Sicily in my first blog here in the Travel Post, with the various shenanigans in Syracuse, but I hope you will forgive me for revisiting the island. Given that our circumnavigations tend to start from Valletta, Malta, from a geographical perspective it is common sense that our first Sicilian port of call is usually one that is a short distance from Malta. It is just over fifty nautical miles from Valletta to Pozzallo, which works rather nicely with having a post-dinner sail away from the illuminated Grand Harbour and then meandering over to the Sicilian coast. Speaking of Grand Harbour, Valletta, it is certainly one of the natural harbours to add to any list of those that you must visit. Thinking of natural harbours in the Mediterranean, the likes of Mahón and Kotor spring to mind, but Grand Harbour has such history that it is impossible not to look out with a sense of wonder as you sail away or arrive past the centuries of fortifications.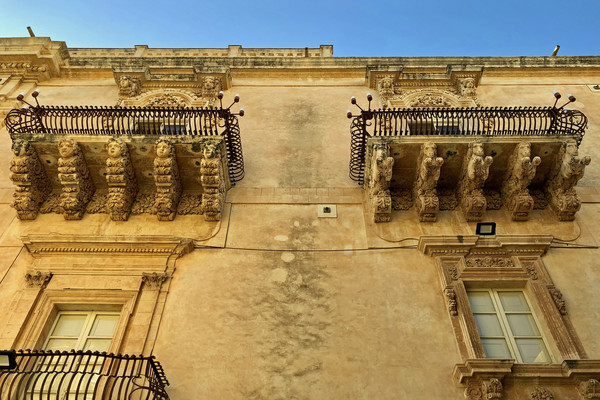 Ornate detailing of the balconies in Noto. 5th October 2019.
Arriving into Pozzallo, the usual shore excursions on offer are a visit to Ragusa in the morning, lunch back on board ship, and then Noto in the afternoon – or vice versa. For the morning trip to Ragusa, our guide would introduce us to Sicily whilst our coach driver bravely negotiated the long and winding roads that lead to Ragusa. When we reached Ragusa, it appeared to be delicately perched on a hillside. This part is, not surprisingly, called 'Upper Ragusa'. The original 'Lower Ragusa' was struck by a deadly earthquake in 1693 AD, killing over five thousand people. This led to the development of 'Upper Ragusa', and eventually, in 1926, the two separate towns were combined to form 'Ragusa'. We would stroll around the beautiful city with our guide, whilst those that wished to use the tourist land-train could enjoy a more leisurely pace. The highlight for me would be our visit to the 18th century Duomo di San Giorgio. The Baroque church commands the central position of Ragusa. Construction was started in 1738, and it took 37 years to complete.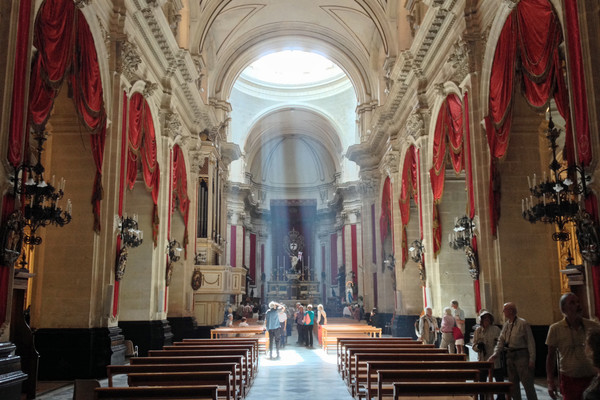 Inside the magnificent Duomo di San Giorgio in Ragusa, Sicily. 14th May 2017.
As you can see from the photo I took on our visit, the inside of the church is stunning. I have never seen red drapery used to the effect that is achieved in the church. Whilst we were admiring the interior, the sun came out and rays shown down through the upper reaches of the dome. The panorama became quite magical and spiritual. One of the highlights of all city tours is the free time. I know that might sound strange, but whilst it is informative and educational to hear from the guides, I find it can be equally entertaining to find a small café either in the main square or on a narrow side street, and enjoy a latte macchiato whilst watching the townsfolk go about their business. It also offers you the chance to go back and further explore areas that the guide has introduced to you, or in my case, find somewhere that sells postcards and stamps so that I can write to my parents. We would return to the ship for lunch, and then head off to Noto in the afternoon. Upon reaching Noto, we would walk through an ornate archway that marked the beginning of the pedestrianised central street. Along with Ragusa, Noto is also a UNESCO World Heritage Site, and there is ample architectural wonder and intrigue to justify their inclusion. The attention is definitely in the detail. I remember our guide pointing out the balconies of regular houses, and noticing the incredibly ornate carving that constituted the support for the balconies. I can't begin to imagine the amount of time that must have been spent to create something that is barely noticed.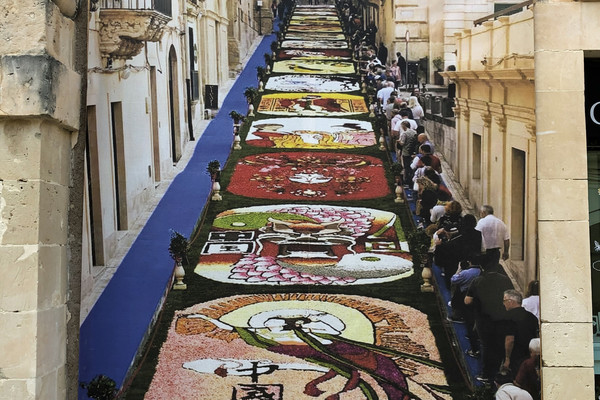 A banner in Noto, showing how the street would look during the Infiorata. 14th October 2019.
Another feature of Noto that was pointed out to us was a long, gently sloping side street. Every year in May, this street is covered in floral mosaics as part of the annual flower festival, called "Infiorata". Sadly, I have not had the opportunity to visit Noto in May, but rather helpfully the locals have put a large banner up on permanent display, next to the street, so that us tourists can visualise it. Our guide was keen to tell us that this flower festival has been taking place since the 1980s and is the only one of its kind. Being from West Sussex originally, my thoughts did turn to the Corpus Christi festival at Arundel which has seen a carpet of flowers laid down the central aisle of Arundel Cathedral since the 1870s, however, I thought best not to mention it. Once again, our guide did an excellent job of pointing out all the various sights of Noto, and then we had an hour of free-time to explore at leisure. I paid a small fee and climbed up the bell tower of one of the churches that is located on the central street.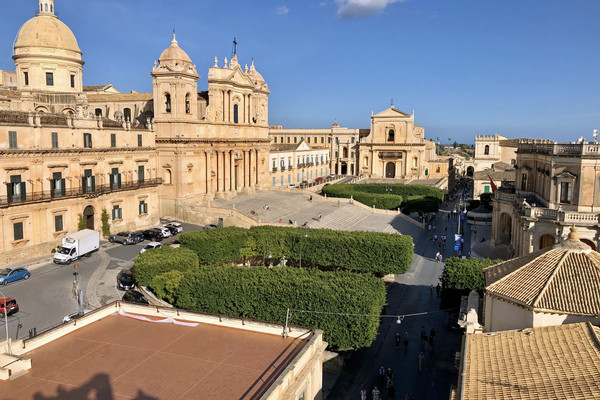 The view from the bell tower, looking out over Noto Cathedral. 5th October 2019.

As you can see, from the top of the bell tower I was rewarded with a magnificent view of Noto Cathedral. The story of the cathedral, also known as the Minor Basilica of Saint Nicholas of Myra, is similar to that of Ragusa Cathedral. Both cathedrals were built in the aftermath of the devastating 17th century earthquake, and both were inaugurated in the 18th century. In more recent times, Noto Cathedral's central dome collapsed in 1996, thought to be partly due to the result of poor renovation work in the 1950s being further weakened by a minor earthquake in 1990. In 2007, the cathedral was reopened in all its glorious splendour. With our visit to Noto complete, we would have enjoyed a splendid introduction to Sicily. Our first day on the island would have included our visits to Ragusa, Noto, lunch on board, and back in time to be ready for the Captain's Welcome Cocktail Party that evening. Perfect! Next week we will continue our trek around Sicily. From the notes I have made in front of me, other ports of call in Sicily that we have visited include Licata, Porto Empedocle, Mazara del Vallo, Trapani, Palermo, Lipari, Messina, Taormina, Catania and Syracuse. Certainly much to work on for next week! However, before I go, I should mention that as I write this, it is St David's Day. Whilst international travel is very exciting, I personally just as much enjoy sailing around this beautiful country of ours. Welsh ports of call that we visit include: Fishguard, Llandudno, Grassholm Island and Skomer Island. There is also an in-depth tour, with a beautiful hotel as its base, called "The Glorious Landscapes of Pembrokeshire". I can assure you all that I am lobbying very hard to have at least one of the fabulous Great Little Trains of Wales included in a future itinerary. In the meantime, I very much enjoyed my last ship-based visit to Wales, when I took 'Serenissima' into Fishguard on 7th September 2019. During the morning the passengers visited Tenby and Pembroke, and then in the afternoon they could either explore part of the Pembrokeshire Coastal Path, or join an excursion to St David's – the smallest city in the United Kingdom. The weather was stunning when we visited, as you can see from the photograph I took below. Therefore to conclude this week, a very happy St David's Day to all our Welsh readers, and I hope that, if the roadmap comes to fruition and everything falls into place, that we will be able to sail into Welsh ports again this summer. Goodbye for now!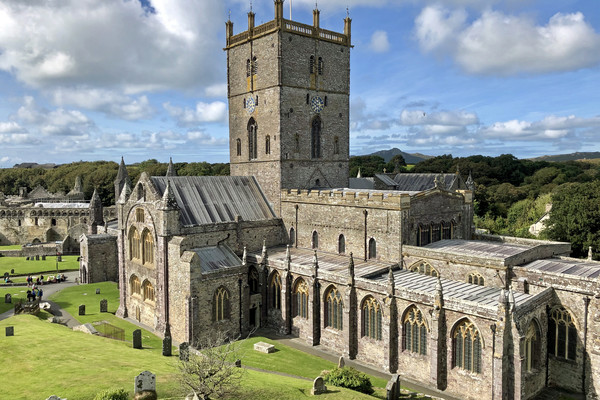 Looking across to St David's Cathedral, Wales. 7th September 2019.