Iceland to the Isles of Scilly
Good afternoon everyone! It's currently Wednesday 7th April and I am attempting to make the most of a day off work. I've managed to coordinate having a couple of workmen attend my house to deal with issues in the kitchen and bathroom. As a result, I've followed the government guidelines and have flung all the windows wide open to allow fresh air in whilst they are in attendance. Sadly, the weather is decidedly chilly so I am sat here in my spare bedroom wearing fingerless gloves and trying to stop my hands from shivering as I type. Last night I was delivering on the Kent and East Sussex border, and had to drive through blizzard-like conditions at one point. The weather certainly can't make up its mind at the moment. Speaking of last night, regular readers to this blog may remember that I have previously mentioned that drivers and customers can leave delivery notes if there are specific instructions for their property. The notes on one of my deliveries last night said that I should enter the door to the rear of the property and ring the bell. I carried out the instructions accordingly, but was slightly taken aback when I entered the property and saw this: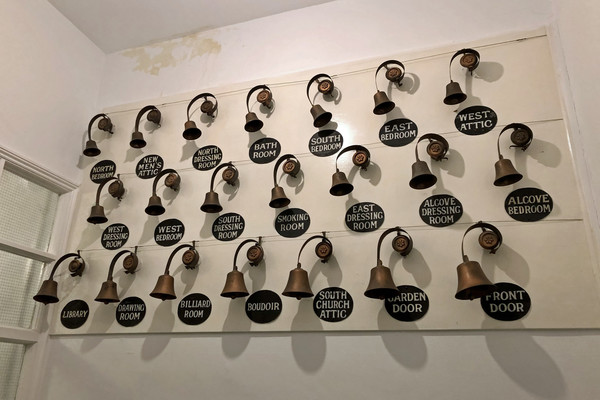 I thought I had stumbled upon Chantal Cookson's summer residence! 6th April 2021.

Fortunately, I soon realised that these bells were rung from the other end, and on the wall opposite was the single bell that I was to ring to gain attention. I commented to the master of the house about the fine array of bells on his wall, and asked if I could take a photo to include it in this blog, and he kindly agreed. It did make me think that perhaps I should carry a few Noble Caledonia brochures with me and accidentally slip them into the delivery crates. Staying on the subject of deliveries, once again I've been surprised and amused to have people ask me to keep them up-to-date with the monthly statistics. I have evaluated all the details, and can tell you that I delivered on 21 days of March. I dropped off 329 deliveries, and the total truck mileage covered was 1,410 miles. If you take a route as-the-crow-flies, then that is the equivalent of going from my house to the west coast of the Black Sea, or to the Moroccan city of Marrakesh, or even to the Norwegian Arctic Ocean island of Jan Mayen. Alternatively, using a popular road route planner, I could have driven from my house in Hythe, Kent to Dunvegan Castle on the Isle of Skye and back again. The maths works out at a delivery every 4¼ miles. In order to achieve this, from the time of clocking-in to clocking back out again, I took a total of 182,128 steps (or 553 per delivery).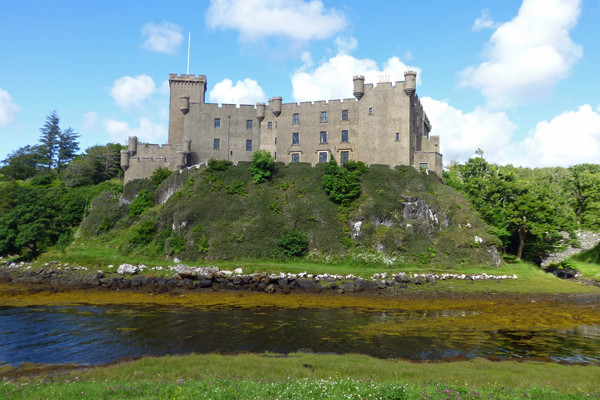 Dunvegan Castle, on the Isle of Skye, as seen from the Zodiac landing stage. 13th July 2016.
Thinking back to last week, well done to everyone who realised the April Fool. Whilst the idea of a push-me-pull-you delivery van is quite appealing, we haven't reached that stage yet. The photo was a rare occasion where multiple deliveries have to be transferred from one truck to another, and so the easiest way to do this is to back the trucks up against each other with someone inside to make the transfer. It has been quite delightful to be delivering in the run-up to Easter, with some form of chocolate egg in almost every delivery. One of my very best friends, Fiona, who also works as an Assistant Cruise Director with Noble Caledonia, kindly sent me an egg which I am bravely demolishing as I type this blog. I entered into the spirit of things by donning a rather fetching pair of bunny ears to carry out all my deliveries over the long Easter weekend. Whilst I might have looked slightly strange, it did help to keep my long hair out of my face, and was much appreciated by any families that were on my rounds.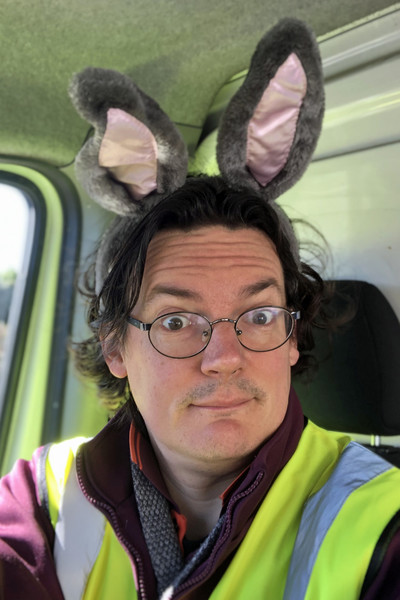 The Easter Bunny out on deliveries. 5th April 2021.

The shift patterns that I work tend to mean that I can go for weeks without watching any television news. However, I am blessed that my mum sends me an envelope each week with any cuttings from my parents' newspapers that she thinks may be of interest to me. I then take the envelope out on the road and have something to read during my break. One article that caught my eye was the recent eruption of Fagradalsfjall volcano in Iceland. It naturally brought back memories of when Eyjafjallajökull erupted in 2010 and brought air travel to a halt across Europe. I'm sure everyone can remember where they were at that time, especially if they were meant to be travelling. I was in Naples, Italy with a previous cruise line. A few days later the cruise was due to end in Marseilles. It soon dawned on us that the scheduled flights home would not be possible, and all the spaces on the trains had been booked. As a result, coaches were sent with any passengers who still wished to join us from the UK to Marseilles, and then we drove our disembarking passengers home, via an overnight stop in Dijon, France. By the end of the next cruise, flights had mercifully resumed. Those passengers that had come out to join us had a wonderful time on a half-empty ship, and were joined by several passengers from the previous cruise who were offered the opportunity to remain on board for a fraction of the cost.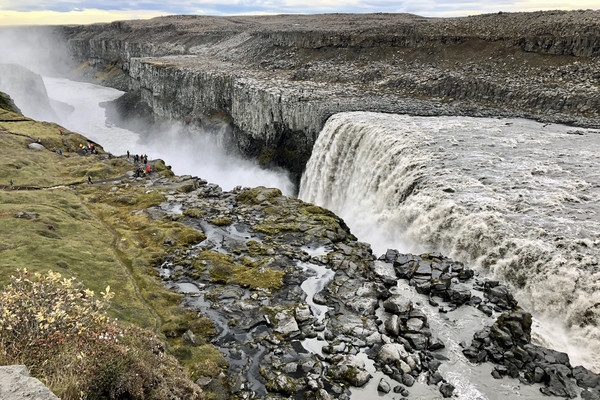 Dettifoss. A waterfall near Húsavík, Iceland. 25th September 2019.
At that time, I remember thinking this was a once-in-a-lifetime occurrence where there would be an international incident that stopped us all from travelling. Sadly, it's only taken another ten years and this time it has been much more prolonged. Dealing with the Icelandic volcano feels like stroll in the park in comparison to events since March last year. Thinking of Iceland, if you haven't already been, then it is a destination that I thoroughly recommend. I know that 'Serenissima' and 'Hebridean Sky' both have future cruises planned to visit this unique landscape. The scenery is outstanding, and the people are very hospitable. I can remember our guide on a recent visit reminiscing about the eruption of Eyjafjallajökull. She commented that after the 2008 financial crisis in Iceland, all of the European countries had demanded that Iceland send them large amounts of cash. However, there is no letter 'c' in the Icelandic alphabet, so they sent Europe a huge amount of ash instead. I sincerely think that a cruise is the best way to visit Iceland – it gives you the opportunity to reach those areas that are difficult to access any other way. For example, the most northerly point of Iceland, the island of Grimsey, which is the only part of Iceland that crosses the Arctic Circle. Also, Heimaey in the Westman Islands off the southern coast of Iceland, with the intriguing nearby island of Surtsey, which rose from the sea in the 1960s, make for fascinating visits.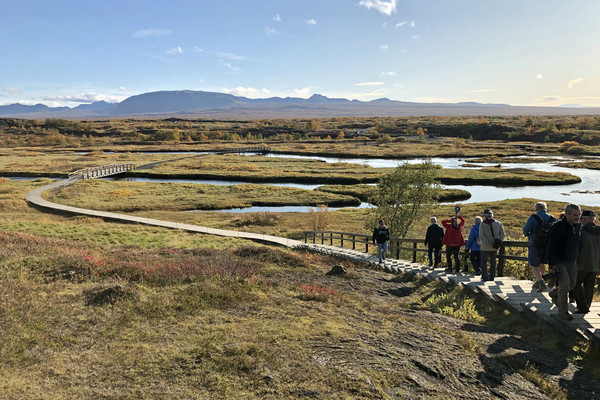 Heading into Þingvellir National Park, Iceland, where the tectonic plates collide. 23rd September 2019.

The other newspaper cuttings were mostly to do with the huge container ship that blocked the Suez Canal. Thank heavens that didn't happen in March last year when I was on board the 'Serenissima' for what turned out to be her final cruise prior to the lockdown. Not to be outdone by events in Egypt, it did amuse me to see that my hometown of Littlehampton tried to steal some of the limelight. The bow of the 80m long "Elise", which was delivering stone from Antwerp to Littlehampton, broke free of her mooring and swung across to block the River Arun. An estimate in the financial press put the cost to the global economy in the region of thirty-seven pence. What wasn't widely reported was that exactly the same ship, in exactly the same spot, had done exactly the same thing back in September last year. Concrete proof of why risk assessments were invented, and any incidents should always be recorded so as to learn lessons and avoid any reoccurrence. Countless reports are published by the Marine Accident Investigation Branch, and yet they always include something that is new or previously not thought of, and so they are essential reading to all of us seafarers, regardless of position on board. My good friend Dylan sent me a photo of the recovery attempt.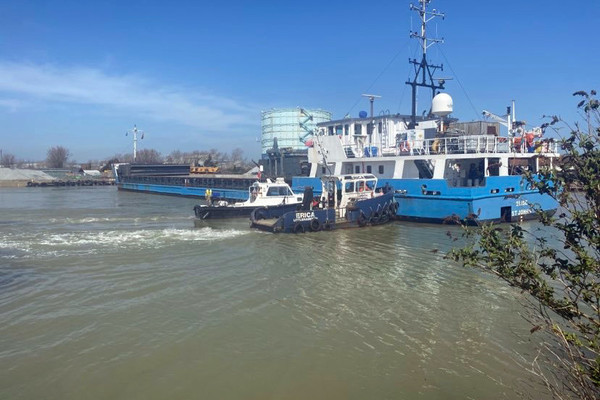 The ship "Elise" blocking the River Arun in Littlehampton. 30th March 2021. Photo: Dylan Gibson.
Whilst I have been writing this, both the kitchen and bathroom have been attended to by the two chaps I have had to call out. However, the main highlight of the day has been the surprise of hearing a steam engine whistle for the first time this year. My local Romney, Hythe & Dymchurch Railway is scheduled to re-open on 12th April, but as they have been closed since mid-December, you can't just unlock the door, turn the key and off you go. The track has to be thoroughly checked and drivers re-assessed before re-opening. As a result, the first steam train of the year, on an unadvertised test run, passed within fifty yards of the back of my house about four hours ago. The whistle of 96-year-old "Green Goddess" pierced the Hythe air as though it was heralding the beginning of a return to some form of normality. I look forward to being able to return to help the railway wherever I can.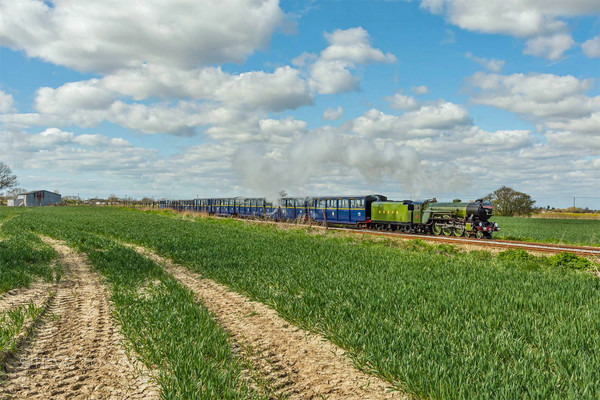 "Green Goddess" heads towards Hythe with the first test train of the year. 7th April 2021. Photo: Steve Town.
Whilst visiting my parents just over a week ago, I noticed that they had the Noble Caledonia calendar on proud display. I had a sneak peek at where would be shown for April, and saw it was a photo from the Isles of Scilly. In a vague attempt at keeping myself abreast of the cruises that will be coming up, I noticed that there is one on the 'Island Sky' next year that includes the rare combination of Marrakesh and the Isles of Scilly. Most visits to the Isles of Scilly tend to be on cruises which start and end in the UK, so to have the islands included on an international cruise is rather appealing. The cruise I noticed, called "From the Barbary to the Jurassic Coast", commences on 10th May next year, and is relatively short at nine days duration. The cruise itself starts in Casablanca, but there is the option to add a pre-cruise extension in Marrakesh. I often receive emails from your good selves asking if I can be on particular cruises. Quite rightly, I am assigned cruises, rather than being offered a choice, so there is never a guarantee. However, I will admit there are those cruises where I see them advertised and hope that they will come my way! This would certainly be one of those. Ports include Lisbon, Leixões (for Porto), Vilagarcía de Arousa, La Coruña (for Santiago de Compostela), the Isles of Scilly, Portland, and finally Portsmouth. I always think it is rather splendid to be able to fly out to somewhere exotic and then sail back to the UK.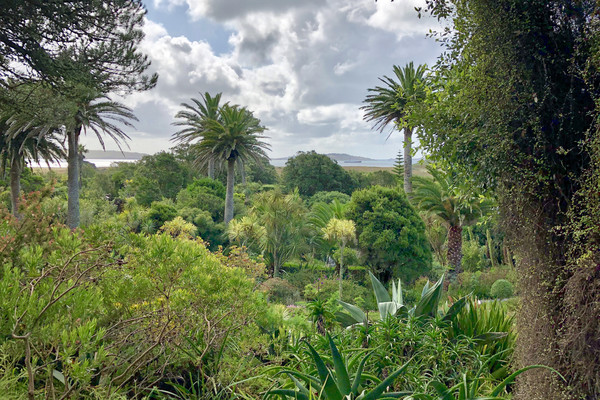 Looking out over Tresco Abbey Gardens with 'Serenissima' at anchor in the distance. 9th September 2019.
I could easily write a separate blog about visits to each one of those ports. However, I'll stick with the English ports for the remainder of this blog. Some of you may recall, in the blog titled "New Blog, New Job and New Zealand" that whilst seeking employment this time last year, I was offered the role of postman on Tresco in the Isles of Scilly. Looking back, I was wise not to take up the offer, as I thought it might only be needed for a few months. However, it was with a heavy heart that I rejected the offer from Royal Mail. Their heart was probably heavier as it transpired that I was the only person who had applied. I absolutely adore visiting Tresco. On the 'Island Sky' cruise in May next year, the brochure states that we will anchor in the relatively sheltered centre of the islands, and visit Tresco in the morning and the smallest of the inhabited islands, Bryher, in the afternoon. I love Tresco. This partly stems from my enduring friendship with Mike and Isobel Nelhams. Mike is the curator of Tresco Abbey Gardens, and Isobel appears to run everything else! My most recent visit to Tresco was on 9th September 2019 with 'Serenissima'. The weather was glorious and the red squirrels appeared to be lined up to grant our passengers a guard of honour as they walked over the bright blue bridge at the entrance to the gardens. My previous visit with a ship was also very memorable, as it was on my 32nd birthday, nearly eleven years ago. On that occasion the passengers were visiting Tresco in the morning, and St Mary's in the afternoon. To my surprise, the ship's crew had arranged to hire the function room of Tresco's pub, the New Inn, for the afternoon and so after the last passenger had left for St Mary's, another tender came alongside and we headed to Tresco for a surprise birthday afternoon treat.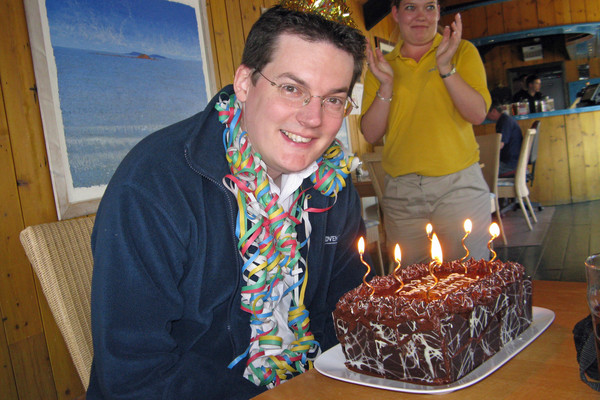 A scarily young looking me on my 32nd birthday in the New Inn, Tresco. 11th May 2010.
Portland might not be the first place that springs to mind for a cruise ship destination on the south coast of England, but it is a very useful berth to be able to access a wonderful array of sights. Portland Bill itself has a fascinating military and quarrying history. Nearby Chesil Beach, Abbotsbury Swannery, Hardy Country, Dorchester – the county town of Dorset, and, dare I say it, Corfe Castle and the Swanage Railway are all within easy reach. The brochure states that the shore excursion on offer will be a morning trip to Minterne House, including the gardens designed by Capability Brown (whose lesser-known brother, Inability Brown, cultivated window boxes). After lunch on board, there will be the opportunity to join a guided coastal walk from Durdle Dor to Lulworth Cove in the afternoon. I reckon I should have just made it back from the Swanage Railway before it is time to write the next day's programme!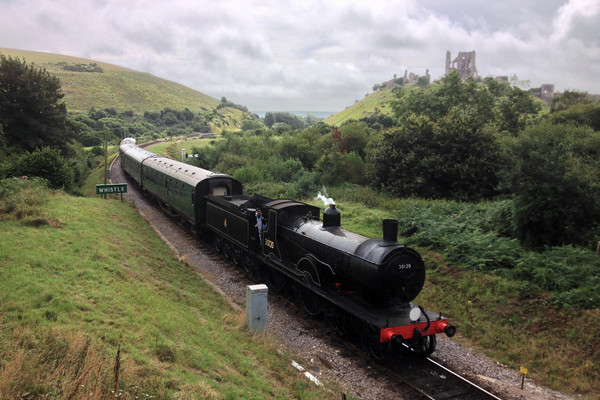 A train approaches Norden, with Corfe Castle in the background. 3rd August 2016.
And finally, the cruise will conclude in Portsmouth. Whilst Southampton is undoubtedly an excellent port in terms of facilities and such things, there is something more homely and inviting about Portsmouth. I think it stems from viewing the Spinnaker Tower, avoiding the Gosport Ferry, sailing by the beautifully restored HMS Warrior, and then continuing past the latest Royal Navy warships before settling on to our berth alongside the cross-channel ferries. I remember disembarking there after a couple of months on board a ship a few years ago, and thinking about all the hours, or even days, of international travel that usually accompanied the quest to return home. On that occasion, I join the passengers on the coach to Portsmouth Harbour and caught the direct service along the coast to Littlehampton and was in my parents' house about 1½ hours after leaving the gangway. Perfect! With that, I have reached the limit for this week's blog. Thank you again for all your emails – and let us all hope that the gradual easing of lockdown restrictions goes to plan. The sound of "Green Goddess" running into Hythe a few hours ago has certainly lifted my spirits, and it's onwards and upwards from here on in! Goodbye until next week.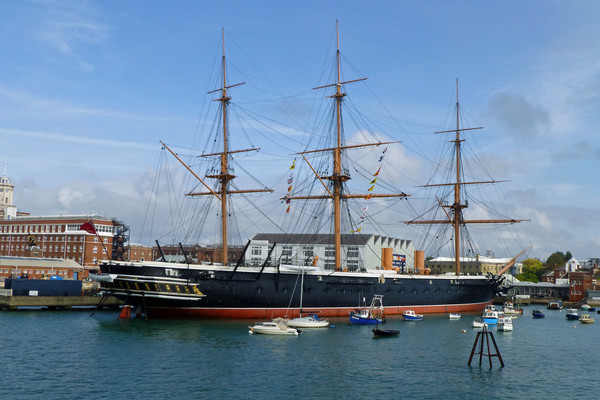 The view of HMS 'Warrior' from the deck as we sail out of Portsmouth. 2nd October 2013.