From Turkey to the Talyllyn!
Good evening everyone. It's Tuesday 3rd November, dinner is in the oven, I've a mug of tea on my desk, and I'm happily here writing to you all. In the week that has passed since the previous blog, I've been my usual busy self. Six of the seven days have seen me doing my rounds of Kent. I decided to join in the Hallowe'en festivities by wearing a very large witch's hat for my deliveries on the evening of 31st October. I also bought a small bucket and a few bags of sweets in case I ended up delivering to any families who were marking the occasion. Of my twelve deliveries, only two of them included knocking on the door and having children who were in costume try to scare me. I think they were rather puzzled when they realised I was wearing an appropriate hat and offered them a treat instead! It felt good to have the opportunity to spread a little joy as I drove around Kent.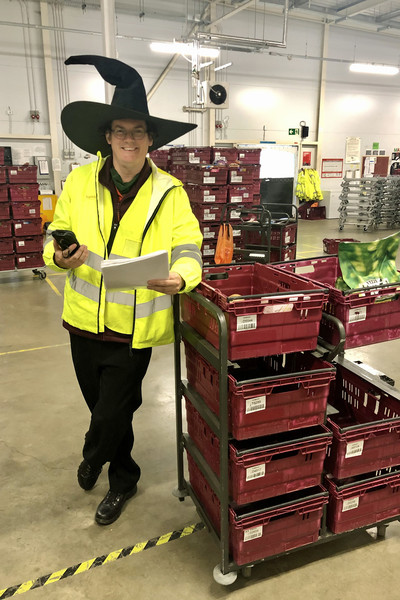 Looking the part on Hallowe'en as I head out on my deliveries.
In spite of delivering for six of the last seven days, the shift pattern worked out in such a way that I could also volunteer on the railway for four of those days. I had a couple of days at New Romney, one working from home, and then yesterday I was busy scraping the stubborn paint off the signal gantry at Hythe. The weather was thankfully sunny, as it has been today, in stark contrast to last week. Like everywhere else, the railway is now having to close from Thursday onwards due to the new government guidelines. I feel relieved that we were able to operate over the half-term week. I think many more families visited various tourist attractions more than they usually do, in the knowledge that there was a good chance that a lockdown was coming. It felt good to join the maintenance team yesterday and be doing something constructive. Whilst having a tea break, I noticed that the rail-bike was in the shed, and couldn't resist trying it out. I hadn't ridden very far before I was informed that it doesn't have a brake. Fortunately I hadn't managed to create much speed so all was well!
Trying out the rail-bike within the confines of Hythe engine shed. 2nd November 2020.

My only other venture out was last night, when I was kindly invited to dinner by a friend of mine in Folkestone. Marissa worked as a Receptionist on the 'Spirit of Adventure' and we have been good friends ever since. Over here in Hythe, I'm far away from any family, and having only moved here less than three years ago – and then being away at sea for the majority of that time – I don't really know too many people. It is therefore a genuine treat to be invited round for a good meal and even better company. A happy evening of reminiscing and discussing our respective career paths, and then home again. Splendid! Obviously, from this Thursday, such a meeting will not be allowed, so it felt even more valuable to meet while we could.
Another event that happened in the past week was the magnitude 7.0 earthquake, with an epicentre just fifteen miles from the Greek island of Samos. When I heard the news on 30th October, the newsreader mentioned Samos and the Turkish city of Izmir. Whilst my immediate thoughts turned to the people who had lost their lives and the search for survivors, I also found myself hoping that the famous library façade at nearby Ephesus would still be standing. We have a brilliant local agency that we use in Turkey, called 'New Faces Travel', and over the years I have become good friends with the owner, Yasar Karadag. I am also delighted to be very good friends with the best tour guide in Turkey, Ayca Kesici. No need to just take my word for it, as she has been awarded said accolade by the Turkish professional body that decides such things. Ayca is often our guide for Ephesus, as she is based in Izmir and Kusadasi, and I was relieved to see that both Ayca and Yasar and their respective families are safe, and also that Ephesus was not affected. Those of you who have been to Ephesus will no doubt recall the ornate façade of the library.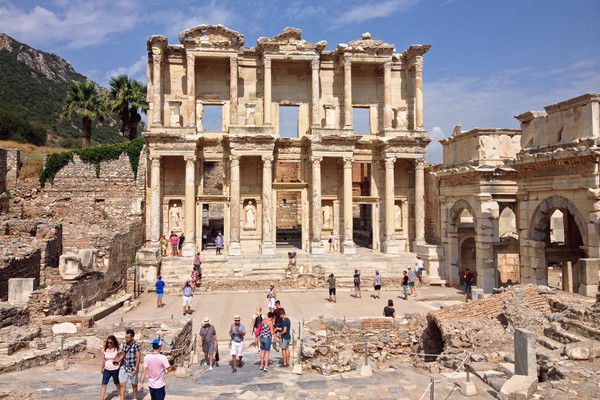 The Library of Celsus at Ephesus (2nd Century AD). 24th July 2018
I can remember on the tour, which I've been fortunate to join a few times, being told that the Goths destroyed Ephesus in 263 AD, but it was rebuilt. However, the city declined as the harbour silted up, and the final straw was the partial destruction caused by an earthquake in 614. Ephesus remains the site of one of my favourite overheard comments. I was strolling along, being 'tail-end Charlie' of my group, and we were alongside another group from one of the larger cruise ships that was in Kusadasi. As we approached the library façade, one lady in their group turned to her husband and said, "Gee honey, I don't get why the Romans never finished anything they started building!" On hearing this, I audibly giggled and turned round, only to realise that the lady had a serious look on her face and was expecting a sensible answer from her husband. I still regret that I quickly moved on rather than waiting to hear his response.
My heart really does go out to Turkey. Without fail, everyone we deal with in that country is marvellous. Nothing is ever too much trouble, and they go out of their way to assist us. Everywhere you go, there are images of modern Turkey's founder, Mustafa Kemal Atatürk. They serve as a reminder of the proud way he established Turkey as a secular nation where everyone is welcome. I must have been to around fifteen or so different ports in Turkey, and all have something different to offer. Naturally, Istanbul is a place that lives long in the memory, but the lesser-visited ports on the Black Sea coast of Turkey also act as gateways to the fascinating interior. The Dardanelles are steeped in recent tragic history, whilst the southwestern "Turquoise Coast" is a true paradise setting. The ancient sites further along the Mediterranean shoreline, from the likes of Alanya, Antalya, Bodrum, Fethiye, etc are relatively hidden gems that demand further exploration. I remember being in Fethiye and seeing all the gulets lined up along the quayside, available for charter, and thinking how I would love to come back one day and finally be the skipper of my own boat!
A few years ago, there were hundreds of cruise ship calls to Turkey. I can remember being in Istanbul and Kusadasi and not being able to see a spare yard of quayside through all the ships that were visiting. Sadly, security concerns led to a huge downturn in cruise ship calls. However, in recent years, partly led by the likes of Noble Caledonia visiting with the necessary precautions, more and more tourists were returning. I always feel most sorry for the locals who depend on tourism, as they are the people who are invariable worst affected. For example, when the Crimea was annexed by Russia, overnight that stopped all cruise ships from visiting Yalta and Sevastopol. To visit there would go against the sanctions that were and are imposed. When we did previously visit Yalta and Sevastopol, there were many excellent local tour guides, coach drivers, etc who had worked so hard to develop their English language abilities in order to provide their excellent service. Then suddenly, through no fault of their own, all their customers have vanished. Going back to thinking about Turkey, I know from my conversations with Yasar that 2020 was due to be a very big year for Turkish tourism as the larger ships were all booked to return. That's where the unfairness of the economic impact of Coronavirus hits in. Yasar will undoubtedly have purchased new coaches to cater for the expected increase in demand and such things. I don't know what level of personal and business support is being made available in Turkey, but I know I feel glad that there are support measures in place here in the UK. Fingers crossed that things can get back to normal fairly soon and the tourism world can finally re-open for business.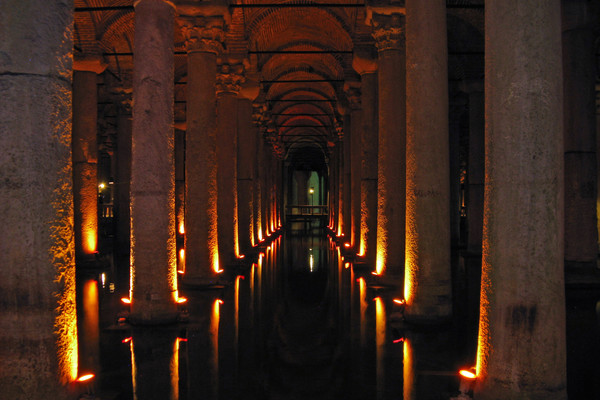 Visiting the fascinating Basilica Cistern in Istanbul. 2nd September 2011.
Another event that caught my attention this past week was the sad news that Sir Sean Connery had passed away, aged 90. This may seem odd, but I think that there was an element of James Bond in why I ended up at sea. I was born in the late 1970s, and the only programmes which featured international travel were the likes of Judith Chalmers on "Wish You Were Here?" or Alan Whicker showing us "Whicker's World". I confess that neither show particularly interested me, and other than the occasional day trip to France or Belgium, my family never went abroad anyway. However, the James Bond films were something else. Not only did they showcase amazing locations, but they made them all seem exciting. From a relatively early age, I could play Paul McCartney & Wings' "Live and Let Die" on the piano. The opening scene of that film, when the brass band marches solemnly through the streets of New Orleans, and then bursts into lively jazz after an agent is assassinated, has made me want to visit New Orleans ever since. I have not reached there yet, and would have been going on the Mississippi river cruise to fulfil that dream, but that'll have to wait for another year.
Another Bond film that caught my eye was, "The Man with the Golden Gun". For many years, I presumed it was true that MI6 did have a covert headquarters within the wreck of RMS Queen Elizabeth in Hong Kong harbour. The last time I was in Hong Kong was whilst I was on my way from London to Auckland to join 'Caledonian Sky'. The flight arrangements were such that I had eleven hours between flights in Hong Kong, from 8am to 7pm local time. I was offered a day room in an airport hotel, but I am one who prefers the chance to explore. I double- and triple-checked that my main luggage would be transferred automatically, and that I only had to take my hand luggage with me. I also received confirmation that, as an in-transit passenger, I was allowed to leave the airport and explore Hong Kong at my leisure. So whilst others headed for the airport hotel, I found the metro and took the train to Hong Kong island. I walked to the post office and, as is traditional, sent a postcard to my parents. I continued down to the waterfront and then indulged in one of my favourite boat trips in the world, crossing Hong Kong harbour on the Star Ferry. There is just something about those ferries which strikes a chord with me. There is no better way to see Hong Kong, and it is one of the very few cheap things that you can do in that amazing city. Once I'd reached the other side, I walked past the old railway station clock tower and into the foyer of the Peninsula Hotel. I ordered a late breakfast and sat down with a freshly ironed copy of the South China Morning Post and felt that this was the closest I would ever get to feeling like I was James Bond!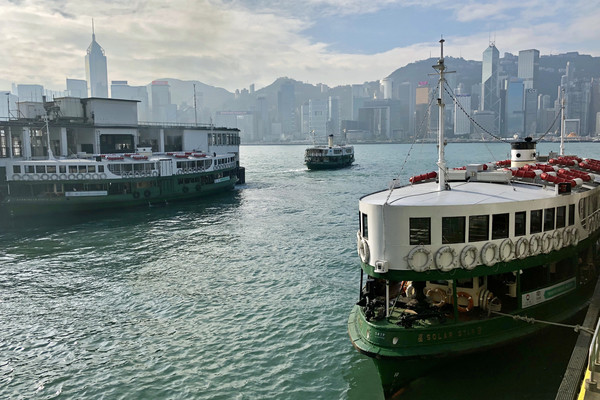 The Star Ferry crossing Hong Kong harbour. 13th December 2018.

Thinking again about Sean Connery, another series of films he made which featured wonderful locations was the Indiana Jones series. The film and scene that springs immediately to mind is the final part of "Indiana Jones and the Last Crusade". I remember watching it, as Harrison Ford and Sean Connery (or Indiana Jones and Henry Jones, Sr.) ride on horseback into Petra, Jordan. To my shame, I can recall thinking that it was a fantastic Hollywood stage set. I had no idea that such a place genuinely existed. It was in 2006 that I was on a ship and visited Aqaba, Jordan, for the first time. I can recall the excitement around the ship as we had a couple of days to explore both Petra and nearby Wadi Rum. Every passenger seemed to have copy of T. E. Lawrence's "Seven Pillars of Wisdom", and I had shown the Indiana Jones film on the open deck the evening before.
The coaches took us from Aqaba to the parking facility at Petra, and then we began walking down towards the Treasury. The path becomes narrower and more dramatic, with many gentle twists and turns. Then, finally, you step out into the clearing and there is the magnificence of the Treasury before you. Those who know the film, will remember that it is inside the Treasury that the Holy Grail is located, being guarded by the Grail Knight (played superbly by then 81-year-old Robert Eddison OBE). Sadly, the inside of the Treasury was clearly a Hollywood set, as once you enter through the door way there is just an empty room. I think I even tapped on the walls, hoping to discover a secret chamber. It was all to no avail, but if you have not been to Jordan, then I cannot recommend it highly enough. The Middle East can be a chaotic place at the best of times, but Jordan appears as an oasis of calm surrounded by madness.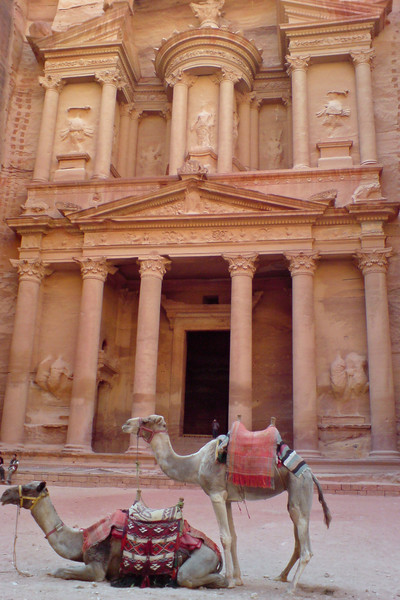 The camels pose for a photo in front of the Treasury at Petra, Jordan. 10th October 2006

To end this blog, I thought I would look back again to my recent trip to Wales. In light of the new restrictions that come into force tonight (it is now Wednesday evening as I write), I realise just how lucky I was to have any escape at all. One of the 'Great Little Trains of Wales' that I was pleased to be able to visit was the Talyllyn Railway. This is where railway preservation started in the United Kingdom. They are rightly proud to say that they are the first preserved railway in the UK, as it was opened as a heritage railway by volunteers in 1951. One of the first volunteers was the Rev W. Awdry, who was inspired to create the fictional Skarloey Railway in the Thomas books, based on events that happened on the Talyllyn. The railway being run by volunteers also caught the eye of Ealing Studios, who the following year made the film, "The Titfield Thunderbolt", which including incidents that had happened in the first year of operating the Talyllyn. Little did those volunteers know what they had started!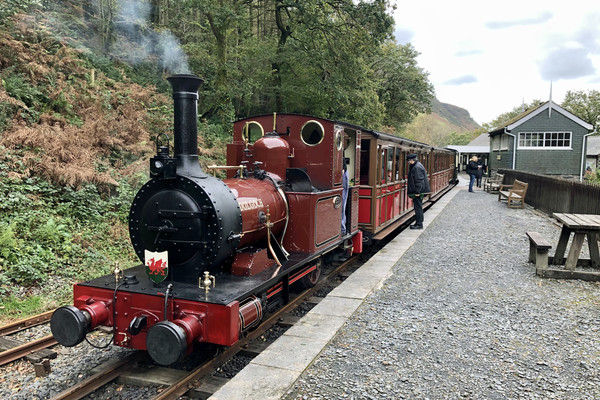 Dolgoch' pauses at Abergynolwn station on 9th October 2020. She was built in 1866.