From a Flying Circus to the Corinth Canal…
Good evening everyone. It's 6pm on Tuesday 30th June. I hope everyone is doing well. I had quite an enjoyable day in the rain driving around remote parts of Kent with my delivery truck. I've been granted quite a sizeable amount of overtime recently, which is welcome but also rather tiring. However, all the people I have delivered to have been delightful, and that certainly helps. My favourite so far has to be a sweet lady who lived down a very long country lane. The truck is 8' 10" wide, and her country lane was one of those that possesses my new greatest fear… the sign at the beginning saying that it is only suitable for vehicles that are under 6' 6" wide 'except for access'. Obviously, I fall under the category of requiring access – but it is with some trepidation that you head along such a lane, keeping a constant look out for where you might be able to turn around if the need arises. On reaching the lady's bungalow, and having asked her permission, I reversed up her driveway, which wasn't steep – it felt like it was vertical. Due to the current restrictions we are not allowed to enter customers' houses. I placed the delivery by her back door and we chatted from a safe distance. She had a beautiful black Labrador who chose to ignore social distancing rules and came bounding over to me. The elderly customer told me how she struggled to walk her dog, but that the weekly delivery person and her dog were the only people she'd physically spoken to since mid-March. It made me realise that we are indeed providing more than just a delivery service. I said goodbye to the lady, put the empty crates back on the truck and realised that my legally-imposed break was due. I was in the middle of nowhere, so I had an idea. I climbed back down from the cab and rang the lady's doorbell. I told her I had to take a twenty minute break and, if it would help, I would happily take her dog for a walk for her. She was absolutely thrilled, and therefore, if you happen to have been in the fields of east Kent recently and spotted a chap in a hi-viz vest walking an enthusiastic black Labrador, then that was me and Daisy. I confess I was very grateful that Daisy didn't 'perform' on our walk!
So, here I am on a drizzly early evening in Hythe. I've made a large coffee and have a CD of Ralph McTell playing quietly in the background as I write this blog. Many of you will know of my appreciation for Ralph – both for his music and the man himself. I've seen him in concert numerous times, at venues ranging from the Royal Northern College of Music, to Sidmouth Folk Festival, and most recently in December at the Royal Festival Hall. One of his very best friends is Billy Connolly, as they toured together regularly on the folk scene when Billy was in "The Humblebums" with Gerry Rafferty. Legend has it that Gerry became rather fed up with Billy's humorous introductions to the songs becoming longer and longer. I think it rubbed off on Ralph as he always has an amusing anecdote to tell before each song. One of my greatest memories from my time at sea was that I personally persuaded Ralph to perform on a ship on which I was Cruise Director back in 2013. I had discovered that his wife, Nanna, was Norwegian and that helped to seal the deal as they sailed with us for a few days from Stavanger to Bergen. Former BBC War Reporter and Independent MP Martin Bell, "the man in the white suit", was on the cruise as well, and we all had a very enjoyable dinner together. Ralph was scheduled to play a 45 minute set, but it lasted for 75 minutes and not a single person moved from their seat. The passengers hadn't known that he would be on the cruise, and I'll forever be grateful that he agreed to come on board and perform.
I've only got another hour before television coverage of Brighton & Hove Albion vs Manchester United begins, so I thought I would use the time sensibly to write the blog. Also, probably better to write it whilst I'm in a good mood prior to kick-off, as I have no idea how I will be feeling afterwards! All fingers will be crossed though that the mighty Seagulls continue their decent form since the re-start.
In other news, I had my first customer recognise me on Sunday. I was on the click-and-collect service and he and his wife pulled up in their car. The gentleman said that he could have sworn he'd seen me somewhere before, and we worked out that he had been with me on a 'Spirit of Adventure' cruise about ten years ago. Fortunately his memories of both me and the cruise were very positive. Phew! Also since I last wrote, I have finally finished my marathon litter-pick of the Romney, Hythe & Dymchurch Railway. It's taken me three months to complete the 13¾ miles of track from Hythe to Dungeness. I've filled up 33 sacks of rubbish, recycled everything that could be recycled, and felt very proud yesterday when the first test train since lockdown ran from New Romney to Dungeness, and the excellent photographs that the many lineside photographers took showed a clean and tidy track.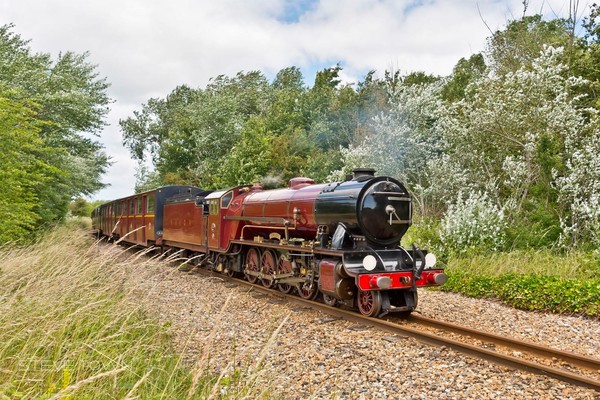 Hercules heads for Dungeness with the first test train on Monday 29th June 2020 'Photo: Steve Town'
Moving on… it is now just past midnight on Thursday morning. I was too tired and emotional to continue writing the blog after Brighton's dismal defeat to Manchester United, and the day that has just ended, Wednesday, has seen me at work from 7am to 11pm. Obviously you cannot drive for that long, and I had a break from 2pm to 7pm, but as a result I'm back home now and rather shattered. Thank heavens tomorrow is a lunch-time start! I made use of my break in the middle of the day today and drove from Ashford to Chartham where a wonderful friend of mine lives. Some of you will remember I mentioned Emma before, as she kindly delivered a chocolate birthday cake to me back in May. I wanted to return the Tupperware container, and also see where she lives. Her house is in the most picturesque spot, and the crystal-clear River Stour runs by her back garden. A coot had, somewhat bizarrely, built a nest in the middle of river, taking advantage of a reed bed. Emma told me that said coot had had to rebuild the nest quite a few times as the river level changes and wind and rain cause disruption. I also noticed that she has a small rowing boat. It was tempting to launch it and then I could pretend to be the Cruise Director, but I wisely thought better of it. Instead, after a late lunch, Emma took me for a walk along part of the North Downs Way. Wonderful views across the Downs and perfect weather – not too hot and not too cold. Then it was back to work for the evening delivery round before finally coming home. Please bear with me, and I'll continue in the morning as I can't focus on the screen anymore!
Good Thursday Morning to you! The inspiration for this week's subject comes from something I did six years ago today. At this time of being stuck at home, I occasionally take solace in seeing what I was doing and/or where I was on this day over the past few years. Six years ago today I took myself to London to see "Monty Python's Flying Circus" at the O2 Arena. I had always found their material to be a little hit and miss, but I didn't want to miss out on the opportunity to see Michael Palin, John Cleese, Eric Idle, Terry Jones and Terry Gilliam together for what turned out to be the last time. A friend of mine at university had a CD of Monty Python songs, mostly written by Eric, and thought it was brilliant. A couple of years before that, I had queued at HMV on Oxford Street in London to have Michael Palin and Terry Jones sign a copy of "Ripping Yarns: The Complete Series" for an anniversary present for mum and dad. During the reunion show, there was a scene that gentle mocked Michael Palin's travel shows. I can well remember, as an eleven-year-old in 1989, watching the first of those, "Around the World in 80 Days" in awe. I think we are so lucky that Michael did it then – before the internet and mobile phones came along. I reckon I could sit here now, at my desk at home, and produce a round the world itinerary without using aeroplanes in the space of a few hours. There are even websites dedicated to such things. I could probably even have seat reservations. Back in 1989 it was an entirely different state of affairs. The series itself was filmed the year before. Michael left London on 25th September 1988, and returned on 12th December. As a result, I re-watched the first episode. Already it has become a time capsule. The first thing Michael does is catch the Venice Simplon Orient Express from London Victoria to Folkestone Harbour. Once the Channel Tunnel opened, ferry traffic was slowly diverted away from Folkestone and the port is now closed to commercial traffic. As a result, there was no longer a need for the rail link, and the branch line has closed too. The railway station became derelict, but has now thankfully been beautifully restored.
You may recall that Michael then continues to Venice. After Venice he catches the ship "Espresso Egitto" for a journey from Venice to Piraeus (Athens). After a day or two sailing down the Adriatic Sea, he heads into the Gulf of Corinth, and this is his commentary: "It's only when there's land around that sea travel really becomes interesting, and at the Corinth Canal, it becomes spectacular. The drama begins with the boarding of no less than three pilots to guide us through. As we approach, the road is lowered beneath the water to let us pass. The mouth of the canal is like the narrowest eye of a needle. From a distance, the operation looks impossible. Even when we're inside, I can't quite believe it isn't all a Cecil B. DeMille special effect. It will need all the skill of our Captain, the three pilots and a tug boat to get us through the four mile canal in one hour. The French engineers who dug the canal took 12 years over it. It was opened in 1893. Twenty years too late for Jules Verne to send his hero through. As it was, he put Fogg on the SS Mongolia, which went from Brindisi on the heel of Italy, straight to Bombay, missing Greece altogether."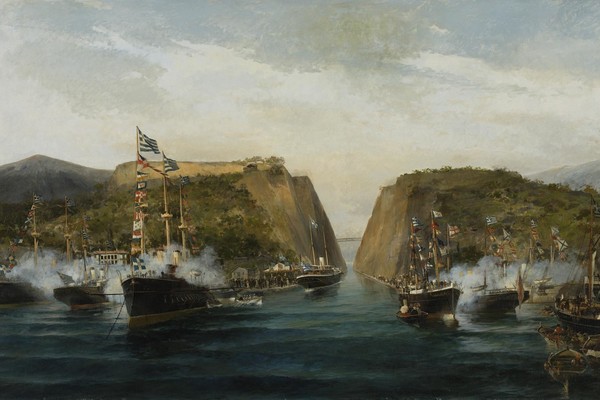 Painting of the Inauguration of the Corinth Canal by Constantinos Volanakis (1837-1907)
The history of the Corinth Canal can be traced back to 602 BC. Ancient writers relate that Periander, Tyrant of Corinth and one of the Seven Sages of Antiquity, was the first man to seriously consider the possibility of opening a canal through the Isthmus. He is said to have given up on his plans fearing the wrath of the gods, however suspicions remain that the local priests were influenced in their advice by not wanted to relinquish the gifts and dedications from traders who crossed the isthmus on land.
In 307 BC, Demetrios Poliorketes began excavations for a naval passage but was dissuaded by Egyptian engineers who predicted that the different sea levels between the Corinthian and the Saronic Gulfs would inundate Aegina and nearby islands.
Julius Caesar and Caligula both courted the idea of a canal. In 66 AD, Nero set teams of war prisoners from the Aegean islands and 6,000 slave Jews to work on a canal. They dug out a ditch 3,300 metres (two miles) in length and 40 metres (131ft) wide before Nero was summoned back to Rome. Upon his execution on charges of treason the unfinished canal fell into disrepair. A small statue of Nero is engraved into the side of the canal, marking the point where his project reached. It is so small that I have to physically point it out to the passengers when I am doing deck commentary as we pass through. Herod of Atticus attempted to start excavations again, as did the Byzantines and the Venetians, but all to no avail.
It was not until the opening of the Suez Canal in 1869 that the Zaimis Administration were inspired to enact a law entitled, "Opening of the Isthmos of Corinth". Work finally began again on 23rd April 1882 with King George I of Greece present at the official ground breaking. As if to demonstrate the brilliance of Roman engineering, the canal followed almost exactly the route that Nero himself had mapped out as it proved to be the most feasible economic alternative.
12,000,000m3 of earth had to be removed to cut out the entire passage, and the Corinth Canal opened with spectacular ceremony on 25th July 1893. However, the problems did not end there. The rock formations are not uniform throughout the canal. Several geological fissures run in an east-west direction at a vertical angle to the canal. These geological features were responsible for a number of major landslides into the canal. Due to this the canal often had to be closed for repairs. From the opening day until 1940 the canal was closed, in total, for four years. The most serious single incident occurred in 1923 when 41,000m3 of earth caused the canal to remain closed for two years.
World War II led to a major interruption in the operation of the canal. In 1944 the retreating German army detonated explosives on the flanks of the canal, causing 60,000m3 of earth to cave in. To make repairs even more awkward they also pushed railway carriages off the bridge in order to hamper rebuilding. It took five years to clear the canal of all the debris.
As Michael Palin mentioned, there are two sinking bridges in the Corinth Canal to facilitate land traffic. One is located at Poseidonia and the other at Isthmia. The company which operates the canal boasts that it is the "safest and cheapest access route" and are pleased to attract seafarers and tourists alike "to admire not only the gift from the hand of nature, but also the miracle worked out by the hand of man."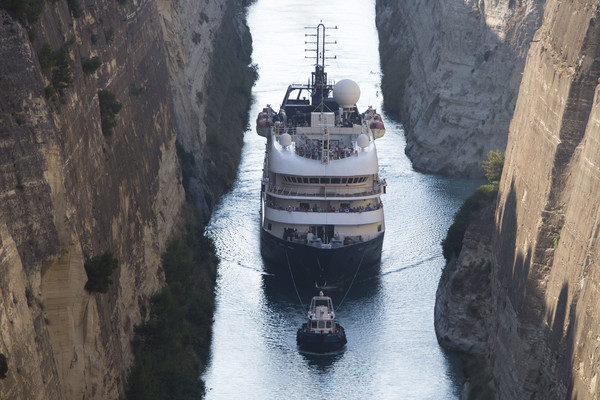 MS Island Sky navigating the Corinth Canal
Some of the facts surrounding the canal are worth noting:
The canal cuts through the uneven land of the isthmus, which reaches a height of 79m (259ft) above sea level.
The total length of the canal is 6,343m (four miles), of which 540m (1,772ft) is taken up by the ports of Poseidonia and Isthmia at the mouths of the canal.
The official maximum width of a ship passing through is 24.6m (81ft), draft 8m (26ft), and height 52m (170ft).
Towage is compulsory for all vessels exceeding 800 net tonnes, and the use of pilots is compulsory for all vessels under towage.
The canal reduces the distance from Venice to Piraeus by 130 nautical miles (150 land miles).
The usual rate of stream approaches 2½ knots and seldom exceeds 3 knots, and there is a 60cm (23in) difference between high and low water.
At the last count, around 11,000 vessels transit the canal every year.
I have been fortunate enough to sail along the Panama Canal, Suez Canal, Cape Cod Canal, Chesapeake and Delaware Canal, Kennet & Avon Canal, Shropshire Union Canal, and a few others. All of them are spectacular in their own way. The Panama Canal is a wonder of early 20th century engineering. The Suez Canal is heaven for shipping enthusiasts. The American canals cleverly combine road, railways and rivers. The two British canals mentioned are memories of family summer holidays in the late 1990s. However, for sheer wonder in the space of an hour, the Corinth Canal is incredible. I have been fortunate enough to transit on four different ships, and I know that 'Monet', under charter to Noble Caledonia, is scheduled to pass through next year. If a Corinth Canal transit is not on your "to do" list then I strongly recommend it – although you'll have to have sharp eyes to spot the statue of Nero! Hopefully I can include the superb footage that was taken by our 2nd Officer, Charley, when the 'Island Sky' transited the canal on 1st June 2017. Until next week, all the very best to everyone…
If you are interested in navigating the Corinth Canal here are a couple of suggestions: Timeless Mediterranean & In the Footsteps of Edward Lear