Dodgy Deliveries, Souda Bay and Sint Eustatius
Good morning everyone. Yes, not often that it's a morning that I sit down to write the blog, but today (Wednesday 28th April) is a rare day off, surrounded by afternoon and evening shifts. I have just finished compiling the monthly Travel Quiz which you will find elsewhere within the Travel Post on the Noble Caledonia website. I wisely sent my initial version to my colleagues to test, and hopefully the finished article makes an interesting challenge for everyone. I also want to say a thank you to those who wrote in to offer congratulations on an entire year of weekly blogs. I have them all saved here on my computer, and if you've read them all, then it's close to 150,000 words. I think medals should be awarded for those who've made it through! Yesterday, I had a delightful delivery run. I know I should say that all delivery runs are delightful, but you won't be surprised to know that some are more challenging than others. All manner of factors play a part – traffic conditions, weather, easy-to-find addresses, parking availability, etc. The favourite area to operate is down on Romney Marsh. Lovely flat roads, plenty of parking, and a pleasant area all round. One of the real difficulties of these lockdown periods has been councils closing public toilets. With all pubs and such places closed, you quickly learn where the few toilets are available on your route and time your visits accordingly! Having reached this far in the blog, I've just received a phone call asking me to come in this afternoon and evening to cover a shift, so I'll have to leave it there and come back to you later…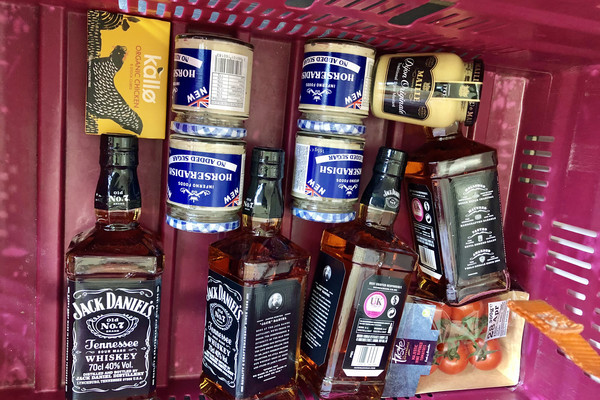 The dangers of allowing your children to determine your delivery! 28th April 2021..

And now I am back! It's half-past midnight on Thursday now, but I will be working again tomorrow afternoon and evening so want to crack on before I reach the deadline. The above photo shows the entire contents of my final delivery this evening. I am not saying that us drivers do... but when this is one delivery's entire weekly shop you tend to start to wonder what the people will be like when you deliver. With apprehension I headed to the address. To my surprise, I had to wait for their gates to open and then edge up their pristine private driveway to their handsome abode. A refined mature lady wearing what appeared to be armour-plated tweed answered the door. She was delighted to see me as I'd arrived promptly. Feeling confused, I brought her shopping off the truck and placed it in front of her. She looked down at it, looked at me, looked down again, then at me, and asked if that was it. I confirmed that it was. She requested that I wait a moment and headed back inside the house, leaving the door ajar. From my vantage point, I could hear that she spoke fluent Anglo-Saxon as she informed her teenage son that he would no longer be allowed to place the family's online weekly shopping order on her behalf. She then returned to where I was standing, smiled, took the contents and said that "there may have been a slight bit of difficulty with placing the order, but thank you for being so prompt". I smiled, walked away, and felt rather grateful that I don't have teenage children. Many of my friends are either having children, or have children at primary school. I shared this story among them so that they now know what their future may hold!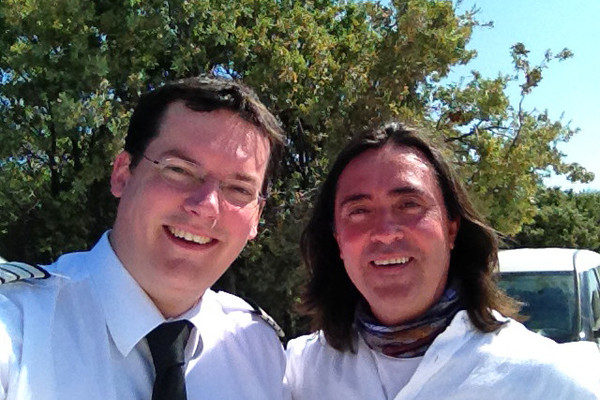 Me with Neil Oliver on the Gallipoli peninsula, Turkey. 28th August 2014.
Last week, I wrote about ANZAC Day and our trips to Gallipoli. One story that I didn't mention was that, on a visit in August 2014, we happened to turn up at the Lone Pine Memorial at the same time as a television crew. From a distance, I made out the familiar figure of historian Neil Oliver. I asked our passengers to remain on the coach while I went over to speak to the television crew. Neil broke away from filming and we had a good discussion. He revealed he had about thirty minutes of filming left to do, as they were recording a BBC documentary, to be broadcast the following year, which would be the 100th anniversary of the Gallipoli landings. However, he was very understanding of my predicament. We agreed that I would change the order of our visits so that we moved on to ANZAC Cove, and then returned to the Lone Pine Memorial once their filming had been completed. He was extremely grateful, and was more than obliging to my request for a selfie, as shown above.
The Souda Bay Cemetery on ANZAC Day 2014. Note the snow-capped mountains in the distance.
My other ANZAC story took place on ANZAC day in 2014. I was working for a previous cruise line at the time. We spent the day docked in Rethymnon on the Greek island of Crete. I was aware that we had a considerable number of Australian and New Zealander passengers on board. We had a full shore excursion programme in the morning and in the afternoon, but nothing was taking place to mark ANZAC Day. Back in 2007 I had visited Souda Bay with another ship. One of my memories of visiting Souda Bay was that we had spent the day there, and then sailed that evening. My role on that ship would be that I would meander to the Bridge in the morning and deliver the morning announcement over the public address system from there. After sailing from Souda Bay the previous evening, in my usual bleary-eyed way I had walked to the Bridge the following morning and delivered the usual spiel about how the tendering operation would be taking place here in Santorini. I finished my patter and the Captain came over to me and was laughing. I asked him if I had said something to amuse him. He replied, "Perhaps you'd better look out of the window". To my alarm I realised we were back in Souda Bay! I hadn't been made aware that there had been an issue with the ship's steering during the night, and it had been decided that we would return to Souda Bay to have it looked at. Lesson learnt – always look out of the window to check where you are before speaking to the passengers! We were fortunate that 'HMS Nottingham' happened to be in Souda Bay at the time, and the Royal Navy kindly leant us their expertise and we were under way again later that afternoon. The end result was that we had a surprise additional morning in Souda Bay. After a quick negotiation (and donation from our stores), the passengers were offered guided tours of 'HMS Nottingham' by her enthusiastic company. Alternatively, I arranged a guided walk along the shoreline to the Commonwealth War Grave Cemetery. The ground either side of the cemetery was parched, but the cemetery itself was beautifully lush and in pristine condition. I remember being surprised to see a vast number of ANZAC graves, not realising at the time how the ANZAC troops had been so heavily engaged in the Battle of Crete.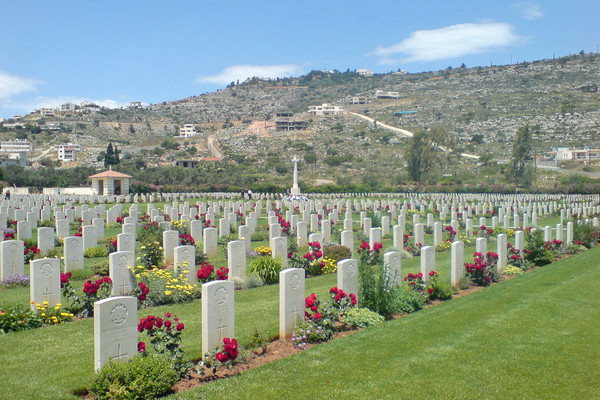 My first visit to the beautifully maintained Souda Bay cemetery. 21st May 2007.
Fast forward nearly seven years and I was back in Crete with another cruise line on ANZAC Day. I had worked out that it would take a coach an hour to drive from Rethymnon to Souda Bay. I had asked the powers-that-be at that cruise line if we could operate an excursion to Souda Bay for those Australian and New Zealander passengers who wished to come, and anyone else for that matter, but was told that it would not be possible. However, I can be stubborn at times, and so I spoke to our local agent and hired a coach myself. I decided we didn't need a guide, and so only had to pay for the coach and the driver. I informed the passengers about my plan the day before, and said that I would be offering this coach trip to Souda Bay in the afternoon if anyone wished to come. However, the cost of the trip would depend on how many came, as I would divide it by the number of people. I was very nervous that only a couple of people might join me and it would turn into a very expensive outing. I needn't have been nervous. Almost all the Australian and New Zealander passengers came off the ship after lunch and climbed aboard. We drove along the northern coast of Crete to Souda Bay. I had brought a wreath with me, with a card attached, signed by the captain of the ship. I gathered everyone together and recited the third and fourth stanzas of Binyon's poem, "For the Fallen". We then had a minute's silence, which was followed by a moment I will never forget. One of the New Zealand passengers lifted his head and proceeded to recite a tribute in fluent Māori. I have no idea what it was he said, but you didn't need to know what he was saying. You could feel the emotion and passion in his voice, as his words echoed around the cemetery. It is something that has stuck with me since then, and undoubtedly will forever. It was also noted that ours was the only wreath at the cemetery, and the passengers were all very appreciative that I had taken the risk of laying on the coach, against the wishes of my superiors. If we had not done so, there would have been no commemoration at Souda Bay on ANZAC Day. God bless them all.
The Souda Bay Cemetery after we had placed our wreath on ANZAC Day 2014.
Fast-forwarding again to Tuesday of this week. It finally happened. I awoke to the sound of a text message arriving from NHS England. They were informing me that as I am 42 years old, I am now invited to book my first vaccination appointment. I eagerly looked online in order to book my first jab. However, the closest venue offered to me was in Gravesend, which is an hour drive each way. Whilst keen to be vaccinated, I thought I might allow a couple more days to see if any venues a little nearer to me have available slots. Still, it is a relief to finally be in a group that is now allowed to have the vaccine. Onwards and upwards! Also on Tuesday, I had one of my scarier moments as a delivery driver. I had delivered to a very sweet elderly lady and then realised that I was due to have an enforced twenty minute break, in order to comply with driving regulations. I asked the lady if she would mind if I stayed parked outside her house, and she was very happy for me to do so. She also kindly offered me a cup of tea. Whilst it had been hot during the day, it had turned chilly in the evening so I was very grateful and accepted her offer. This is when things started to go slightly wrong. She left the kitchen door open and I could see and hear her as she boiled the kettle. I had presumed she would venture towards the fridge to fetch the milk, but instead she went to a wooden shelf, above a radiator, and picked up a pint of semi-skimmed milk. I have a feeling she might have been hard of hearing, as she whispered to herself in such a way that it was perfectly audible to me. Sadly, what she whispered were the words, "that'll probably do" as she gave the milk a sniff and then poured it into the tea. A quick stir and she smiled as she handed the mug to me. I looked down and could see the lumps of milk still spinning around on the top of the tea. I prayed that she would turn away and I could discretely dispose of the tea without her realising. Rather sweetly, she was keen to have a chat, and so that wasn't an option. We talked for about five minutes and eventually she said, "Aren't you going to have your tea?" There was nothing else for it. I pressed my lips as hard against the rim of the mug as I could, in an attempt to create a sieve, and prayed that I would manage to avoid the lumps of milk. I reckon I had drunk about half of it before my break finished and I had to politely make my excuses and hand the mug back to her. Thankfully, I didn't appear to suffer any side-effects, but I went to bed that night feeling extremely nervous about how I would feel the following morning!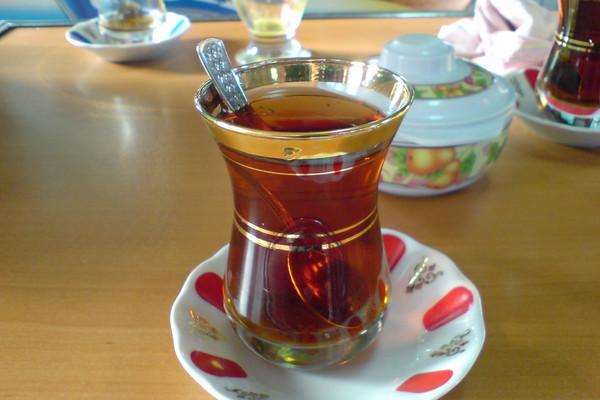 A safer way to have your tea. Sipping a Turkish tea on the ferry across the Dardanelles. 5th May 2007.

And finally this week… whilst I may not currently be at sea, it has still been a joy to look ahead to the future. I was contacted last weekend by Noble Caledonia with a view towards confirming cruises for 2022. I know you might read that and think, but we haven't sorted out 2021 yet, but it is always good to be able to plan ahead. I won't divulge the full list here, and these things are always subject to change anyway, but I was delighted to be allocated cruises on a variety of ships, including 'Hebridean Sky', 'Island Sky', 'Serenissima', 'Monet', 'Misr' and a train tour of Namibia. You won't be surprised to learn that the last of those has made me even more excited than usual! Due to the pandemic, I have not had the chance to sail on 'Monet' yet, so I am very much looking forward to that opportunity – although I gather that the ship does not have a piano. I might have to pack a keyboard in my suitcase! Of all the cruises that were listed, the one that most caught my eye was the Christmas 2022 cruise on board 'Serenissima'. I really enjoy being on a ship at Christmas and New Year. I have touched on what I tend to do in terms of festivities in previous blogs, and look forward to being able to host such events again. The cruise starts with an overnight stay in Antigua and ends with an overnight stop in Cartagena, Colombia. Perfect way to start and end a Caribbean cruise. Just from reading the itinerary I found myself already thinking of ideas to enhance the cruise. I love being creative and trying out ideas. I find that as long as you present the idea in the right way, and explain what you are trying to achieve, then it usually comes off. On Wednesday 21st December 2022 we will be on one of my favourite islands, St Eustatius, and I fully intend to watch the sun melt into the Caribbean Sea whilst sitting on a chair outside The Old Gin House in the lower town of Oranjestad. I hope that some of you who are reading this blog will care to join me. I should end now as it is 2.19am. So until next week, goodbye for now.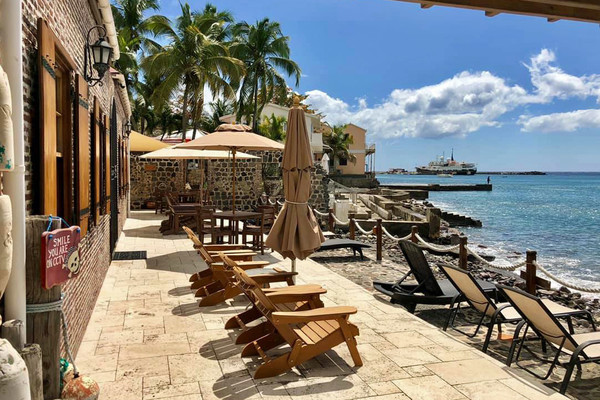 The 'Serenissima' is on her berth in Sint Eustatius as we admire the view from The Old Gin House. 21st February 2019.