Being in the Nile
What a difference a fortnight makes. Treacherous driving in snowy conditions back then, including my infamous overnight stay on a country lane. Now, having just completed a morning shift (7am to 2pm), it has been a delight to be driving around the Garden of England in 14°C (57°F) and having to shield my eyes from the wintry sun. Roads that were impassable have become a doddle. Long may it stay that way! Last week I was officially on holiday from work, but with nowhere to legally go, I made myself available for any extra shifts. I ended up working for four of my seven days off, and spent the other three tidying and cleaning the house. Who says I don't know how to have fun! The last day of my 'holiday' was on Sunday. I decided to treat myself, and using the recommendation of a friend, I ordered a Sunday roast dinner from a pub in Hythe. I felt genuinely excited when I saw the landlord walking up to my door at 5pm with a bag in hand. I had laid out the table, lit a candle, poured a pint of Blandford Fly, and was all set. It felt amazing to taste proper homemade cooking again. The last time I had a roast was back on Christmas Day at my parents' house. I had originally timed my holiday to include Sunday as it was my mother's birthday. I managed to teach her how to use Zoom for the first time, and so we could see each other on her special day. Fortunately we are much more civilised that Handforth Parish Council!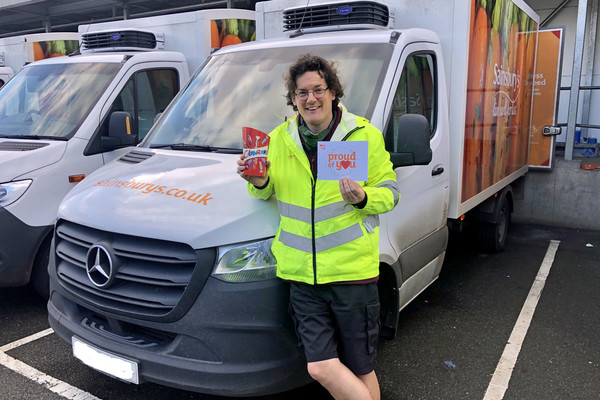 Yours truly, with ever lengthening hair, proudly accepting his 'Employee of the Month' award. 5th February 2021.
One thing I forgot to mention, partly out of embarrassment, was that I was recently given the award of Employee of the Month at the superstore where I am based. I felt particularly honoured, because I am hardly there. The main job of us drivers is to leave as soon as possible after we clock-in. However, apparently they've never employed someone like me, and the certificate states that I have made a "unique" impression on my colleagues, and the customers I deliver to. I am well aware that that could be either positive or negative, but I've been assured that it is intended to mean the former. I decided to give the prize of the box of Celebrations to a female fellow driver who has young children that would undoubtedly appreciate them more than me. Sadly, I gave the box of chocolates to her as I started the shift that led to me becoming stuck overnight in the snow. I cannot begin to describe how much, during that cold night, I began to regret my generosity! I can remember the only other time I've been "Employee of the Month". It was whilst I was on my second ship, Fred Olsen's 'Braemar', and I was awarded it in 2003 during my first contract as an Assistant Cruise Director to the late Michael Burke. He had come on the ship as Cruise Director and, whilst he was utterly brilliant at his job, he didn't know the layout of the ship or how we operated it. He leaned so heavily on me, that he decided I should be given the award as a thank you. I think it upset a few apple carts to have one of the cruise staff given the award, but he was and, in spite of his sad passing in 2019, always will be one-of-a-kind. A natural, brilliant leader and I'm so grateful that my first ever cruise (May 2001) was under his tutelage. Occasionally, he would bring his young daughter on board with him, and I feel a bizarre sense of pride when her name now appears in the production credits to television shows including "Britain's Got Talent" and "Strictly Come Dancing" as she begins her career in the most demanding of industries.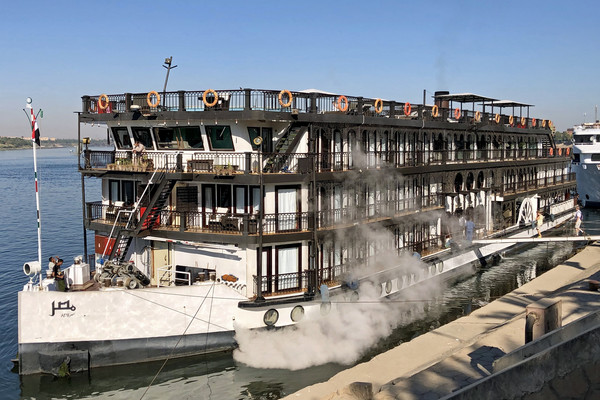 The beautifully restored 'Misr' at Kom Ombo on 28th November 2018.
Some of you may be wondering what the cruise industry's reaction is to our Prime Minister's announcements yesterday. I'll be honest, and say that I was too pre-occupied listening to the pre-match build-up for Brighton's derby match against Crystal Palace last night. One of my amazing colleagues in the Noble Caledonia office, Gemma-Louise Mortimer, is an Eagles (Palace) fan, whereas I am, of course, a Seagulls (Brighton) fan. Sadly for me, the Albion managed to find a way to be defeated when winning looked like the easier option. Well done Gemma. I never knew it was possible to type through gritted teeth, but I appear to have just done so. Going back to Boris's announcement, just before starting to write this blog I noticed that an update has appeared elsewhere on this website. It transpires that the countdown is on until 12th April, and then, with all fingers and toes crossed, I hope that we can move forward with resuming operations in May. It was on 26th May last year that I had my interview for the delivery driver job. It would be wonderful to have the chance to return to sea before that anniversary comes around – partly because I will probably have run out of places to write about in these blogs by then! For now, I just hope that the good progress we, as a country, are making continues apace and the roadmap becomes a reality.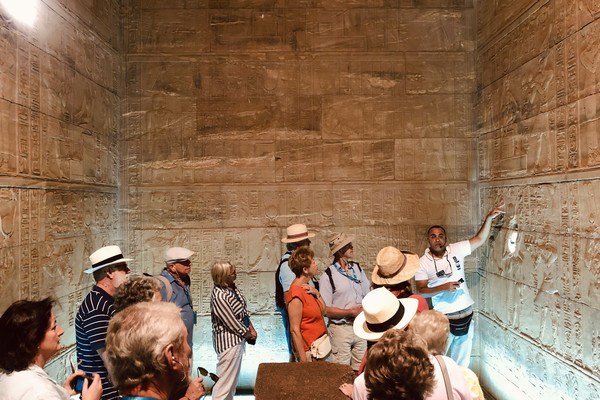 Anwar translates the hieroglyphics inside the Temple of Philae. 29th November 2018.

Whilst on my sunny drive through Paddock Wood, Staplehurst, Westwell, Charing and others this morning, I started to think about where to take the blog this week. Late last week, I had an email from our Fleet Operations Manager (who also assigns the Cruise Directors and Expedition Leaders to the various sailings) asking me if I would like to look after a Nile cruise from Aswan to Cairo on board 'Misr' in 2022. I sailed on her once before, acting as Tour Manager on a week-long round-trip from Luxor in November/December 2018. I immediately replied to the email, stating that I would be delighted to sail on her again. Having said that, given the length of time I have now been on land, if he had offered me the chance to be Cruise Director on the Isle of Wight ferry tomorrow, I would have taken that! I loved my week on the 'Misr'. When I sailed on her in 2018, she was celebrating her 100th birthday. I doubt there are many (if any) other Nile ships that were built in Preston, Lancashire. After twenty years of service in the Royal Navy, she was converted into a private yacht for King Farouk. Between the deposing of the monarchy and 2003 she was somewhat forlorn, but an incredible restoration project, using the original drawings from her 1938 conversion, meant that in 2006 she was re-launched as the ultimate historical Nile cruiser. Not only was the ship's décor restored, but the engine is still steam. This is one engine room tour that no-one wanted to miss out on!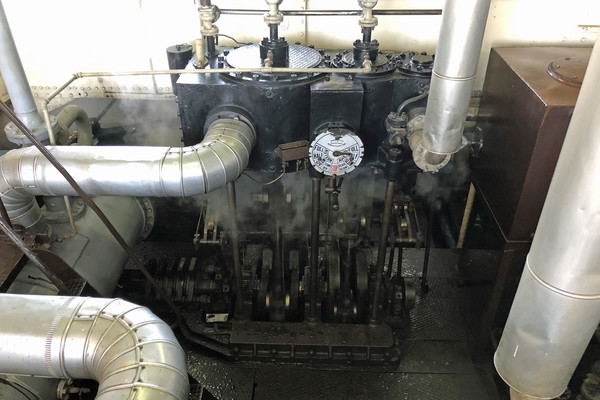 The British-built steam engine working hard to transport us along the Nile. 1st December 2018.

On the occasion that I looked after the 'Misr', I escorted the passengers on their flight from London to Luxor. We met two chaps once we had landed who, it turned out, would be our expert guides for the entire trip. Mohamed and Anwar were sensational from the moment we arrived. They guided us swiftly through the immigration and visa process and, whilst it was late in the evening by the time we arrived in Egypt, we were soon welcomed into the warm embrace of the ship. The maximum number of passengers is only 44 and there is so much open space. I reckoned that the bar area and the adjacent lounge could each have accommodated all the passengers if needed. It is very rare that I am sent to manage a river cruise, given my expertise is in ocean cruising. I am used to seeing all the furniture chained to the floor, and having to look ahead at weather charts. It was quite a novelty for me to not have to think of such things. All the passengers soon made friends with each other, and rather than be the odd-one-out at the cocktail party, I gently played the grand piano in the lounge to accompany the pre-dinner drinks. I was already beginning to like this style of cruising!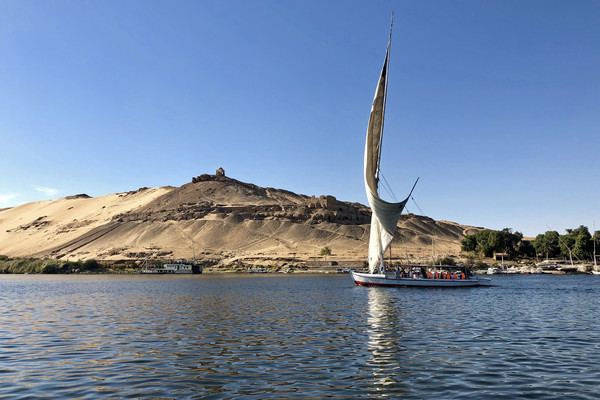 The passengers enjoy a felucca ride from the Aswan city side of the Nile, over to Kitchener Island. 28th November 2018.
As you would expect, I had a meeting with Mohamed and Anwar to go over the itinerary of the cruise, and to learn from them of anything I needed to be aware of. They were clearly vastly experienced and, as they proved throughout the week, encyclopaedic in their knowledge of Ancient Egypt. One thing we all really appreciated was that they hosted a couple of sessions where anyone could ask any question. Whilst there were some regarding the ancient kingdoms, it was interesting that the passengers had many questions about modern Egypt. I was delighted that Mohamed and Anwar were only too pleased to provide insight into all aspects of Egyptian life, from thousands of years ago to the present day. Another surprise for me was that Mohamed and Anwar asked me if I would mind if they wrote and delivered the daily programme. I don't think I've ever agreed to something as quickly in my life! On returning to my cabin that first evening, I noticed that the next day said that the shore excursion would be from 7am to 9am. I began to regret agreeing that they could write the programme. I presumed the timings were a mistake and went to find them. I was wrong, and I was so pleased to be wrong. The next day we walked the short distance from the gangway to the Temple of Khnum at Esna. The temperature was perfectly cool at that early hour and the street vendors were still setting up their stalls.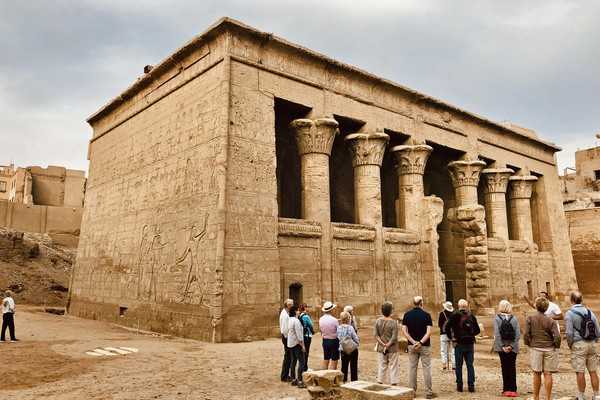 The Temple of Khnum at Esna. 27th November 2018.
Mohamed and Anwar had split the group into two, meaning we had just twenty in each group. With the aid of the audio headsets the passengers could step away to take their photographs whilst still being able to hear the guide. After our visit, we strolled back to the ship for a late breakfast. The street vendors had obviously noticed us as we headed to the temple, and were keen to offer us very special prices as we walked back past them. By 9am we were sailing again, and then I realised why the timings had been planned this way. We had enjoyed the temple, which is located 33ft below the surrounding street level, before the sun had risen enough to create a heat trap around the temple. This is where local knowledge is vital! And now, we had the rest of the day to enjoy sailing along the River Nile with the ship creating a gentle cooling breeze as we admired the views. Perfect!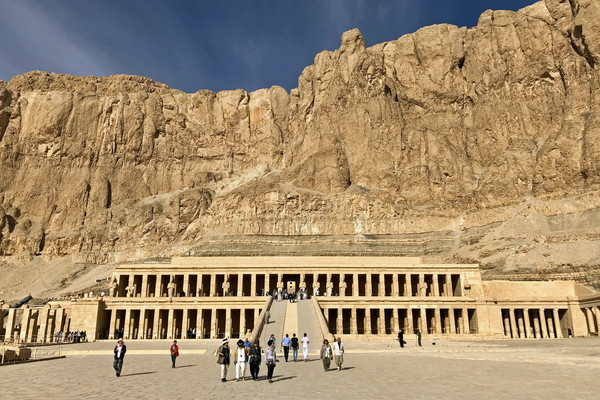 The Temple of Hatshepsut, on the western shore of the Nile. 2nd December 2018.
Other destinations on that cruise included the Temple of Kom Ombo and Aswan. We spent three days and two nights in Aswan. The first day had seen us visit Kom Ombo in another early morning trip, then a relaxing morning on the Nile before arriving in Aswan and embarking on a felucca to take us to Kitchener Island. I was worried that it might be too hot to be out and about in the late afternoon, but Kitchener Island was the perfect destination. The island sits in the middle of the Nile and was, as you might expect, presented as a gift to Horatio Kitchener in the 1890s. He converted the island into both his home and a botanical garden. As a result, there was plentiful shade to be enjoyed as we strolled around this most beautiful and tranquil location. You really couldn't tell that the bustling city of Aswan was only a few hundred yards away.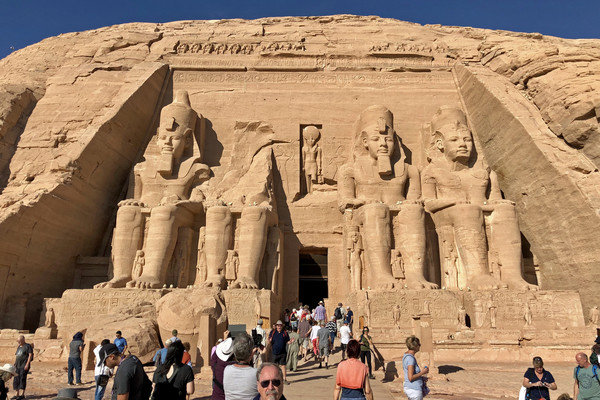 The mighty Temple of Abu Simbel. 30th November 2018.
The second day in Aswan saw us visiting the impressive dams across the Nile (both the earlier British-built dam and the later Nasser/Russian-built dam). We also took a local boat to the temple island of Philae. It had been appropriate to view the dams first, because it was back in 1964 that Egypt accepted £4.3m from the United States, as well as £5m from UNESCO, to save the Ancient Nubian monuments of Abu Simbel and the Philae temples, which were under threat from the rising waters that would be created by the new dam. In 1968, they were painstakingly removed and reassembled on higher ground. The Aswan High Dam was then inaugurated in 1971. The evening after exploring Philae, the passengers had the opportunity to visit Aswan's Nubian museum and admire the artefacts. Our final day in Aswan began with a 4.30am alarm call. Fortunately, the alarm call was only for those who had agreed to receive it. However, I was one of them. The reason for the incredibly early start was that we had a very long drive through the desert to reach Abu Simbel. The coach was brand new, and we all took our pillows with us to continue our rest and relaxation. The idea of leaving so early was to be at Abu Simbel while the temperature was still very pleasant, and also before the mass of tourists arrive via flights from Cairo. What I didn't know, until the guides told me, was that there is a restriction placed on the time that the first flight can land at Abu Simbel airport – so that those who have come overland can be guaranteed a less crowded visit. What a splendid idea! I was very pleased that I had joined the passengers on our adventure to Abu Simbel. I think I was more fascinated by the way the archaeologists had managed to move and re-construct the entire site, than I was by the site itself. The Ancient Egyptians who originally built it in the 13th Century BC, and the people who rebuilt it in the 1960s, are braver, stronger and wiser people than I could ever dream of being.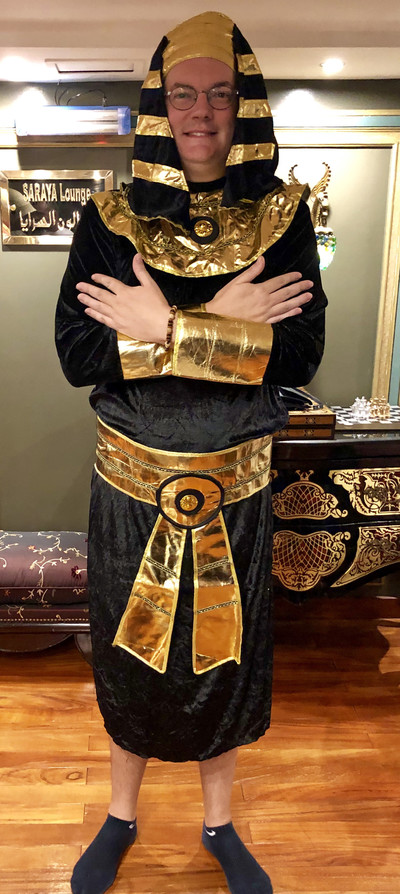 Dressing as an Egyptian is encouraged on the penultimate night of the cruise. I didn't want to disappoint! 30th November 2018.

After our visit to Aswan, we headed northwards along the Nile and back to Luxor. Once back in Luxor we had plenty of time to explore the Luxor Temple, Karnak Temple, Hatshepsut Temple, the Valley of the Kings and the Colossi of Memnon before it was time to fly back home. The wintry arrival back at Heathrow in December was a stark contrast to the perfect warm weather we left behind in Egypt. Writing this blog has brought back many memories from that week in Egypt on the 'Misr', and I am already feeling excited and enthused for the trip I have been offered in 2022. After all, I needed another excuse to wear my pharaoh costume one more time! Until next week, goodbye for now and thank you, as always, for taking the time to read through this blog.