Back to South Georgia
Good evening everyone. I hope you all made a point of staying up until midnight on New Year's Eve to ensure that 2020 really has disappeared! I was meant to have had the day off, but was asked to work an extra shift. With no-one at home, and realising how I'd over-spent on Christmas, I thought I should take up the offer. As a result, I was the last driver back to the store on New Year's Eve, as my route finished at 7pm. Once I had returned all my unwanted items to their rightful place, I walked out into the cold night air and across the vast emptiness of the car park. That walk across the car park did feel quite emotional. I found myself thinking how I was going home to an empty house for the first time on New Year's Eve. Even if I've been at home before on New Year's Eve, I've either popped round to a friend's house, or gone over to my parents. If I've been on a ship at New Year's Eve, then the usual routine has been to have a pre-dinner cocktail party, then a grand dinner, and finally invite everyone to party until midnight and beyond with DJ Neil. The last time I did this was on the 'Caledonian Sky' on New Year's Eve 2018. We were docked in New Plymouth, in the Taranaki Region of New Zealand's North Island. New Year's Day would be a welcome day "at sea" as we headed south to Fiordland. One of the things I love about the 'Caledonian Sky' is the Panorama Lounge on the top deck, as it serves a useful purpose on nights like New Year's Eve. During the day it is a quite library and relaxing lounge. After dinner, you can clear the tables away and you have a wonderful dancefloor with its own bar. I had the keyboard set up so that, for my own amusement, I could join in with the songs I was playing on the stereo. The best part of the night is always when we have some of the Filipino crew join us. There are few ships in the world where that would be allowed to happen, let alone encouraged. You can feel the atmosphere of the party skyrocket as these wonderful people, who do so much for us all, are suddenly there and dancing with great enthusiasm. Even those passengers who are still feeling full from dinner and are happily settled in their chairs can't help but rise to their feet and join everyone on the dancefloor. Happy days, as can be seen here…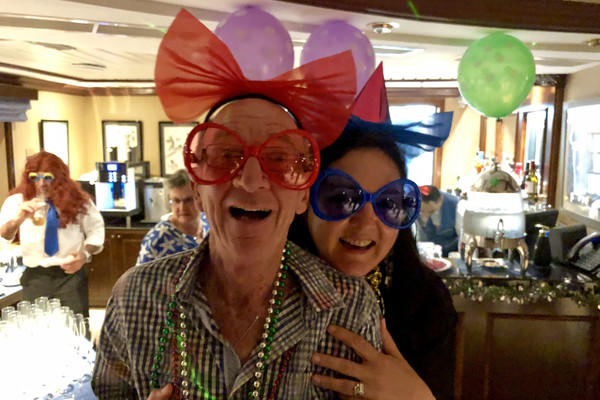 Tony Crocker and Emma Hansen throw themselves into the New Year festivities on Caledonian Sky, New Year's Eve 2018.
However, this year was rather different, as it has been for all of us, but our time will come again. I began making a few notes for this blog whilst sat in a lay-by on my evening break in Bethersden tonight. At the same time, Boris was delivering his address about the new lockdown measures. It did cross my mind that I should also have been delivering an address at the same time – although mine would have been the "Welcome Aboard Briefing" on board 'Serenissima' in Antigua. I was scheduled to have flown out to Antigua shortly after New Year, and look after the first four cruises of her Caribbean and Central America season, culminating in me finishing in Puerto Limón, Costa Rica, on 24th February. If you are reading this, and were booked on one of those cruises, then I am just as sorry as you are that they are not able to take place. However, with the latest vaccine, the end is in sight and hopefully we will be back out there again together. In the meantime, Happy New Year from sunny Kent (complete with my most decorative head band)…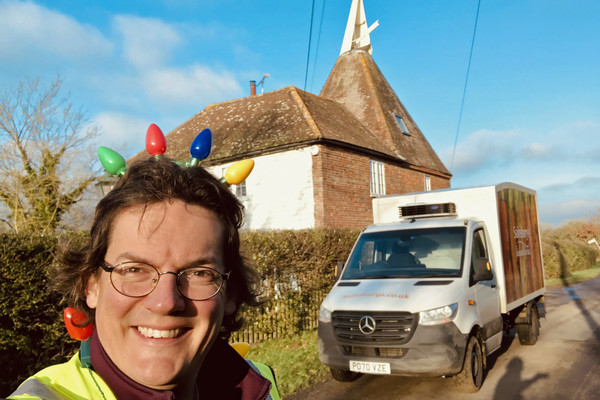 The final delivery run for the year, complete with flashing lights and an oast house. New Year's Eve 2020
Thank you to everyone for the Christmas and New Year well-wishes in the emails. It really has been uplifting to read them. To my surprise, I was asked if I would continue to give an update on the monthly statistics for my delivering. It really does tickle me that I get the same number of queries about cruising as I do about my current temporary role. I'll just find my calculator and work out the figures for you. In December: I made 308 deliveries (in 23 shifts). I covered 1,785.6 miles. That equates to one delivery every 5.8 miles. The most deliveries in one shift was twenty, the least was six. The most miles driven in one shift was 169½. That is far and away the most I've ever done. According to route planning websites, that is the equivalent of driving from London to Doncaster! As the crow flies, it is further than from my home in Hythe to the Eiffel Tower. According to my phone, from the time of clocking-on to clocking-off each shift, I completed 179,605 steps. That will explain how I have somehow lost 1½ stone since the middle of March last year! As I write this now (on the afternoon of 5th January) I can see the rain pouring down from my window, and I am thinking about the late afternoon and evening shift that is coming up. However, the thoughts are positive. In light of Boris's speech last night, now more than ever there are people out there relying on me and my colleagues to reach them with their supplies. It really does feel good to be helping – even if I wish it wasn't raining!
And now I'm back from my evening shift. A merry jaunt around Sissinghurst, Goudhurst, Hawkhurst, Everywherehurst, and it's good to be back in the warmth of home. Before I went off at a tangent over Christmas and New Year, I wrote about South Georgia. As I write this, the polling stations in the US state of Georgia only have a short time left for the citizens to cast their votes in the senate run-off. Also, this morning I received a very sweet thank you card from our local agent in Savannah, as I sent her a small Christmas gift along with her card this year. All in all, once again Georgia was on my mind, and so I thought I would write more about the subject. I should also add into the mix that one of your fellow passengers wrote to me with a book suggestion, written by a lady who spent four of her childhood years living on a whaling station in South Georgia. The book arrived here this morning. Hence, I will continue where I left off, which was visiting Grytviken.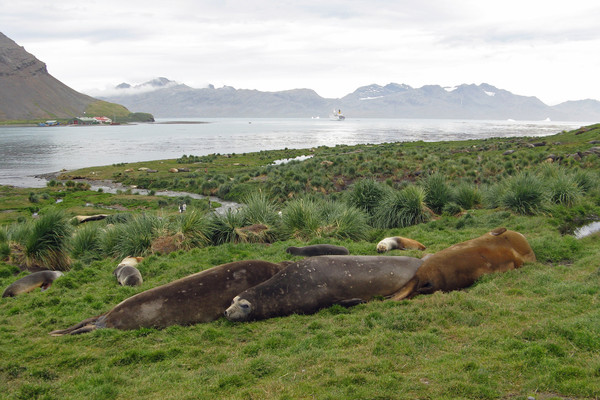 Our ship sits at anchor off Grytviken, whilst seals relax on the tundra. 2nd February 2009
Grytviken was one of a number of places we visited in South Georgia. Not surprisingly, the majority (if not all) of the recommended visiting spots are on the more sheltered north-east facing side of the island. The other two places I can strongly recall us stopping at were Stromness and St Andrew's Bay. Clearly something of a Scottish connection from whoever named them. Indeed, the name of Stromness is taken from the settlement on the Orkney Isles. Once again, it is the human side of these places that had the most impact on me. Earlier in the cruise we had been on Elephant Island, in the South Shetland Islands. Elephant Island is, of course, synonymous with Shackleton's Imperial Trans-Antarctic Expedition. The 28 men of the expedition reached Elephant Island in 1916. Famously, Shackleton had the lifeboat 'James Caird' adapted as best they could for the attempt to cross the 800 miles to South Georgia. Shackleton (along with Crean, Worsley, McNish, McCarthy and Vincent) sailed from Elephant Island on 24th April. He left Wild in charge of the remaining men, and with instructions that they themselves should head for Deception Island if he had not returned by the beginning of summer. One can only begin to imagine the feeling that must have come over artist George Marston when he spotted the tug 'Yelcho' on 30th August, which Shackleton had commandeered to carry out his daring rescue mission.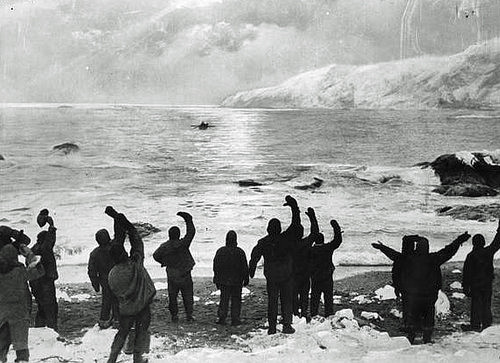 Frank Hurley's famous photo of the remaining men waving goodbye to the James Caird as she sets off for South Georgia on 24th April 1916.
Miraculously, the crew of the 'James Caird' found their way to South Georgia, but landed on the uninhabited southern side. Shackleton, along with Crean and Worsley, then spent 36 hours trekking across glacial South Georgia – an area where no man had ever set foot before – before finally reaching habitation at Stromness. The last leg of the three men's journey was to make their way down a freezing waterfall and then walk to the whaling station. We came ashore in the much more leisurely fashion of using a zodiac. The whaling station buildings were out of bounds as, since it was abandoned in 1961, it has fallen into a dangerous state of disrepair. However, we did have the opportunity to walk from the whaling station to the waterfall where Shackleton, Crean and Worsley descended on 20th May 1916. I realise it was only a relatively short walk, but it still felt important to walk the same path that those heroic men walked all those years ago. Can you begin to imagine the face of the Norwegian whaling station's manager when he answered the knock at the door and found these three men stood in front of him? As a former Captain used to say to me, "Many years ago, ships were made of wood, and men of steel. Sadly, it is now the other way around." The Captain on the occasion of my visit to South Georgia was former Noble Caledonia captain, Frank Allica. We had (and continue to have) a special bond, and I still have the below photo on my desk from the day we visited what has become known as "Shackleton's Waterfall".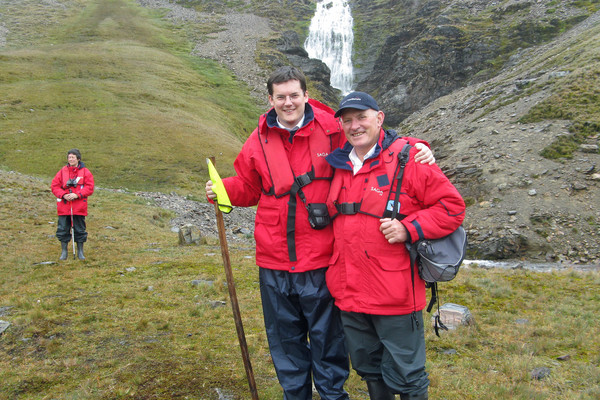 At Shackleton's Waterfall with Captain Frank Allica on 2nd February 2009.
Our next stop in South Georgia really was incredible. St Andrew's Bay. Those three words still conjure up a sense of wonder in me. I know I've written about me having more of an interest in human history than natural history, but this place is very much an exception. The noise, the colour, the penguins, the seals, the smell. Oh, the smell. If ever you need your sinuses clearing then I strongly recommend spending about thirty seconds at St Andrew's Bay. You will never ever have a problem again. There are estimated to be around 150,000 King Penguins at St Andrew's Bay, and the sight is permanently occupied due to the long breeding cycle. As I looked down from the view point, I could see penguins in various states of maturity. I think I stood there and took a video with my old camera, to try and take in the noise and the scope of the site. I'll see if I can find it for you. It won't be of the best quality, but it'll give you some idea.
Video at St Andrew's Bay, South Georgia. 1st February 2009.
There it is! The noise of the penguins is almost equal to that of the torrent of water coming down from the Ross Glacier. Apologies for the quality, but I hope it gives an indication of the scale of the site. One of the things I didn't realise until just now, when I looked through the photos I took on that day, is that I took a photo which would not be possible now. South Georgia had reindeer introduced in the early 20th century, both as a source of fresh meat, but also to provide recreational hunting for the whalers. It seemed like a good idea at the time, and all was well until whaling ended. The reindeer then had no predators and the population grew to a few thousand. In 2011, it was decided that the population of reindeer would be eradicated, and in 2017 the (what are presumed to be) last two were found and shot. Prior to the eradication, some were moved to the Falkland Islands where they continue to flourish. As far back as 1971, a few reindeer were transferred to Chile to provide a meat source for the isolated communities on Tierra del Fuego. Hence, it is no longer possible to see a reindeer on South Georgia. I note the date that the announcement of the eradication was made. I remember having the then Governor of the Falkland Islands (who is also Commissioner for South Georgia and the South Sandwich Islands), His Excellency Alan Huckle, come on board the ship to visit us in Stanley after we had been to South Georgia. If memory serves me rightly, he told us that he had been approached by a group of scientists, based in South Georgia, with the request to eradicate the reindeer as they were "not endemic to the island". He had responded by asking whether scientists were endemic to the island! I'm not surprised, therefore, that the announcement of the eradication was not made until the Governor changed in 2010. I get the feeling the scientists may have waited until said change before they asked again. I will cover more of the Falklands in my next blog.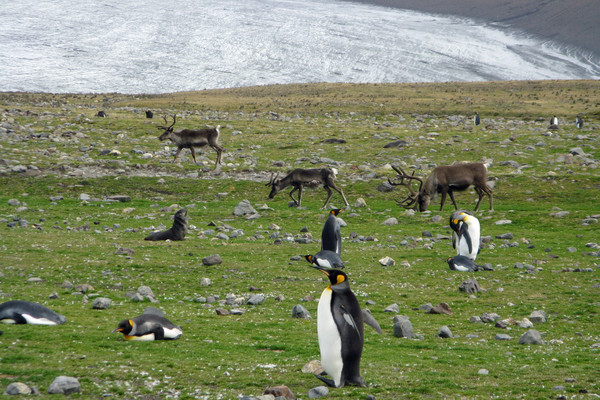 Reindeer and King Penguins in St Andrew's Bay, South Georgia. 1st February 2009.
And finally… a slightly naughty memory of my time in South Georgia. We, the ship's crew, were well aware that we would have many passengers who were avid naturalists. You certainly don't book a cruise to South Georgia by mistake! One of the problems that can throw up, is that passengers presume that every single crew member is also an avid naturalist. I would see a bar tender wiping down a table by the empty swimming pool and having a passenger eagerly ask him if he could identify the bird that said passenger could see with his binoculars. The poor crew member, never wanting to not be able to assist the passenger, would look embarrassed and try and get help from someone. To solve this, we came up with a plan. The plan was that all members of the Expedition Team, who were the naturalists, would wear a green hi-viz vest whilst on deck. Then they would be easy to spot and ready to answer any questions. This solution was presented to all the crew at a meeting hosted by our eloquent Ukrainian Staff Captain. He asked if there were any questions. One of the crew said, "what should we respond if they still ask us?" The Staff Captain, not realising that his reply would be taken seriously, said, "if anyone asks you to identify a bird, tell them it's a shite-hawk". And so, on day six of the three-week cruise, the Expedition Leader was briefing the passengers. He decided to read out the list of sightings that the passengers had made, and noted that whilst there had been recorded sightings of numerous birds, they were all dramatically outweighed by the reported sightings of 2,487 shite-hawks. It was then revealed that the crew had been advised as such, and that the passengers should stick to only asking the members of the Expedition Team to identify birds. I still giggle now at the look of shock on the Expedition Leader's face when he reviewed the wildlife list! Until next time, all the best to everyone…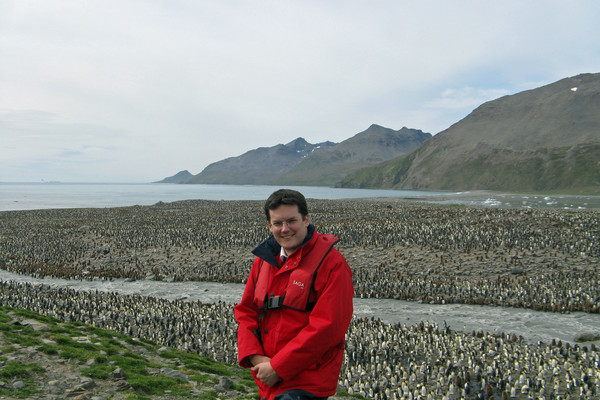 A much younger me in St Andrew's Bay, South Georgia, 1st February 2009.