African Adventures Part Two (Diamonds aren't forever)
Good evening everyone! It's 9.14pm on Tuesday 8th December and here I am to write this week's blog. I appear to be having Mondays and Thursdays as my days off at the moment. As a result I spent all of yesterday writing Christmas cards and starting to wrap presents. To assist me through the process I decided that a small glass of Harvey's "Bristol Cream" would be appropriate. To me, a drop of Bristol Cream is almost as much the taste of Christmas as a gingerbread latte. I can remember my late Grandpa's ornate crystal sherry decanter on the top of a cabinet at my grandparents' old house in Suffolk. With both my parents being teachers, as a family we would have an extended stay over Christmas at my grandparents' house. Once my brother and I were old enough, it was a rare treat to be offered a glass of Grandpa's sherry at Christmas. Since those days, I have been fortunate enough to visit the bodegas of Jerez de la Frontera whilst on ship calls to Cádiz, Spain, and witness the process of sherry-making for myself. It is one of my favourite tours to take part in. Not only is the sherry tasting very enjoyable, but the light buffet is always delicious, and the buildings and surroundings of the bodegas are beautiful in their own right. Certainly one to recommend if you are on one of the three cruises (one "Hebridean Sky" and two "Serenissima") that are currently available and visit Cádiz.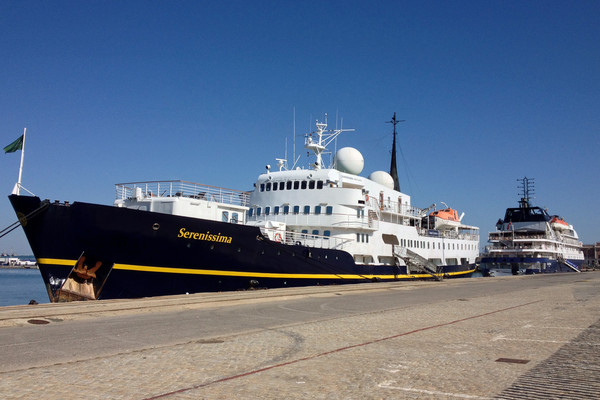 "Serenissima" and "Island Sky" berthed together in Cádiz on 23rd September 2017.
On both Saturday and Sunday I was working the evening shift with my deliveries. Saturday was a record-breaking day for me as I managed to rack up 112.8 miles in one shift. Sunday was a more leisurely affair, and I wasn't due to clock-in until 5pm, so I offered my services to the railway in case they needed assistance with the Santa Specials. To be able to operate in this Covid-secure world, and whilst Kent is in Tier 3, they are running from New Romney to Hythe this year, and all of the trains have been illuminated with hundreds of fairy lights. Many of the townsfolk of Hythe are coming out after sunset to see the trains pass by and wave at Father Christmas. All the Santa Specials have sold out, especially with capacity being limited due to social distancing this year, and so the railway is also offering "normal" services from New Romney to Dungeness for those who just want to have a train ride. I was asked to be the guard for these trains, and so I spent Sunday morning and afternoon happily going between New Romney and Dungeness on a gloriously sunny winter's day.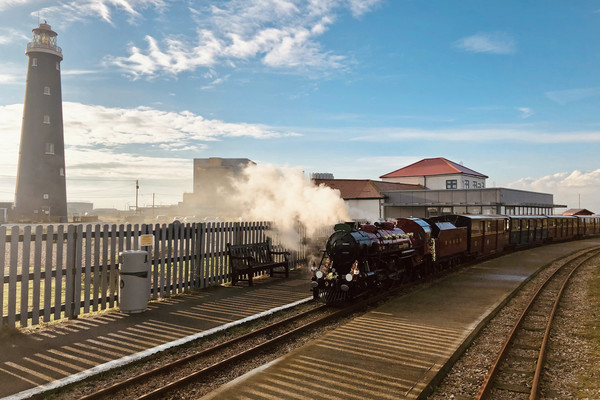 "Winston Churchill" waits at Dungeness, with the Old Lighthouse in the background, with the 2.15pm train for New Romney. Sunday 6th December 2020.
Whilst on the platform at New Romney, I was surprised to have a member of the public, who was just about to board their Santa Special, call out to me on the opposite platform. It turned out to be a couple of former passengers, Judy and Andy, who were with me on the cruise that included an extended stay in Bergen on 'Serenissima' in the summer on 2018. It was wonderful to be able to say a quick hello and hear that they have been using these blogs as a way to "travel" whilst we haven't been able to physically go anywhere. I have since received an email from them, via Noble Caledonia, to say they and their family very much enjoyed the visit to see Father Christmas at Hythe. Splendid!
Now, back to last week… we had just arrived in the Namibian port of Lüderitz on a sunny February lunchtime in 2011. I could see the fuel trucks waiting for us on the quayside so I was relieved to know that our re-fuelling issue looked like being solved, and sure enough it was. There is much in the waters surrounding Lüderitz to interest those with a passion for seabirds and marine life. Some of the passengers headed out on local boats to view the likes of Cape Cormorants, Crowned Cormorants, African Penguins, Bank Cormorants, Cape Gannets, Common Terns, Black Terns, and many more. In the surrounding waters, the boatmen kept a look out for Humpback Whales, Southern Right Whales, Dusky Dolphins, Common Bottlenose Dolphins and the endemic Heaviside's Dolphins. The alternative for the passengers was the chance to explore Lüderitz town with a local guide. I went on this tour and, not knowing much about the place before our arrival, was naively surprised to discover how Germanic the place still is. Whilst visiting the Lutheran church, I noticed that all the signs were written in English, Afrikaans and German.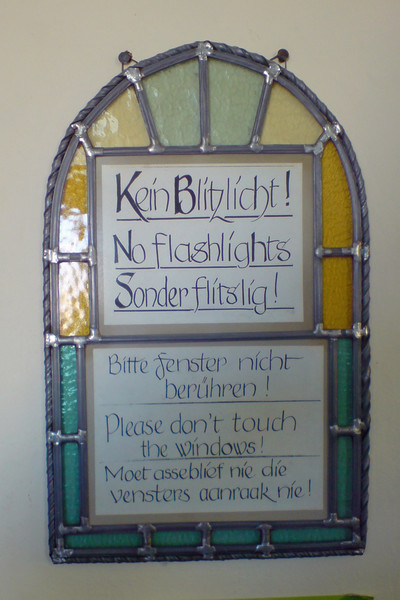 German, English and Afrikaans signage inside the church in Lüderitz.
We walked up what looked like sand dunes to reach the houses and buildings that overlooked the harbour. It turned out that they were tarmacked roads, but it only takes one gust of wind from the surrounding desert and they immediately resemble a sandy lane. After visiting the church, we also explored Goerkehaus, the former palatial residence of Hans Goerke. He was the manager and co-owner of the early diamond umbrella company and erected his home (now a National Monument) between 1909 and 1911.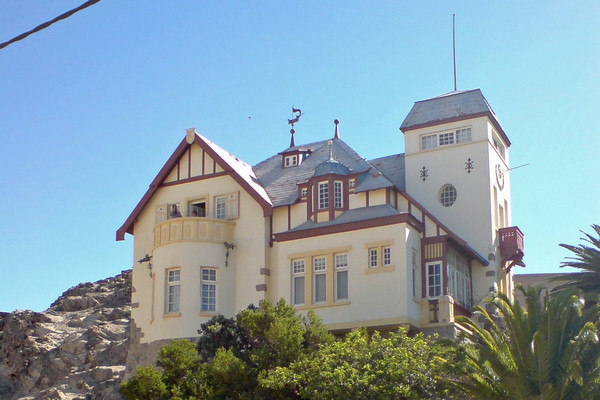 The house of the diamond mine manager, Hans Goerke.
Readers will not be surprised to know that I was rather keen to visit the former Lüderitz railway station. The German colonial building had been designed in 1913 and completed a year later – sadly for the Germans, just in time for them to relinquish it in light of the events taking place in Europe. The railway line was a branch line from the main route through Namibia, connecting with it at Seeheim Junction some 198 miles inland – from where you could continue north to Windhoek and Walvis Bay, or south to South Africa. When I visited, the railway station had been restored for the third time since the railway line was abandoned many years ago. However, I was delighted to discover that the restoration of the station hasn't been in vain, as the line has now been rebuilt and freight services are running again. My fingers are crossed that, if I am indeed fortunate enough to accompany the Noble Caledonia private train tour of Namibia in 2022, that we might be able to run along the line into Lüderitz itself. The railway line played a huge part in the early 20th century history of Namibia, and in particular Lüderitz, for reasons that I shall reveal later.
You'll recall that we had ended up with an unexpected overnight stop in Lüderitz due to the fuel situation. I am one of those Cruise Directors who does not like to waste such opportunities, and this was no exception. I had called ahead to our local agent in Lüderitz and asked if there was any form of 'local show' that we could invite to perform on board before dinner for our passengers. By chance, the week before had been Lüderitz's equivalent of their carnival, and the local schoolchildren had produced a short dance demonstration, combining traditional Namibian dance with their own influences. I asked if they would be willing to perform their routine on board, and they were delighted to accept. It sounds simple, but in such circumstances I need to then obtain permission from the Staff Captain and Captain, liaise with the Security Officer, permission from the Port Authorities, and so on. With everything in place, the schoolchildren came on board, in costume, and excitedly performed their routine for the passengers.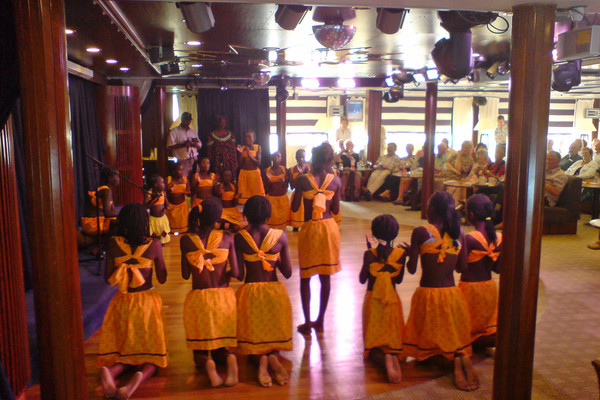 The local schoolchildren performing for the passengers.
They were very sweet and didn't request a fee. However, I insisted on at least being allowed to make a sizeable donation to the school's funds, and they gratefully accepted. Even more enthusiasm was displayed when I mentioned that the children were welcome to use the ice cream machine on the aft deck. I've never seen such excitement as they patiently lined up to be served by the pastry chef. Definitely a very happy group as they headed down the gangway.
However, I wasn't done there… As with many ships, particularly a few years ago, television reception was very poor on board. I had noticed that the opening match of the 2011 Rugby Six Nations Championship was taking place that evening: Wales v England at the Millennium Stadium in Cardiff. Kick-off was at 7.45pm UK time, which would be 9.45pm Namibian time. Whilst on the afternoon tour, I broke away and had a search around Lüderitz. Finally, I came across the Lüderitz Yacht Club. I noticed they had large television screens surrounding their long bar. With Namibia being a rugby playing nation, I asked the landlord if they were planning on showing the match on their television screens. He replied, "if you bring a couple of people in then I'll show it". With that knowledge safely in hand, I asked my local agent to round up every single minivan in Lüderitz and have them stationed at our gangway at 9pm, in case anyone wanted to be ferried to the Yacht Club to watch the match. At the end of the local show, just as the passengers were about to go into dinner, I told them of my plan. I was slightly taken aback by the almighty cheer that greeted my announcement. On that cruise (on the original "Spirit of Adventure") we had 270 passengers. Over 200 of them came to the Yacht Club! The minivans ran frantically back and forth to ferry those who didn't want to walk the 800 yards. (Free wine at dinner hadn't help our cause). The landlord was dumbstruck and fortunately managed to rope in some of his regulars to work behind the bar. We fitted everyone in comfortably and a superb night out was had by all – unless you were Welsh. The final score was Wales 19-26 England. Chris Ashton scored a couple of tries for England, while Morgan Stoddart scored one for Wales. My abiding memory of the evening was that we had a lovely American couple on board. All the other passengers were British. They came along to the Yacht Club to enjoy the atmosphere, and then asked some of the other passengers what the rules of rugby were. After about an hour of various explanations I think they began to wish they'd never asked! The minivans were ready in formation come the final whistle, and the passengers made their way back to the ship. I was feeling very happy, to have been able to surprise the passengers with not only the local show, but also the chance to watch the rugby in an unusual setting. If we had been able to take on fuel as planned in Cape Town, then none of these extras would have been possible. I think the landlord was happier though – his till never stopped ringing all night.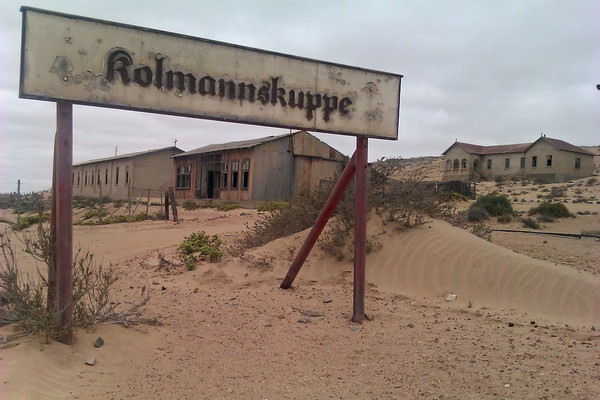 The next morning we all set off the Kolmanskopp. A couple of paragraphs ago I mentioned how the coming of the railway line had made a huge impact on life in Lüderitz. The reason? Whilst the railway line was being constructed, in 1908 it had reached Grasplatz, 15 miles inland from Lüderitz. A railway worker called Zacharias Lewala noticed something glistening in the sand. He lent down, picked it up, and handed it to his foreman, August Stauch. And so began the Diamond Rush. Thousands came to this inhospitable land to seek their fortune. Many buildings, including the aforementioned Goerkehaus date back to that era, but the most imposing and dramatic area from that time has to be Kolmanskopp.
Whilst Kolmanskopp is now a ghost town, it was previously a bustling diamond town which, now abandoned, fights a constant struggle against being buried under the shifting sand dunes of the Namib desert.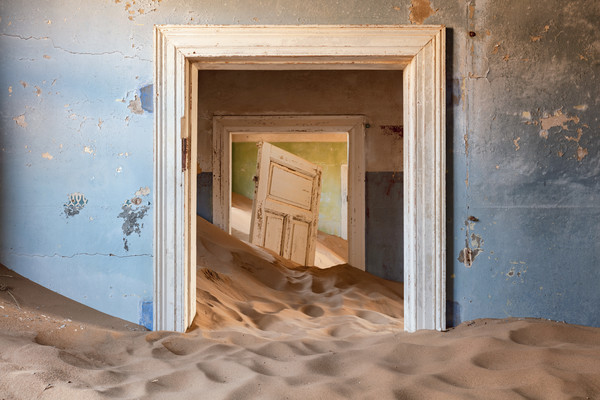 Desert sands reclaim the insides of the abandoning mining village.
Realising that the area was rich in diamonds, German miners soon settled to begin exploiting the diamond field. The village the miners built had all the latest mod-cons: hospital, ballroom, skittle-alley, theatre, casino, ice factory, school and much more. Depletion of the diamond field started to occur in the 1940s, and, accompanied with richer and easier-to-access discoveries elsewhere in Namibia, Kolmanskopp was abandoned in 1956. This has led to Kolmanskopp having the situation of the arid climate preserving the buildings, but the sand trying to bury them. The town is still partly owned by De Beers, but is now a popular tourist attraction – even though there are signs requesting that if you find a diamond in the sand, would you please hand it to the security chap at the gate!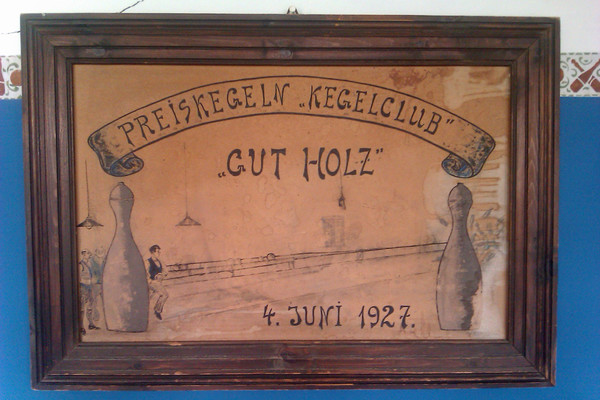 I loved walking around Kolmanskopp. I have said in previous blogs that, whilst I fully appreciate ancient monuments and such things, I find I have more enthusiasm and interest in places that have more recent links to our human history. Kolmanskopp is a prime example. The skittle alley looked as though the players had just nipped off for a quick break. The ballroom could easily have hosted a dance there and then. If you are ever in that region of Namibia then I strongly recommend including a visit in your itinerary.
The passengers thoroughly enjoyed meandering around Kolmanskopp. It gave you an appreciation of the sparse area where the diamond miners came to live and go about their business. I remember thinking how odd it must have felt to accumulate such wealth, but then not really have anything to spend it on. I can only presume the money was safely stowed away for whenever they intended to return to their homeland. Either way, I felt it would take a special kind of person to live and work in such conditions in this day and age of internet, phones and satellite connections. To have done that when there was no means of communication other than telegrams and letters must have required amazing mental resolve.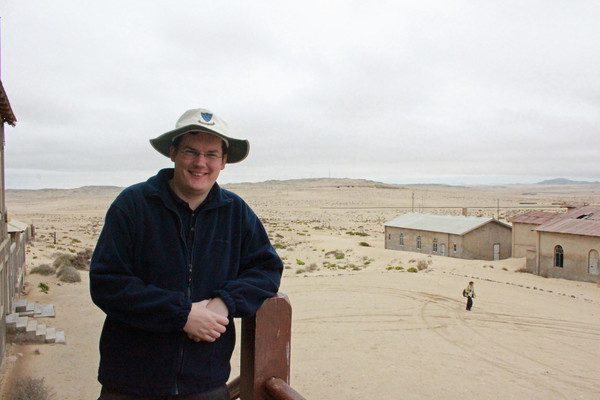 Me, wearing my Sussex Country Cricket Club hat, in Kolmanskopp. 13th Feburary 2013.
And finally… As I write this, it is now 1.45am on Wednesday 9th October 2020. On my deliveries today I was listening to the radio, and heard a few John Lennon and Beatles songs being played. It occurred to me that it was forty years ago that John Lennon was murdered in New York. Whilst he was pronounced dead at 11pm on 8th December, in the UK that was 4am on 9th December. I was only two years old at the time, and yet I can't imagine a world without Lennon's music. One of my favourite songs to play on the piano is the simple, but beautiful, Lennon solo composition "Love". Having read Ray Coleman's definitive biographies on Lennon, I fully appreciate that he wasn't a saint, but no-one deserves to die in that manner. My first ever visit to New York was in 2005, arriving after an Atlantic crossing from Vigo, Spain on board Celebrity's "Constellation". All of us were out on deck at 5am to see the Manhattan skyline come into view. I was granted 1½ hours of shore leave on that day. I left the ship, walked straight along 45th Street to Times Square to buy and send my parents a postcard. I remember asking a street vendor where the "Square" was. He explained that I was in it. I had presumed it would be a square similar to those we are used to in Europe, rather than just an elongated road junction! I then turned left and walked up 7th Avenue, passing Carnegie Hall, and then walked along the west side of Central Park to the Strawberry Fields memorial garden. I sat on one of the wooden benches and looked at the beautiful "Imagine" mosaic, closed my eyes, and said a little prayer and thanked John for his music. It was sad but also spiritually uplifting, in the midst of the madness of New York, and with only a short time ashore, to have a moment of complete peace and contemplation. Every time I have been back to New York since, I have always made a point of visiting Strawberry Fields. Thinking of all that has happened this year, what with the pandemic and all the effects and changes that it has had on mine and everyone's lives, I think John Lennon could easily have been foreseeing 2020 when he wrote, "Life is what happens to you, while you're busy making other plans" in his song, 'Beautiful Boy'. With that, I'll leave you for another week. Goodnight and God bless.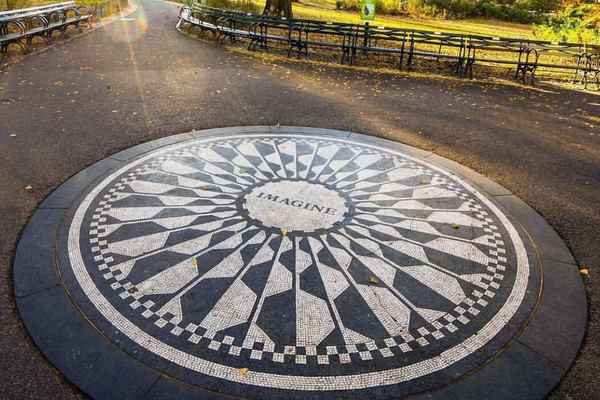 The "Imagine" Mosaic in Strawberry Fields, Central Park, New York.