African Adventures - Part One
Good evening everyone. It's been a beautiful sunny day down here in Kent, Tuesday 1st December. I was fortunate enough to be on the 7am-2pm shift, so my deliveries were all in daylight. The sun had just risen when I set out this morning, and as soon as I had left the surrounds of Ashford I drove by a kestrel that was furiously flapping its wings to remain stationary in the sky above its prey. Around the very next bend, a buzzard stood majestically atop a telegraph pole, as though it was studying the traffic flow along the A28. Whilst it was sunny, it was also rather chilly, but keeping up the Noble Caledonia tradition, I continued to wear my shorts and plead insanity to my customers. Since I last wrote, I've been busy starting to bring everything together for the upcoming Christmas festivities. I finally got round to begin writing my Christmas cards. I wrote all my international cards over the weekend and then contributed to the queue in Hythe post office yesterday as I sent them. I know many see writing cards as a waste of time and money, but I like doing it. For that moment that you are sat there, physically writing the card, you are thinking of those people that you are writing to. I like to feel that, whenever I receive a card, that the sender has also had me in their thoughts when they have written it. Admittedly, the price of postage these days is somewhat off-putting when the finances have already taken a hit this year, but I feel it's a sacrifice worth making. Through my previous work I have garnered friends in all corners of the world, and the poor lady in the post office was kept busy trying to work out postage rates to the likes of Canada, New Zealand, the Philippines, Russia, Brazil and many more. Of all the places I send to, the cards to Brazil always take the longest to reach their destination. When I am on cruises, many of you will know that I try and send a postcard to my parents from every destination. I always date them as it is interesting to see how quickly they arrive. The record length of time was attained last year, when in the second week of May 2019, a postcard arrived at home from Nassau in the Bahamas. It had been posted by me in the first week of May, but in 2018! Heaven only knows where it had been in the meantime.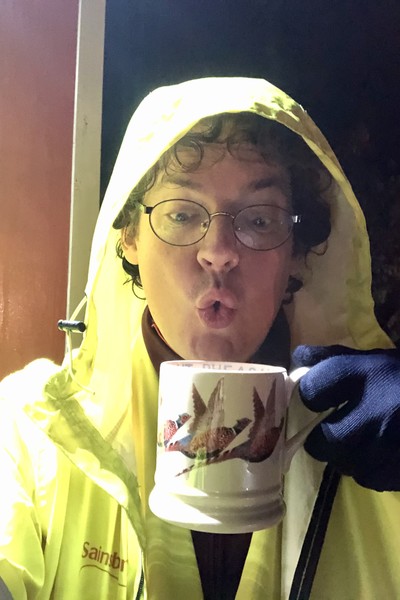 Enjoying a mug of tea on a wet 25th November evening.
A "first" happened to me on my rounds recently. I was offered a steaming hot mug of tea on a cold, soggy night in the Kent countryside. By chance, the lady who offered it to me was the delivery immediately prior to my twenty-minute break, so I could accept her kind offer. I felt a little bit like Elizabeth, Hyacinth's poor neighbour in "Keeping Up Appearances", as I held the mug with my gloved hand and it shivered from the chill of the night air. Fortunately, I managed to finish the tea and return the mug to the safety of the lady's porch. Speaking of my current role, it has somewhat amused me that the majority of emails I receive are questions about delivering! Sadly, despite numerous requests from my former (and future) passengers, I cannot obtain a slot for anyone. However, I did have some people writing in, saying that they would be interested to know some statistics of what the job entails. As a result, I decided to keep a log throughout November to see what, in an average month, I now temporarily do for a living. The results are: in November I made 316 deliveries. I drove a distance of 1,366.3 miles. From clocking-in to clocking-out at the depôt, I walked 179,883 steps. That means that there was an average of 4.3 miles between each delivery. Clearly it was a lot more than that in practice, as I have included click-and-collect in the deliveries, where the truck doesn't move! 569¼ steps were taken for each delivery. I hope that sheds some light on the distances involved in "feeding the nation". The longest I drove on one shift was 100½ miles, the shortest was ½ a mile. I was clocked-in for 149½ hours, which means I averaged a delivery every 28 minutes.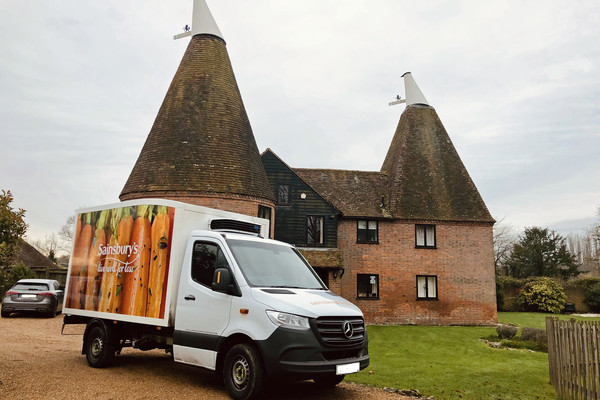 I can't remember delivering to a 'double oast house' before. The owners kindly gave me permission to pose my freshly washed truck in front of it. 2nd December 2020.
Of course, when I last wrote, we were waiting to hear which tier we would all be allocated. I must not become political, so I'll just say that it was something of a surprise that the whole of Kent has gone from tier 1 pre-lockdown, to emerging as tier 3. My heart goes out to all the pubs and restaurants that have now completely abandoned their Christmas programmes and refunded all their bookings. In my corner of Kent, I was naturally concerned about whether the Romney, Hythe & Dymchurch Railway would be able to offer their already sold-out Santa Specials. After ploughing through the legislation, I'm delighted that with a few tweaks they will be able to operate. However, a large proportion of the passengers come down the M20 from the London and Essex area, and at present you cannot travel in or out of a Tier 3 area. Those affected bookings are on a "wait and see" arrangement. The other nearby steam railway, the Kent & East Sussex Railway, have had to scrap their Santa Specials altogether. Their main snag is as their name suggests… the railway traverses the border between Kent and East Sussex, and that is the one thing that is forbidden at the moment. My heart really does go out to the volunteers who will have worked so hard in preparing for a festive season that is now abandoned. Still, we can but hope that soon the vaccine will be rolled out and 2020 will be but a memory. I certainly can't wait for 2021 to arrive!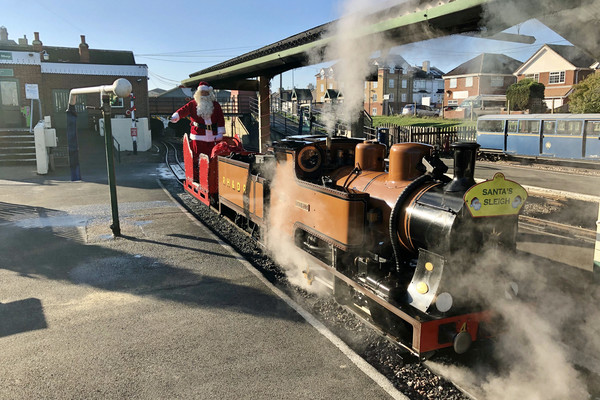 A year ago, 3rd December 2019, Santa arrives on his steam-hauled sleigh at New Romney.
Other than the emails about deliveries, my last blog drew a plethora of emails with your memories of the Gosport Ferry. Of all the ships to mention, I never thought that would be the one that would garner the most response! Thank you for all the correspondence, and I have enjoyed the challenge of replying to every email.
The office staff at Noble Caledonia are very thoughtful and do keep in touch with those of us who were out in the field. In my last blog, I mentioned that I had had a long chat with my boss, Captain Mike Deegan, looking at the Cruise Director scheduling for 2022. I also mentioned that he was considering offering me a private train charter to manage. A few people wrote to me, mentioning that they hadn't fully appreciated the scope of what Noble Caledonia had to offer, and had only considered the ocean and river-going trips before. I admit that every time I would go into the office in London and see the brochure wall, it would amaze me how many different modes of transport we offer. A few emails asked me which train it was that I was being considered for, and I'll tell you that it is the 2022 train trip in Namibia. Why am I telling you this? Because it reminded me of a few stories about previous visits to Namibia that I thought might entertain you.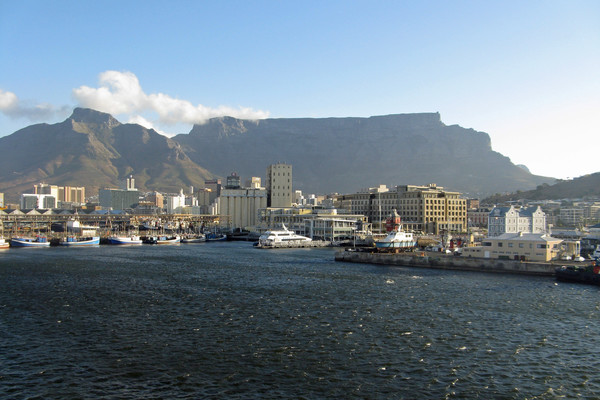 The view of Table Mountain, taken from the top deck of my ship. 2nd February 2011.
It all started in Cape Town. That's an opening line which I'm sure many have used in the past. Cape Town is always a highlight of any itinerary. For the crew, not only is it a wonderful chance to stock up on supplies and enjoy cafés, interesting sights and good weather, but it is also that a call to Cape Town often comes after many, shall-we-say, "challenging" ports on the way there. Alternatively, the ship may have had many sea days before arriving. My first visit to Cape Town was on 22nd January 2006, on the first leg of the 'Saga Ruby' World Cruise. Looking back at that itinerary, we had experienced 13 days at sea, interspersed with calls to Madeira, Dakar, St Helena and Walvis Bay. On that cruise, the ship's rule was that the Cruise Director or Assistant Cruise Director had to be on board at all times. I was then the assistant, so I can remember staying on board and enviously watching my colleagues head ashore to enjoy their evening in Cape Town. We should definitely have had an overnight stay!
On another visit to Cape Town a few years later, it was turnaround day. My diary tells me that it was Wednesday 2nd February 2011. We had just completed a cruise from Mombasa, Kenya to Cape Town – being escorted most of the way by an armed coastguard vessel due to us having been attacked by Somali pirates on the way to Mombasa during the previous cruise. Safely in Cape Town, our next cruise was to take us to Tema (for Accra), Ghana. Our ports of call were to include Lüderitz and Walvis Bay, Namibia; Luanda, Angola; São Tomé, São Tomé and Príncipe; Douala, Cameroon; Cotonou, Benin; Lomé, Togo; and finally Tema (for Accra) where the passengers would fly back to London. We had also been meant to visit Port-Gentil and Libreville in Gabon, but political unrest had led to them being dropped prior to arrival. The west coast of Africa is certainly the place to go for an impossible-to-guarantee itinerary!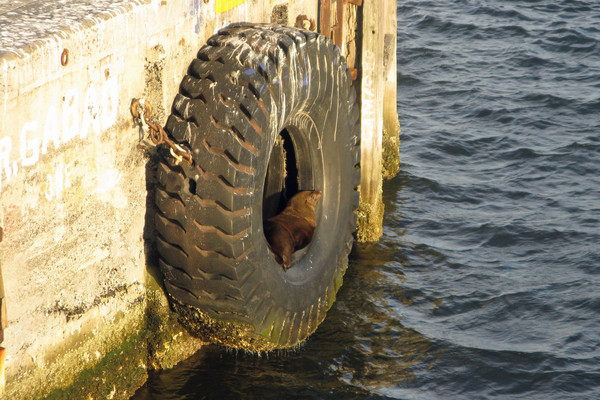 A lazy seal, who swam into the tyre at high water, thinks about life, philosophy and art. Cape Town, 2nd February 2011.
I remember the Captain coming to see me whilst we were in the middle of our turnaround day in Cape Town. He confided that there was a problem with the re-fuelling process. I can't remember the exact details, but the basics were that the fuel tank inlet on the ship was not compatible with the fuel truck's outlet. No matter how many different gadgets and mechanisms the Chief Engineer tried, there was no way we were going to be able to refuel whilst alongside the berth. The only alternative was to have all the passengers come on board as quickly as possible, and then leave the passenger berth and move to the fuel terminal berth, and have the fuel pumped in from there. This sounds like a simple solution, but naturally these things never are. When your turnaround day is over the course of a one-day visit to a port, you always run the risk of being impeded by any delays to the passengers' arrival. Sure enough, the flight from London was late and so we had no choice but to stay on the passenger berth, as that was the only berth from where we were allowed to have people embark. As time ticked on, the Captain told me we would have to take on fuel during the night, once we had everyone on board, which would be a noisy and smelly process, and then push all the ports back by one day and shorten time somewhere so that we could catch up the schedule. Although I only had just under ten years at sea at this time, I dared to stick my neck out and offer another solution. I asked if we could sail once the passengers have embarked and take on fuel in our next port of call instead – Lüderitz, Namibia. The Captain said, "yes, I wondered who would think of that first", and instructed the Chief Purser to contact the local agent in Lüderitz to see if it might be possible. Clearly, the Namibians were keen to sell us their fuel, as they eagerly agreed and the plan was set. We would sail for Lüderitz, have an afternoon, overnight and morning there in order to take on the required fuel, and then with the original slow speed required on departure from Lüderitz, we would put our foot down and arrive in Walvis Bay back on schedule.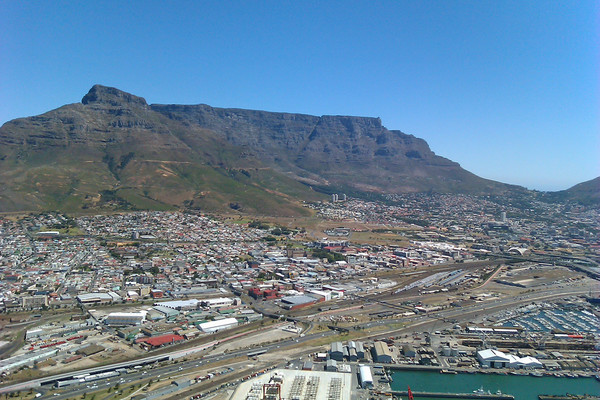 A view of Table Mountain, taken from a helicopter ride I treated my colleagues to on 16th February 2013.
The plan worked. The passengers all arrived, tired from their long, delayed flight. I called them all into the Sirocco Lounge to deliver the Welcome Briefing, and immediately explained the issue with the fuel. However, and much more importantly, I also explained the solution we had already adopted, and that we would still deliver the entire shore excursion package in Lüderitz, but that it would be spread over two half-days, rather than one full day. I also promised the passengers that I would think of something entertaining to do during our unexpected overnight stop. With that, everyone was happy, and we sailed from Cape Town with mostly fumes left in the tank. It always amazes me what one good night's sleep can do to transform a group of passengers. Sure enough, we left Cape Town in the evening of Wednesday 2nd February, and next day everyone was up and enjoying the sunshine, and then we arrived into Lüderitz at lunch time on Friday 4th.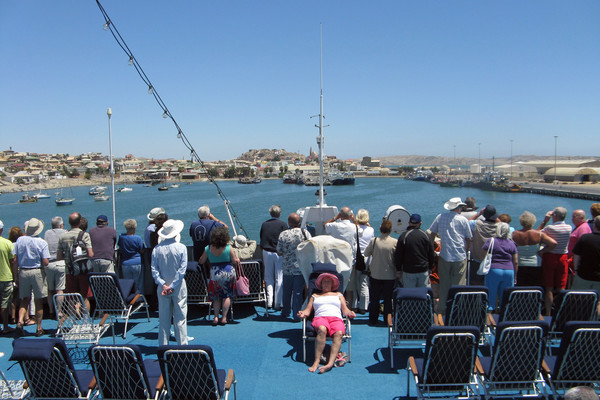 A sunny lunchtime arrival into Lüderitz on 4th February 2011.
I was about to start writing about all the adventures we got up to in Lüderitz and the surrounding area, but once again I have run out of space. I will have to hold it over until next week. However, I will give a brief introduction to the town. I had, and haven't, seen anywhere like it. It was as though the desert had reached the sea in a small natural harbour, and someone had decided to plonk a town on that spot, without much thought to the practicalities. There was nothing of note in the area, apart from the shelter of the natural bay, until the late 19th century when a German chap, called Heinrich Vogelsang, purchased the bay on behalf of Adolf Lüderitz, from the local Nama chief. The original economic reason for purchasing the area was to harvest the oceans – whaling, seal hunting, fishing, guano-harvesting, and more. Sadly, in a dark period of Lüderitz's history, a concentration camp was established on a nearby island which resulted in prisoners of the Herero Wars being used to expand the city, railway, port and carry out all manner of forced labours. It is estimated that between one and three thousand members of the Herero and Nama tribes died in the three years that the camp was operating. The camp closed in 1907, and two years later Lüderitz was transformed with the discovery of diamonds nearby. Over a thousand people came to live in the harsh environment, and the town became a major trading post. However, events in Europe meant that South Africa took over control of German South West Africa in 1915, with many of the Germans, including some of those who had founded the settlement, being deported. With the diamond supply exhausted, the town reverted to being a fishing and trading post. But that is just the start of our story… Until next week, all the very best to everyone.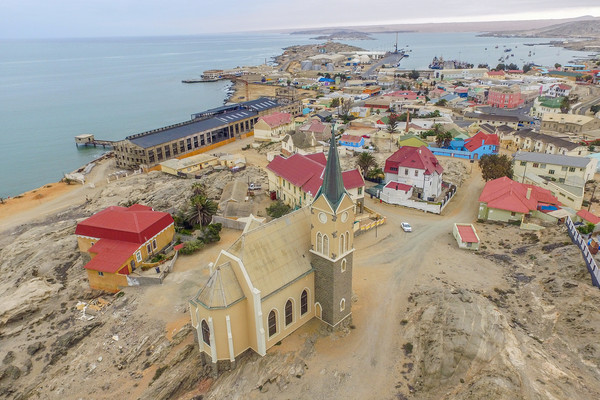 An overview of Lüderitz today, with the Lutheran Church in the foreground.