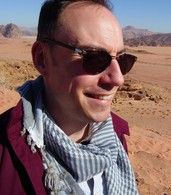 Dr Campbell Price
Campbell Price is Curator of Egypt and Sudan at Manchester Museum, University of Manchester, one of the UK's largest Egyptology collections. He became interested in ancient Egypt as a child after visiting Kelvingrove Museum in his native Glasgow. Campbell undertook his BA, MA, and PhD in Egyptology at the University of Liverpool, where he completed his AHRC-funded PhD thesis on the functions of non-royal statuary at Karnak. Campbell is now an Honorary Research Fellow at the University of Liverpool and also a Trustee of the Egypt Exploration Society, a charity founded to support British archaeological work in Egypt and to promote understanding of ancient Egyptian culture.
In Egypt, Campbell has undertaken fieldwork at Zawiyet Umm el-Rakham, Saqqara and the Egyptian Museum, Cairo. He has published widely on ancient Egyptian material culture, most recently Pocket Museum: Ancient Egypt (Thames and Hudson, 2017) and Golden Mummies, Painted Faces (Thames and Hudson, 2020). His main research interests are in ancient Egyptian art and material culture, and in the construction of 'Ancient Egypt' in museums.
Campbell has lectured widely throughout the UK, and internationally, and has appeared on TV and radio. He is currently curating a major international touring exhibition, 'Golden Mummies of Egypt'.
Dr Campbell Price is on the following tours: