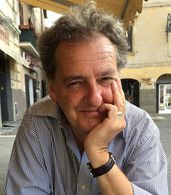 David Stuttard
David took an MA in Classics from St. Andrews University. He subsequently taught Classics for eleven years in Edinburgh, St. Andrews and York.
David is a prolific author of books on classical history and literature including. AD 410, The Year That Shook Rome (British Museum Press), co-authored with Sam Moorhead, The Romans Who Shaped Britain, also co-written with Sam Moorhead (Thames and Hudson) A Traveller's Guide to Roman Mythology (Thames and Hudson), and Looking at Ajax (Bloomsbury Press) were both published in August 2019. David is currently writing Phoenix: Cimon and the Rise of Athens (Harvard University Press) and working on Looking at Agamemnon (Bloomsbury).
In 1993, David founded the theatre company, Actors of Dionysus (aod), to perform productions of Greek drama throughout the UK and beyond, and for which he directed his own translations and adaptations of Greek tragedies, remaining with the company as Joint Artistic Director until 2004.
In 2013 David curated two events (including a programme of readings) at The British Museum in association with their exhibition, Life and Death in Pompeii and Herculaneum, while in 2015 he curated a further two events linked to their exhibition on the Greek body, Defining Beauty. In 2019 he was invited to reprise his programme of readings as a curtain raiser for the Ashmolean Museum's exhibition, Last Supper in Pompeii.
An accredited lecturer for The Arts Society, David is an energetic champion of classics and writes for publications such as Minerva, The British Museum Magazine, All About History, History News Network and The Wall Street Journal.
David has served on the Council of the Roman Society and regularly chairs programmes of lectures on Greek tragedy. He speaks at a wide range of venues including The British Museum and The Ashmolean Museum, events including literary festivals such as Oxford and Cheltenham and forum discussions.
In October 2018, David was elected a Fellow of Goodenough College, London.
David Stuttard is on the following tours: