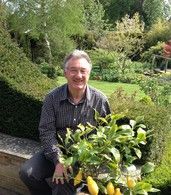 Alan Mason
Alan Mason NDT. F.Inst.G. Dip.Hort. M.CI. Hort. is one of Europe's most experienced and best qualified garden designers and consultants. Having achieved the distinction of being the UK's youngest head gardener at Bramham Park when still in his 20's, and then Gardens Manager to the Queen's cousin Lord Harewood at Harewood House in Yorkshire - where he and his team elevated the gardens into the top ten most visited gardens in the country - he set up his garden design consultancy in 1987. He has since designed and created gardens for royalty and other leading public figures in the UK and France. Creating the gardens at Le Manoir du Hilguy for Holiday Property Bond, and at his own home, Le Manoir, Port de Roche in Brittany, brought Alan Mason Garden Design International success.
During the 80s and 90s Alan also presented the long running 'Gardens without Borders television programme, which featured gardens in France, Italy, Spain, Portugal and Holland.
His French links continue, particularly in Brittany and Normandy, which have a similar climate and challenges to the UK. Alan is currently developing a beautiful riverside garden near Nantes, selected by the Ecole National Superiore d'Architecture de Versailles as representing the best of quintessential English garden design in the 21st century.
Alan Mason is a founder member of The Professional Gardener's Guild and the founder of the Senior Garden Advisors consultancy group which brings the services of top former Head Gardeners' from Stately Homes such as Chatsworth, Castle Howard and Harewood House to a wider public. Alan is also a judge of the show gardens at the prestigious Sandringham Flower Show and a garden design lecturer for The Royal Horticultural Society.
Alan Mason is on the following tours: