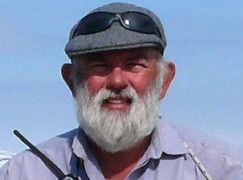 Pierre Malan
Pierre is an all round naturalist who trained as an oceanographer and marine biologist and has more than forty years of experience in the field. He lives in Hout Bay, near Cape Town, South Africa. He is a former Naval Officer who holds certificates of competence in sail and power. He worked at the Sea Fisheries Research Institute in Cape Town for more than thirty years, specialising in the acoustic stock assessment of small pelagic fish and krill.
He participated in numerous research cruises in the South-East Atlantic Ocean, the South-West Indian Ocean, the Pacific and Southern Ocean, often as chief scientist. Since 2001 he has worked as a fisheries consultant specialising in combatting illegal fishing, working mainly in Southern and East Africa and the islands of the Indian Ocean, as well as doing research cruises in the Antarctic, the Eastern Tropical Pacific and North Pacific. During this time he lectured at several Universities in South Africa as well as teaching at the Fisheries Development Centre in Mbegani, Tanzania. In 2005 he started working in the expedition cruising industry as a lecturer, zodiac driver, and later as assistant expedition leader.
He has worked on board ships in the Antarctic, the Western Indian Ocean, South and Central America, the Canary and Azores Islands, Great Britain, Norway and Spitsbergen. In addition to marine biology and oceanography he is a competent all-round naturalist and photographer as well as having an interest in history and in traditional boats and working boats around the world. During 2008 he was technical adviser and presenter for a TV documentary series on the Antarctic and sub-Antarctic.
Pierre Malan is on the following tours: