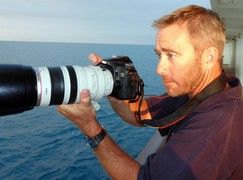 Damon Ramsey
Damon's personal aim in life is to combine his loves of nature and travel into a career, and experience as much nature and wildlife on our planet as he can. His professional aim is to document and interpret this natural history for the public, through books & magazine articles, documentaries, lectures and guiding. He believes encouraging the business of ecotourism is the only realistic way that humans will conserve nature.
Previous to completing his Biology degree, he gained his qualifications in Outdoor Guiding in the Blue Mountains, south-eastern Australia. These courses led to a range of research assistant experiences, including rainforest plants, bandicoots, finches, bats, butterflies and cassowaries. Damon has worked as a guide and lecturer for various companies and institutes around Australia and the Pacific, including day trips, overnight jungle hikes, rock art tours, documentary film crew, 4WD safaris, coral reef cruises, cycle tours, expedition cruises, wildlife & bird-watching tours, and biology, ecotourism and other study programs. This work has helped fund the educational and ecotourism projects.
Damon's work and travel experiences have taken him to southern Africa, North America, Central America, South America, India, South-east Asia, New Guinea and Melanesia, Polynesia, New Zealand & the sub Antarctic, and of course around Australia.