Tinabo Marine Conservation Project, Indonesia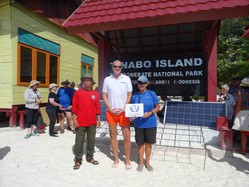 During Caledonian Sky cruises in 2016 in Indonesia we have been visiting the Tinabo Marine Reserve where a new marine conservation project is aiming to restore and protect the coral reef habitats by accelerating coral growth and creating a healthier ecosystem. A pilot project has been established in this patch of reef and if successful and the coral planted grows quickly the project can be expanded.
The coral reef provides local communities with income through ecotourism, diving and fishing, but has been slowly damaged through unsustainable fishing practices. Through a programme of education and regeneration, community based support can be given to conserving and protecting the local marine resource. With the reef restored to its natural beauty, marine life can flourish along with sustainable fishing and ecotourism industries, including small ship visits, which will support the communities.
Jane Wilson has led a fundraising initiative and guests have made donations totalling US$700 which has enabled the purchase of solar panels for the Coral Growth Project in collaboration with Oswald Huma, Destination Asia's conservation expert. The panels, which were presented to Mr Hassan, the Chief of the Marine Park Rangers on 31 October 2016, will generate low volt current to stimulate growth of coral planted on platforms during previous visits in March 2016.
Additionally during this visit guests released 55 three month old turtles - a mixture of Green Turtles and Olive Ridleys, and also planted trees in support of the local turtle hatchery and tree planting initiatives.