| | |
| --- | --- |
| | Remembering Edward Bransfield |
Edward Bransfield – The first to see Antarctic mainland
Edward Bransfield from Ballinacurra, in County Cork, Ireland was the accomplished navigator whose pioneering expedition almost 200 years ago began the famous era of exploration to Antarctica. Bransfield's expedition was the first to see and accurately map the Antarctic in 1820 and opened the era of exploration which created legendary figures such as Roald Amundsen, Captain Robert Scott and Sir Ernest Shackleton.
Many of today's visitors to Antarctica sail south across the Bransfield Strait and unknowingly retrace the voyage of Bransfield 200 years earlier.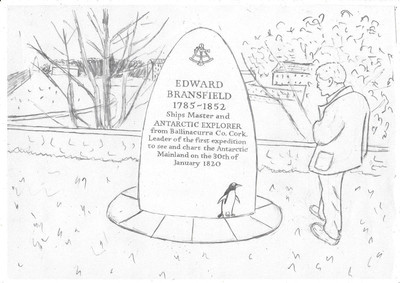 Bransfield's historic feat has never received full recognition until now with the formation of a special committee, called Remembering Edward Bransfield. The project has two basic aims: to raise awareness of Edward Bransfield both locally and internationally and to raise funding to place a monument to Bransfield in his birthplace of Ballinacurra, Cork in January 2020 to commemorate the 200th anniversary of his achievement of being the first to see and chart the Antarctic continent.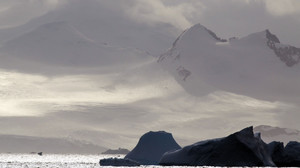 The NCCT donation to the project of £500 has advanced the project in achieving those aims, following is an update from the committee on their progress:
In November we signed a contract for the monument with renowned local sculptor Matthew Thompson. In addition, Cork County Council has generously offered to develop an excellent site for the monument at the entrance to Ballinacurra village which we are hoping will be renamed Bransfield Park.
The campaign to raise awareness of Edward Bransfield has made significant progress in 2018 and further publicity initiatives are already in motion for 2019.
We have generated media coverage about the Bransfield project in both national and local newspapers and local radio and national broadcasters, including a long interview on national radio station News Talk Radio's popular programme Talking History. Committee members have delivered numerous public talks, including on cruise ships in Antarctic waters, the Shackleton Weekend in Athy and the Cork Literary & Historical Society. Articles have appeared in specialist magazines such as Afloat and Marine Times and Antarctic interest magazines such as the James Caird Society Journal and the Falkland Islands Journal and we begin 2019 with extended coverage of the topic in the influential national magazine History Ireland.
Further ahead the actor, Aidan Dooley will perform his multi-award winning play Tom Crean – Antarctic Explorer on the 2nd February 2019 to highlight our project. We intend to unveil our revamped website early in 2019 and with a small grant from Cork County Council in association with film-maker, Tony Whelan, we are in the final stages of the production of a short documentary about Edward Bransfield and the project.
We will also keep you informed of all significant developments ahead of the monument unveiling in January 2020. Meantime, on behalf of the Remembering Edward Bransfield committee I would like to thank the NCCT once again for your much valued support.
For further information visit rememberingedwardbransfield.ie
Images:
An artist's impression of the brig Williams sailing along the coast of the Antarctic Peninsula, January 1820. Sketch © Jim Wilson 2018
Sculptor's impression of the Edward Bransfield memorial
Mount Bransfield, Antarctica © Jim Wilson 2018