Queen Elizabeth National Park Hippo Pools Restoration Project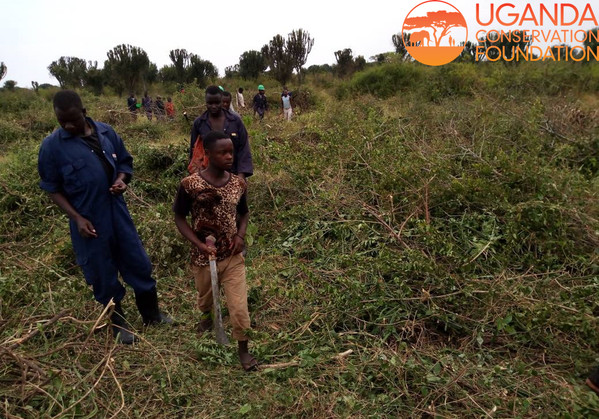 The Noble Caledonia Charitable Trust is working with Uganda Conservation Foundation to conserve and restore elephant, hippo and buffalo numbers in Queen Elizabeth National Park in Uganda. Uganda Conservation Foundation is a UK (no. 1087295) and Ugandan non-profit whose aim is to safeguard Uganda's natural heritage through practical conservation and community interventions (www.ugandacf.org).
THE CHALLENGE
Queen Elizabeth National Park is one of Uganda's flagship parks. It was named for the current British monarch, Queen Elizabeth II, following her trip to Uganda on a honeymoon visit in 1954. Over the past forty years, the park has changed hugely as a result of severe poaching. The crash in elephant, hippo and buffalo numbers has had a drastic impact on habitats. Without these large herbivores stirring up and taking soils in and out of the semi-permanent water bodies, many hippo pools, previously central to wildlife, have dried up. In the vicinity of the old hippo pools, habitat has changed markedly, with invasive species suffocating areas of former savannah, forcing wildlife into other areas to look for food (often in conflict with communities) and having a detrimental impact on tourism.
THE SOLUTION
Using local labourers and simple earth moving equipment, Uganda Conservation Foundation in partnership with Uganda Wildlife Authority is undertaking a project to restore some of the old hippo pools in central Queen Elizabeth. The reopening of the pools will encourage hippos and other mega herbivores back, which in turn will open up the former savannah lands, attracting other herbivores and regenerating the areas as prime game viewing spots for tourism. With tourism will come a revival of wildlife numbers, contributing towards the overall recovery of the national park and improved opportunities for communities to benefit economically from wildlife.
PROGRESS SO FAR
The donation from the Noble Caledonia Charitable Trust has enabled the Uganda Wildlife Authority to get this project going through the removal of invasive species and other undergrowth around the old hippo pools by community members employed as casual labourers. The next phase is the excavation of the pools before the heavy rains towards the end of the year, when we will be watching the pools fill up and the hippos return!
DONATING
If you wish to make a donation you can do so by visiting the Noble Caledonia NCCT page (noble-caledonia.co.uk/charitable-trust) and clicking on the donate button. Alternatively you can send a cheque made payable to the NCCT to:
NCCT, 2 Chester Close, London SW1X 7BE.