Polar bears and humans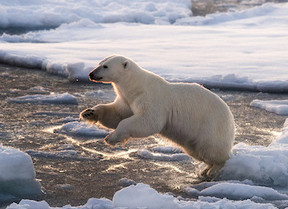 Polar bears and humans have a long history in most parts of the Arctic. Ever since the Inuits encountered the polar bears hundreds of years ago, there has been more and more interaction with this large predator. Today, hunting, scientific activity and tourism are directly interfering with the life of the polar bears. Climate change and pollution, also linked to human activity, is also affecting the Arctic King.
The ocean temperature is rising, the Arctic ice coverage is shrinking and the drifting ice is getting thinner. In this project we want to look into how serious is this change? How does it affect the polar bears and other Arctic animals? How can the polar bears adapt to this new future?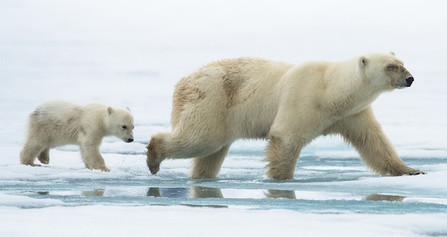 Many books and scientific papers have been published about climate change, but there is not much information available on how this affects the polar bears regarding their growth rates (population changes), their choices on thin ice and the kind of ice that is most limiting for their existence.
Polar bears have been hunted for hundreds of years by the Inuit. Since 1850 European hunters and trappers have also killed polar bear intensively, and from the 1950s onwards, trophy hunters have killed thousands of polar bears. After the Agreement on the Conservation of Polar Bears in 1973, there have been some improvements, at least in Svalbard, but 800-1000 polar bears are still shot every year – legally or illegally.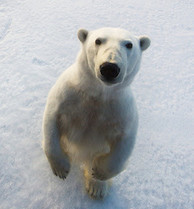 Hunting statistics for the last 50 years are "official" but extremely difficult to find, or sometimes even hidden. A fraction of hunting statistics can be found in scientific publications, but no complete timelines can be found with detailed information.
One of the main purposes of this project is to publish complete time series (1962-2017) of polar bear hunting activity in Alaska, Canada, Greenland and Svalbard. Based on this information and growth rates, it will be possible to estimate population changes over time.
During the 2017 summer sailings in the Arctic aboard the Hebridean Sky over £5,000 was raised. For more information and to make a donation to this project please visit Polar Bears & Humans.