| | |
| --- | --- |
| | Kuril Islands Beach Clean-up |
This year Noble Caledonia had a charter in the Russian Far East on board the lovely MV Soleal. Whilst we are always keen for opportunistic beach clean-ups in remote places, this opportunity lined up several wonderful themes for us and it all came together into a pretty impressive effort!
16th June 2019 was a day declared 'Clean-up for Sarah' in honour of the late Sarah Auffret's birthday. Sarah was hired by AECO, our arctic industry association, as environmental officer but very sadly died in the Ethiopian airline crash whilst on her way to a United Nations conference. https://www.aeco.no/cleanup-for-sarah/
We didn't know where we would end up on 16th June but as luck would have it we landed on an extremely remote and isolated volcanic island in the Kuril Island chain; Atlasova in the morning and Shumshu in the afternoon. We even saw a volcanic plume erupting while we were there.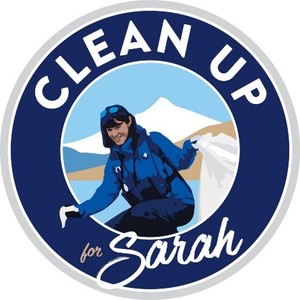 Whenever we visit remote uninhabited beaches we are astounded by the amount of (plastic) debris that comes ashore; from Seychelles to Henderson in the South Pacific to Jan Mayen in the north Atlantic – where there are no communities picking up what floats ashore it accumulates in remarkable volumes!
This clean-up started as many do; not pre-planned in any kind of concerted effort, but as people noticed a few plastic bottles so they collected them and each passenger and staff member moved a few into a pile here or there but with 160 guests the pile grew rapidly. We sent for bags from the ship and got permission to bring it back on board. The bags were not going to be enough so the ship eventually sent a huge heavy-duty bag which would be taken back to the ship. The Captain could not be more accommodating – the activity was especially well received since Sarah had worked on this ship and knew many of the crew.
We always feel proud and privileged to go to such remote places and when we can leave them a little better than how we found them – even better!
Pamela Le Noury 2019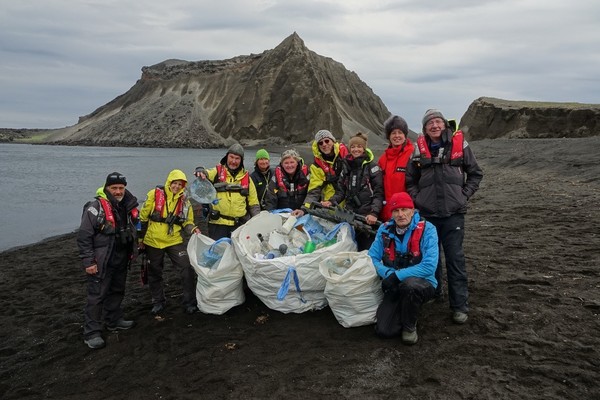 Left to Right: Colin Baird, Petra Glardon, Dmitrii Kesalev, Katja Riedel, Cheli Larsen, Christian Genillard, Pam Le Noury, a fellow passenger, Kevin Morgan (crouched) and Tony Crocker