| | |
| --- | --- |
| | Hawksbill Turtle Release in Vanuatu |
On a recent visit to Moso Island, Vantuatu in the South Pacific, guests of the MS Caledonian Sky visited the Tranquility Island Turtle Rookery and sponsored the release of three critically endangered Hawksbill turtles.
Noble Caledonia sponsored release of Bethany, Marley and Cruz
By Kristine Hannon, Assistant Expedition Leader, Caledonian Sky, Vanuatu [3 February 2016]
A bright and sunny morning welcomed the Caledonian Sky and our guests to Moso Island in Vanuatu and on our itinerary today was a visit to the Tranquility Island Turtle Rookery where Hawksbill turtles are hatched and raised until they are old and large enough to make it in the wild. Hawksbill turtles are a critically endangered species and the conservation work here on Tranquility Island can only continue with donations and sponsorships from visitors.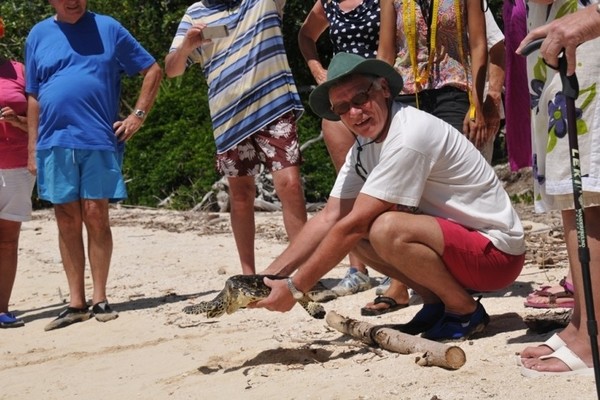 Upon our arrival we found out that 3 turtles were ready for release. The turtles are kept in large tanks and are divided in age groups ranging from hatchlings to the 'ready to release' tank of turtles of about 12 months of age. This was a wonderful opportunity for us to give something back to nature – the main focal point of many of our cruises – and an additional highlight for our guests. We arranged sponsorship for the release of Bethany, Marley and Cruz , all 12 months old and ready for their first swim in the ocean.
Bethany was the first one to go, she made a run for the sea leaving behind on the beach a group of paparazzi documenting this wonderful moment. Next was Marley who was very eager to dip his flippers in the sea and set off on his life's adventure. Last but not least Cruz was set to freedom and hopefully a long and happy life in the warm waters of the tropics.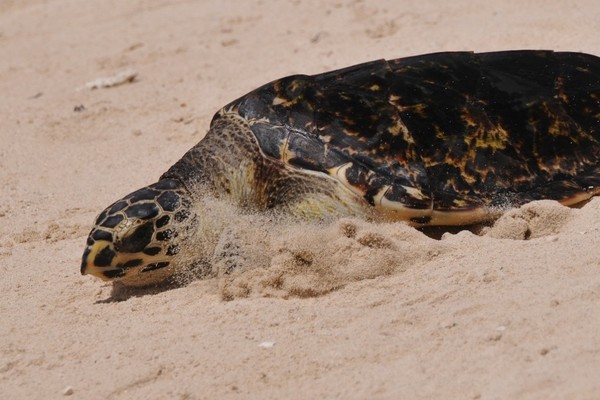 Sponsorship for the release was 50USD per turtle and Noble Caledonia added another 50USD extra making our contribution 200USD.
A release certificate was made for each of our turtles containing their tag numbers. This information will be sent to the regional database at the Secretariat of the Pacific Regional Environment Programme (SPREP) in Samoa who will contact us if there are any sightings.