| | |
| --- | --- |
| | Global Microplastics Initiative |
Microplastics in the West Indian Ocean - Results October 2017
Most of us are aware of the problems with plastic rubbish in the oceans, choking marine mammals, filling the stomachs of seabirds, and suffocating coral reefs. To date, there is little information available on contamination levels in some of the remote ocean regions to which our expedition ships regularly travel. To this end, the Noble Caledonia Charitable Trust is supporting expedition team members currently working in the West Indian Ocean on the MV Island Sky to collection seawater samples for microplastics analysis.

Photocredit: Joe Dowling, Marine Photobank.
We urgently need to find out more about the sources, composition and distribution of microplastics pollution. As part of a global initiative coordinated by Adventure Scientists, expedition team members on the MV Island Sky working in the West Indian Ocean in early 2017 collected seawater samples from 18 locations for microplastics analysis. Our expedition ships represent excellent "platforms of opportunity" for citizen science projects such as this. With the generous support of the NCCT, these samples were sent to the Marine & Environmental Research Institute (MERI) in Maine, USA for analysis by Abby Barrows. Places where the expedition team collected seawater samples included Sri Lanka, the Maldives, the Seychelles, and the northeast coast of Madagascar – all areas where little to no previous sampling had taken place (see Map Figure).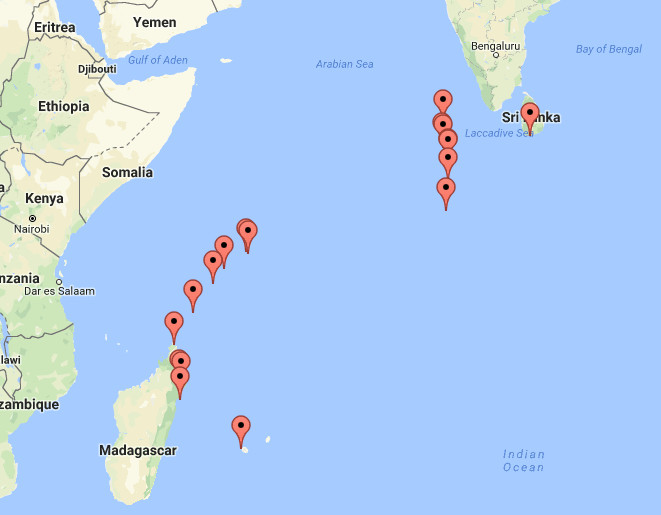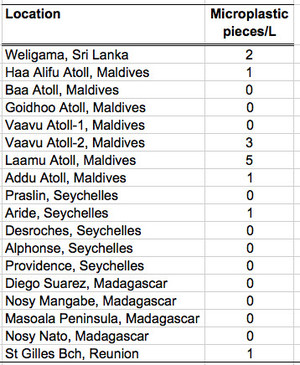 Table: Summary of Results - # of microplastic fragments detected per 1L of seawater.
We have now received the results of these analyses. Given the very large amount of "macroplastic" debris on some of the beaches we visited (i.e., dozens of plastic bottles, old flip-flop sandals, and miscellaneous other rubbish), we expected that most of the water samples would contain microplastic fragments. We were pleasantly surprised however to learn that 11 of the 18 samples actually contained no detectable microplastics. Of the seven samples that did contain microplastics, the amount of material was very small (see table below).
The majority of microplastics detected were "fibres" (plastic strands derived from synthetic clothing) – see "Know Your Microplastics" Graphic. While we did not sample the seafloor sediments where some kinds of microplastics can also end up, the relatively 'clean' state of the water in this region gives us cause for quiet optimism. It may not be too late therefore to save the seas from extensive microplastic pollution if we act to clean up the rubbish on the beaches promptly.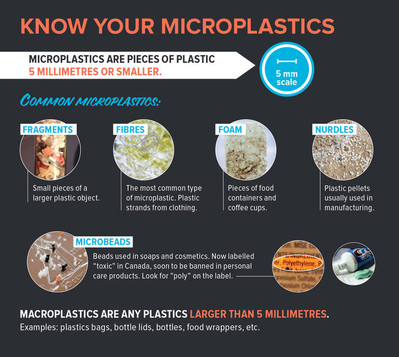 Microplastics infographic courtesy of Lake Ontario Waterkeeper website.waterkeeper.ca
For details, see ukchamberofshipping.com and noble-caledonia.co.uk/news/beach-clean-ups We hope to expand on such efforts in the future.
More information available from:
Adventure Scientists – Global Microplastics Initiative - adventurescience.org
MERI – Marine Plastics & Microplastics Research – meriresearch.org/focus
NOAA Ocean Facts – Microplastics - oceanservice.noaa.gov