Rockhoppers and Rockall
Good evening everyone. It's just past 6pm on a showery evening here in Hythe. I'm starting this blog, knowing full well that I will be abandoning it in about half an hour's time, as I want to watch a new episode of Michael Portillo's "Great British Railway Journeys". The television schedule states that he will be travelling from Rye to Dungeness, so as you can imagine that has piqued my interest. Speaking of Dungeness, I was the 'Travelling Train Dispatcher' (a slight variation on 'Guard') last Saturday. The guard's van is in the centre of the train, and houses a bench seat which has windows containing duckets. I appreciate that the latter word might be new to some readers of this blog, because it was new to me until last Saturday. The duckets are windows which slightly protrude from the side of the carriage, and contain mirrors angled at 45 degrees. This means that the guard can look both ways along the side of the train without having to stick his or her head out of the window. However, if you look at the ducket for too long, it does start to make your eyes feel strange. Having one image coming towards you, with the other going away from you, and then the normal windows on either side… it is enough to make anyone cross-eyed!
A new lighthouse to the left, an old lighthouse to the right, and a view along the entire length of the train in the middle! Dungeness Duckets, 15th May 2021.
Staying with the railway for a moment, I had a meeting at New Romney yesterday. As I walked along platform 2 towards the office, a figure was walking towards me who looked familiar. I realised that it was Paul Merton, team captain on "Have I Got News For You". The station was closed to the public, and it transpired that Paul was doing some filming for an upcoming project. I decided to say hello and introduce myself. Paul was charming and introduced me to his wife. I mentioned to him that a few years ago I went to see "Have I Got News For You" being filmed in London. He was quite surprised by this and asked me who had been the guest presenter. I could well remember the couple of days I had spent in London on that occasion. I had arranged to take my friend Emma, who you may recall from the previous blog shares the same birthday as me, out in London. We met on 5th December 2013 and went to see the show being filmed. The guest presenter was Kathy Burke, and joining Ian Hislop and Paul Merton were Tim Loughton MP and comedian Miles Jupp. I had always wanted to see the show being filmed, as I had a feeling there was probably more edited out of the show than there was included in it. It was fascinating to see, come the end of the show, how fast the watching lawyers had worked. Various minor re-takes then took place to ensure that all remained above board.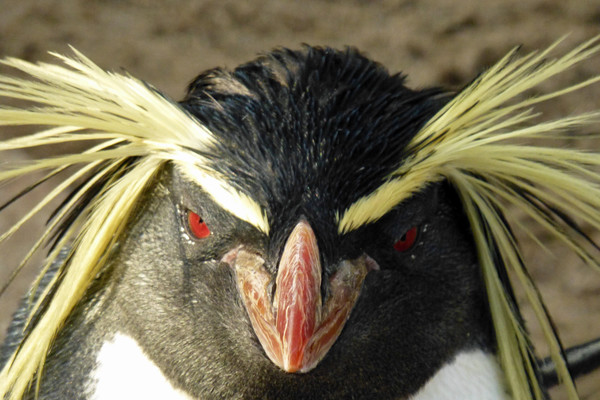 Ricky, the solitary Rockhopper penguin among the Humboldt colony at London Zoo. 6th December 2013.
The following day, I took Emma to London Zoo. I had never been before, and I knew that Emma had a devout love of all things that are penguin related. I had managed to book one of their penguin experiences. This meant that after sitting by the very large penguin enclosure, we were invited to go 'behind the scenes' and meet the penguins. It had been joyous simply to watch the colony of Humboldt penguins as they sped around their 450,000 litre capacity pool. However, to get up close and personal with them took things to a new level. I remember saying to Emma how it was ironic that when I had visited Antarctica all of us passengers and crew were under strict instructions to not go within five metres of a penguin. Easier said than done when the penguins are all too well aware of this rule and spend the entire tourist season trying to force you to break it! For an extra generous donation, here at London Zoo we were allowed to have the penguins come up and see us and fuss around us. Whilst it naturally wasn't quite in the same league as being in Antarctica or South Georgia, I very much appreciated the emphasis that was placed on educating us about the penguins. I really could watch them all day long.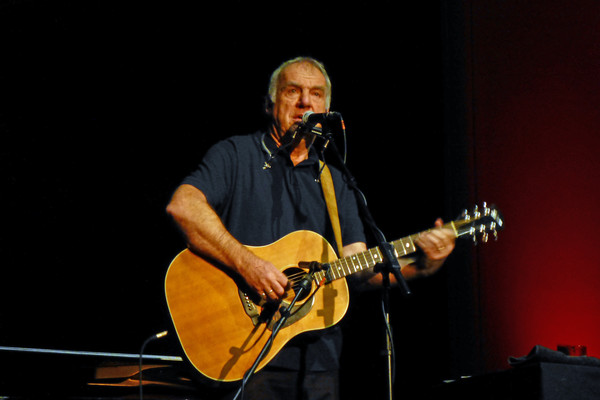 Ralph McTell in mid-song at the Cadogan Hall, London. 6th December 2013.
After our afternoon at London Zoo, Emma and I had strolled through Regent's Park and we ended up at Cadogan Hall, home of the Royal Philharmonic Orchestra. I had bought us tickets to see one of my musical heroes, and dear friend, folk legend Ralph McTell. I'm pretty sure I've spoken about Ralph previously in these blogs, but suffice to say there is so much more to discover beyond "Streets of London". My personal favourites being his songs, "Terminus", "Mr Connaughton", "Summer Girls" and "Brighton Belle". I can tell that you're all thinking that Emma was very lucky to know a man who would treat her to "Have I Got News For You", penguins at London Zoo, and Ralph McTell in the space of 24 hours.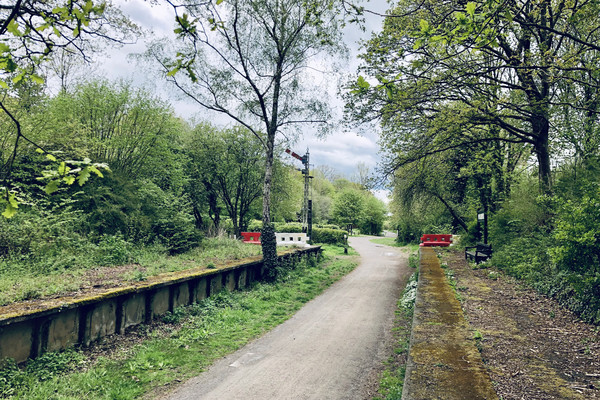 The remains of West Grinstead railway station. 13th May 2021.
Going back to where I finished last week's blog… On Thursday and Friday I popped back to Littlehampton to see mum and dad. I had been working on my birthday, so I wanted to see them as soon as possible afterwards. I am somewhat renowned for getting things done at the last minute, but by some miracle on Thursday I was running early as I drove from Kent to West Sussex. Like many people in these times of restricted international travel, I have found renewed joy in the wonders of the places that we hadn't realised are close by. Or to be more honest, those places we knew of, but had never got round to visiting. It is so often the case that you put off visiting places that are relatively close to you, thinking that there will always be another time. All my life, whenever we left Littlehampton to go anywhere northbound, we would drive over a bridge on the A272 between West Grinstead and Bolney, on our way towards the M23 and northwards. Underneath that bridge passed the old railway line from Shoreham-by-Sea to Horsham. Every time I have driven over it, I have said to myself that I will stop 'next time' and have a look. This time I finally did. Like many disused railway lines, it has become a linear country park, but at the site of West Grinstead station someone has thoughtfully replaced the semaphore signal (which can be worked by a lever at its base), and the station sign. It was wonderful to park the car and, within less than a minute, be walking among nature. I stepped on a branch that had fallen from an overhanging tree, and the resultant crack echoed to the extent that a deer ran across the track bed in front of me. In the half hour that I spent there I only saw three other people walking past. Strangely, each of them asked me if I had lost my dog. Clearly it is somewhat unusually for someone just to be having a walk on their own. I was tempted to say that I had lost my dog, just in case they happened to find one that I could have!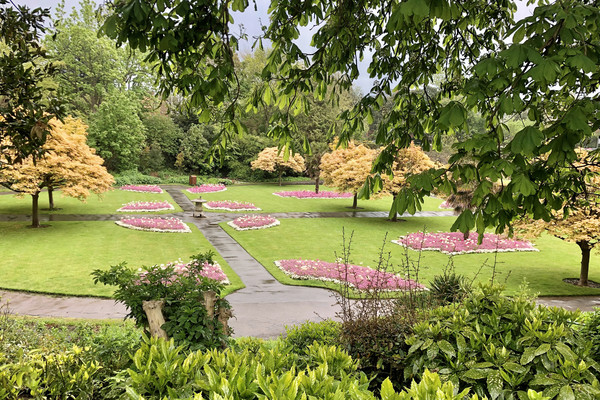 Sunshine and showers at Kingsnorth Gardens, Folkestone. 17th May 2021.
Mentioning places nearby to us that we don't really notice; I had my delivery day on Monday and delivered to an address adjacent to Kingsnorth Gardens in the heart of Folkestone. Whilst I knew of them, I was taken aback by the bright colours as shown in the photograph above. I took the photo from my van, with the window wound down. The gardens opened in 1928 and cover over three acres. What caught my eye were the striking colours of the trees and flowerbeds. I did some research and discovered that they are Japanese Acers, which show off their wonderful salmon pink foliage in the spring. I mentioned to the young lady I was delivering to that she was lucky to have such a beautiful park on her doorstep, and the puzzled look in reply made me realise that many of us really do not appreciate how much there is on our own doorstep to appreciate, admire and enjoy.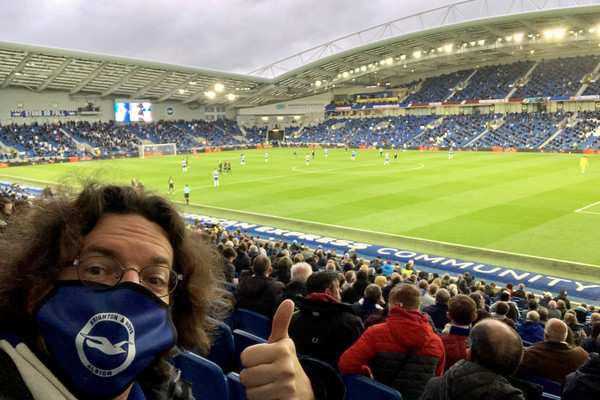 Finally attending a match as Brighton kick-off against Manchester City. 18th May 2021.
About last night… I know I am yet to mention anything about cruising, but hopefully I can wallow in the occasion of last night (Tuesday 18th May). I was fortunate enough to be allocated a seat in the random ballot of season ticket holders for the last home match of the season. I say fortunate, but when we realised it would be Manchester City at home, we were concerned that we would be watching the match through our fingers in fear and dread. However, thankfully Brighton were already safe for another season, and Manchester City were already champions, so we predicted a dull game with nothing to play for. We couldn't have been more wrong! Brighton ended up coming back from 2-0 down shortly after half-time to win 3-2 against the ten men of Manchester City. The best way I could describe it would be 'pantomime football'. There may have only been 7,495 of us fans to witness the occasion, but it felt very special to be there. It was my first home match since 29th February last year. I sat in my seat and just thought about everything that has happened in that time. It was almost too much to take in, but then the players took to the field and I was back in the zone. We've still got a long way to go, but it felt fabulous to take that step. My father, who is a Mancunian and supports Manchester City, graciously offered his congratulations when I called him after the match. The 2½ hour drive each way (taking the coast route via Rye, Hastings, Eastbourne, etc) was worth it!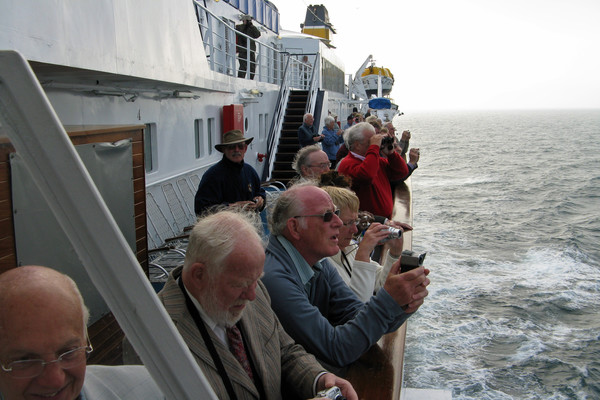 Passengers looking over the side of the ship, but what are they looking for? 27th June 2009.
I must thank everyone for the kind emails that have been coming in on a regular basis. Some of them are stories about times you visited places that I mention. The majority are in response to a story about the railway or my deliveries. Now and again there are questions which prompt me to feel that I might answer them in these blogs. One question I had received recently, was where is the most intriguing place I have visited in the British Isles? The question was leaning towards the fact that the summer cruising season will understandably be based domestically. I had a think about it, and came up with the following answer… Rockall. No, I haven't ever landed there, but I have sailed close by on a few occasions. A commonly used remark is that it is thought that more people have landed on the moon than on Rockall. Given that only twelve people have walked on the moon, that does seem hard to believe. However, the other remark that more people have reached the summit of Everest than have the summit of Rockall is far more believable. Just over ten years ago I directed a series of Iceland trips. They started and ended in Dover, and would go up the east coast of the UK, call in at the Scottish isles, Faroes, go in an anticlockwise direction round Iceland with Heimaey as the last call. A day at sea in a south-south-easterly direction would bring us round the southwestern tip of Ireland for a visit to Cobh before heading back up the English Channel to Dover. I was on the Bridge one day, looking at the navigational charts, and noticed that by drawing a straight line from Heimaey to the Skelligs Lighthouse we would pass nearby Rockall. Whilst this excited me greatly, the Ukrainian Bridge Officers didn't seem to share my enthusiasm.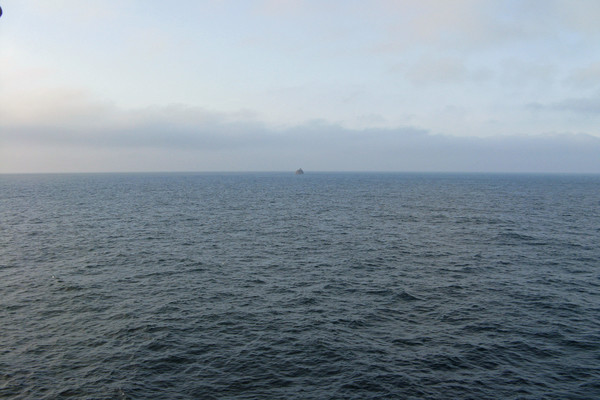 Rockall as seen with the naked eye from the deck of the ship. 27th June 2009.
Fortunately, the Captain could understand why I was keen that we at least had the chance to see Rockall. There can't be that many people who have even seen the place – and yet everyone has heard of it. You may not be surprised to learn that there are not detailed charts with depth readings for the immediate vicinity of Rockall. As a result, we took a safe wide berth, but with a decent pair of binoculars it was easy to see some detail on the rock itself. I wrote and delivered a lecture about the fascinating history of Rockall during the day at sea as we approached this British outpost. It has been fired upon by ships which mistook it for an enemy ship. It has, and continues to be, the centre of territorial disputes. Bizarrely, given how relatively close it is to the UK, Rockall was the last territory to be added to the British Empire. It wasn't until 18th September 1955 that an expedition team from HMS Vidal were helicoptered onto Rockall and fastened a plaque which read, "By Authority of Her Majesty Queen Elizabeth the Second, by the Grace of God of the United Kingdom of Great Britain and Northern Ireland and of her Other Realms and Territories, Queen, Head of the Commonwealth, Defender of the Faith, Etc. Etc. Etc. And in accordance with Her Majesty's instructions dated 14. 9. 55. A landing was effected on this day upon the island of Rockall from H.M.S. Vidal. The Union Flag was hoisted and possession of the island was taken in the name of Her Majesty. [Signed] R H Connell, Captain, H.M.S. Vidal, 18 September 1955". However, my favourite story was that Greenpeace once landed on the island and, using a purpose-built capsule, stayed there for a while. They had hoped that the Royal Navy would be sent to remove them from Rockall and they would gain a huge amount of publicity. However, they had not thought of the cunning tactics of then Deputy Prime Minister John Prescott. He discovered that the protesters were all British, and issued the decree that, "Rockall is a British territory. It is part of Scotland and anyone is free to go there and can stay as long as they please". With that, he ignored them and the protest fizzled out. As you can see from the photos, on the day we passed by Rockall it was frustratingly calm and, if I had been on a Noble Caledonia ship, I would have requested that we stop, lower the Zodiacs, and then see if we could land there. One day that dream will come true!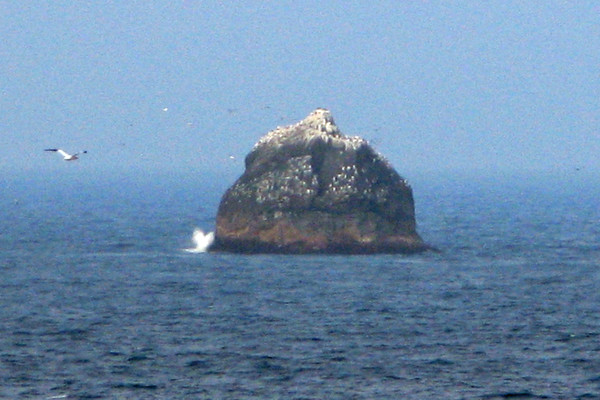 Zooming in on the last addition to the British Empire, Rockall. 27th June 2009.
That brings us to the end of this week's blog. I hope you have had a good week, wherever you are. For some reason we appear to have had May's usual weather in April, and now we are having April's usual weather in May. Fingers crossed for a sunny bank holiday next weekend, and in the meantime I hope that everyone has been able to have a hug since restrictions were lifted on Monday. Best wishes and goodbye until next week.