Keighley, Korea and Camels
Good afternoon everyone. It's 1pm on Monday 17th January and, as always, it's lovely to be able to sit here at home with a mug of tea and write to you. The sun is shining on the hills that were once the Saxon shoreline that runs behind my house, and it's been a good week since I last wrote. As everyone will appreciate, anyone working in the travel industry realises that their work is subject to change at the moment. However, that has always been the case to an extent. I can recall many times over the years when I've been called to replace someone at short notice as said person has had to withdraw from their role. One particular memory along those lines was that I was due to join a large American-based ship (hard to believe now) back in late August 2004 in Miami. My flights had been booked and I had about three weeks before I was due to fly out. Early that August, it was the last week of me having a Young Persons' Railcard. I had decided to buy a one-week runabout ticket, which meant I could use any train in the UK, and go from my then home in Littlehampton to Land's End to John O'Groats and back again, using only trains and buses. I stayed with friends or in guest houses along the way. I could write a whole blog about that week, but perhaps that can be another time. On the penultimate day, I was on the train from Thurso to Inverness, snaking round the Duke of Sutherland's estate, when the phone rang. It was the cruise line asking me if I could join another of their ships instead. I would need to embark in Dover. This was much more appealing as I had to pay for my own transport to the ship, so naturally this would be much better than flying to Miami. However, I needed to embark in two days' time! I had to wait until the train reached Inverness in order to have a decent phone signal, and then I called my parents and asked for their help. The following day I took the train from Edinburgh to home whilst mum washed and ironed everything I owned, and then the next day they drove me to Dover and I embarked for a six month contract.
One of the locomotives that starred in the original "Railway Children" film in 1970, on display at Oxenhope. 16th January 2022.
This weekend just gone, I went up to Keighley in Yorkshire, as I had been invited by my boss (and fellow Travel Post contributor), Mike Deegan, to experience the Keighley & Worth Valley Railway. I had never been on the railway before. The only time I had been to Keighley was when I passed through the mainline part of the station whilst on my week-long round-UK trip back in August 2004. During dinner on the Saturday evening, Mike asked me to extend my stay on "Misr" – the Nile steam ship that I wrote about in a previous blog – so that I will now be on board her continuously from 1st February to 11th March. Naturally I was more than happy to agree to do so. If you are booked on one of those cruises, I look forward to welcoming you aboard! I had a glorious day out on the Keighley & Worth Valley Railway yesterday. Seeing the locomotive above in the engine shed at Oxenhope brought back so many memories of watching the classic version of "The Railway Children", starring Bernard Cribbins and Jenny Agutter, which was filmed on the railway. A sequel was filmed in the same locations last year, with Jenny Agutter returning to the cast as an older version of her original character. I just hope that I am in the UK when it is released in the cinemas – so often it has been the case that a film has been released and already finished its cinema run before I get home!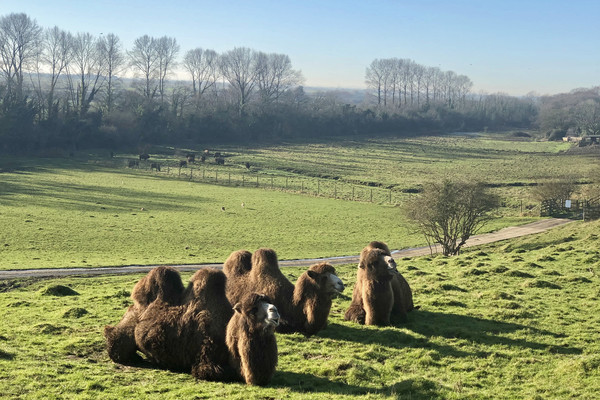 Bactrian Camels relax at Port Lympne on 13th January 2022.
Another treat in the week just past was a visit from one of our Assistant Expedition Leaders/Assistant Cruise Directors. Most recently, Genna was my assistant on the 'Passage South' cruise on board "Island Sky". Every five years, us crewmembers have to renew our seafaring certificates. It's a 1½ day course and good to have everything refreshed. Genna was completing the course in Dover, and as that is near where I live, we had a day out together the following day. The weather was brilliant sunshine, and so I took us to Port Lympne to enjoy a safari. Rhinos, tapirs, gorillas, giraffes, zebras, and many more creatures were busy roaming the Kent savannah, whilst these critically-endangered Bactrian Camels simply enjoyed the sunshine. After our safari, we watched the sun set into the sea at Dungeness, but sadly no green flash appeared. It was lovely to see Genna again. It is always an odd feeling when you meet someone on land that you've only known on a ship, but I'm sure we'll end up sailing together again some sunny day.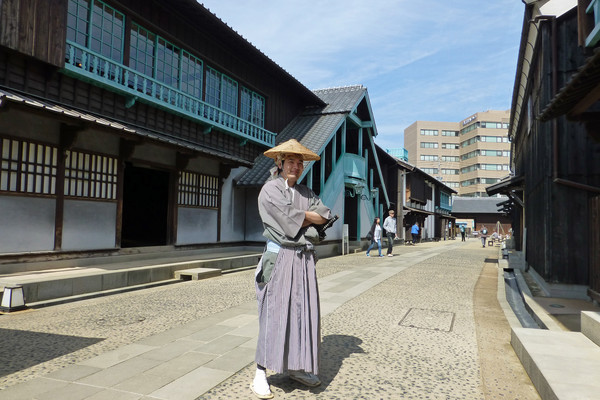 The local guide looks the part in Dejima, Nagasaki, Japan. 8th April 2015.
I have received some wonderful emails regarding my blog about Japan last week. Many of you had memories of previous trips to this most fascinating of countries, whilst others were telling me how much they are looking forward to embarking "Heritage Adventurer" in 2023. Last week I mostly focused on the 'Inland Sea'. This week, I thought I would write a second and concluding blog about Japan, and South Korea, as so many happy memories came back to me. The westernmost part of Japan that we visit is Nagasaki. We spoke about Hiroshima last week, and of course Nagasaki was the site of the second nuclear bomb on 9th August 1945. Whilst our visit to Hiroshima is mostly centred around their Peace Memorial Park, our visits to Nagasaki includes their own Peace Memorial Park, but you soon realise there are many more chapters to the history of this fascinating city. The gentleman shown in the photo above is one of the guides on the artificial island of Dejima. I knew nothing of Dejima when I first visited, but grew fascinated by its history. The island was built in 1636, under the orders of the Tokugawa Shogunate, to house Portuguese merchants and missionaries – to prevent Christianity spreading in Japan. Three years later, in 1639, an edict was passed effectively closing the country off from the outside world and forbidding Portuguese ships from calling. After two years of abandonment, the Dutch managed to secure trading rights at Dejima, and from 1641 until 1859, the island was the only window from Japan to the outside world. From the Meiji period, Dejima was gradually incorporated into the mainland and is no longer an island, but the site was declared a National Historic Site in 1922 and the original buildings have been beautifully preserved – and one side of the 'island' is still protected by a waterway, to give an impression of how it would have looked all those centuries ago.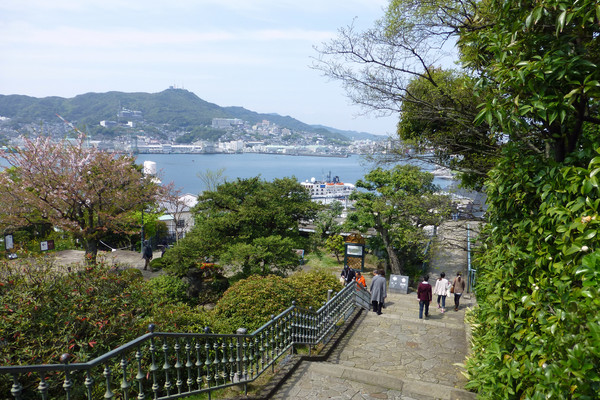 View of Nagasaki from Glover Garden, with "Caledonian Sky" on her berth. 8th April 2015.
Another venue we visit during our time in Nagasaki is the famous Glover Garden – a short walk from the ship's dock. As you can see in the photo above, the "Caledonian Sky" was clearly visible on her berth as we headed down the steps following our exploration of the garden. The garden will always be internationally recognised as the setting for Puccini's "Madama Butterfly" – the sixth most performed opera in the world. Indeed, a memorial to both Puccini and Japan's most famous opera singer, Tamaki Miura (1884-1946), who excelled in her portrayals of Cio-Cio-san, can be found in the garden. However, the story of Thomas Glover himself was intriguing. A Scotsman, he came to Japan in 1859. He built a wooden house which fuses together traditional Japanese architecture with colonial English stylings. It remains the oldest wooden western-style house in Japan. As well as being a trader, Glover, together with the Satsuma Clan, constructed Japan's first steam-powered slip dock, which survives to this day. With the Saga Clan (so tempting to add a joke in here, but I'll leave that to your imaginations), he developed the first coal mine to use steam power. Through these co-operations, Glover is rightly credited with helping to modernise Japan's ship-building and mining industries. In 1908, the Meiji government honoured him with the Order of the Rising Sun, Gold and Silver Star. The house, garden and the views from both, make for a splendid afternoon stroll from the ship.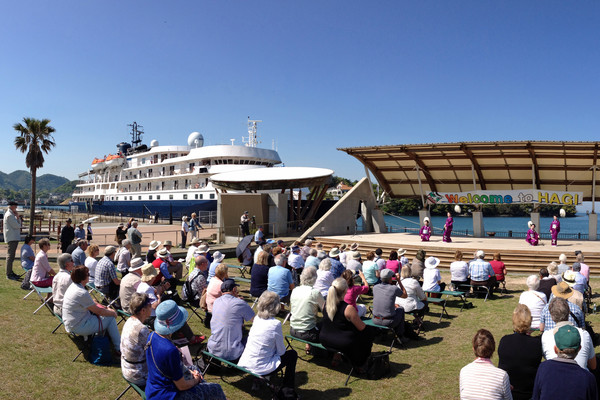 A glorious open-air welcome to Hagi, Japan. 27th April 2015.
Moving further round the coast of Japan, in a clockwise direction, we come to the port of Hagi. All three of the Spring 2023 cruises will call into Hagi, and the welcome alone is worth it. As you can see above, a stage was constructed between the berth and the coaches, and presuming the weather is favourable, a welcome performance greets us on arrival. The tour usually comprises a mix of pottery, parks, Hagi Castle and the Tokoji Temple. The pottery is world-renowned, and to see the level of concentration that the potters have to utilise, whilst at the same time providing a commentary to their demonstration via our interpreting guide, is impressive. My personal favourite part of the tour was the visit to Tokoji Temple. It is not simply one building as the name might imply. The vast main gate is the first of many parts of the temple that are stunning, both architecturally and aesthetically. The temple was established in 1691, and has continually developed since then. The next gate you pass through is the Sanmon Gate, constructed in 1812 by the tenth warlord of the Clan. A separate bell tower dates from 1649, and then finally you reach the sacred heart of the temple complex. However, if you continue on to behind the buildings, you come across the Tokoji Mausoleum. There are forty graves, including five warlords of the Hagi Clan and their families. The graves are shaped into rectangular pillars with "Karahafu" roofs on them. Today, the mausoleum provides a valuable insight into the customs surrounding the burial methods for the warlord and his family in the Edo era.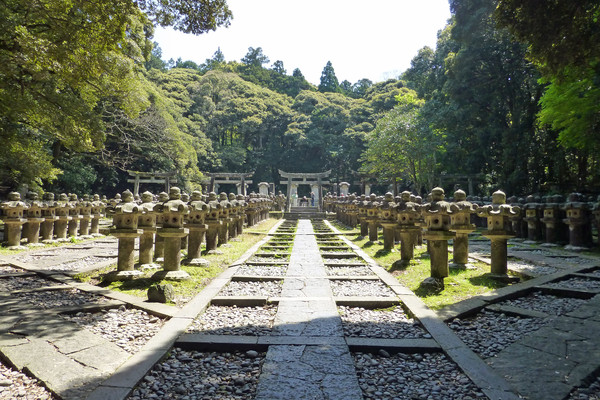 The Tokoji Mausoleum. 17th April 2015.
Near this point in our tour around Japan, we usually divert across the Korea Strait for a day visit to South Korea. It would be fair to say that South Korea and Japan aren't necessarily the best of friends, but what is undoubted is that they are both equally welcoming and hospitable. Once the immigration formalities are swiftly completed, we head out on a full-day tour to two ancient sites. The first one is the Cheonmachong (translated as "Heavenly Horse Tomb"). The burial mound is thought to be the tomb of the king of Silla and date from the 5th or 6th century AD. The tomb was built by placing a wooden coffin and chest for funerary objects on the flat floor, and building a wooden chamber over them. Boulders were piled on top of the chamber and an earthen mound was built over the pile. Some 11,500 artefacts were retrieved when the tomb was excavated. They include a gold crown and a pair of birch bark saddle flaps which were painted with a flying horse, thus giving the tomb its present name.
A colourful welcome to Ulsan, South Korea, a major export harbour for Hyundai. 9th April 2015.
After visiting inside the tomb, and the nearby museum which houses the most significant artefacts, we would head for lunch. A remember the lunch being quite a clever system. The main course, as it were, was cooking away in a pan in the middle of every table, and there were many small pots of extra ingredients around the side. The idea being that everyone could take the basic dish and then add whatever they wished. I was very grateful to have Wendy Malan dine at my table as she could work out what the extra ingredients were! In the afternoon, we would visit the UNESCO World Heritage Site of Bulguksa Temple. The gardens leading to the temple were beautiful, as seen in the photo below, and the temple itself served as a centre for Silla Buddhism. The temple was built between 751 and 774 AD and also served as a centre for prayer for the protection of the country from foreign invasion. Sadly, the prayers went unanswered in 1593 when Japanese invaders burnt down the complex. It took until 1973 for the entire site to be restored to its original glory, with UNESCO recognition being awarded in 1995. In all, it makes for a stunning day out in South Korea.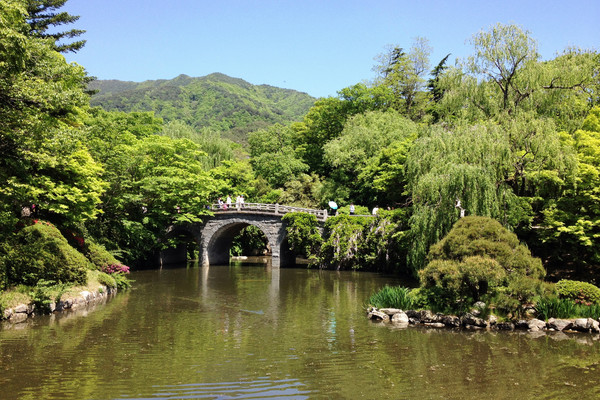 The gardens leading to Bulguksa Temple. 5th May 2015.
After our day in South Korea, we would head back to Japan and often dock in Sakaiminato, which served as the gateway to Matsue. Our first visit of the season was always greeted by a most bizarre welcoming ceremony. What can only be described as a "fish dance" was performed on the Lido Deck, featuring live fish that the three elderly performers had brought on board with them. I would need an extra few thousand words to explain, but if you ever have the chance to see it, don't miss out! The jewel in the crown of Matsue is undoubtedly its castle, which you can carefully climb to the highest point. The castle was constructed from 1607 to 1611 and served as a practical fortress, or a watch-tower, rather than a castle-residence. As Greek writer Lafcadio Hearn (1850-1904) wrote, "From under the black scowl of the loftiest eaves, looking east and south, the whole city can be seen at a single glance, as in the vision of a soaring hawk." One of our visits tied in with a public holiday in Japan, and I remember being stunned when I saw the bouncy castle that had been erected in the grounds of the castle. Of course, we have bouncy castles in England, but my word they aren't a patch on this! I'd never seen a three-storey bouncy castle before, and I was saddened to discover I was a mere two feet over the maximum height limit. In another life, I'll be first in the queue!
A Japanese Bouncy Castle, putting our versions to shame! 11th April 2015.
Our final call on the northern coast of Japan would invariably be Kanazawa. As well as conveniently being a railway station on the direct Shinkansen route to Tokyo, Kanazawa had a huge amount to offer in its own right. The stunning Kenroku-en Gardens, with their numerous lanterns, ponds and gardens were splendidly photogenic in all seasons. As mentioned in the last blog, these gardens also made use of "borrowed" scenery, by incorporating the independent ruins of Kanazawa Castle into their landscape. We were also taken to visit a workshop that dealt with gold-leaf, a speciality of Kanazawa. I do not possess a single artistic bone in my body, but even I managed to follow their instructions and proudly created my own gold leaf momento. I think things went a little too far when we were invited to try vanilla ice cream which was bespeckled with gold leaf! I know I have already mentioned about the amazing welcome and farewell ceremonies you receive in Japan and South Korea, but I thought it would be good to conclude this tour of Japan and South Korea by mentioning them again. Kanazawa was no exception, and as you can see below, the locals, of all ages, appeared to bid us farewell. What amazed me was that, about three weeks later, we were back in Kanazawa and it was pouring. And yet, even then, the locals appeared and seemed happy to let themselves become soaked just to wave us off. I had never been to Japan or South Korea prior to my first cruises there in 2015. I am so grateful to have experienced those trips, and I sincerely hope to be back one day. Thank you to everyone for reading today's blog, and I will be back next week with a look towards the Balkans.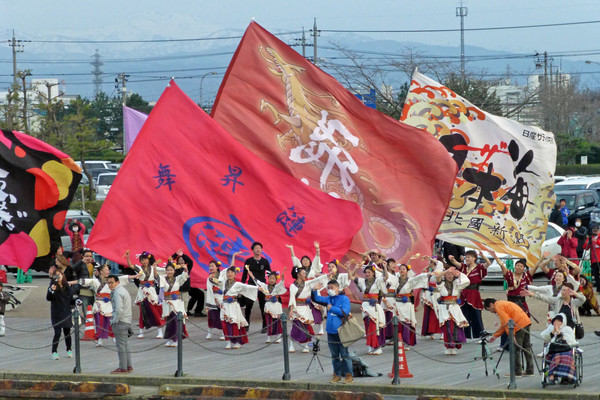 The impressive send-off from Kanazawa, Japan. 12th April 2015.