Cruise Director's Corner with Neil Horrocks
Dear Traveller,
I have kindly, or foolishly, been given free rein to cover anything I feel might be of interest in my new weekly column for Travel Post. Therefore, if there is anything in particular you would like to ask then I would be very happy to hear your questions and will do my best to answer them in upcoming columns. Whether it is about the ships themselves, the places we visit, things that have happened, I will leave it up to you. Obviously I cannot guarantee to respond to every question, but I will do my best.
On behalf of all of us seafaring staff we hope that soon we can welcome you all back on board a Noble Caledonia cruise. In the meantime, stay safe and well and we really will meet again some sunny day.
Yours sincerely,
Neil Horrocks
From Lashenden to Lerwick
Good evening everyone. It's 11.30pm on Monday 20th July. I came home from work about half an hour ago, and yes, people do have their shopping delivered as late in the day as that! I'm in the middle of eight consecutive work days. Yesterday, today and tomorrow are all afternoon and evening shifts, so I'm deliberately staying up late and sleeping until mid-morning so that I'm fresh whilst at work. Given these long days, I've not been up to too much since I last wrote to you all. Thursday, Friday and Saturday were all morning shifts. I was running early on Thursday as I was passing by Headcorn, and I stopped off at Headcorn Aerodrome, known during World War II as RAF Lashenden. The bi-planes that are used for wing-walking were parked by the public viewing area. I considered how that would be a novel way of delivering groceries if ever I became bored of the truck. Whilst I was there, a hot-air balloon began to be inflated. I have never been in one, but it looks a most elegant way to travel.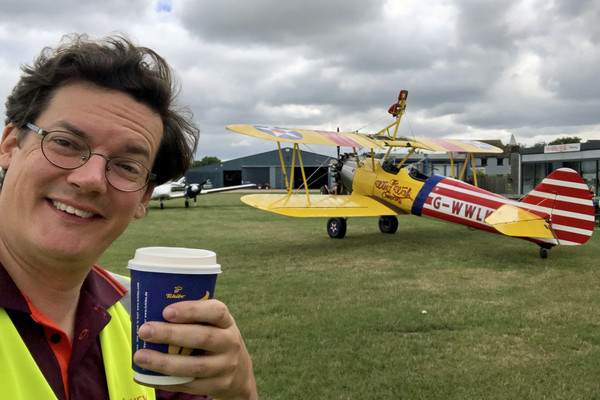 Another early start on Friday, but my first two deliveries were the most splendid yet. Whilst the parents understandably look rather sleepy at 7am, the children are always excited that "there's somebody at the door" (a phrase that used to terrify me as a child in case 'Grotbags' appeared with Rod Hull & Emu!) My first delivery on Friday was at a remote farm house and a young girl called Lucy answered the door. Before I'd even had a chance to say hello she introduced me to her two farmyard geese, whom she was very proud of. Her mother appeared at the door and smiled gratefully at me as I enjoyed a prolonged chat with Lucy whilst she confidently hand-fed her geese, which were taller than her! Having finished the delivery, I drove down their lane to turn around near their watermill, and I had the broadest smile as I drove back past their front door to see mother, Lucy and the geese all waving goodbye to me. Very talented geese. At the next delivery, a beautiful cottage in the midst of rolling hills, Harry answered the door to tell me that he was seven years old today. Again, the parents appeared shortly afterwards and smiled thankfully that I hadn't minded being greeted in such a fashion. As I placed the crates of shopping on the doormat, I noticed they had a piano in their sitting room. I said that I was ahead of schedule and could treat Harry to a birthday song if they wished. Slightly taken aback, they keenly accepted, and so, for the first time since St Pancras railway station on the way back from 'Serenissima' in mid-March, I sat at a piano. In true Liberace style I played a completely over-the-top and flamboyant rendition of "Happy Birthday" to Harry. He stood there, slightly agog, and then asked me to play something else. If felt good to play again, even if only briefly, and know that the fingers are still working and remember which notes go in which order!
As part of the job, there are legally enforced breaks. There is some flexibility in when you choose to have them. Naturally, if you are driving along a motorway and your break is due, you can't suddenly stop and take it. On Friday morning, mine coincided with me passing through Tenterden. Easily one of the most charming market towns in Kent, and so I had delightful meander around the High Street and bought some things I don't need. Once I was home, for the last time in what will be a very long time, I did a litter-pick along the Hythe section of the railway, ahead of the first trains since March arriving in Hythe on Saturday morning. It took a couple of hours, but was worth doing. I was working on Saturday morning, but the good people of Hythe were all commenting how hearing the whistles across the town had finally made it feel like summer again. During the afternoon I had my only proper 'down time' since my last blog, as I was invited to join a couple of friends of mine and their wonderful children for a country walk to a pub on the banks of the Royal Military Canal. We watched one of the trains speed past as we headed across the fields. I've known Stephen and Nicola since 2005, as they were both working on the ship I joined in the April of that year. Stephen was Safety Officer and Nicola was Crew Purser. They are concrete proof that you can meet someone on a ship and it all work out beautifully. However, I think the key to their success was that, having decided they would be together, they walked down the gangway hand-in-hand and left to start a new life on land. I really do take the proverbial hat off to anyone who can make a relationship work where one or both parties are at sea. Since I moved to Hythe, I have seen Stephen and Nicola, and their children, quite regularly and I'm grateful to have such wonderful people only a mile away from me.
It's now 24 hours since I started this blog, and I was out delivering again today when I had a major shock. I was listening to BBC Radio 2 in the truck as I drove around sunny Folkestone, and suddenly the DJ, Sara Cox, was talking about me. I pulled over and discovered that Hazel had nominated me for an item on the programme where they mention people who've done good deeds for the local community. So there I was, being thanked on BBC Radio 2 for my efforts to clean the railway line during lockdown. I had to take a moment to compose myself, which, being a musician, is fortunately quite easy to do, and then continue on my rounds. Not something you ever expect to happen!
I mentioned at the end of the last blog that, after saying farewell to the passengers at Plymouth Railway Station, I had gone the opposite way to the majority and headed west. I had my parents with me on that occasion, and I was keen to see two wonderful friends who are former frequent passengers of mine. Mum, Dad and I managed to scramble over to the correct platform, complete with all our luggage, and catch the train to St Erth. I had prayed there would be a lift to help us change platforms at St Erth, but sadly there was just a footbridge. However, my prayers were answered by a complimentary minibus that had been supplied in the knowledge that plenty of holidaymakers would struggle with luggage, and it took us over to the St Ives branch line platform. Safely in St Ives, having admired the stunning scenery en route, we checked into our guest house. It was a glorious day and we strolled around a very busy St Ives, where everyone seemed to own a dog and was making the most of the late summer weather. In the evening we had been invited to join my former passengers in a beautiful restaurant overlooking Porthmeor Beach.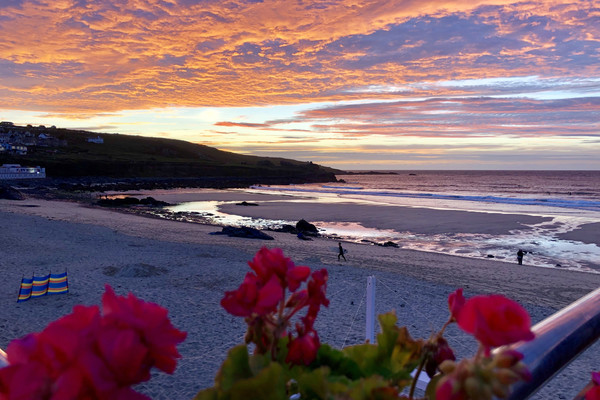 Sunset over Porthmeor Beach

The two passengers are called Richard and Hilary and both live in St Ives. Many of the properties there now are rented out as holiday lets, and they were telling me of the stark contrast between the summer and winter. Richard and Hilary sailed with me many times during my 'Spirit of Adventure' days and are utterly delightful. I will always remember the first time I met Richard. We were sitting next to each other on the open deck watching live television coverage of a rugby union match between England against South Africa. The tackles were flying in thick and fast, and South Africa were penalised for a foul. I turned to Richard and said, "the South Africans are playing very roughly aren't they", and Richard almost whispered his reply, "yes, I never liked playing them". It was one of those moments where it takes a little while to register what you heard. During the ensuing conversation I discovered that Richard, or Richard Sharp OBE, to use his full name, was one of the greatest, and certainly most elegant, England & Lions players of all-time. He was captain and fly-half of England in their victorious 1963 Five Nations campaign. A brief search on YouTube brings up wonderful Pathé newsreel footage of him dummying twice to score what has been dubbed as "the most beautiful try ever" in the victory over Scotland at Twickenham. Scoring was much more difficult in those days, as demonstrated by the fact that the match between Ireland and England in Dublin finished nil-nil. A fitting tribute to Richard has been that Bernard Cornwell named his hero after him – although added an 'e' on the end at Richard's modest request. Now in his 80s, Richard is the epitome of an English gentleman and we have regularly corresponded ever since that conversation on the open deck. The sun set during dinner and I ventured outside to take a photograph, and also to briefly reflect on a cruise well done.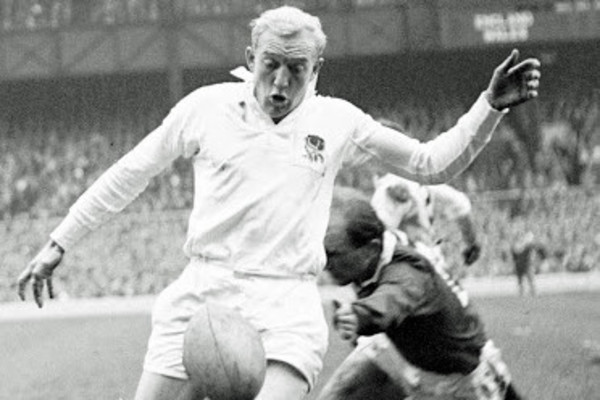 The next day saw the long journey home. I had promised mum and dad that I'd help them with their luggage, and so my route from St Ives to Sandling saw me change trains at St Erth, Liskeard, Exeter St David's, Salisbury, Southampton Central, Brighton, Eastbourne and Ashford International. 12½ hours after departing St Ives, I arrived in Sandling and made my way home. The next day, I had stupidly offered to volunteer on the railway, and was the dispatcher at Hythe. One day I will learn to slow down and have the occasional day for myself!
When I sit down to write these blogs, one of the tricks I've been using for inspiration is to type in the date on my file of photos to see where I was in previous years. As I write this, it is now Wednesday 22nd July. I have a busy day today with volunteering at Dungeness and then an evening delivery shift. My deadline for submission is tonight, so I'm going to have a look now at where I was and formulate the blog in my head during the day, and write it up when I get home tonight. I've taken photos in every port I've visited since I bought my first digital camera in 2007. Normally, I'm not the most organised person in the world, but with the photos I have thankfully labelled them all with where and when they were taken. They have become a useful tool for daily briefings, quizzes and such things. Typing in 22nd July, since I began working for Noble Caledonia in 2014, brings up:
2019 – Tallinn, Estonia
2018 – Delos and Sýros, Greece
2017 – St Petersburg, Russia
2016 – Ravenglass, Cumbria
2015 – Lerwick, Shetland Islands
2014 – Bergen, Norway
One of those was not when I was on a ship – and I reckon you can probably guess which one it is. Whilst all of those places conjure up memories, perhaps surprisingly the one that really sticks in the mind was the visit to Lerwick on 22nd July 2015. Whilst I've often visited Lerwick, that day was something special.
I always enjoy visiting Lerwick. I can't really put my finger on one specific reason. The place just has a relaxed feel about it – partly, I guess, due to its relative isolation and the way the locals simply get on with enjoying their lives. They are clearly quite independently minded from the rest of Scotland, let alone the UK. The parliamentary constituency (Orkney & Shetland) has returned a Liberal or Liberal Democrat MP at every election since 1950. I can remember the guide telling us that the people of Shetland struck a deal with all the oil companies who, when the price was much higher, were drilling in Shetland waters. The deal was that the oil companies had to pay two pence per barrel to Shetland, regardless of what price they sold the oil for. The money this generated has been very wisely spent on infrastructure and facilities. The new museum in Lerwick is superbly put together. All-weather sports pitches can be seen at new leisure centres that have also been built with said funds.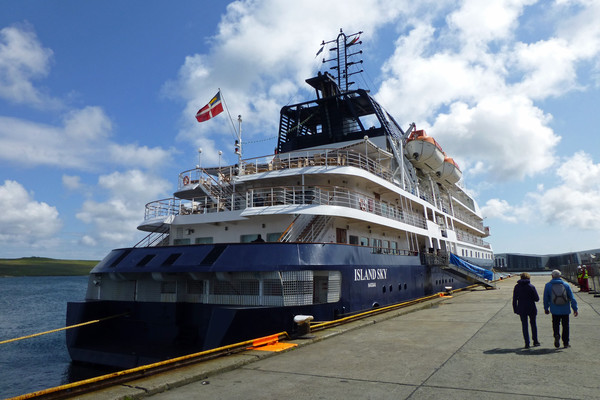 On the day of our visit in 2015, we took the passengers to visit Jarlshof. The settlement at Jarlshof has a 4,000 year history. Archaeologists do not know whether the site had been abandoned before the Vikings arrived. Iron Age people living there might have already known the new arrivals as trading contacts. Or did the Vikings take the area by force? The earliest Viking farm identified on the site began as a small, relatively compact building. As the farm grew, so it was extended: a large byre was added to the south. In time some buildings were altered and new buildings built whilst others were abandoned – a process that went on for six to seven thousand years. By then the Viking longhouse had gradually developed into the Shetland crofthouse. Many aspects of daily life had changed very little and continued in Shetland until the Second World War. The arrival of the Scottish Lairds, at the end of the Norse period, brought about undesirable changes. Perhaps the worst of all these Lairds was Earl Patrick, who built the Laird's house. Today it still casts its shadow across the remains of the Viking settlement.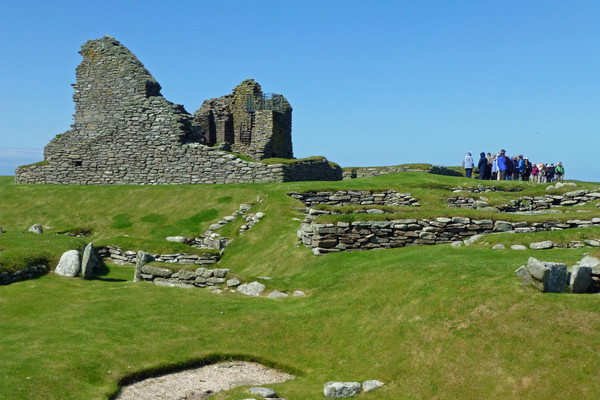 We had the most glorious weather when we visited from 'Island Sky'. We stopped a couple of times en route and looked out over clear blue seas and sandy beaches. I zoomed in with my camera to pick out the seals lying on the deserted beaches. The guide told us how sea kayaking is a very popular summer hobby as, being so far north, the daylight lasts an exceptionally long time and you can do a full day's work and still have six hours of daylight to enjoy your hobby.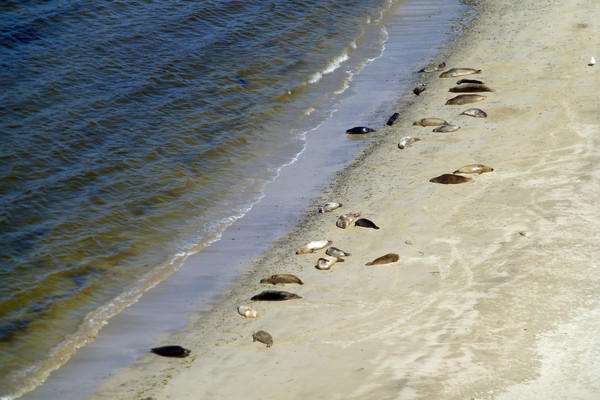 Jarlshof is located at the southern end of the main island of the Shetlands. From the settlement you can clearly see Sumburgh Airport, and occasionally the guide would pause from speaking whilst a plane came into land. Sumburgh Head Lighthouse stands heroically on the summit to both warn and welcome ships into Shetland waters. Our guide had a woolly hat with Viking style horns attached – although all Norwegians are always keen to tell you that the horns were a later Hollywood addition. The sun shone brightly as our guide showed us around the site and explained the layout to us – with areas including the earliest houses, the Wheel House and the Laird's House being pointed out. With free time to roam, or use the facilities at the nearby Sumburgh Hotel, it was back to the coach for the return trip to Lerwick.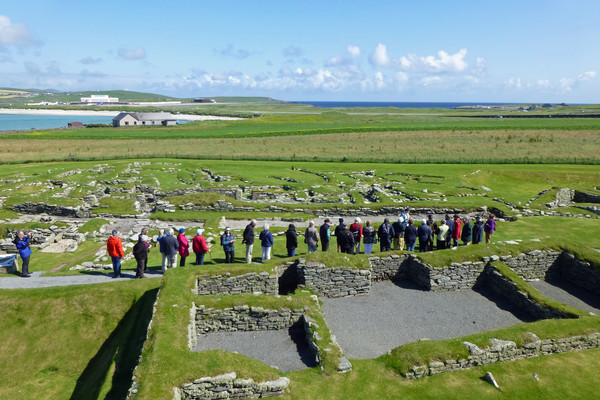 The high street and post office were busy in the afternoon, with many passengers having already written postcards they'd bought that morning, and taking advantage of not having to pay for international postage to send a card to friends and family from Lerwick. A good quiz question I used to use was, "which is the nearest city to Lerwick?" The answer was Bergen in Norway, at just over 200 miles away. However, when Inverness became a city in 2000, they claimed to be a few miles closer. Certainly, the influence of Norway, and Scandinavia in general, is very strong in the Shetland Islands. My other abiding memory is that Lerwick was the first port I ever sailed to on a cruise. On my first ever cruise, in May 2001, which was a trip up to North Cape, we left Dover, had a day at sea picking our way through the North Sea oilfield, and then arrived in Lerwick. The ship I was on was too big to berth in Lerwick, and so we had to drop anchor. When it came time to leave, we heaved the anchor three times, but a cable was attached to it. The Captain lost patience and told the deck boys to hack through the cable and then we would be on our way. Suddenly, all the lights went out on a nearby island and I've never, to this day, seen a ship depart so quickly.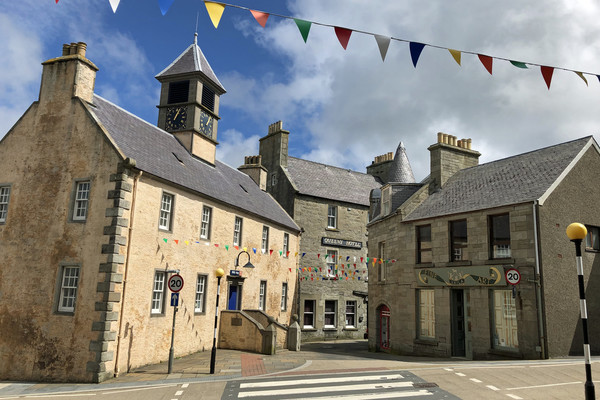 With that, ladies and gentlemen, it's almost 1am on what is now Thursday morning, and I'm on the early shift later this morning so I'd best finish there. I hope everyone is doing well, and thank you as always for the kind correspondence. All the best until next week!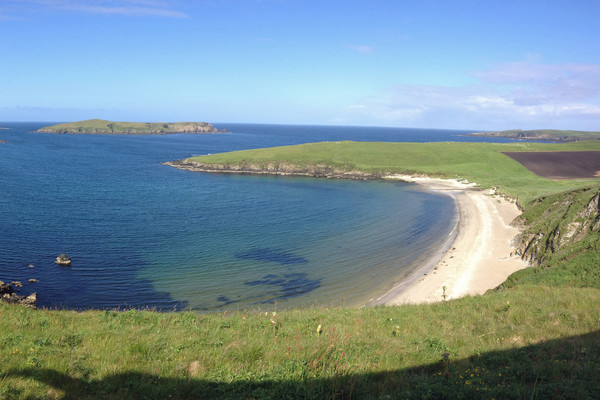 Click here to view details of expedition cruises around the UK