Footplate Rides and Forthcoming Cruises
Good evening everyone! I hope your summer is progressing well. Summer seems to be in something of a disguise down here on the Kent coast. After some scorching days in July, it has felt more like spring than summer these last couple of weeks. I have been keeping busy since I last wrote – in fact, I have not had a day off from some form of work since 20th July. However, I enjoy the challenges that working at the railway (and at the supermarket) bring. As Mark Twain once said, "Find a job you enjoy doing, and you will never have to work a day in your life". As mentioned at the tail-end of my last blog, back on Wednesday 4th August I was invited out on the footplate of "Green Goddess" by her regular driver, Phil. Phil was recently seen in action on TV, oiling round the locomotive at Dungeness, whilst answering questions from Michael Portillo and trying to avoid being blinded by Portillo's colourful attire. Phil's brother, Seb, is the regular firelighter, and both of them have become good friends to me over the summer. My alarm was set for 5am, and I was in the engine shed an hour later to assist Seb with lighting up. Whilst some locomotives have been prepared for lighting up the day before, those engines which were running the previous day have to have their old fire dug out. There is a lot to check and I became happily filthy as I helped prepare the locomotives for their day's work. With all four steam locomotives having left the engine shed, it was time to join Phil on the footplate. In total we covered 62 miles, and the weather was perfect. Our final journey of the day was leading a double-header from Hythe to New Romney. I took the chance to record a short video as we raced across the Willop at a speed of approximately 20mph. Almost precisely six months earlier I had spent the night stuck in the snow in my delivery truck. Suddenly those sacrifices seemed worth it. As you can see from the smile on my soot-covered face – I was a very happy boy!
A video clip from the footplate of "Green Goddess" as we double-head with "Southern Maid" on 4th August 2021.
Whilst the railway is popular with the general public, we also receive our fair share of famous folk who are simply enjoying a family day out. I can remember many years ago clipping the tickets of actor Sir Donald Sinden and (former "Goon") Michael Bentine, who were visiting with their respective families. Due to my round black-rimmed glasses, I do occasionally have children point towards me and ask if I am a tall "Harry Potter". Whilst I would certainly be happy to swop places (and certainly finances) with Daniel Radcliffe, I do have to disappoint them by telling them that I am not a large version of Harry Potter. A few days ago I was on the platform at New Romney and a child, maybe around eight years old, pointed at me and loudly called me Harry Potter. I smiled, but the child's mother told her son not to be so silly. The child then turned and pointed at an elderly gentleman and, equally loudly, called him Dumbledore. The child's mother said, "that's enough" and pulled him away. I looked over to the elderly gentleman and he looked up from underneath the brim of his hat and gave me a knowing wink. To my surprise, it was actor Sir Michael Gambon, who plays Professor Albus Dumbledore in the Harry Potter film series. Whether or not he was caught in two minds as to tell the child's mother that her son was correct, we will never know, as said child was soon heading in the opposite direction on the next passing train. I simply felt relieved that Sir Michael continued to enjoy his day out with his family on our railway. One person who also came by last week, and was an absolute pleasure to meet and chat with, was former BBC weather presenter Helen Young. One of my colleagues at the railway is also a former weather presenter, and is therefore good friends with Helen. I commented to him once that, in my teenage years, I had thought that Helen was the loveliest lady on television. I was almost star-struck when Richard invited her to visit him at the railway, and then introduced her to me. I was thrilled to discover that she is indeed as utterly charming and delightful as she appeared on our television screens. She was kind enough to allow me to have our photo taken and for me to publish it here. Thank you Helen!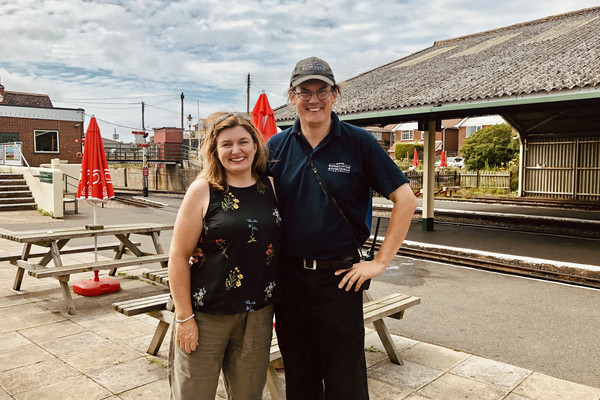 Meeting former BBC weather presenter Helen Young at New Romney. 13th August 2021
The only other event in my diary of the past couple of weeks that catches my eye happened last Thursday. I took a welcome major step back towards cruising by driving to Dover to renew my Seafarer Medical Certificate. As you may have seen in the marketing that went out last weekend, Noble Caledonia have announced a 36-night cruise from Portsmouth to Cyprus, and kindly requested that I return as Cruise Director. This will lead on perfectly from the British cruises that I mentioned in the previous blog. However, in order to return to sea, I have to have all my seafaring certificates up-to-date. The only one that had expired was my biennial medical examination. Given the certificate only lasts for two years, I hadn't bothered to renew last year, and instead thought I would wait until I knew I was going back to sea. The doctor who performed the medical was the same one that had examined me three years ago. He was impressed that I have lost 12kg (nearly two stone) since that previous medical and made me promise him that I will stay at this weight forevermore. I sorrowfully told him that that would involve sacrificing afternoon tea on board the ships. I noted a distinct lack of sympathy in his response, which I cannot repeat here in case any children are reading this blog!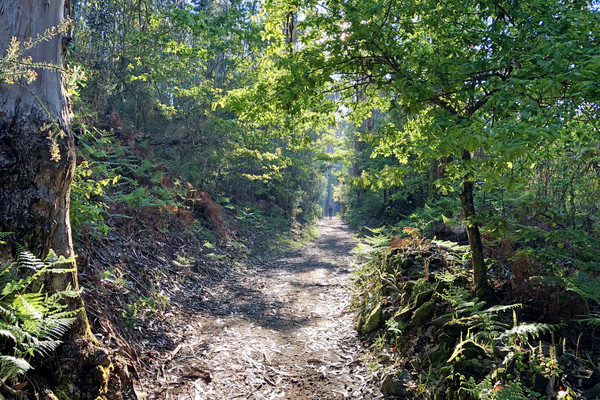 Following the pilgrims' route to Santiago de Compostela. 28th April 2019.
For this week's blog, I thought I would look at some highlights of the first half of the Portsmouth to Cyprus cruise. Whilst there are many highlights to choose from, I picked those that have particular memories for me. I completely understand that you may be thinking it is a little late in the year to be visiting these areas, but I have been speaking with some of the local agents, who have become good friends over my years at sea. They are all telling me the same thing – that due to the tourist season starting very late, and being all-but obliterated last year, that places are doing more than ever to welcome visitors by staying open longer and later into the year. After the recent news reports of a record 48.8°C in Sicily, perhaps it is wiser to look towards alternative times to the height of summer! One of the first places we will visit is La Coruña in Galicia, Spain. On my last visit to La Coruña I decided I should increase my step count and walk part of the pilgrims' way to Santiago de Compostela. This is an option we include in the tour of Santiago de Compostela – and given the generous buffet lunch that was provided, those of us who had taken part in the walk felt justified as we indulged in the selection of desserts. To be there later in the season, when it is not overcrowded with tourists and pilgrims, will be a delight. Back in 2008 I celebrated by 30th birthday in La Coruña, and if you have previously been to Santiago de Compostela and do not feel the need to revisit, then I can highly recommend the city itself. We usually dock in the down town area and many sights are within walking distance of the ship. One memory of my 30th birthday celebrations in La Coruña was that about ten of us went out for a meal. In those days, as crew members you had to be back on board the ship within one hour of sailing time. In anguish, we realised that we were going to be about fifteen minutes late. Normally, this would have resulted in being hauled up before the Staff Captain the following morning. However, we had cunningly invited the Captain, Frank Allica, to join us. Being the brilliant Captain that he was, he made us all go up the gangway before him, and then he followed us up. Upon reaching the top, he advised the security officer that anyone who arrived back on board after the Captain should be reported, but those that arrived before the Captain were "on time". Just another reason why Captain Frank will always be my hero!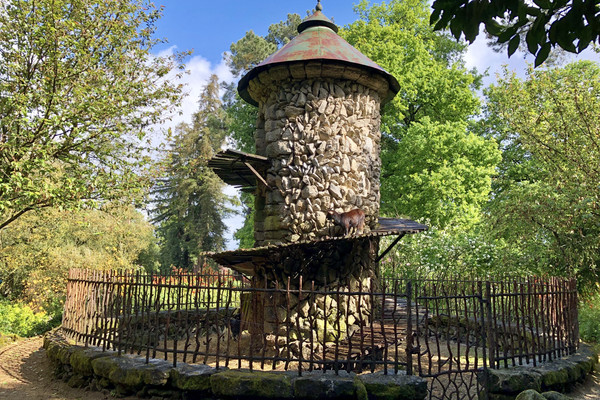 The world's oldest Goat Tower in Quinta de Aveleda, Portugal. 25th April 2019.
After our visit to Spain, we will call at five different Portuguese ports. The first of those, Porto (or 'Oporto') includes one of my most favourite shore excursions – the visit to Quinta de Aveleda. I could write a complete blog purely on the gardens and their fascinating buildings. It really is like something out of a fairy tale. Whilst looking through my photos for this blog, I came across the above photo of the Goat Tower. I didn't know, until my research of the last few minutes, that it is the oldest Goat Tower in the world! The numerous bizarre structures around the gardens were described by the family who own the winery as "artistic daydreams with no functional explanation". As for the Goat Tower, the explanation offered is that it was created because an ancestor "thought the goats did not belong to the plains… so they built the Goat Tower, so they could have a mountain". I have no idea why, but things like this really appeal to me. I remember, as I walked round the gardens, thinking that the whole place would make for an amazing wedding venue. Perhaps there is still hope for me yet!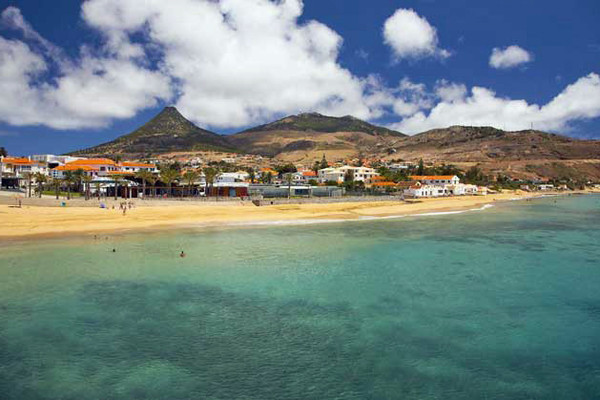 The idyllic Atlantic island of Porto Santo.
We leave mainland Portugal and head out to the archipelago of Madeira. Many people are surprised to learn that 'Madeira' is indeed an archipelago. Rather confusingly, it is also the name of the main island. The archipelago includes the islands of Madeira and Porto Santo, as well as the nearby Desertas islands. I have only ever visited Madeira, and am delighted that we will be enjoying an overnight stay there. However, a few years ago, I remember the tourist officials from Porto Santo visiting us whilst we were in Funchal, and highlighting what Porto Santo has to offer. I am thrilled that I will finally have the chance to visit Madeira's lesser-known neighbour. Famous for its crystal-clear waters, and providing a home for Christopher Columbus, it is in stark contrast to its lush, mountainous and more famous neighbour.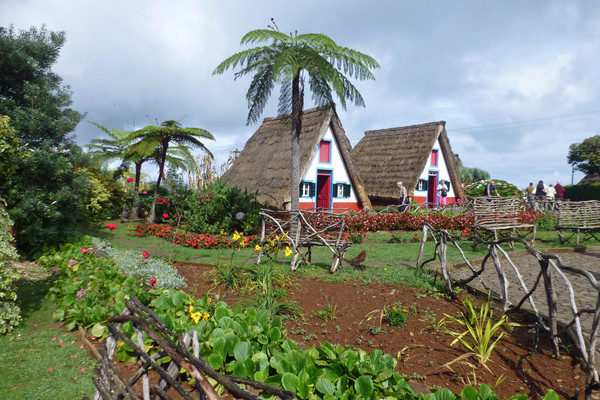 Traditional Madeirense house. 14th October 2016.
During our two days in Madeira, we will have the chance to explore this diverse island. One of my favourite areas to visit is the northern county of Santana. Prior to exploring Madeira, I thought of it as purely a holiday destination, but once you move away from Funchal and the surrounding areas, it becomes surprisingly rural. We drove through lush valleys and past mountainous peaks to reach the northern shore and view these beautiful traditional homes with their thatched roofs, white-washed walls, red doors and windows with blue trim. There will also be the chance to visit one of the lodges that produces the famous Madeira wine. I can recall the bottles being passed around with various male passengers pouring a glass for their wives and being unable to stop themselves saying the Flanders and Swann line, "Have some Madeira, M'Dear". I wondered how often the patient staff at the lodge had heard that line before!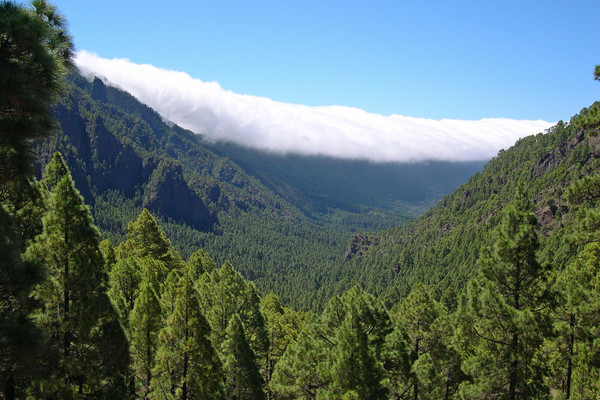 The lush caldera in the centre of La Palma.
We will venture further south from Madeira and visit four of the Canary Islands. I am so pleased that we are including La Palma, El Hierro and La Gomera, as well as Tenerife, in our exploration of the Canary Islands. Whilst Lanzarote, Gran Canaria and Fuerteventura have much to offer, one of the reasons that I joined a small-ship company was to be able to reach those places that the large cruise ships could only dream about. My first visit to La Palma surprised me. I hadn't expected black sand beaches, but with the island being volcanic, it makes perfect sense. Even more surprising, given the dry, arid nature of the other islands, was how lush El Hierro and La Palma were. La Palma often has a line of clouds part way up its mountainous interior which creates the lush scene depicted in the photo above. The islanders of La Palma and El Hierro are very welcoming. There is no mass tourism and it feels as though they are secretly keeping these islands for themselves and being selective in who they allow to visit. I can't wait to return!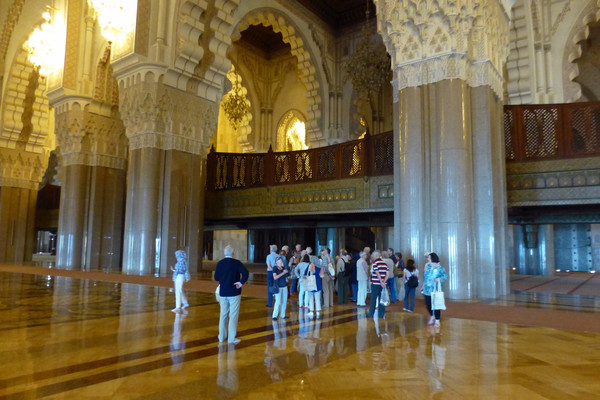 Inside the epic Hassan II mosque in Casablanca. 11th October 2016.
Our only visit to Africa on this cruise will be to the city that conjures so many thoughts and emotions – Casablanca. From our berth, we can usually see the vast minaret of the Hassan II mosque. You cannot help but be impressed by the huge structure, and we are always enthusiastically welcomed inside to learn the story of how more than 3,000 people toiled to create this inspiring mosque. On my last visit to Casablanca we had an evening in port, and so I took two friends to Rick's Café. The beautiful recreation of the setting of the film 'Casablanca' has been superbly done – complete with an excellent pianist who plays "As Time Goes By" on the hour, every hour. Upon leaving Casablanca we will hug the Moroccan coast before arriving into the British Overseas Territory of Gibraltar.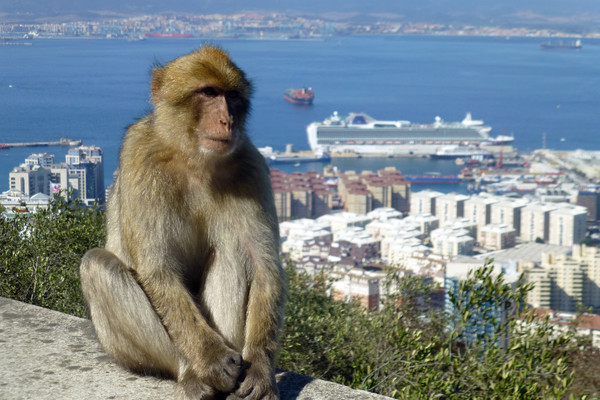 The "Island Sky" is dwarfed by a Princess ship in the distance, whilst a Barbary ape ponders the meaning of life. 10th October 2016.
We have the luxury of a full day and evening in Gibraltar. I'll be honest and say that Gibraltar can be something of a 'Marmite' destination, in that some people like it, and others aren't so keen. However, I find it makes for a fascinating one-day call. The Great Siege Tunnels, from both a civil engineering and historical context, are wonderful to explore. The most southerly lighthouse operated by Trinity House, Europa Point, offers views across the strait to the coast of Morocco (and Spanish Morocco). Our guides are often the minivan drivers themselves, and they are always keen to impart their knowledge of Gibraltar, and the pride they have in "The Rock" becomes clear. Another amusing scene in Gibraltar is watching the passengers and crew going into the likes of Marks & Spencer and compare the prices to those in the UK and try to spot any bargains. My most recent visit to Gibraltar fell on a Sunday and I remember the delight on the face of the newsagent in the cruise terminal when I bought all their Sunday newspapers for the ship's library. On another occasion, I invited the Governor of Gibraltar to visit the ship and, being an ex-naval chap, he jumped at the chance. It will be interesting to visit Gibraltar for the first time since the Brexit referendum and see if anything has changed. With our visit to Gibraltar complete we will head over to Málaga, the half-way point of our cruise. I'll have to end now as I've reached the limit for this blog, and I will continue with the second half of the cruise in the next blog. In the meantime, I hope that the remainder of August brings us better weather and I would also like to thank those who have written in to tell me that they have already booked one of the cruises that I will be joining. Yesterday I handed in my resignation letter to the supermarket, with the required four weeks' notice. Having also completed my seafarer medical, it really is starting to feel more and more as though the end is nigh. Keep safe, and see you on the oceans soon!