A Hebridean Adventure
With Malcolm McRonald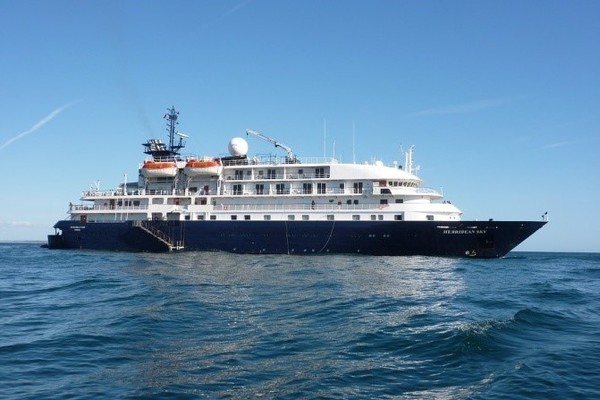 I have long wished to visit St. Kilda. My appetite had been whetted in 2008 when, during a cruise to Spitzbergen on board SAGA ROSE, we had sailed close to the island. My opportunity finally arose ten years later, when my wife and I booked a cruise on Noble Caledonia's HEBRIDEAN SKY, which sailed from Oban on 29 August. In addition to visiting St. Kilda, the 10-day cruise was due to visit several small uninhabited Hebridean islands, including North Rona, which is about 50 miles north of Cape Wrath. The cruise therefore had much to interest a coastal cruising enthusiast. What I could not know in advance was that parts of the voyage would come to resemble a mystery cruise.
Noble Caledonia had arranged coaches to take passengers from Glasgow to Oban. After an enjoyable and scenic coach trip, which included a stop at Inveraray, we arrived at Oban's North Pier, where HEBRIDEAN SKY was berthed. Check-in and embarkation were the easiest I have ever experienced on a cruise ship; less than five minutes after leaving the coach, we were in our cabin.
HEBRIDEAN SKY is a wonderful ship. She has 59 cabins, so can carry a maximum of 108 passengers, but some cabins were sold as singles, so only 102 passengers were booked. Apart from the Hebridean Suite, all the cabins are a similar size and very spacious, with a separate sitting area. Their walls are covered with polished wood and mirrors, and there is plenty of storage space, the shortage of which can be a problem on some cruise ships. She has a restaurant, with open seating and with drinks provided during lunch and dinner, a lounge where the daily briefings were held, a bar and a small library. On the Scott (Bridge) Deck, there is an open deck aft on which some meals can be taken in fine weather. My one criticism is that there is no public room with a view ahead, but on the top deck (Shackleton) there are two open-air viewing platforms giving views ahead; the lower of them gives some shelter from the wind. HEBRIDEAN SKY was built in 1991 as the seventh in a series of very similar ships built for Renaissance Cruises, with the very imaginative name of RENAISSANCE SEVEN! She has been operated by Noble Caledonia since 2012.
Before we could sail at 18.00, we first had to have the mandatory safety briefing. We sailed as scheduled, passing the German cruise ship ASTOR, anchored off Oban. A smaller cruise ship, STAR BREEZE, had also been anchored off, but she had sailed before us. We headed south, through the Sound of Kerrera. After dinner, there was a briefing about Zodiacs, which were to be used for landing at most of our island calls, with training on using the special Zodiac lifejackets. That was followed by details of our two calls next day, at Colonsay and Oronsay. We anchored overnight off Colonsay.
Next morning (day 2), we went ashore by Zodiacs, which are carried on the top deck and unloaded when required. There was a team of local and other experts, who also acted as Zodiac "drivers". The normal embarkation place for the Zodiacs was the Marina at the stern, where crew members were stationed to help passengers onto and off the Zodiacs. A Zodiac is basically a boat-shaped inflated rubber ring, with a hard floor and an outboard motor. These Zodiacs held ten passengers, who sat on the inflated ring facing inwards, plus a "driver". Disembarkation at Colonsay was straightforward, as there was a pier. We visited Colonsay House gardens, which were about three miles from the pier; a local mini-bus operated a shuttle service but many passengers walked in one or both directions. The road offered some splendid views of Jura, dominated by the island's highest mountains, the Paps of Jura. After returning to HEBRIDEAN SKY, we enjoyed lunch while the ship re-positioned off Oronsay, which is a separate island, but becomes attached to Colonsay by a sand bar at low tide. Disembarkation by Zodiac here was more challenging; there was no pier, so we had to wear wellingtons, but the height of the waves meant that some less nimble passengers had their wellingtons filled with salt water. Here we had a three mile round trip, walking to the ruined Augustinian Priory. The sea became rougher while we were ashore, and the transfer from the Zodiacs to the Marina was interesting!
We had reached the most southerly point of our cruise, and were due to sail overnight to the islands of Pabbay and Mingulay, south of Barra. However, we were advised of two changes to the plan; the weather forecast for those two islands meant that landings there would not be possible, and a passenger on board needed medical attention in hospital, so we would be sailing direct to Stornoway. We had not been due to call at Stornoway until day 6, so we would not stop after disembarking the passenger, but would sail south to the Shiant Islands, which we had not been due to visit until the afternoon of day 6. On the overnight sailing we experienced some rolling, but not at an unpleasant level.
HEBRIDEAN SKY reached Stornoway shortly before 07.00 on day 3. We anchored off, with a good view of CalMac's LOCH SEAFORTH at her berth, while the passenger and partner were taken ashore by Zodiac. Fortunately, they were able to re-join us on our return to Stornoway on day 6. We left Stornoway around 07.00, ahead of LOCH SEAFORTH, and sailed to the Shiant Islands, where we arrived at around 09.00. We anchored there and embarked in the Zodiacs to view the local wildlife and geology. There had been a school of at least 100 dolphins around the ship, and as soon as our Zodiac had set off, we were surrounded by playful dolphins, some so close that we could almost have touched them. Several other Zodiacs enjoyed a similar experience. We had good views of basking and swimming grey seals, and a variety of seabirds, although many had already departed to warmer climes. We viewed the huge basalt columns and fanned screes of the Shiants. After more than an hour in the Zodiac, we returned to the ship.
Our next day (day 4) was scheduled for our visit to St. Kilda. The good news was that conditions would be favourable for a landing, so we set off towards the south. I had hoped that we might attempt the shortest route, through the Sound of Harris, between Harris and North Uist, as I had never been in those waters, but the channel was judged to be too difficult, so we took the long way round, going south of the Uists. While in the Minch, we kept well out from the Uists, sailing much closer to the north west coast of Skye. Sailing south of the Uists meant an extended voyage, but we were still able to anchor off Hirta, in Village Bay, on schedule on day 4. St. Kilda actually comprises a group of islands, of which Hirta is the largest and best known.
After the expedition team had made their usual investigative trip to check the landing facilities, the local warden came on board to brief us before we all went ashore by Zodiac. Some of the passengers had made previous unsuccessful attempts to land at St. Kilda, so I felt particularly privileged to have made it on my first attempt. Once ashore, the passengers split into two groups; the more venturesome climbed the saddle for spectacular views of the islands Soay and Boreray and its stacks - Stac Lee and Stac an Armin, the tallest stack in the UK - with a few of the walkers continuing to the cairn on Conachair, the highest point on Hirta at over 1,400 feet. Most of the passengers were content to walk through the village with a talk about its history. Time was found for visits to the museum and shop, but the visit was slightly shortened because worsening sea conditions might have made it difficult to transfer back to HEBRIDEAN SKY from the Zodiacs. In that afternoon, we cruised north, passing Boreray with its swarms of gannets, and the two Stacs. Around 17.00, we passed the Flannan Islands, and were told of the unsolved disappearance of the three lighthouse keepers.
As we continued north, the weather deteriorated and it became clear that the following day's visit (day 5) to North Rona would not be possible, so at our evening briefing we were advised of "Plan B". Once we had passed the Butt of Lewis, we headed south east across the Minch to the mouth of Loch Broom, where we anchored off Isle Martin. This was an island unknown to almost everyone on board, including the expedition crew. It had never previously been visited by Noble Caledonia, and it seemed likely that it was the first ever call by a cruise ship. The island is community-owned and the abandoned houses are used for temporary accommodation for people working on the island. There is a small pier, which made for an easy landing from the Zodiacs. Many of us walked over to the west side of the island, stopping to talk to the local horses, one of which was swum to and from the island. There was some maritime interest in the distance; the large cruise ship VIKING SUN was seen entering Loch Broom on her way to Ullapool, followed by LOCH SEAFORTH on her regular morning crossing from Stornoway. It was obvious that we were only on the island because of the small number of passengers on HEBRIDEAN SKY; the numbers on VIKING SUN would have been overwhelming. We called in at the island's little café on our way back to the ship; the locals had spent a very busy afternoon, evening and morning preparing delicious home-made cakes for us, and were having some difficulty in coping with the demand. Back on board, everyone voted the visit a great success and we were delighted to hear that Noble Caledonia would try to include a call at the island on some future cruises, and might be able to make a donation to the island from its charitable trust.
Our afternoon of day 5 was spent at Ullapool, where we enjoyed the luxury of a berth, on the opposite side of the Calmac pier from that used by LOCH SEAFORTH. VIKING SUN was still there, but had anchored off and used her tenders to get passengers ashore. A few of our passengers had a very energetic walk to the top of the town, but most were content to remain in town, where many shops were open. I visited a local bookshop, bought a book entitled "A World Apart, The Story of Hebridean Shipping" and was amazed to see a photo of myself with 11 other enthusiasts, including George Train, one of the founders of CCA, on board the MacBrayne turbine excursion steamer KING GEORGE V in May 1970. The photo had been taken during her epic charter to the Highlands and Islands Development Board, which had reached as far north as Ullapool, but had failed to get out to Tarbert, Harris, or north to Lochinver and around Handa, as scheduled, because of rough seas. Back on board HEBRIDEAN SKY, we watched VIKING SUN depart, then access to and from our ship was prohibited during the afternoon call by LOCH SEAFORTH, but that caused little inconvenience. HEBRIDEAN SKY remained at Ullapool until 23.00, and some passengers visited a local pub for evening music and song.
Day 6 was scheduled for our call at Stornoway, and we were able to adhere to that. We had an easy overnight crossing of the Minch, and berthed there early, using the old no. 1 pier, which had been used by (Caledonian) MacBrayne before the new pier with a linkspan had been built. Three local coaches had been arranged for us to visit Gearannan Blackhouse Village, Dun Carloway Pictish Broch and, the highlight of the day, the Standing Stones of Callanish. On our return we were treated to an open-air barbecue lunch on the Scott deck. We had been due to leave Stornoway at lunch time to visit the Shiant Islands in the afternoon but, since we had already visited those islands, we remained in Stornoway for the afternoon. That gave us an opportunity to visit Lews Castle and view the chessmen in the museum. I was particularly interested in the builder's model of the 1947 LOCH SEAFORTH, in which I had crossed from Mallaig and Kyle of Lochalsh to Stornoway and return in 1969, long before the mainland terminal was transferred to Ullapool. On the way back to HEBRIDEAN SKY, we passed the memorial to the 208 islanders returning to the island after the 1914-18 War, who were lost when the yacht IOLAIRE sank off Stornoway. We were glad to welcome back the two passengers who had left to go to hospital on our first call at Stornoway.
At our evening briefing, were told that the weather up north had improved, so we would be heading for North Rona. Most of us had given up all thought of getting there, so the news came as a very pleasant surprise. We had a smooth overnight crossing and arrived off North Rona on the morning of day 7. The usual exploratory Zodiacs were launched, but returned with the news that, although the landing was safe, a rising swell was making use of the Marina extremely difficult, so any landing there was out of the question. The captain tried to find a more sheltered place in which to anchor, but the swell was continuing to increase, so a landing proved impossible. However, we made a complete circumnavigation of the island, and had a good view of the ridges left from the days when the island had been inhabited; the ridges marked the boundaries of each man's strip of agricultural land. The island is no longer inhabited, but mainland sheep are often taken there in summer for grazing and fattening. We then headed west to Sula Sgeir, about one hour's sail from North Rona. This was a very different island, with no soil or vegetation, but masses of gannets. These two islands marked the most northerly point of the cruise, so we headed south, with nobody, including the expedition staff, sure of where our next landing place was to be. That was because the weather was forecast to deteriorate and it seemed sensible to seek shelter back on the mainland. After a number of radio messages, it was decided that in the afternoon we would visit Kinlochbervie, the most northerly port on the west coast of the Scottish mainland. HEBRIDEAN SKY anchored near an island at the mouth of Loch Clash and we then had a long Zodiac ride into Loch Inchard and Kinlochbervie. Many passengers had a walk around the local loch, while others attended an auction of fish which had just arrived on a large fishing boat; the largest fish was a 67 kg halibut. We set sail again in the evening and were told at the briefing that next day we would visit Canna, one of the four Small Islands, and Loch Scavaig, on Skye. Both had been on our itinerary, but on day 7, so we were one day behind schedule.
Canna has a very sheltered harbour, said to be the best in the Small Isles, so using the Zodiacs to reach the small pier was not a problem. We walked round the harbour, past Canna House, which was not open as it is being restored, and stopped at St. Columba's Church, where we were entertained with a presentation "Portrait of an Island", accompanied by sound, film, photos and Gaelic song. During lunch we crossed over to Loch Scavaig. The weather had been good during the morning, but it was raining heavily and the wind was blowing when we reached Loch Scavaig. While the captain was trying to find a place where the anchors would hold, we were rewarded by the sight of the arrival of HEBRIDEAN PRINCESS (previously CalMac's COLUMBA), which also intended to anchor. Our usual exploratory Zodiacs brought back the news that visibility ashore was very poor and the ground was extremely boggy, so once again a "Plan B" was needed. It was soon decided that we would cross over to Loch Nevis, on the mainland, and land by Zodiac at Inverie, on the Knoydart peninsula. That had been another place I had long wanted to visit, but that is usually difficult because it has no road connecting it to the rest of Scotland, so the only normal means of access are by ferry from Mallaig, or by a 16-mile walk. Along with most other passengers, I was reluctant to go ashore in those weather conditions, but just as we anchored there was a sudden improvement in the weather, so 27 passengers, myself included, went ashore. The local pub, The Old Forge, was closed (apparently it often is), but the local shop included an off-licence and a table outside, where the locals and our cruise passengers could buy and then consume their drinks. It seemed to be doing a goodly volume of trade!
We had been scheduled to spend day 8 in Loch Moidart, but were one day behind schedule, so that call never happened. Instead, on day 8, we reverted to our original schedule, with calls at Iona and Staffa. In the morning, we anchored in the Sound of Iona, about one mile from the pier and used the usual Zodiacs to get ashore at the pier. Just after we had arrived, CalMac's LOCH BUIE left the pier, bound for Fionnphort, on Mull. Some of us walked over to the west of the island and then doubled back to visit the Abbey. To me the visit brought back happy memories of sailings around Mull to Iona on KING GEORGE V and a previous visit during a cruise on MINERVA II. We then sailed north to Staffa, where a few passengers managed to land and walk to the mouth of Fingal's Cave. However, many passengers had been put off by reports of the difficult path to the cave, so stayed on board. Those passengers who had not gone ashore were compensated by sailing close to the west coast of Staffa, giving a good view into Fingal's Cave and of the island's basalt columns. Much to my surprise, when we left Staffa we enjoyed a further treat by taking the long route back to Oban, heading north between Gometra and the Treshnish Isles to go through the Sound of Mull. Visibility was very good, so there were splendid views out to Tiree, Coll and the Small Isles, and of Glengorm Castle on Mull. We enjoyed an excellent view of Ardnamurchan lighthouse as we came into the Sound of Mull. Unfortunately, after we had passed Tobermory, it was time to go into the cabin and pack, so I missed the rest of the scenery of the Sound.
We anchored overnight in Oban bay, as the port authority does not permit cruise ships to berth overnight at the North Pier. Next morning, we berthed and sadly left the ship for our coach trip back to Glasgow. Looking back on the cruise, which had been great fun, we had achieved the primary objective of reaching St. Kilda, and the various diversions had added further interest to what had already been an interesting itinerary. The loss of some calls had been more than compensated by the additional calls, including a probable "first" at Isle Martin. It really had been coastal cruising at its best!