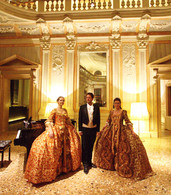 London Festival Opera
We are delighted to be joined by London Festival Opera on many of our tours and cruises. We have long been associated with London Festival Opera and each year our music themed cruises grow in popularity. London Festival Opera have achieved a considerable reputation for presenting opera in palaces, castles, country houses, theatres, concert halls, embassies and private homes and gardens. Recent engagements have been throughout the UK, Europe and as far afield as Barbados, Marrakech and Moscow.
Particular attention is given to the design and quality of our costumes which are as authentic as possible. Whether it is a period evening dress, such as Regency or Victorian to enhance a gala performance or a full production, the costumes will be of the highest quality and style.
Bringing together artists from the major British opera companies including the Royal Opera, English National Opera and Glyndebourne Festival Opera, the company has a considerable reputation and has appeared in some of the world's leading venues including as a guest company in one of the Italy's greatest opera houses, La Fenice in Venice.
London Festival Opera is on the following tours: