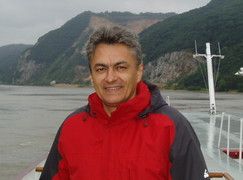 Ticu Gamalie
Born in Constanta, Romania, Ticu began his career in the travel industry at a young age, guiding short tours in the Black Sea in his summer holidays. This led to longer tours such as The Painted Wonders of Bucovina, Bucharest: the Little Paris and Dracula: between Myth and History for various cruise ships and being invited to give lectures on board.
He then graduated from Bucharest Physics University and worked for 10 years as a high school teacher in Romania, whilst continuing to guide in the holidays. He was also a member of Pro-Democracy, a Romanian NGO involved in elections-surveillance in Romania, Bulgaria and Albania (under OSCE).
In 1998 he was invited to the United States as an exchange professor where he graduated with a Masters in Science of Education. He has been working as an Assistant Professor at Arkansas State University-Beebe since 2000 and teaches a variety of courses including Physics, Earth Science and Environmental Science.