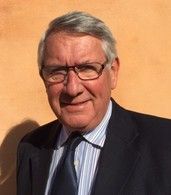 Right Reverend Tim Stevens
Tim Stevens was Bishop of Leicester from 1999 to 2015 where he was heavily engaged in inter-faith relations and a visiting professor in Church and Society at De Montfort University. He was responsible for planning and leading the events surrounding the re-interment of Richard lll in Leicester Cathedral in 2015.
He was chair of the Children's Society between 2004 and 2010 and Convener of the bishops in the House of Lords between 2009 and 2015. He spoke regularly on public policy issues especially on Welfare Reform and inter-faith relations.
Tim Stevens read Classics and English at Cambridge. In 1968 he joined BOAC as a graduate trainee, travelling to Nigeria, India, Philippines, Hong Kong and Thailand. He entered the Foreign Office in 1972 working in the South Asian Dept until starting training for ordination in Oxford.
He was a parish priest in East London and Essex before being appointed Archdeacon of West Ham, Bishop of Dunwich and eventually Bishop of Leicester.
He is now on the global governance board of St John International and a non-executive director of the Norfolk and Suffolk Mental Health Trust. He is a trustee of the Woolf Institute in Cambridge which researches and supports understanding between Jews, Christians and Muslims. He has been a cruise speaker in Europe, South America and the Caribbean.