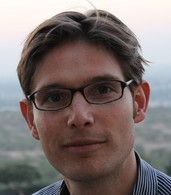 Professor Michael Squire
Michael Squire is Professor of Classical Art at King's College London. After receiving a starred first in Classics and a Master's degree in Classical Archaeology (both at Trinity College, Cambridge), he completed his doctorate in 2006, receiving the Hellenic Society prize for best dissertation. Michael has held research positions at Cambridge, Cologne, Munich and Stanford; he also held a Frank Knox Memorial Fellowship at Harvard University, and has worked at several Berlin institutes including the Humboldt University, the Wissenschaftskolleg and the Max Planck Institute for the History of Science.
Michael's publications straddle the fields of Classics, art history and aesthetics. His first book, Panorama of the Classical World (2004, with Nigel Spivey), has been translated into six languages, and as a doctoral student he co-wrote a guidebook to Rome. Since then he has written over a hundred articles and three further books (including The Art of the Body: Antiquity and its Legacy, 2011); he has edited ten volumes, on topics including ancient concepts of art, picture-poetry, framing in Greek and Roman art, the German Enlightenment and Hegelian aesthetics. He was awarded a UK Philip Leverhulme Prize in 2012.